Playing competitive matches in FIFA 23 Ultimate Team can be very tricky. Each opponent will have different tactics and play styles, and it can be hard to predict and react to how they play.
To give yourself the best chance of winning games, you have to understand the game meta and try to build the best possible team that suits your style of play.
One way of achieving this is by recognizing and singing some of the best meta players in FIFA 23 Ultimate Team. This guide discusses a good number of those players, so let's get into it!
What is Meta in FIFA?
Before we start, let's quickly discuss what 'meta' means in FIFA. Simply put, meta stands for the Most Effective Tactic Available.
Players use the game meta to give themselves an advantage over other players.
Unlike other teams, players that focus on the meta might not have the highest OVR score, but their meta team will generally perform much better than the statistics suggest.
From previous FIFA iterations, it is clear that the meta does not vary much each year. Many players have become extremely popular for several seasons due to their consistent stats and the relatively unchanged meta.
Simple meta-rules to follow include finding players that are fast, players that can dribble, and players that have 5-star skills or weak foot ability.
Premier League Meta Players
Let's start with the meta players you can find in the Premier League. The English Premier League is widely regarded as the best and most competitive football league in the world, but maybe I am slightly biased.
However, it is hard to argue against, as many of the world's best players and FIFA Ultimate Team picks are in this league.
Virgil Van Dijk (TOTY)
First on the list is arguably the most meta defender in the game. Virgil Van Dijk's cards have been broken since the beginning of FIFA 23. In fact, his gold card is still a starter in many teams, which is incredible at this stage of the game.
But, this TOTY card is an absolute unit. His only weakness is shooting, which is not really a weakness as he'll hardly ever be in the opponent's box.
He is one of the fastest center backs in the game, he has near-max defending on his base stats, and his body type is built like a brick wall.
Including VVD in your team also helps to build team chemistry as he links to some other meta players such as club teammate Mohamed Salah and national icon Johan Cruyff.
Joao Cancelo (TOTY Honorable Mentions)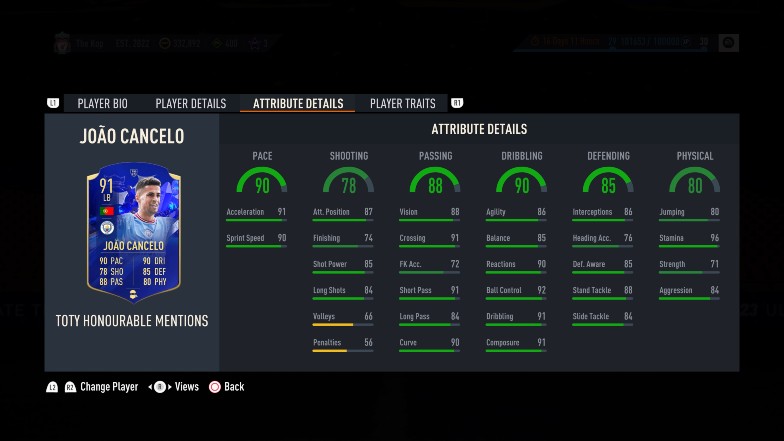 Joao Cancelo is the best meta full-back in the Premier League in FUT23.
He can play comfortably on either flank, has high/high work rates to get him up and down the line as frequently as possible, and has a 4-star/4-star weak foot and skill moves combo for on-the-ball quality.
This 91-rated TOTY Honorable Mentions card has three key strengths – pace, dribbling, and passing. All of this points to using him as an attacking full-back, but his 85 score for defending is very solid as well, and you can boost it significantly with a Shadow chemistry style.
In terms of chemistry, Cancelo offers great links to other Manchester City players. A hyperlink that you could try is Bernardo Silva as they share the same nationality, league, and club.
Kevin De Bruyne (TOTY)
Kevin De Bruyne is one of the best midfielders in the world, and it was no surprise that he got a TOTY card in FUT23.
This card is the complete, all-action midfielder. He has a solid amount of pace as well as excellent passing, shooting, and dribbling. 86 physicality is very good as well, and 81 defending is far from shabby for the roles he thrives in.
You can play this KDB as a box-to-box midfielder and expect him to shine there just as much as he would in an advanced playmaker role. With the Shadow chemistry style, this is an end-game card in every way.
Like Cancelo, you can link him with other meta Manchester City cards, but you also have a great meta national link in TOTY Thibaut Courtois.
Erling Haaland (TOTY)
If you don't mind using less nimble attackers, this Erling Haaland TOTY Honorable Mentions card is one of the most efficient finishers in the game.
Once he gets going, he's almost impossible to stop. I don't recommend trying to dribble too much with him, but he feels like a cross between a jet and a tank when running in a straight line toward the opponent's goal.
I recommend using the Engine chemistry style to boost his dribbling a little bit, max out his pace, and also upgrade his passing. If you can get him into good positions, the 4-star weak foot feels like 5.
Haaland's Norwegian roots do not offer many great links for Chemistry in FUT23, so you have to include Manchester City players or build a Premier League team to get him on full chemistry. You could also use a Norwegian manager if the rest of your team is good to go.
Serie A Meta Players
Next up, let's look at the meta players within Serie A. When looking at Serie A, it is hard to look past players at AC Milan. Not only does AC Milan contain various meta players, but if you select them all from AC Milan, you are guaranteed valuable chemistry points.
Fikayo Tomori (Winter Wildcards)
Fikayo Tomori's most meta trait is his incredible pace for a center-back. This Winter Wildcards card has an 88 overall base pace, and you can boost it even further with the Anchor chemistry style that also makes him Lengthy.
His defending stats are very good as well as his physicality, although his passing leaves a lot to be desired.
Regardless, this is the best center-back in Serie A in FUT23 without a shadow of a doubt.
Theo Hernandez (TOTY)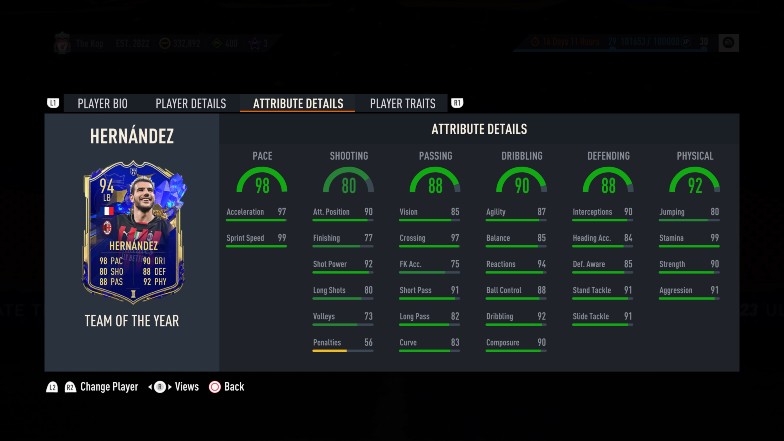 Like Virgil Van Dijk in the prem, Theo Hernandez cards have been a mainstay in many FUT23 teams since the game was launched. Expectedly, his TOTY card is the best of the lot.
Theo combines blistering pace, excellent defending, and physicality with a bullish body type – all traits that make for a meta fullback in this game.
He's not as silky on the ball as someone like Cancelo due to that body type, but it makes him a more imposing presence in defense. He has excellent passing as well, so he can still contribute a lot to build-up play in attacking areas of the pitch.
I would slap a Backbone chemistry style on him to boost that passing further, as well as improve his defending and physicality even more.
Even if you don't have multiple Serie A or Milan players in your team, meta French players are abundant in FUT23, so links are not an issue here.
Paul Pogba (TOTY Flashback)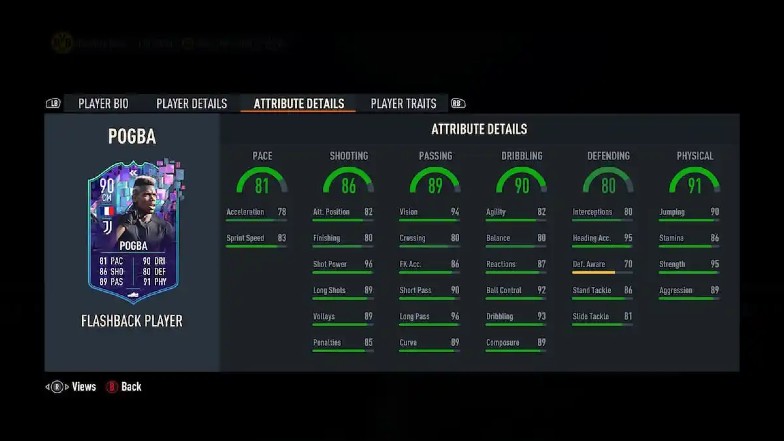 Speaking of meta French players, Paul Pogba is another option that also happens to play in Serie A.
Pogba is one of the best lengthy players in the game and, in my opinion, one of the best all-action midfielders as well. He was an SBC so if you don't have him already, then you've missed out unless you get him from a Year in Review pack.
Pogba has 80+ stats in all six categories, further stressing my point about his contribution all over the pitch.
He is most effective in the box-to-box role, and you may choose to use an Anchor chem style to make him Lengthy or a Shadow to give him the highest possible boosts to pace and defending.
Zlatan Ibrahimovic (FUT Centurions)
Zlatan was the most hyped player of the FUT Centurions promo and the price of the card at the time that it was launched was in line with that hype.
The card is still incredibly rare so that price has not dropped as much as it probably should have after so much time has passed.
However, it is also understandable that it hasn't as this is still one of the best meta strikers in FUT23. The 5-star skills and 4-star weak foot combo is OP with his body type, and he has 90+ stats in all the most important areas.
The only potential weakness with this Zlatan card is his medium/low work rates which might force you to manually trigger runs with him more often than you might have to with players that have high attacking work rates.
Additionally, he needs the Serie A/Milan links for full chem – you won't be getting many meta Swedish links.
Ligue 1 Meta Players
I feel like the PSG trio of Mbappe, Messi, and Neymar are so popular in FUT that it would be a tad redundant to write about how good they are for an article like this. So, my list of four meta players from Ligue 1 excludes them.
There are a handful of other excellent choices in the league, and these are the best options in my opinion.
Sergio Ramos (TOTY Flashback)
Ramos got a Rulebreaker earlier in the game that was very good, so there were high expectations when this TOTY Flashback SBC was released.
The only concerns were about his work rates (high attack, medium defense) and his pace split, but those concerns were put to rest soon after people actually started using the card.
If you want an aggressive center-back that can cover a lot of ground quickly and is an auto defender, then you won't get many better options than Sergio Ramos. Just make sure to apply the Shadow chemistry style to boost that pace and you're good to go!
Ramos also offers strong links to a game favorite, Kylian Mbappe, and there are many excellent Spanish players in the game as well, so getting him on full chem should be no issue.
Achraf Hakimi (TOTY)
I almost excluded Hakimi from this list for the same reason that I excluded PSG's attack, but I changed my mind.
Hakimi cards have been OP for the past couple of years in FUT and this year's TOTY card is no different.
He's got max pace and 90+ stats in every other major category apart from shooting, which pretty much guarantees that he can do a job in any position on the pitch in-game.
If you're not willing to spend that many coins on a full-back, consider going for Youcef Atal's RTTF promo card. He's also an excellent all-rounder that'll fit in great in any Ligue 1 team in FUT23.
Marco Verratti (FUT Centurions)
In terms of body type and style of play, Marco Verratti is almost the polar opposite of Paul Pogba. He is small and nimble whereas Pogba is tall and powerful, but this different body type also makes him do certain things better.
For instance, if you need a dribbler in the middle of the park that can resist the press by turning quickly in different tight situations, then a player like Verratti would be more suitable than Pogba.
In my experience, these types of midfielders are most effective in three-man midfield so you can still have a big guy or two alongside them.
His dribbling and passing are the two key strengths that make this Verratti card meta, but he also has a decent amount of pace and good defending as well for when you need him in a box-to-box role.
Alexis Sanchez (Fantasy FUT)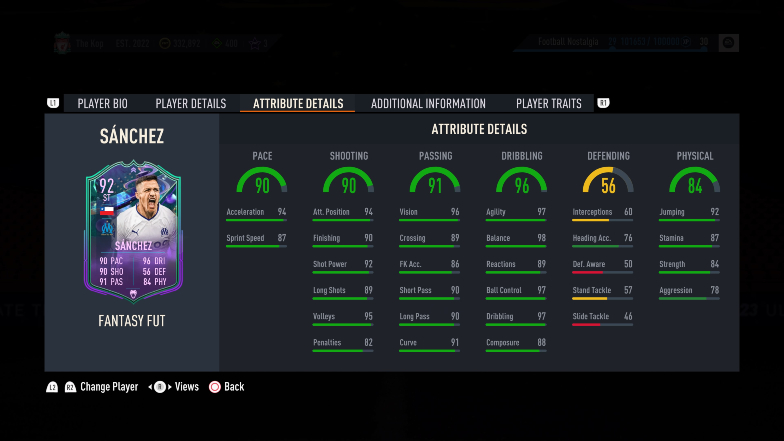 The only non-PSG player in this Ligue 1 list is FUT Fantasy Alexis Sanchez. This card offers some of the best left-stick dribbling in the game, mainly supported by his 96 overall score in that category.
He has everything you need from a striker, whether you're playing him alone up front or alongside another striker.
Very good pace, dribbling, shooting, and passing on his base stats give a solid platform that allows you to make him a different sort of player with certain chemistry style boosts.
For instance, a Catalyst would make him an excellent false nine while a Hunter would make him an excellent advanced forward.
Chile links are not very useful in FUT23 when it comes to meta cards, and neither are Marseille links. So, if you want to get Alexis on full chem (which is important to use him at his best), then you need to have a good number of Ligue 1 players in your starting XI.
Bundesliga Meta Players
For many seasons, the Bundesliga has become regarded as the league many young talents go to grow and prosper. That includes players like Jadon Sancho, Haaland, and Jude Bellingham.
As you would expect with the top young players, almost all of them come with pace, dribbling stats, and skills. Therefore, there are many Ultimate Team meta players to find within the Bundesliga.
Josko Gvardiol (Future Stars)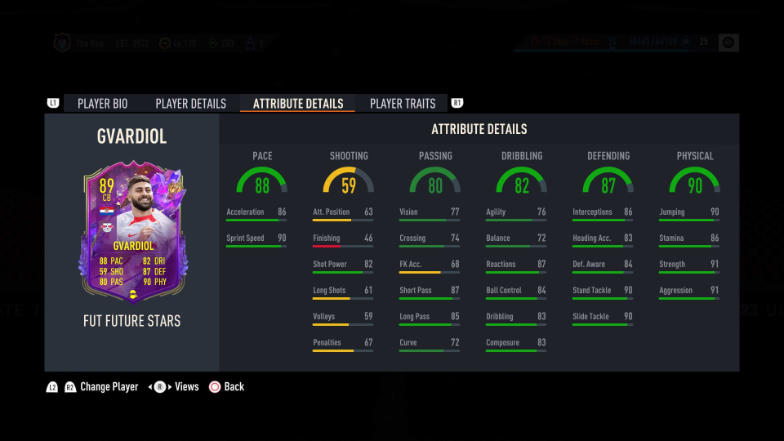 Josko is a well-rounded center-back with plenty of pace to burn. His 88 base score for pace can be boosted to 96 with a Shadow chem style which will also increase his defending score to 93.
He feels decent on the ball, passes well, and is very strong too.
Meta Croatian links are scarce in FUT23, so you'll need Leipzig players, a Croatian manager, or a largely-Bundesliga team to get him on full chem.
Alphonso Davies (TOTY Honorable Mentions)
Alphonso Davies' TOTY Honorable Mentions card is quite similar to his World Cup Stories card, but that card does not have the left-back position change by default, so I've chosen this one.
As is the case in real life, his biggest strength is pace, and you need lots of it for any meta fullback in FUT.
His 80 overall score for defending and 82 physicality can definitely be improved, so I recommend applying a Sentinel chemistry style to get those numbers up.
He is tricky to link from a chemistry perspective due to his Canadian nationality, but he is still an excellent choice for any meta team.
Jude Bellingham (TOTY)
This card can do it all. He's fast, can shoot, can pass, can dribble, can defend, and he's super strong as well.
His High and Average body type is not the most ideal for nimble dribbling, but who needs that when you can simply power your way through the middle of the park?
Even if you don't have a Bundesliga or English team, playing this Jude card off chem still leaves you with a fully meta central midfielder. It is undoubtedly an end-game card and I expect to continue to see him in teams even after the Team of the Season promo.
Christopher Nkunku (World Cup PTG)
Speaking of nimble dribbling, Nkunku's World Cup Path to Glory card is one of the best dribbles in the game.
He is also one of the most efficient players to use if you're trying to score trivela shots (which are overpowered in this year's game). Although there are many other cards that have the Outside Foot Shot trait just like him, most of them are not as consistent with it as he is.
His 74 score for defending also provides an extra option for you if you're looking for a player that can switch to attacking center-mid in-game. He can contribute in defense and if that's the role you'd prefer to use him in, you can even boost those stats with a Shadow chem style.
La Liga Meta Players
To be honest, I'd like to see more meta La Liga players than there currently are, and certainly more variety in the players that get those cards.
That said, there is still a good number of meta La Liga players in FUT23. Let's talk about a couple of them.
Eder Militao (TOTY)
One of the best defenders in the game, and certainly the fastest meta center-back.
With his pace, body type, dribbling, and passing stats, you could even get away with applying his position change and playing Militao at RB. However, I recommend putting those defensive qualities to use where they will be needed the most – in central defense.
If you do play him at RB, applying an Engine chem style should prove very useful.
Marcos Llorente (FUT Fantasy)
There's a severe lack of options when it comes to meta fullbacks from La Liga, so I decided to go with Marcos Llorente for that role.
Technically, right-back is one of the positions that he can play on this Fantasy FUT card, so it's not out of order by any means.
If you played from the beginning of the game, then you might remember how good his gold card was at RB for many people. That lasted for many months as well, so this juiced promo card is an excellent option in that position.
I do recommend applying the Shadow chem style if you choose to play him there – he needs the defensive stat boost.
Alejandro Gomez (World Cup PTG)
I mentioned the fact that Nkunku is one of the best dribblers in the game, but this Gomez card was outright the best dribbler for a few months. In fact, I'm pretty sure some people would argue that he still is.
His short and lean body type combined with an overall score of 93 for dribbling makes him so difficult to tackle as he repeatedly twists and turns his way out of trouble.
He's fairly rapid as well and if you apply a Hunter chem style to this card to boost his pace and shooting, you have an absolutely meta attacker on your hands.
Vinicius Junior (FUT Birthday)
Vinicius has a few meta promo cards in this game. In fact, even his base gold card with its 5-star skill moves was meta in the beginning.
Since then, he's gotten a World Cup PTG card and a TOTY card before this one was released during the FUT Birthday promo.
It is the best version of the player in FUT23 yet, but it is also the most expensive one so feel free to go for any of the cheaper options if you can't afford him – they're all meta.
With the way the card is formatted with maximum pace and excellent dribbling, the best chemistry style to apply would be the Deadeye to boost that passing and shooting. With that, you can play him in any position in attack with no real weaknesses to hold his game back.
Final Thoughts
The top meta players are sure to cost you plenty of in-game currency, so make sure you are clever with how you split up your spending.
If you can afford to purchase Mbappe but no other players, it might be better to build a stronger team with those funds, win more games, earn more money, and purchase the top players later.
To help you get started with that, I recommend checking out a guide to the best fast and cheap defenders in FUT 23. When you're done with that, we've also got fast and cheap strikers as well. Best of luck!