Playing competitive matches in FIFA 23 Ultimate Team can be very tricky. Each opponent will have different tactics and play styles, and it can be hard to predict and react to how they play.
To give yourself the best chance of winning games, you have to understand the game meta and try to build the best possible team that suits your style of play.
One way of achieving this is by recognizing and singing some of the best meta players in FIFA 23 Ultimate Team. This guide discusses a good number of those players, so let's get into it!
What is Meta in FIFA?
Before we start, let's quickly discuss what 'meta' means in FIFA. Simply put, meta stands for the Most Effective Tactic Available.
Players use the game meta to give themselves an advantage over other players.
Unlike other teams, players that focus on the meta might not have the highest OVR score, but their meta team will generally perform much better than the statistics suggest.
From previous FIFA iterations, it is clear that the meta does not vary much each year. Many players have become extremely popular for several seasons due to their consistent stats and the relatively unchanged meta.
Simple meta-rules to follow include finding players that are fast, players that can dribble, and players that have 5-star skills or weak foot ability.
Premier League Meta Players
Let's start with the meta players you can find in the Premier League. The English Premier League is widely regarded as the best and most competitive football league in the world, but maybe I am slightly biased.
However, it is hard to argue against, as many of the world's best players and best FIFA Ultimate Teams picks are in this league. In almost every leading FUT team, you will notice at least a few Premier League players appear.
Virgil Van Dijk
Next on this list is another player from last year's runners-up and the best gold center-back in the game. He was an excellent player in FIFA 22, but his statistics are even better in this iteration of Ultimate Team and make him a fantastic choice for any team. Including VVD also helps improve your team chemistry, as he is from the same team as Salah.
He has an 81-pace stat, so he is not the fastest center back in the game, but he has plenty of speed which is essential for any Ultimate Team meta player.
Allain Saint-Maximin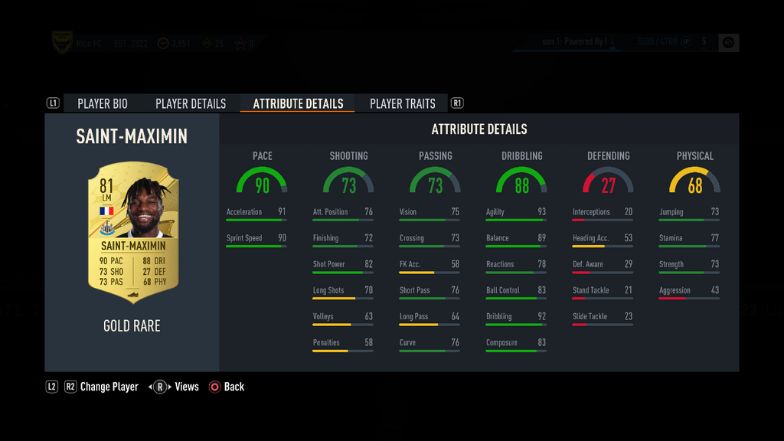 As you would expect, Virgil Van Dijk and Mohammed Salah are not cheap options for your team. Allain Saint-Maximin is an excellent choice if you are short on cash and need a cheaper option. He is a fantastic dribbler, extremely quick, and has a 5-star skill rating.
If you want to improve your team chemistry, other Newcastle players you could consider are Bruno Guimarães or Kieran Trippier.
Antonee Robinson
Another cheaper option to improve your Ultimate Team is placing Antonee Robinson at left-back or left-wing-back.
As a silver card, Robinson will not be the most expensive left-back you can buy, but he offers many of the attributes required by the meta.
Robinson has an 87 pace score, 88 sprint speed, and 86 acceleration. He also has a workable dribbling score of 73 and a three-star score for his skills and weaker foot.
If you are trying to create a meta Ultimate Team using Premier League players, Robinson is an excellent option.
Mohammed Salah
As with other recent seasons, the Egyptian King is one of the top gold cards you can get in Ultimate Team. He is extremely fast, has excellent dribbling, and has a 4* skill score for starters.
As you would expect, the former golden boot winner is not a cheap option in FIFA 23, but if you get your hands on him, he will surely add some much-needed pace and firepower to any front line.
Serie A Meta Players
Next up, let's look at the meta players within Serie A. When looking at Serie A, it is hard to look past players at AC Milan. Not only does AC Milan contain various meta players, but if you select them all from AC Milan, you are guaranteed to gain valuable chemistry points.
Fikayo Tomori
From a defensive perspective, an excellent option for your team is Fikayo Tomori. Tomori is a fantastic defender with excellent all-around statistics. On top of that, he is also extremely quick, which is an essential trait for any Ultimate Team meta player.
Sandro Tonali
In midfield, Sandro Tonali is an excellent option. As mentioned, he links up well with Tomori, not to mention his speed and dribbling ability. Tonali is also a much cheaper midfield option than the options highlighted from the Premier League.
Rafael Leao
Finally, if you need to add some goal-scoring firepower to your team, Rafael Leao is a great option. He is one of the many AC Milan players that received a significant rating increase from FIFA 22 after they had a fantastic season and won the Scudetto.
Ligue 1 Meta Players
If you are an avid follower of player ratings in FIFA, you are probably already aware that both Neymar and Messi have a lower rating in FIFA 23 than they did in FIFA 22. However, that doesn't stop either one from being a great option for any FUT player.
Apart from those two, there are a handful of other popular choices in the league.
Gianluigi Donnarumma
Every Ultimate Team needs a top-level goalkeeper, and you will struggle to find a better option than PSG's Donnarumma. He has an overall score of 89, with elite-level GK diving (91) and GK reflexes (90).
Presnel Kimpembe
If you opt for Donnarumma as your Ultimate Team goalkeeper, you might notice that your funds have taken a bit of a hit. You might wonder how you can afford to fill the rest of your team with excellent players. Kimpembe is an excellent choice in this instance.
For starters, he plays for the same team in the same league, which is excellent for your team chemistry.
As well as being an excellent defender, he has strong acceleration and sprint speed.
Kylian Mbappe
Would a list of the best meta Ultimate Team players in FIFA 23 be complete without Kylian Mbappe? Despite his age, Mbappe is now regarded as the best player in the world and is the joint-highest-rated player in FIFA 23. 
He also meets all of the meta requirements, with 5-star skills, a 4-star weak foot, blistering pace, excellent dribbling, and superb finishing.
If you can get your hands on Mbappe, he will substantially improve any player's chances of winning.
Timothy Weah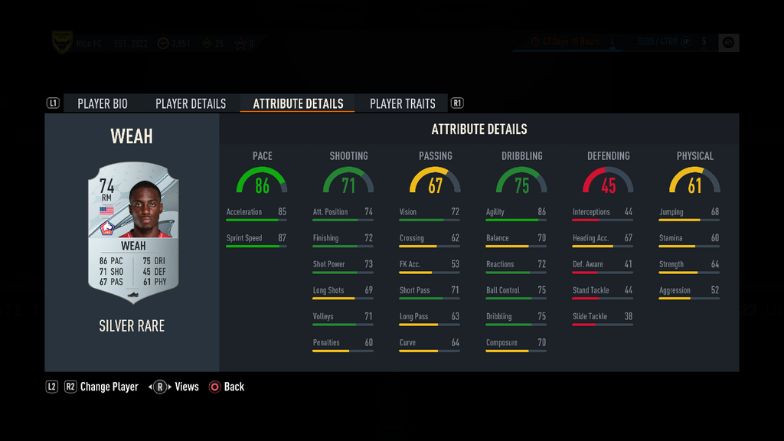 Timothy Weah has big shoes to fill after his famous father, but he is already showing signs he will be an excellent footballer in his own right.
As a silver card, Weah offers players an excellent meta player for FIFA 23 Ultimate Team for a relatively cheap price.
Overall, he has an 86 pace, with 85 acceleration and 87 sprint speed. He also has an impressive 75 dribbling score and quite good shooting statistics. For that reason, you can play Weah as a striker, but he is better suited to play right-midfield.
Alexis Claude-Maurice
Another excellent cheaper option that can improve your Ultimate Team, Alexis Claude-Maurice, has the attributes of a meta central-midfielder.
He is fast enough to cause many problems, with an 80pace statistic. He also has a 79 dribbling statistic and 4-star skills.
As a french national playing in Ligue 1, it should be easy to link him up with other players and improve your Team Chemistry.
Bundesliga Meta Players
For many seasons, the Bundesliga has become regarded as the league many young talents go to grow and prosper. That includes players like Jadon Sancho, Haaland, and Jude Bellingham.
As you would expect with the top young players, almost all of them come with pace, dribbling stats, and skills. Therefore, there are many Ultimate Team meta players to find within the Bundesliga.
Christopher Nkunku
Many people were shocked that Christopher Nkunku didn't move away from the Bundesliga in the summer transfer market after a stellar 2021/22 season for RB Leipzig.
As expected, his statistics received a significant upgrade in FIFA 23, so he can now be regarded as a meta player in FIFA 23.
With excellent pace statistics (88) and dribbling statistics (88), Nkunku easily meets the requirements of a meta player, not to mention his 5-star skills. He will surely be one of the most popular FIFA 23 Ultimate Team cards.
Alphonso Davies
Another excellent player for the FIFA meta in the Bundesliga is Alphonso Davies. Davies has been in the Bundesliga for a few years and slipped under many followers' radars due to his low-profile personality.
However, he has quickly grown into a well-known player for FIFA Ultimate Team players, as he soared to one of the top left-backs worldwide.
He is another fantastic player with excellent dribbling and pace statistics. He is tricky to link from a chemistry perspective, but he is still an excellent choice for your team.
Finn Dahmen
After kitting out your team with all-star players, it can be easy to forget about your goalkeeper. However, just because the goalkeeping meta does not factor in the same attributes such as pace and dribbling skill, that does not mean you should put just anyone in goal.
Finn Dahmen is a great option, as he possesses excellent kicking, diving, and reflexes statistics. As a silver card, he should also be a cheaper option compared to gold badge goalkeepers.
Playing for FSV Mainz and a German international, Dhamen is easy to link with your other defenders for maximum team chemistry.
Maxim Leitsch
If you need a cheaper center-back option that plays into the FIFA 23 Ultimate Team meta, Maxim Leitsch can be a handy pick-up that shouldn't break the bank.
With an overall 76 for his defending and an impressive 82 pace statistic, Leitsch is well-suited for FIFA Ultimate Team.
As a German national playing in the Bundesliga, Leitsch should be relatively easy to link up with your other players and improve your team chemistry.
La Liga Meta Players
In FIFA 22, there were not too many meta players to choose from for your Ultimate Team from La Liga. However, that has all changed in FIFA 23. You have the power to select from a range of players for every position, regardless of your budget. Here are a couple of our top picks for you to consider.
Antonio Rudiger
Antonio Rudiger is a fantastic choice for any Ultimate Team. After his switch from Chelsea to Real Madrid, many players were interested to see how that would impact his statistics.
Fortunately, he still has fantastic pace and acceleration attributes, along with other excellent defensive capabilities. 
Eder Militao
Unfortunately, Rudiger will not be a cheap card to get hold of in FIFA 23 Ultimate Team, but that doesn't mean you should stop looking at center-backs at Real Madrid.
Eder Militao is another excellent, slightly cheaper option for your Ultimate Team. He is even quicker and also has great defensive attributes.
Militao and Rudiger would make a fantastic defensive pairing if you can afford both of them, helping achieve the meta and improve your team chemistry simultaneously.
Vinicius Junior
When it comes to offensive options, we have another great option from Real Madrid in Vinicius Junior. After an excellent breakout season in La Liga last year for the Spanish super club, Junior's stats are through the roof in FIFA 23, making him an ideal choice for your Ultimate Team. 
He was a top player last year and became one of the most popular cards, so expect even better from this year's card. 
Yunus Musah
If you are trying to increase your team chemistry and add meta silver players to your team on a budget, then Yunus Musah is an excellent option.
Yunis Musah is extremely quick, with 85 pace and 75 dribbling. He also links up perfectly with other players, which makes him good enough to be in the best silver team in FIFA Ultimate Team.
Musah prefers to play at right midfield but is adaptable across the midfield.
Final Thoughts
The top meta players are sure to cost you plenty of in-game currency, so make sure you are clever with how you split up your spending.
If you can afford to purchase Mbappe but no other players, it might be better to build a stronger team with those funds, win more games, earn more money, and purchase the top players later.
To help you get started with that, I recommend checking out a guide to the best fast and cheap defenders in FUT 23. When you're done with that, we've also got fast and cheap strikers as well. Best of luck!