If you're the type of FMer that likes to have as many customization options as possible, then the FM23 pre-game editor should be your best friend.
Football Manager is already a pretty robust game, but the pre-game editor that's usually launched alongside it gives players an expansive range of customization options to truly make the game yours.
These options include (but are not limited to) altering existing data such as player attributes and club information, but you can also build custom data such as creating your own players, creating new leagues, or creating new clubs.
In this guide, I'm focusing on how to create a league in Football Manager 2023 with the pre-game editor. If you've paid for the game already, then you can grab the app for free from your Steam library on PC. Let's get into it!
Check Existing Leagues
Before you go ahead to create your own FM23 league from scratch, you want to make sure that the league you're trying to build does not already exist in the default database. I'll explain why.
A popular reason why one might want to create a league in FM23 is the apparent absence of some less popular leagues that actually exist in real life.
Using Italy as an example, you will find when you're trying to start a new game and add playable leagues that your options don't stretch as far as Serie D. You may assume that this means the competition is not in the game, but that assumption would be wrong.
If you open up your FM23 pre-game editor and load the default database, you'll find that there are some leagues that exist in there that are not reflected among the options when starting a new game.
To confirm if a league is in the game's database, click on the "Rules" tab at the top of the screen, then "Add Nation Rules". A dialogue box like the one below should pop up.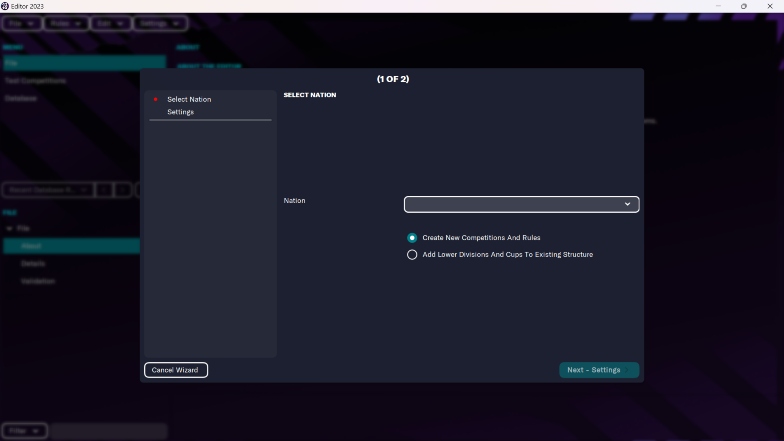 Click on the list of nations and choose the nation with the league you're looking for. For my example, that'll be Italy. Next, select "Add Lower Divisions and Cups To Existing Structure" and click on "Finish".
On the left side of your screen, you should see the data for the divisions in the country that you've selected. In my case, once I scrolled down the "Divisions" section, I found Serie D. I clicked on that and the page below popped up.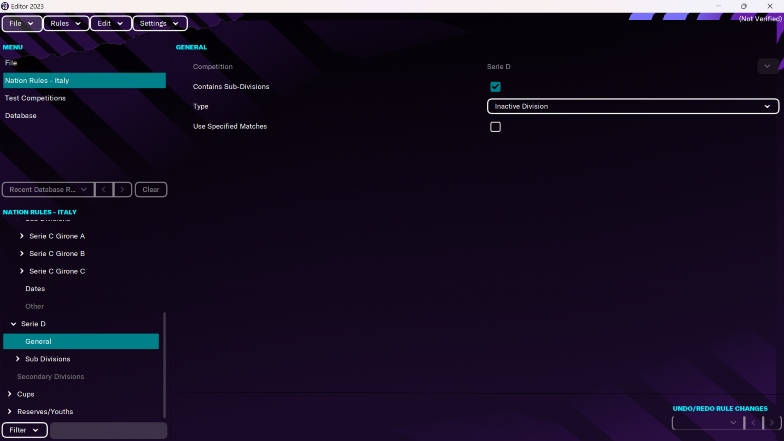 Next to "Type", you'll see that Serie D is labeled an "Inactive Division". Change that option to "League" and a dropdown menu of settings should show up.
These settings include promotion and relegation fields, TV revenue, number of teams in the league, number of match rounds, etc. Adjust the settings as you wish. You may use the same rules that apply in real life or tweak whatever you want instead.
That's it, you're done! Navigate to the top left corner of the screen once again, choose the "File" option and save your data.
If it's a first-time change, choose the "Save Editor Data As" option to create a new database file.
If you're adding the change to other edits you've made to the database that you loaded, choose the "Save Editor Data" option to add your new settings to the same database file.
Create New Leagues
If you're not just looking to bring an existing competition out of FM's database prison, and you want to create a new league in FM23 from scratch instead, the process is different.
When you load the database, navigate to the menu on the left side and select "Competitions". It should look like the image below
Next, click on "Add" and a new section should open up with all the settings and fields that you need to fill data into.
There are sections for the basic details of the competition, teams involved, records, history, policies, etc. Take your time to have a look at the requirements in each section and see if you have all the information that you'll need so you don't waste your time starting something you can't finish.
In the "Details" section, you'll see that you have to link the competition to a nation. Now, that nation will obviously have its own divisions already, so you need to make the new league the lowest tier/division for the country.
In my case, I chose Russia and used the Tinkoff Russian Premier League as the parent competition. Then, I ticked the "Type" option and chose "Domestic Division" as the type since I was trying to create a league competition.
The image below shows what the page looks like with these starter settings. Of course, there is A LOT more that needs to be added, but it's your league, so you decide what you want to do with it.
Before you proceed, you need to make sure that the reputation of your new league is lower than that of the lowest active playable league. Again, this is why it is important to scan all the sections before you begin to edit.
When your division is set up, you can go on to create sub-divisions under it, much like the English football pyramid has lower divisions and sub-divisions in it. However, I only recommend doing this if you've really got the hang of creating competitions with the editor so you don't mess things up.
If you're trying to create a continental competition or other types of cups instead of a league, just make sure to choose the right "Type" and the required fields will be adjusted accordingly for you to fill in.
If it's all a bit too much for you or you just don't have the time to put in all that effort, consider setting up a fantasy draft with friends instead.
It's not exactly the same thing, but you also get to play with fictional teams, it's a lot of fun, and it requires less time and effort. Enjoy!