Fantasy Draft has been a staple in Football Manager games since FM16. Since that time, it has proven to be a useful addition that adds an extra dimension to the game for players that want something different from the regular career game mode.
There are quite a few steps involved in setting up a fantasy draft in FM, but once you get it right, it should be easy to replicate going forward.
If you're a beginner, then you might want to bookmark these beginner tips for Football Manager 2023 so you can get to that after this fantasy draft guide.
This guide provides the answers for how to set up a fantasy draft in Football Manager 2023, breaking down the process step-by-step in the simplest manner for beginners and hardcore FMers alike.
FM23 Fantasy Draft Game Mode
Once you select the "Fantasy Draft" game mode from the start screen, a splash screen will pop up with options for setting up FM23 draft mode.
You can choose "Quick Start" to join a random draft that's been created by another player online; choose the "Join Draft" option to search for a specific draft lobby (possibly once created by a friend), or choose the "Create Draft" option to set up your fantasy draft from scratch.
For the purpose of this article, I'll focus on the third option.
Choosing A Format
When you select the "Create Draft" option, you have to choose the format of your draft lobby. There are three formats – Group Stage & Knockout, Knockout Cup, and League.
All three formats offer the option to create a custom player pool to limit the number and types of players that participants can choose from. The pool can be filtered according to nationality, transfer value, division, and the continent/region/nation where the player is based.
If you go with the default selection, the game will automatically draft a few thousand high-reputation players.
There are other settings that you can adjust on this page too, such as the name of the competition, the time limit for shortlisting players and draft rounds, the maximum squad budget, substitution and suspension rules, and VAR use.
Group Stage and Knockout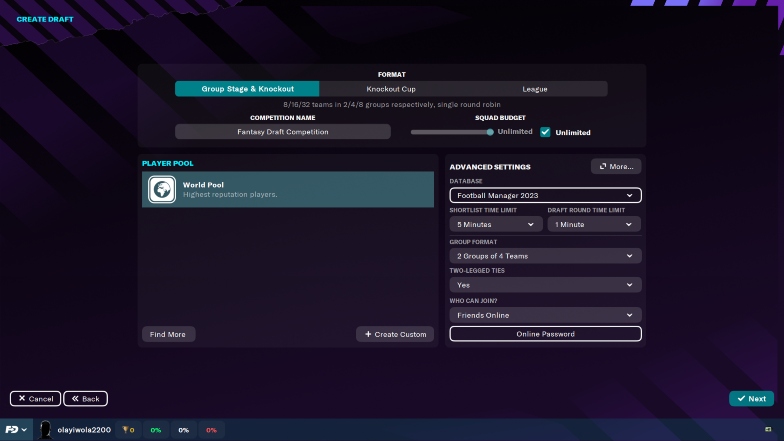 An example of the group stage and knockout format in real life is the UEFA Champions League. All participating clubs are separated into groups initially, and the teams that qualify from those groups progress into a knockout stage.
You can add up to 32 teams in this format, and you also get to decide the situations where two-legged ties apply in your fantasy draft.
Knockout Cup
You can also add up to 32 teams in the knockout cup format, but there is no group stage involved this time. Every team competes against another in knockout games (two-legged or not, depending on your preference) until a winner emerges in the final game.
League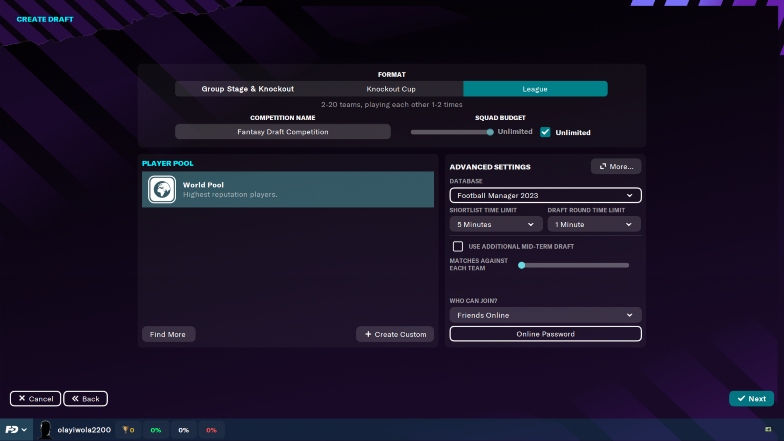 In the league format, you can add anything from 2 to 20 teams, each one playing every other participant at least once during the season.
This format also allows you to include an extra draft in the middle of the competition to mix things up a bit. It gives all participants a chance to reshuffle their squads and improve performances in case the initially selected players do not fit into the coach's system.
Draft Restrictions
After choosing your preferred competition format and adjusting the rules where necessary, the next page presents you with an option to place more restrictions on the draft process.
You can add restrictions that further reduce the number of players eligible for drafting with filters for age, position, height, preferred foot, etc.
These restrictions can be applied to all the draft picks or specific ranges of picks such as the 1st to 5th picks or the 15th to 20th picks.
Draft Lobby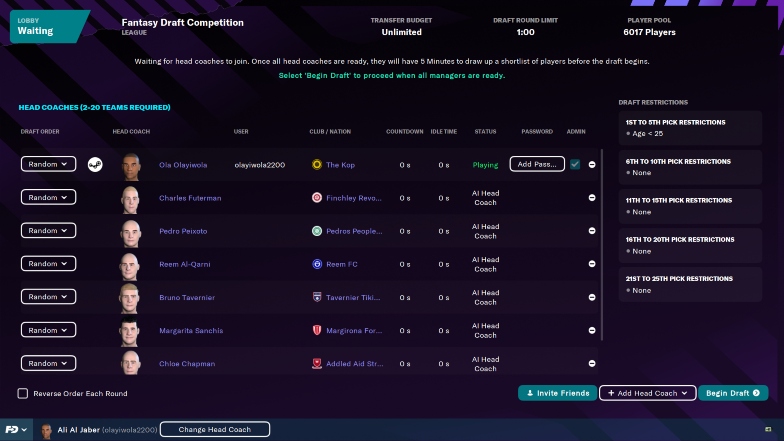 The next step is the draft lobby proper, and the first thing that you have to do is to create your head coach profile.
If you already started a save on the game before, you can use the same head coach profile that you initially created for the fantasy draft game mode. If you don't have one, then create a new one.
Next, you have to create the club that you want to use. Don't panic, it's not as in-depth as creating your own team. All you have to do is choose names, uniforms, and logos.
Again, if you already created a club in another game mode once, you can just use the data for that in this mode as well.
Adding Head Coaches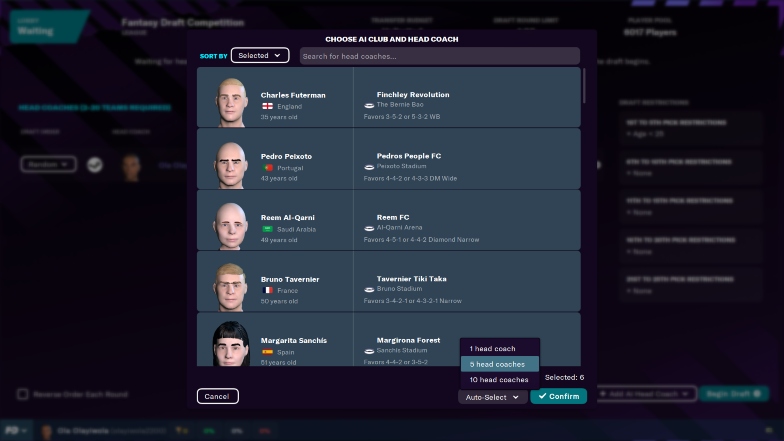 After creating the coach and the club, the next step is to select the participating coaches. You have a few options here – invite friends online, add AI head coaches, or add a hot-seat head coach that shares the game with you locally.
You can edit the draft order of the coaches that you've added to decide who gets to shortlist and choose players first, or you can leave the field on the default random setting.
Shortlisting Players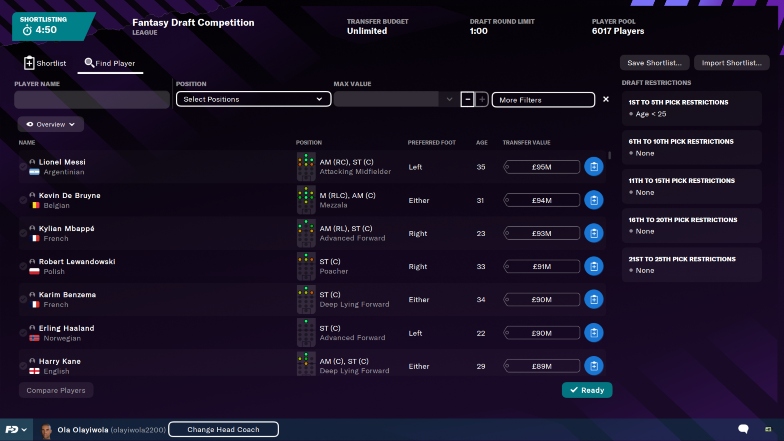 The next step is for all coaches to add players to a shortlist.
This is important because it makes it easier to identify and choose players that could fit into your style of play from a smaller pool. If you're unsure which tactic or formation to use, you can get some inspiration from the best tactics on FM23.
Since the drafting process is timed, choosing players from your shortlist helps to find the players you actually want faster.
The time that you have to shortlist players depends on the settings that you adjusted in the format-choosing stage. If you did not change that setting, the default time is set to 5 minutes.
Drafting Players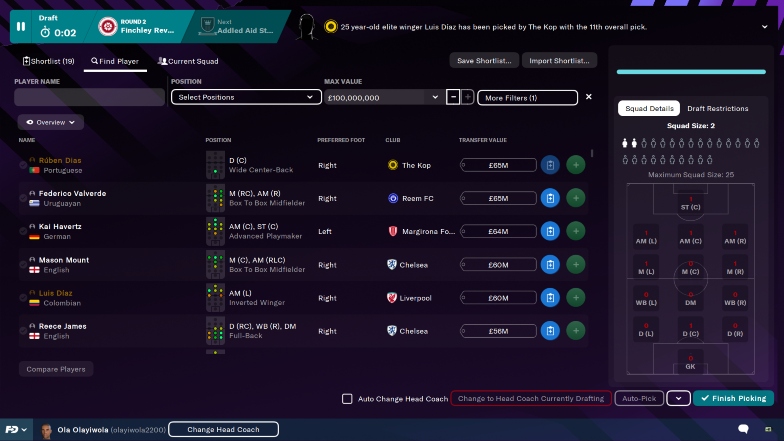 After all head coaches have shortlisted the players that they're targeting, the draft rounds begin.
Again, the order of the draft is determined by the setting you adjusted at the stage where you were adding the participating coaches. If you did not change anything there, the order will be decided at random.
By default, AI head coaches draft their players within five seconds, but human coaches have up to a minute to choose a player in each draft round. If you adjusted the timing, then your changes will reflect in the time allowed instead.
When your squad of 25 is complete, you're ready for the battle to become an FM23 Fantasy Draft winner!