For all the changes that we've seen in Football Manager games over the years, one thing that has remained bland is the interface of the game.
In fact, it's probably worse now than it used to be.
There was a time when you had the option to choose between light and dark skins. Nowadays, there's one variation of one skin and that's all!
The same is the case with FM23, so the importance of downloading and applying custom skins remains the name of the game.
On that note, the Zealand skin has become a pretty popular choice among FM gamers over the years, and the version for FM23 was released on November 8, 2022.
Where to download the Zealand skin
You can get the skin from multiple sources online, but FMScout is a reliable one. Go to https://www.fmscout.com/a-zealand.html to download the Zealand FM23 skin.
How to install the Zealand skin
Once you've downloaded the .fmf file, paste it into the folder "Documents >> Sports Interactive >> Football Manager 2023 >>> skins".
In your game, go to the "Overview" section of "Preferences" and you should see the new addition in the list of skins that you can choose from. See the image below for reference.
Choose the Zealand skin, click "Confirm" and wait for the new skin to be applied.
On that same page, under the "Interface" section, you'll see the option to change the scaling of the fonts and visuals. If you reduce that to 85%, then you can fit more information into each page that you open.
For reference, compare the amount of information on the profile page of Mitrovic to that of Trent Alexander-Arnold. This is after I applied the Zealand skin, as you can probably already tell.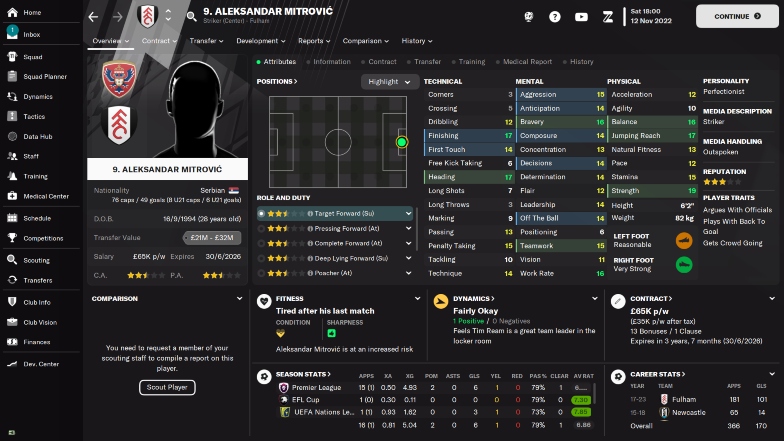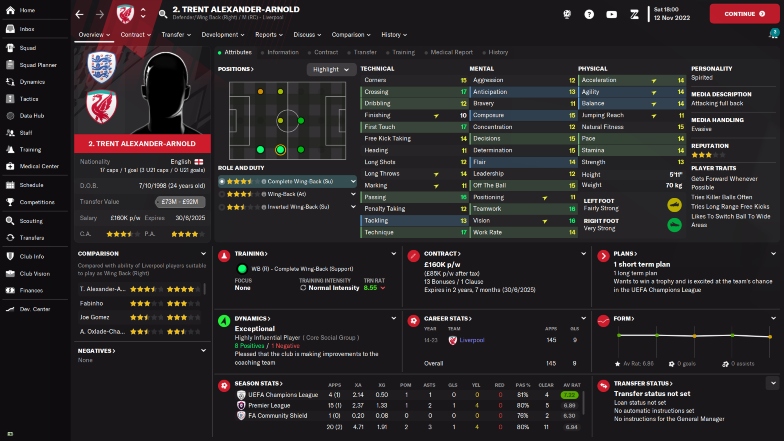 If the Zealand skin is not cutting it for you, there are many alternatives from various sources all over the web.
Sometimes, the downloadable files for these skins will come in the form of compressed folders instead of single .fmf files, but the process for applying the skins to your game is usually the same.
In case you were wondering if those new logos come with the skin – they don't.
The good news is, you can get your own real badges, player faces, and kits for FM23 pretty easily.
A major reason why people download and use these custom graphics is to make the game feel more realistic. It does work a treat, but there are a bunch of other ways to achieve that effect on a stronger level.
If you're interested in doing that, then your next stop should be checking out how to increase realism in Football Manager 2023.
The tips and tricks in there can really take things to the next level in terms of how immersive the gameplay is, and I say that with first-and experience.