Sometimes you may decide that instead of using Madden 24's Franchise Mode to try to build a team up to the ultimate achievement of winning the Super Bowl trophy, you'd rather get a little more weird and creative with it.
That's where Madden 24's fantasy draft comes in, as it allows you to draft alongside the other 31 teams to build a super team made up from a pool of all existing players in the game.
But that raises the question: what player should you draft with your coveted first round pick to make the biggest impact for your team?
That's where DiamondLobby comes in, to help you determine what will be your best first round draft pick in a Madden 24 fantasy draft.
Quarterbacks
The reality of football is that the quarterback is the single most important position on the field.
If your team can land a true franchise QB, the team will always have at least an outside chance of competing thanks to the QB alone.
When the team surrounds that QB with other great talent, a Super Bowl victory becomes much more possible or even likely.
This is why the best first round pick for your Madden 24 fantasy draft is a great QB to build the team around.
When deciding what QB you want to take, there are two factors that should be taken into account most: the QB's current skill level and the QB's age.
You can't merely look at the QB's current ability, as older QBs will regress far faster and sooner, as well as have less time to develop to a higher level than their younger counterparts.
Jets QB Aaron Rodgers, for example, will give you great QB play for a season or two, but it won't be long before he begins regressing or outright retires.
With all this in mind, which QBs in Madden 24 have the right combination of these things to make for a good first round pick?
Patrick Mahomes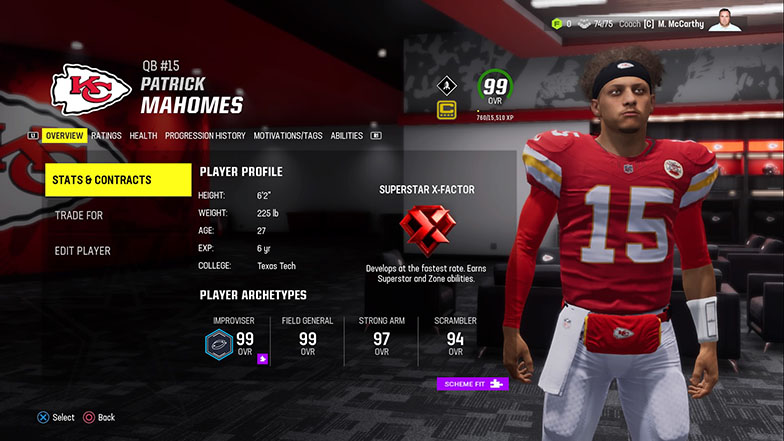 The most obvious candidate for your first round pick is Chiefs QB Patrick Mahomes. If you're lucky enough to have the first overall pick Patrick Mahomes should be the no brainer choice, as that's the only chance you'll get to have him on your team.
Pat Mahomes is the best QB in the game at a maxed out 99 overall, setting up your draft for maximum success.
He's also only 27 years old, meaning he's got many years from regressing, and his Superstar X Factor development paired with great seasons will slow the regression down even more.
Mahomes can make any throw on the field at any moment thanks to his 97 throw power rating and average accuracy rating of 94.
He can also escape trouble to make a big play with his 98 throw on run rating, 88 break sack rating, and 97 under pressure rating.
Joe Burrow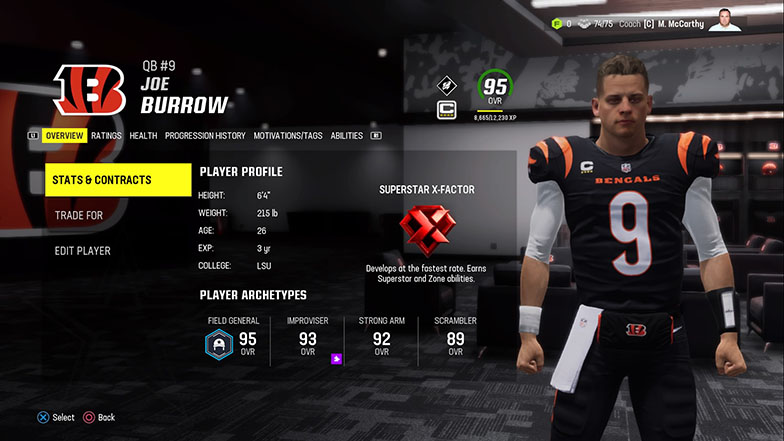 Another great candidate for your first round pick is Bengals QB Joe Burrow.
At 26 years old Burrow is already a 95 overall, and it should be no more than a season or two before you're able to develop him to a 99.
Burrow is the game's most accurate QB, with his 93 deep accuracy rating, 98 medium accuracy rating, and 99 short accuracy ratings ensuring that virtually all passing attempts you make with him will be on target.
Burrow's 90 break sack rating and 94 throw under pressure rating also ensure that he'll still be able to get the throw out and keep it on target if the situation around him begins to break down.
Josh Allen
The Madden 24 cover athlete in Bills QB Josh Allen is another great option for your first round pick. At 27 years old, Allen comes in at a 94 overall.
Allen has the strongest arm in the game, with maxed out 99 throw power rating.
Pairing the insanely strong arm with a 89 deep accuracy rating, 89 medium accuracy rating, and 92 short accuracy rating means that there's no throw too tough for Allen to complete.
Allen also brings his chaotic rushing talent to the equation, as his 96 break sack rating allows him to escape pressure in the backfield to make a play.
If no one gets open, Allen's 88 speed rating and 92 acceleration rating allow him to take off himself before forcing defenders to the ground with his 83 stiff arm rating.
Lamar Jackson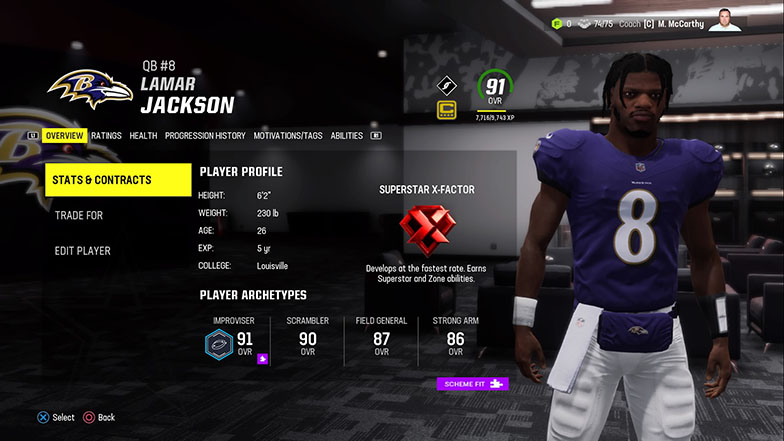 If you're looking to make your offensive attack more dynamic with a rushing QB, Ravens QB Lamar Jackson is a great choice for your first round pick. At 26 years old, Lamar boasts a 91 overall.
Lamar is the best rushing QB in the game as his 96 rating in both speed and acceleration combined with his 95 agility rating and 95 change of direction rating make him a massive threat with his legs.
Lamar's running skills are also useful behind the line of scrimmage, as his 95 break sack rating and 95 throw on run rating allow him to escape trouble, find his man, and hit them in stride while he's on the move himself.
Jackson is arguably the hardest QB to sack on Madden 24.
Jalen Hurts
Eagles QB Jalen Hurts is another QB that brings the rushing element to the game, although he's much closer to Josh Allen's power running style than Lamar Jackson's evasive running.
Hurts is only 25 years old and his 89 speed rating and 90 acceleration rating make him dangerous as a runner, while his 93 break sack rating and 91 throw on run rating make him equally dangerous when running and looking for an open man.
Hurts doesn't have any stand out attributes as a passer, but he's solid in all of them.
An 86 throw power rating combined with an average accuracy rating of 86 and a 89 throw under pressure rating allow him to be a solid passer while doing the rest of the work on the ground.
Justin Herbert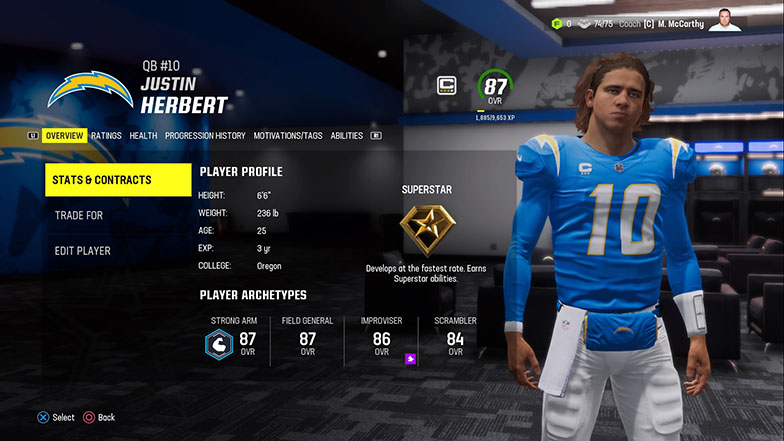 Chargers QB Justin Herbert is one of the league's most promising young QBs, as at just 25 years old he's already an 87 overall with star development.
Herbert brings the first round pick candidates back to those with a cannon for an arm, as his 96 throw power rating is the third highest in the game behind only Josh Allen and Patrick Mahomes.
When you combine the arm strength with a a 91 short accuracy rating and an 88 for both medium and deep accuracy ratings there's no throw that Herbert can't make.
Herbert can also still make a play if things break down and he's forced to go off script thanks to his 92 throw on run rating, 79 break sack rating, and 87 throw under pressure rating.
While he's not a speed demon of a QB like Lamar Jackson is, his 86 speed and 89 acceleration can still allow him to escape tricky situations when he needs to.
Dak Prescott
Cowboys QB Dak Prescott is the oldest and least flashy option of any of the QBs mentioned so far, but he's still a great choice for your first round pick if you're picking too late to grab anyone already mentioned.
Prescott is a solid all around QB, with no weaknesses in any aspect of the game.
His 90 throw power rating combined with an average accuracy rating of 90 allow him to have no problem making all the throws he needs to.
Dak can also create something out of nothing, as his 94 throw on run rating, 88 throw under pressure rating, and 92 break sack rating give him the ability to make a play when hope may seem lost.
Despite being 30 years old, you'll still be able to get a few seasons of prime play out of Dak before any true regression sets in.
His superstar development trait will also make him regress at a slower pace whenever it does set in, and you can stave off the regression even further by continuing to put up good numbers with him.
Trevor Lawrence
Someone that knows how it feels to be the number one draft pick is Trevor Lawrence.
Jaguars QB Trevor Lawrence is a great choice as a more long term option for your first round pick.
At only 23 years old, Lawrence is already an 82 overall with superstar development to help him quickly climb higher.
While Lawrence has the lowest overall rating of any of the QB candidates for the first round pick, he's also by far the youngest, as at only 23 years old beating out the two second youngest in Justin Herbert and Jalen Hurts by two whole years.
With his superstar development, he'll likely be a higher overall QB by the time he's 25 than those two are at 25 (88 and 87 respectfully).
Lawrence has a strong arm with a 93 throw power rating, providing a solid foundation to build upon as you develop his good but with room to improve accuracy ratings of 85 deep, 84 medium, and 88 short.
Similar to other QBs mentioned on this list, Lawrence's 85 throw on run rating, 86 throw under pressure rating, and 85 break sack ratings allow him to make things happen even when the play breaks down.
Bryce Young
Taking the long term logic behind drafting Trevor Lawrence to it's extreme makes Panthers QB Bryce Young a great choice for a first round draft pick as well.
Bryce is comes into the league at a 74 overall and only 22 years old.
Rookies with a development trait of star or higher will have the trait hidden until they've reached 500 game snaps. Bryce does have that hidden development, which means his high development trait will help you to develop the young QB quickly.
Another positive of his hidden dev trait is that until it's revealed, the game will treat him as if he had a superstar dev trait, and he'll develop accordingly.
But even before you begin developing him, Bryce's 87 throw power rating along with his average accuracy rating of 84 gives him a foundation for good play while you develop him into an elite QB.
Pass Rushers
If you happen to have your first pick towards the back half of the first round, you may find that the best QBs left available for you are older QBs like Aaron Rodgers or Kirk Cousins.
While these QBs are highly rated players, they're also at an age where they'll regress quickly and may even be close to retirement, which would mean they wont be able to give you enough time as a great QB to justify a first round pick.
But if you find yourself in that situation don't worry, there's still great options for you to use your coveted first round pick on.
After all, if QBs are the most important players on the team, then the guy who's job it is to hit opposing QBs is also important: pass rushers.
An elite pass rusher can be the cornerstone that you build your entire defense around while they make life hard for your opponent's QBs.
Similar to the QBs earlier, you should be looking for a combination of current skill level along with youth when considering what pass rusher to take with your first round pick.
Myles Garrett
Browns RE Myles Garrett is arguably the best pure pass rusher, and it's easy to see why.
Coming in with an overall rating of 98 at only 27 years old, Garrett is set to terrorize opposing QBs for years to come.
Garrett's insane combination of a 98 power moves rating and a 96 strength rating allow him to bully his way through offensive lineman to make a play in the backfield.
If an offensive lineman is somehow able to stop Garrett's bull rush, he can also use his 91 finesse moves rating to go around them to find the ball carrier.
Once Garrett has found himself in the opponent's backfield, his 92 tackle rating, 91 play recognition rating, and 95 awareness rating ensure that he'll be aware of what's going on in order to find the ball.
Even if the ball carrier seems to slip past him, his 87 speed and 91 acceleration allow him to close the gap.
Nick Bosa
49ers RE Nick Bosa also boasts a staggering 98 overall although he's a full two years younger than Garrett at 25 years old.
This means that if you were to draft Bosa with your first round pick you'll have more time with Bosa in his prime.
Bosa can overwhelm offensive linemen with a one-two punch of a 94 power move rating with a 98 finesse moves rating, letting him beat his man in any way that he may need to.
Once Bosa gets into the backfield, his 99 awareness rating ensures he'll be able to quickly find the ball carrier, and once he gets his hands on the them they aren't going anywhere as his 96 tackle rating helps to ensure that they won't break free and he'll instead be driving them into the ground.
Micah Parsons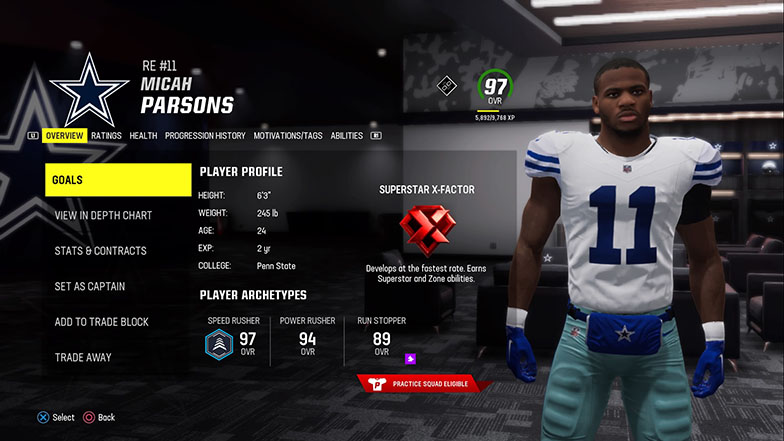 Cowboys RE Micah Parsons clocks in at a 97 overall, while being the youngest pass rusher on our list at only 24 years old.
Parsons is a true freak athlete, as he boasts a 92 speed rating, 95 acceleration, and 87 strength rating while standing at 6'3″ and 245 pounds.
But he's not just athleticism, as his 89 power moves rating and 95 finesse moves rating allow him to also beat linemen with skill and technique.
Parsons is also an incredibly high IQ defender, as his 94 play recognition rating and 97 awareness rating will prevent him from losing track of what's happening on the field, but even if he did his 94 pursuit rating combined with his athleticism will allow him to track down the ball carrier and make the play.
Aaron Donald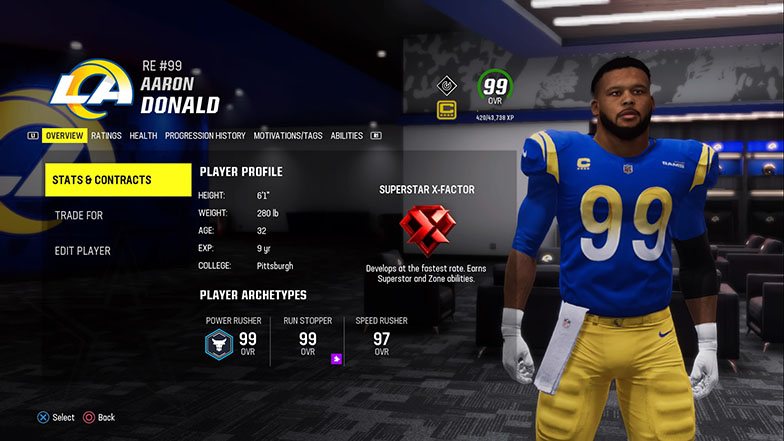 Rams RE Aaron Donald is arguably the greatest interior defensive lineman to ever play the game.
His stats reflect that, as he comes in as the game's highest rated defensive lineman at a maxed out overall matching his jersey number of 99.
Donald is the oldest player on our list at 32 years old, but he's so good that he has to be in the conversation anyway. His superstar X factor will help stave off regression, as will his extremely impressive stats contributing to great season after great season.
Donald has an unbelievable four of his core attributes maxed out at 99: power moves, play recognition, strength, and awareness.
These stats, combined with other high ranking attributes such as a 97 block shedding rating and 96 finesse moves rating, ensure that he'll be a force to be reckoned with on the defensive line.
Maxx Crosby
Raiders LOLB Maxx Crosby boasts a 94 overall, making him the highest rated LOLB in the game at only 26 years of age.
Crosby will make light work of sacking the opposing QB as his 96 finesse moves rating allows him to blow by the blockers and his 95 pursuit rating allows him to chase the down the QB and bring them to the turf.
Crosby is also a contributor in run defense, as his 91 tackle rating, 95 play recognition rating, and 98 awareness rating will let him successfully read the offense and plug any gaps the RB may attempt to run through.
Chris Jones
Chiefs DT Chris Jones is the only DT to make our list, as DTs are generally less valuable than edge rushers are.
Jones is an exception however, as he grades out as the best DT in the game at 96 overall. Jones can sack the QB as well as any edge rusher thanks to his 97 power moves rating allowing him to bulldoze his way through any would-be blockers to get after the QB.
Where Jones benefits from being a DT is that he's also an excellent run defender on top of being a great pass rusher.
Jones' combination of a 93 tackle rating, 87 block shedding rating, 95 play recognition rating and 98 awareness rating ensure he'll be there to collapse the offensive line and stop opposing RBs in their tracks.
Other Players
Depending on where in the first round your pick is you may find that all the players listed are not available to be taken by the time it's your turn to draft someone, as the CPU controlled teams will also be taking elite players at the most valuable positions of QB and pass rusher with their picks.
Thankfully, whether you miss out on the chance to draft any of the listed players or simply because you'd rather go in a different direction, there are other elite players in the draft pool that are good enough to warrant using a first round pick to get them on your team.
These players include:
Vikings WR Justin Jefferson (24 y/o, 99 OVR)
Chiefs TE Travis Kelce (33 y/o, 99 overall)
Dolphins WR Tyreek Hill (29 y/o, 98 OVR)
Dolphins CB Jalen Ramsey (28 y/o, 97 OVR)
Raiders WR Davante Adams (30 y/o, 97 OVR)
Bills WR Stefon Diggs (29 y/o, 97 OVR)
Rams WR Cooper Kupp (30 y/o, 97 OVR)