For a game like Madden, which releases a new title every year, the biggest question is: what's new this year?
How does Madden 24 compare to Madden 23?
Many times over the 30-year history of the Madden franchise, a major criticism has been the perceived lack of improvement from year to year. Sometimes it feels like the game is merely a repackaged version of the previous year with an in-depth roster update.
While Madden 24 will likely face the same criticisms, there are several significant updates and improvements that are very encouraging. Let's delve into the most notable changes.
Gameplay and Animation Updates
In Madden 23, EA introduced FieldSENSE, a gameplay system that significantly increased the realism of the on-field experience. By giving players more control on the field and enhancing animations and AI, the game appeared more realistic and dynamic.
Madden 24 introduces numerous new features to the FieldSENSE system, including:
Greater variety in tackle types (with over 1700 different tackle animations)
An improved tackle formula that determines the outcome of a potential tackle based on ratings, size, and momentum.
Significant improvement in the AI of offensive blockers; they can now maneuver around defenders and propel ball carriers forward if the defense holds them up.
Exciting new passing animations inspired by the remarkable real-life plays of Pat Mahomes and Josh Allen.
Receivers can now maintain speed on throws hit in stride.
One of the most exciting new features on the field is the SAPIEN skeleton technology. This technology will greatly enhance the appearance and movement of players.
SAPIEN holds the potential to eliminate the awkward and clunky animations that were prevalent in previous Madden iterations.
All in all, these new technological and AI changes should help refine gameplay and substantially reduce the frustrating gameplay issues that have characterized the last few years of Madden games.
Superstar Mode
Madden 23's "Face of the Franchise" mode is being rebranded as "Superstar" mode on next-gen consoles and PC.
Superstar mode has appeared in previous iterations of the Madden franchise. First introduced in Madden 06, Superstar mode was a fan favorite until Madden 25 (2014), when the game mode was discontinued in favor of a more comprehensive franchise mode.
Superstar mode was similar to franchise mode, but instead of controlling an entire team, you managed a single player. In this mode, you would create your own NFL superstar and experience their journey as you upgraded and progressed through their career from being a rookie until retirement.
In recent years, Madden has come close to recapturing the essence of Superstar mode with their Face of the Franchise game type. However, that mode was very story-focused and had gameplay loops that were distinct from both franchise mode and Superstar mode.
We don't know all the features of Superstar mode and whether it will include story elements like cutscenes and response options that were prevalent in Face of the Franchise. Based on the name change, we can assume that it will be markedly different from the story-driven Face of the Franchise mode and more in line with the classic superstar mode.
Franchise Updates
EA has implemented several small changes to enhance the Franchise mode in Madden this season. While not revolutionary, these changes should make the experience more enjoyable for hardcore Franchise mode players.
First and foremost, Madden 24 will mark the return of training camp mini-games. These mini-games are tailored to specific players and positions, aimed at upgrading key players on your franchise. They include QB target passing, WR red zone attack, trench battles for offensive and defensive lines, as well as coffin corner punts, and many more!
Weekly training loops, present in previous Madden games, will now incorporate these mini-games.
The trading system has been significantly improved, allowing for six trade slots per team, CPU trade offers, the ability to trade picks two years ahead, better trade tuning, and a vastly improved draft pick value chart based on the renowned Jimmy Johnson chart used in actual NFL drafts.
The generation of draft prospects has become more dynamic, resulting in more versatile and unique players, including those with cross-positional skills.
Other additions to the Franchise mode encompass more relocation cities, contract restructuring options, fifth-year options for first-round picks, updated skill trees for coaches and personnel, more accurate player regression, and improved player value models.
With all these adjustments, it's evident that Madden 24 will boast the most realistic and NFL-accurate franchise mode to date.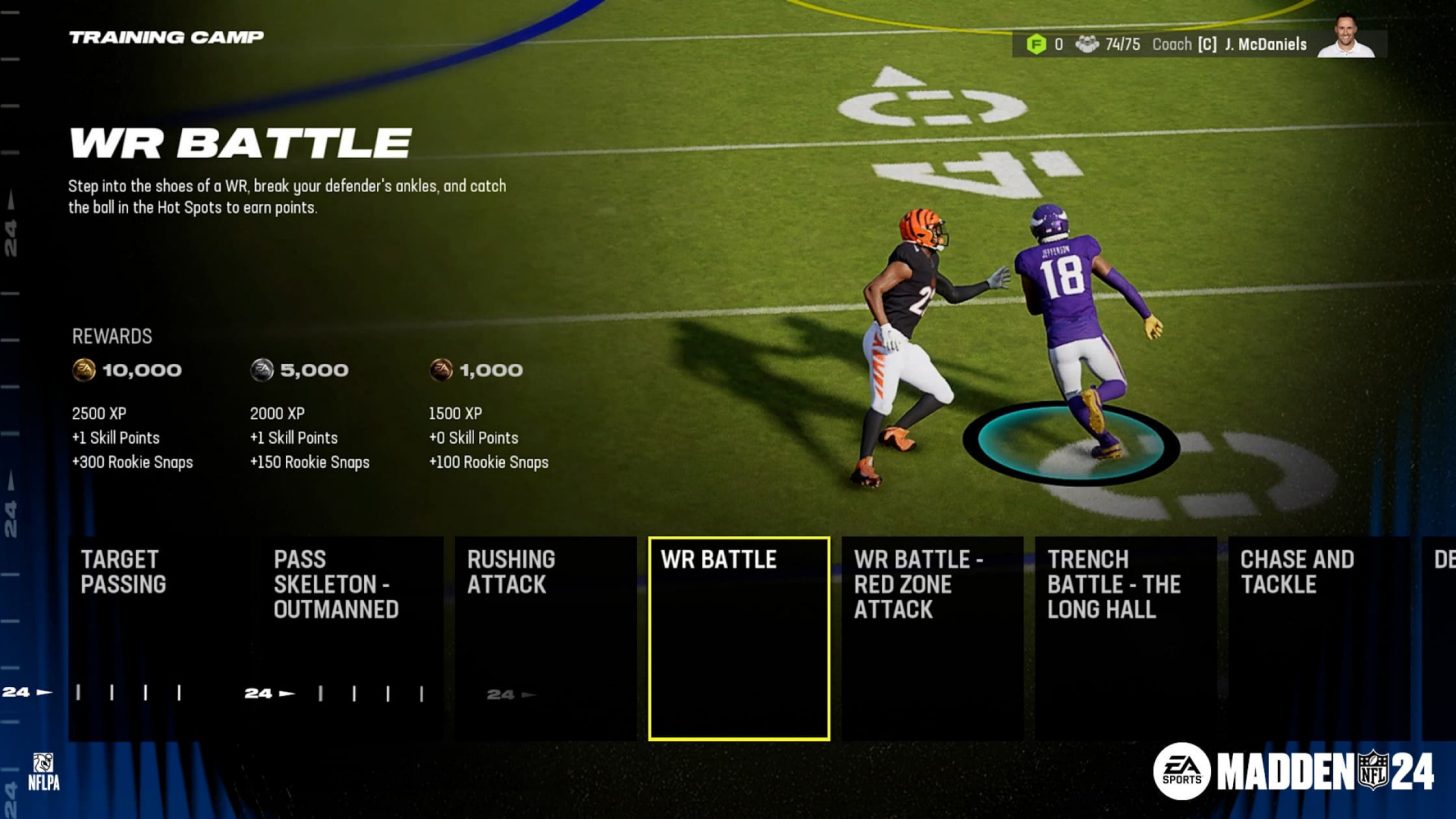 MUT Remains Unchanged, Adds Crossplay
Madden Ultimate Team (MUT) will remain nearly identical to previous versions, with one noteworthy exception.
The much-requested crossplay feature will be introduced in Madden 24, but only for the current PS5/Xbox Series XS generation and PC.
This feature will enable players to compete with or against each other regardless of their console. This applies not only to MUT but also to online head-to-head, Superstar KO, and Superstar Showdown Online modes. However, it doesn't seem that the MUT auction or trade houses will incorporate crossplay.
This additional feature should reduce wait times for matches and increase the level of competition.