It is easy to lose track of time when playing Minecraft.
Sometimes I find myself just mining or building for hours on end, without realizing just how much time has passed. Then I see the clock and realize I should have been in bed hours ago!
When I look back on some of my Minecraft worlds, I occasionally start to wonder how much playtime actually went into those survival or creative worlds.
It is easy to check how many hours you have in Minecraft on almost all platforms, similarly to how it is to change gamma in the game.
In this guide, we'll show you how.
Checking your Playtime in Java Edition
On Java Edition, checking your playtime can only be done for each individual world you have in your game. You can't see your overall playtime for the entire game.
Minecraft actually keeps track of many different aspects of your gameplay for the world you are playing in such as:
Cake slices eaten
Damage taken
Distance climbed
Distance fallen
Distance walked
Jumps
And many more!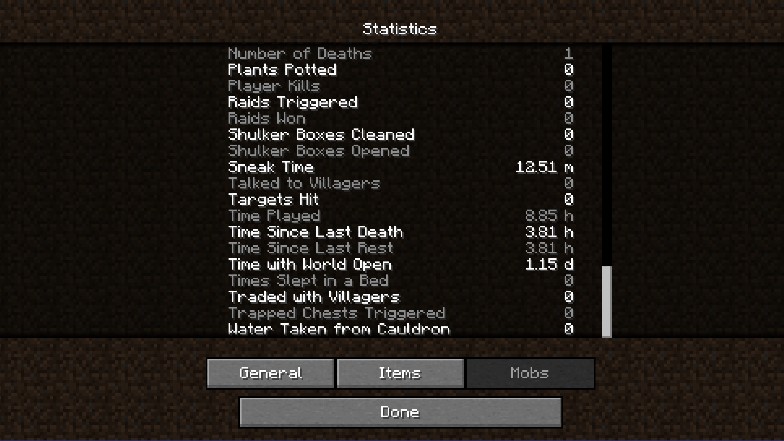 To check these statistics is pretty easy.
Enter any of your worlds and let it load. Once you're in press the escape button and click on Statistics below the 'Back to Game' button. All the statistics regarding your world will be shown here.
They're listed alphabetically so your time playing will be near the very bottom. You can also see time since your last rest and death too, which can be useful if you want to locate lost items in Minecraft.
Checking your Playtime in Bedrock Edition
Bedrock Edition has a more accurate way to show how many times you've played the game, because it tracks the overall time the game has been open (like Steam does).
This means if you delete a world you've spent a long time on that playtime is not deleted with the world.
However, Bedrock doesn't track all the other interesting statistics like Java does. It tracks its own achievements and milestones within the game.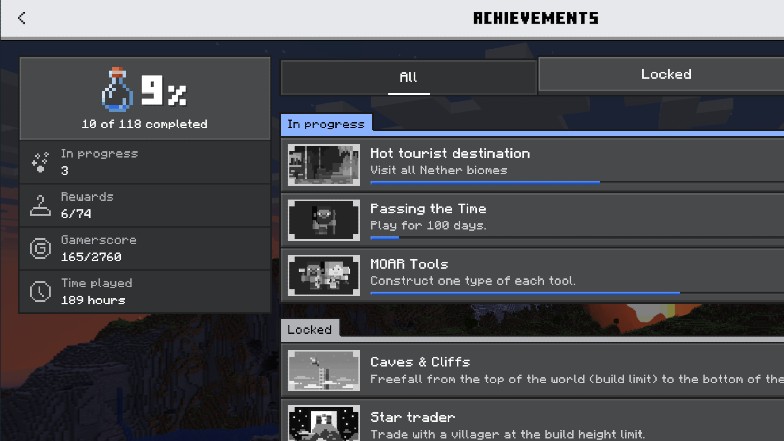 To check your playtime on Bedrock go to the Main Menu and click on Achievements (the water bottle icon on the bottom left). Here you'll be able to see all available and completed achievements, your hours played, and rewards.
Checking Playtime on Consoles
Xbox works somewhat similarly to Bedrock Edition for PC. You can check your hours by going into the Xbox App on your phone and accessing the menu. There you will see the Achievements tab, just like in Bedrock.
Scroll down the Achievements to the 'Hours Played' among all your other statistics.
For PlayStation the process is pretty straightforward as well.
Once you boot up your console go into your profile and select the Games tab. Scroll down until you find Minecraft and you should be able to see the hours played.
What to do Next
Now that you know how to check how many hours you have in a world, maybe you can share what you have with others.
Finding the seed of your world may be important if you wish to share the amazing world you are exploring. While it will not copy the builds you have made, it'll give others the same joy of exploration as it gave you.