If you get tired of playing for the team you chose to join in NBA 2K23, you might want to request a trade to another team.
Maybe your teammates aren't up to the level you require or management aren't giving you enough minutes. Whatever your reason, luckily for you, there is the option to request a trade in NBA 2K23 MyCareer.
Whilst it is possible, it isn't that simple. There are a few requirements you need to meet before you can request a trade.
The process can be a bit of a grind, but at this point, everything is a grind if you aren't willing to buy precious VCs.
This guide will show you how to request a trade in NBA 2K23's MyCareer mode and show you the fastest way to gain interest from other teams to get a trade finalized.
How to Request a Trade
After dealing with Sepp in the summer league and reaching the start of the NBA season, you can go to the Progression tab and find the "Request Trade" button.
However, there is a catch. The feature is not available yet because you have to have other teams interested in having you on their team.
Playing regular season games is the only way to increase interest from other teams.
It might take a while before you can do this, but there are ways you can have other teams interested in your player faster.
How to Increase Interest from Other Teams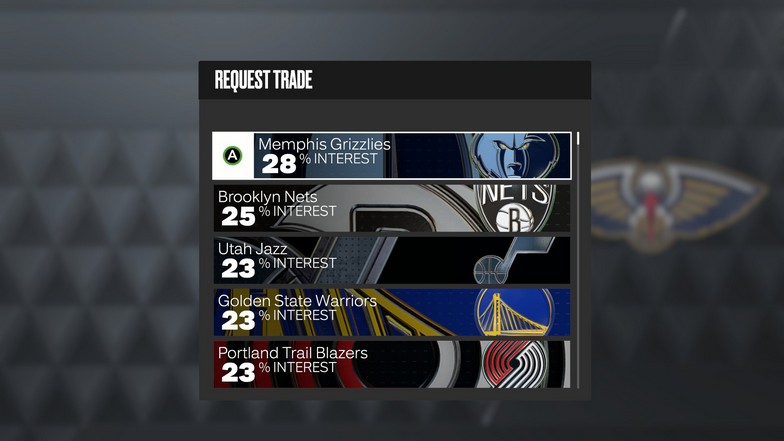 To increase interest from other teams to request a trade, you need to play games in MyCareer while performing at a good rate with good teammate grades.
Here is how team interest works:
Based on my playthrough, after playing a 12-minute-per-quarter game with 30 points and 25 assists, the interest from other teams increased by roughly 5-7%.
In playing a 5-minute-per-quarter game, the interest from other teams increased by roughly the same amount.
In another scenario, I played terribly and only finished with 6 points, 7 assists, and 4 turnovers in a 5-minute-per-quarter game. The interest from teams slightly increased by 1-2% while other teams lost some interest or remained the same.
From these three scenarios, performance is the key to increasing interest from other teams to request a trade.
However, there was one crucial game where I was playing against the defending champions, the Golden State Warriors, and gained 15% interest from a few teams after a single game.
My stats during that performance were 20 points, 10 assists, and 4 steals, along with a big win.
It seems marquee matchups might boost interest higher, but overall, you just need to play at a high level.
Simulating Games
Simulating games was a possibility in previous editions of 2K. However, I tried simulating a total of 4 games, and none of the other team's interests increased.
Since you will be stuck with your current team for at least the foreseeable future, you might as well improve your player first while working your way to requesting a trade.
You can lower the minutes, play on the lower difficulty to boost performance, or become efficient and earn more VCs per game. You can also get endorsement deals to boost your VC earnings.
Finishing team practices can unlock more badges. If you want the fastest way to unlock badges, you can lower the difficulty and play absurdly well to gain points.
Choosing the Right Team
Each player build can bring something special to the right team. You might have the best center build for 2K23 but whether you succeed there can highly depend on the team you are playing for.
For example, you can have a defensive center build, which can be bad for teams who wants a shooting big man to stretch the floor.
Each of these aspects can be factored in when requesting a trade to a new team because each position is different.
You also have to account for the player being traded for you. If you get a 99 rating early on, the other team will need to move a ton of players to get a deal done.
Summary
To request a trade in NBA 2K23, you first need to have other teams interested in you.
To make a trade more likely to happen, you need to perform well on the court.
It's best to get traded before becoming a complete superstar because trades will get very expensive for the team looking to acquire you, and this can make a deal more difficult to complete.