When playing MyLeague or MyGM in NBA 2K23, acquiring and developing young players into quality starters is one of the most important factors for ensuring your team's long-term success.
When you find a young player with loads of potential, you want to do everything you can to get them and keep them on your team. This is because, with the right development, these players can become top-tier contributors to lead your team to wins and even championships.
While they may not be ready for a huge starting role now, it's important to keep the future in mind when building your team, as otherwise, you'll find yourself struggling to put together a solid roster when your current star players begin to regress or retire.
That's why today we'll help you determine who are some of NBA 2K23's best sleeper players that you should target in trades or free agency.
What is a Sleeper Player?
A sleeper player is a young player that shows potential to be developed into something special in the near future but isn't someone widely regarded as a potential star. This means that they should be in their teens or early twenties in order to provide as much development time as possible.
A sleeper player should also display at least a decent level of ability at this moment in time. This is because if a player doesn't possess many skills, it'll be near impossible for them to develop into a real contributor no matter how young they may be.
But being a sleeper player isn't as simple as being young and showing promise. If that were the case, this list would simply be a collection of top draft picks like Paolo Banchero and Chet Holmgren.
Instead, being a sleeper player means that this player is going somewhat under the radar and is yet to be fully recognized for what their potential truly is.
The best sleeper picks often make great trade targets, as their lack of acclaim can make them much cheaper to acquire than they otherwise would be.
Now that we've established what we're looking for in a sleeper player, let's take a look at some of the best sleeper players in NBA 2K23.
Center
Kenneth Lofton Jr, Memphis Grizzlies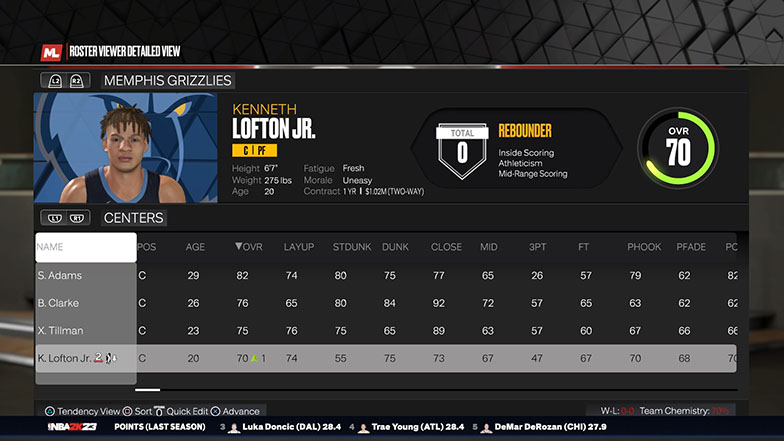 Kenneth Lofton Jr is the first sleeper player on our list, coming in at only 20 years old and 69 overall.
Some of the big man's stand-out stats are his driving layup at 74, his driving dunk at 75, and his close shot at 73. These attributes combined with his size at 6'7″ and 275lbs allow Lofton to contribute well in the post, driving through the opponents and putting the ball in the basket.
If you use Lofton in a role like this while the rest of his skills develop, his B- potential will allow you to develop Lofton Jr into a good starter for you in the future.
Xavier Tillman, Memphis Grizzlies
Kenneth Lofton Jr isn't the only sleeper center on the Grizzlies' roster. In the same locker room is Xavier Tillman at 23 years old and 75 overall.
Like Lofton, Tillman has a good driving layup rating at 76. However, Tillman has a much more impressive close shot at 89. These ratings combined with his 80 in shot IQ and a very impressive 95 in hands make a very workable skillset on the court for Xavier.
Tillman is a better player than Lofton at present with some very impressive standout ratings, but being three years older means that with the right development, Lofton may be the better option. At the end of the day, both players are great sleeper options for you at center, and it comes down to you which one (if not both!) you'd prefer to pursue.
Shooting Guard
Jaden Hardy, Dallas Mavericks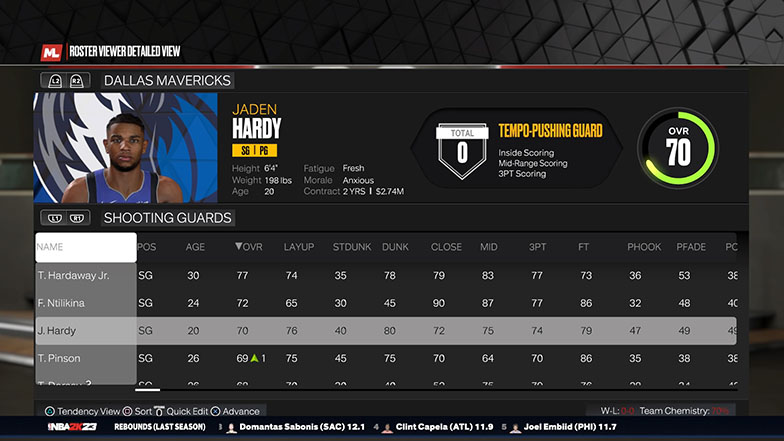 Sitting on the bench behind Tim Hardaway Jr and Frank Ntilikina is Jaden Hardy at 20 years old and 70 overall.
Hardy is a well-rounded shooter, with 72 close shot, 75 mid-range shot, 74 three-point shot, and 79 free throw.
Jaden can contribute well off the bench with the ability to take quick shots from anywhere on the court, giving him the versatility you want on your bench. As you develop him over time, these shooting stats will only get better, allowing him to rise from bench player to certified starter.
Ryan Rollins, Golden State Warriors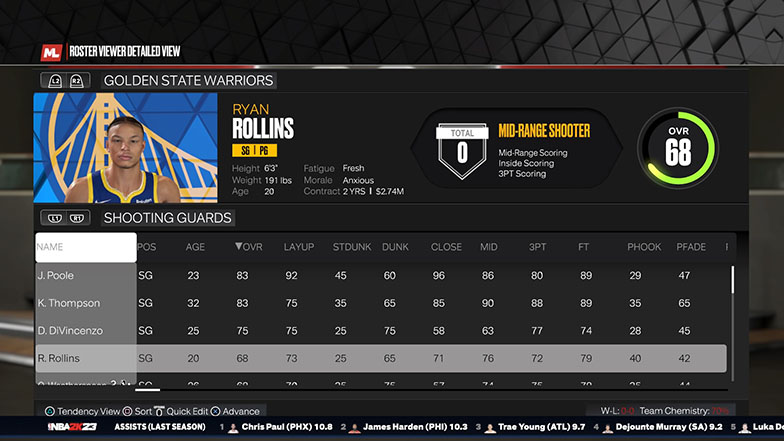 Going from Texas to California we find our second shooting guard on the list, Ryan Rollins at 20 years old and 68 overall.
Similar to the previously mentioned Jaden Hardy, Rollins is a versatile shooter with 71 close shot, 76 mid-range shot, 72 three-point shot, and 79 free throw. Rollins also clocks in with 78 ball handle and 85 hands, allowing him to make some moves on the court as well.
This combination of skills and his B potential will allow you to develop Rollins into a quality starter for your team going forward.
Point Guards
Ayo Dosunmu, Chicago Bulls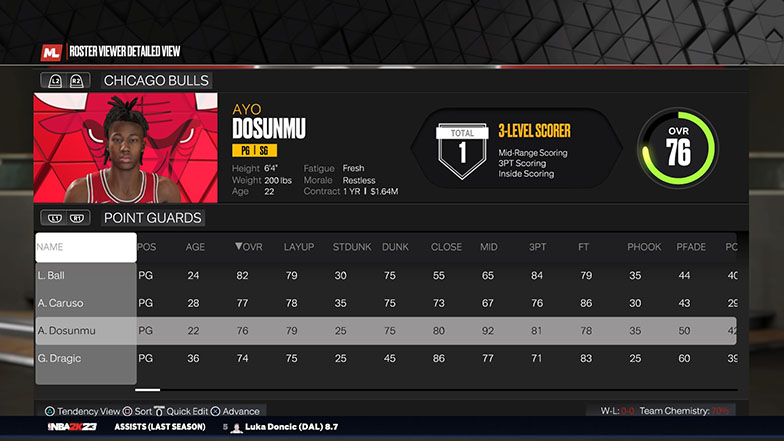 Switching gears from shooting guards to point guards, we begin with Ayo Dosunmu at 22 years old and 76 overall.
Dosunmu is the highest overall player on our list thanks to his incredibly well-rounded skillset. Ayo clocks in with a 79 driving layup and 75 driving dunk as well as an 80 close shot, 81 three-point shot, and a ridiculous 92 mid range shot.
These attributes combined with his 87 rating for hands make Ayo already a serviceable engine for your offense, but with his B+ potential, he can be developed into a great one.
Scotty Pippen Jr, Los Angeles Lakers
The son of the great Scottie Pippen may at first glance seem like an odd choice for a sleeper pick, but him entering the league undrafted and sitting on the bench behind Russell Westbrook makes him a good fit.
Pippen Jr comes in at 21 years old and 68 overall. Like all the other previously mentioned guards Pippen has versatile shot abilities, with his relevant ratings in the low to mid-70s.
His shooting ratings combined with his ball handle and hands also being in the low to mid-70s as well as his B potential make him an interesting prospect.
While he may not quite develop into the player his dad was, you can turn him into a serviceable quality starter.
Small Forward
JT Thor, Charlotte Hornets
The first small forward on our list is the Hornets' JT Thor at 20 years old and 70 overall.
Like many of the players already mentioned, Thor has well-rounded shooting stats (averaging 70) and decent hands.
However, Thor also brings rebounding ability to the table. Standing 6'9″ tall, he comes in with a 58 defensive rebound, 84 speed, 84 acceleration, and 82 vertical.
Thor can be a force in the paint, collecting defense rebounds for you while being able to take the odd shot when he's called upon for it.
This skillset combined with his B potential makes JT Thor one to watch for the future, ideally on your own team.
Talen Horton-Tucker, Utah Jazz
Horton-Tucker is somewhat of a more polished version of the previously mentioned JT Thor, coming in at 74 overall while only being one year older at 21 years old.
Like Thor, Talen is a well-rounded shooter, with his shooting attributes rounding to a high 70 as opposed to a 70 on the dot.
Talen's shooting is also boosted by an impressive 95 shot IQ and a 72 draw foul for a chance to still come away with points if the shot doesn't quite fall in.
Despite being slower and less talented in the rebound game, Horton-Tucker is overall a superior player to JT Thor, although both have their pros and cons and would both make very good options for the future.
Power Forward
Dominick Barlow, San Antonio Spurs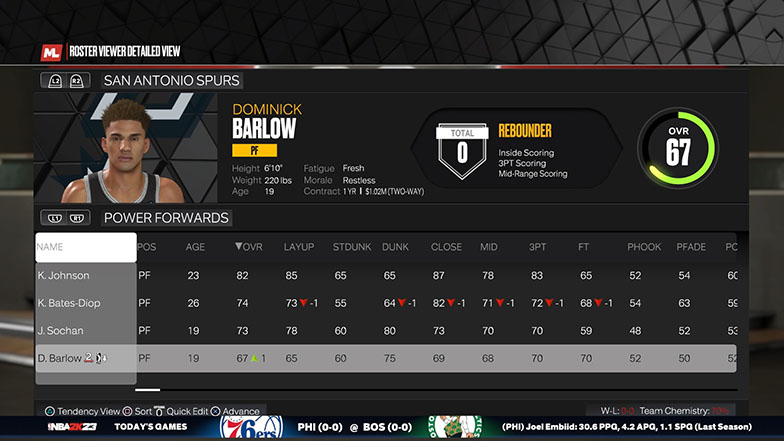 Dominick Barlow does clock in with the lowest overall rating on the list at only 66, but he does also boast the distinction of being our list's youngest player at 19 years old.
Barlow's current level of ability is made up for by his B potential rating and his youth giving you ample time to develop him to the point of fully realizing that potential.
He does come in as a decent shooter, with his shooting ratings in the high 60s to low 70s. The 6'10" big man is also a decent rebounder with a 57 offensive rebound and 66 defensive rebound.
While Barlow may only be a low play time bench player to start his career, he has the clear potential to become much more than that for you.
Greg Brown, Portland Trail Blazers
Sitting third on the Trail Blazers depth chart is Greg Brown at 21 years of age and 72 overall.
Like Barlow before him, Brown is a decently well-rounded shooter with shooting ratings in the mid-60s to low 70s. Brown is also a decent rebounder, with 56 offensive rebound and 68 defensive rebound.
Greg Brown's biggest standout selling points are his absolutely ridiculous 98 vertical rating and 95 intangibles. Ratings like these combined with his B potential make Greg Brown a great option to develop into your future starting power forward.
Final Words
When playing MyLeague or MyGM in NBA 2K23, you shouldn't allow yourself to be blinded by endlessly chasing success only in the present. Building for the future is just as, if not more important to the success of your team.
You never know what could happen in the league: what kind of injuries could arise for your current star players or what rate a player could face a regression in ability or even a full-on retirement. Developing talented players for the future is a great way to ensure continued success for your team as the current stars begin to fade out and need replacements on the court.
Now that you know of some interesting prospects to target the sleeper role, I recommend checking out our guide to the best centers in the game as well.