Takeovers are special abilities that give you that extra boost to "take over" a game. You need to perform well to activate it, and it only lasts for a limited time once activated.
This is why you must choose the best takeovers in NBA 2K23 for your build carefully.
You can have up to two active takeovers, and each takeover depends on a player's skills, build, position, and playstyle.
This guide will go through each takeover and show you which ones are the most effective (S-Tier) and why – understanding why a specific takeover is important because it will give you ideas in adjusting your build to a specific takeover.
All Takeovers
| | | |
| --- | --- | --- |
| Takeover | Positions that should use these Takeovers | Details |
| Shot Creator | PG, SG, SF | Shot Creators become more effective at shooting off the dribble and can shake off defenders consistently using stepback and spin gathers. |
| Playmaker | PG, SG | Playmakers can freeze defenders more often with augmented ball-handling abilities and can enhance their teammates' shot-making off assists. |
| Spot Up Shooter | PG, SG, SF | Spot Up Shooter gets a marked improvement to hit from deep, especially in catch-and-shoot situations. |
| Slasher | PG, SG, SF | Slashers receive extra boosts to finishing at the rim in traffic and more effective gathers to get past the defense. |
| Post Scorer | SF, PF, C | Post Scorers become more dominant in the paint with stronger backdowns and enhanced moves and shots. |
| Glass Cleaner | PF, C | Glass Cleaners receive the ability to read missed shots, win more box-out battles, secure more boards, and finish putbacks more consistently. |
| Lockdown Defender | PG, SG, SF | Lockdown Defenders receive boosts to steals and shot contests, allowing them to clamp down even the best scorers in the game. |
| Rim Protector | PF, C | Rim Protectors get strong shot contest boosts and an arsenal of exclusive blocks that allow them to anchor the defense |
Most of the takeovers are pretty much balanced, and you can get benefits from each takeover depending on your playstyle.
Some of the takeovers require you to have the best badges, so make sure to unlock badges that can complement your build and takeover.
When you allocate points/attributes for your player, you should also keep in mind if they will complement your takeover. You can even use your takeover to strengthen your weaknesses. Even if you get a 99 overall rating for your player, you will still have weaknesses in your game.
Best Takeovers
The takeovers that stand out the most are Spot Up Shooter, Lockdown Defender, Glass Cleaner, and Post Scorer. These should be your S-Tier takeovers.
Spot Up Shooter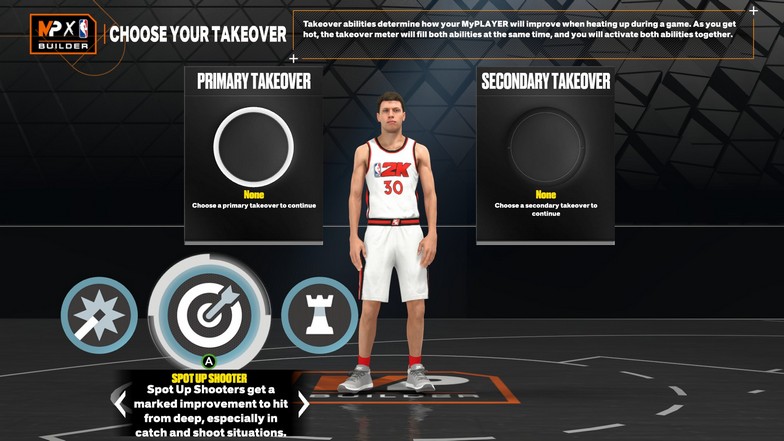 Spot Up Shooter gives you better chances at swishing shots, especially from a catch-and-shoot. In online play, this is one of the best takeovers for shooters.
Online play in the Rec is incredibly fast-paced. That small window for an open shot is all you are going to get.
You want to use that small window to swish as many shots as possible.
Lockdown Defender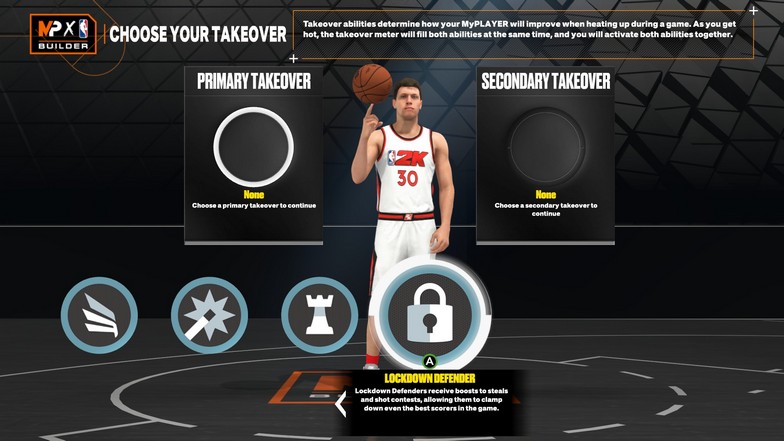 Lockdown Defender is up there as one of the most essential takeovers in online play. Each possession requires you to play defense, and you will always be actively using Lockdown Defender when activated.
The boosts to shot contests are the biggest factor here. Each shot defended will have a meter of how good your shot contest is.
It will be rated from 0 to 100. The difference between a 65% contested shot from a 20% or 30% contested shot is big.
You might wonder why Rim Protector isn't even mentioned as an S-Tier takeover, even if it boosts your shot contest and blocks in the paint.
It is because scoring in the paint is a lot easier, as well as contesting the shot. The contested shots don't make a big difference, but they do slightly help. There are just other takeovers that can benefit you more.
Glass Cleaner
Glass Cleaner allows you to read missed shots before it happens and boost your rebounding skills, including boxing out tough opponents.
Securing the boards is important for any basketball team. The biggest benefit you can get is online play.
If you are playing 3-on-3, you will see why this takeover is insanely good. There is a lot more space to work with, and you will gobble up defensive and offensive rebounds.
Post Scorer
One of the easiest ways to score is through the post. The Post Scorer takedown makes the biggest difference in scoring on the post.
It gives you more space to work with when you shoot, as you are stronger when you back down. Once you perform a move like a fadeaway, the shot contest is much lower than it should be.
Since you are posting up close to the basket already, your shot will likely go in the basket.
When the Post Scorer takeover is activated, capitalize posting on every single offensive possession. You can always kick it out if they are going to double-team you.
In online play, the benefits are more visible. There are more opportunities to score because you are facing player-controlled players. AIs are more robotic when it comes to defense, and they will always perfectly defend you, depending on the difficulty setting.
Other Takeovers
Slasher, Playmaking, Rim Protector, and Shot Creator takeovers are also good. They are just slightly less effective than the other takeovers.
For example, a Shot Creator can easily be stopped by players with Lockdown Defender or even a player with a high Clamps badge.
Even if he gets free, other players can help defend unless you pull up for a shot. If you are playing MyCareer, you can use it a bit more effectively.
Rim Protector is still good if you really want to lock down the paint. It is very situational in both online and offline play.
Slashers are more effective in scoring in the basket, but there are a lot of good badges to compensate for it.
Playmaker is a well-rounded takeover designed to boost your teammate's success rate to score. It is a good takeover with no weaknesses, but you want to be the one holding the ball for each possession.
That might be bad if you are playing with random players online in NBA 2K23.
If you'd like to read more about the best takeovers for specific player roles, we've got guides to the best build for centers, small forwards, and other positions. Check them out!