In NBA 2K23, MyCareer is a bit different. The story revolves around you and your rival competing in the NBA right away.
There are no drafts, combines, or collegiate games. You start immediately on an NBA team of your choice, and the story puts you as the sixth man on your selected team.
Your goal is to earn your keep and prove everyone wrong. Playing well is usually the fastest way how to become a starter in MyCareer, but there is more to it than that.
Story Recap
The story starts with you getting drafted into a team of your choice. You end up meeting your rival in the Summer League Championship Finals and gradually continue the rivalry throughout the season.
After a few cutscenes, your player will be introduced to your preferred NBA team. The coach will be there to talk to you about your position on the team and that you will start as the team's sixth man first.
Each game you play will have cutscenes to tell the story about your arrival and your rivalry with Shep Owens.
Play the games throughout and watch all the cutscenes.
Do the interactive questions affect your gameplay?
Questions throughout the cutscenes rarely affect your player. There are only a few questions that give you some added boost, such as press conference interviews where you can get an increase of fans based on your answer.
How Do You Become a Starter?
As you play through every game, you will eventually become a starter even if you perform below the average.
Minutes do not matter, as I only played 5 minutes per quarter, and my stats took a hit because of it. However, performing better does increase your minutes.
You can be instated as a starter after seven games, and you will see a cutscene right before the game where the coach will put you in the starting lineup for the exact game.
Play well enough, and you will earn it. You will be featured in the media and receive a letter that you have been permanently promoted to the starting lineup.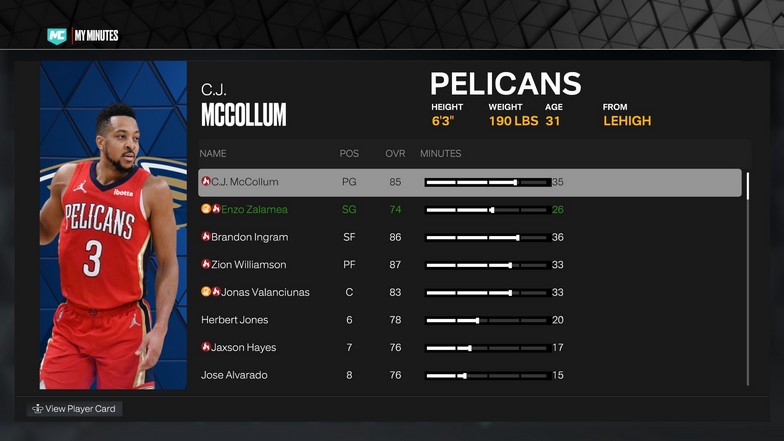 The only problem here is your minutes. While I was included in the starting lineup, my minutes were just hovering around 26 minutes per game.
How do you get more minutes? It increases gradually as you perform better in your games.
I did a little test on a second character to check how exactly you can become a starter.
On my second character, I simulated each game to check if the events were fixed.
Each simulation still showcases all the cutscenes, and apparently, it doesn't matter. You will earn your place on the starting lineup no matter what.
However, your stats can be quite skewed because the player I simulated was lowly-rated. On top of that, you will not earn badges, VC, or any progress to build your character if you simulate.
Although it is the fastest way to become a starter, your player will not get any better.
If you have money to spend on some VC or have VC lying around from playing other game modes, you can use it to build your character. Your only problem is the MyPoints.
MyPoints affect how many attributes you can level up on your player. Playing the game increases it. If you simulate your game while holding a lot of VC to level, your attributes will be gated through MyPoints.
What to Do Next?
If you are looking to earn more VC from playing other game modes like MyTeam, you can check out our guide on what to do first in MyTeam and experience other modes for VC. You can also 3-star all Jordan Challenges and get to play a 99-rated MJ on MyTeam to help you get started.
Now if you'll excuse me, I'm off to grind to get my own 99-rated player.