To keep DiamondLobby free to read, this post may contain affiliate links. Learn more
The SteelSeries Prime Wireless Mouse sits alongside a couple of other mice from the manufacturer under their "Prime" line. They have a wired, affordable alternative, and a "tournament-ready" Prime+.
I'm a big fan of wireless, as I think there are more pros than cons compared to wired alternatives in the category of gaming mice. However, other performance indicators and features are obviously more important than the presence or absence of a cord at the top of a mouse.
That said, SteelSeries have enjoyed their fair share of success with gaming gear in the past, but they've also endured a period of scrutiny due to a series of less-than-stellar releases.
Curiosity got the better of me, so I got myself one of their gaming mice. A few rounds of testing later, I'm ready to share my thoughts in this SteelSeries Prime Wireless Mouse review.
Specs
In the package, you get a mouse, a USB-C cable, a type-C dongle, and an extension adapter.
The key specs of the mouse are as follows:
| Size (mm) | Weight | Sensor | DPI | Polling Rate | Battery Life |
| --- | --- | --- | --- | --- | --- |
| 125 × 59 × 42 | 80 grams | TrueMove Air 2 | up to 18000 | max of 1000hz | around 100 hours |
The TrueMove Air 2 sensor used here is SteelSeries' variant of the 3335 which is commonly seen in mid-range mice. The physical footprint of the mouse is moderate, but that weight is a tad chunky.
Thankfully, we get a USB-C port and cable. It's annoying when I see mice that have been recently released but still use USB-A ports, an example being Logitech's G Pro X Superlight mouse. Get with the times, Logitech!
Build Quality
The body of the SteelSeries Prime Wireless mouse is plastic, but it is solid and feels sturdy. I checked for any rattling or creaking sounds and there were none, so it's all pretty well built.
The buttons provide great feedback when pressed too, and the scroll wheel feels clicked into place with zero wobbling.
SteelSeries have obviously made an intentional effort to keep the mouse's body free of gaps, but I noticed that dirt still gathered around both sides after a while. However, it can be wiped off fairly easily.
The cable feels stiff which made me think they would've been better off with a paracord alternative as we've seen with many other mice of a similar build. Not a huge deal, but worthy of note.
Design
Shape
For a palm gripper like myself, the shape of the SteelSeries Prime Wireless mouse fits like a glove. It should be fantastic for claw grippers too, and fingertip grippers that have large hands.
There's a spot on the right side that your ring and pinky fingers can rest in while holding the mouse without squeezing the sides, but that'll be for right-handed users. Sorry, lefties.
The bottom has an angular design that's not obvious from the top. You have to flip the mouse over to see it more clearly. Play the video attached below to see what I mean.
The hump neat the top leads my palm to drape naturally over the mouse, and it supports the base of my hand pretty nicely.
Coating
The coating applied here is a grippy matte texture that feels really comfortable to touch. It's not the first time I've used a mouse with a matte finish, but I can't really compare this one to any other.
If you're a sweaty gamer like me, you'll be happy with this mouse as it reduces the build-up of moisture during long gaming hours.
Feet
These are 100% virgin PTFE feet. They cover the top and the bottom, and there's a sensor ring in there too.
These feet glide smoothly on pretty much all the mouse pads that I tried, but there's a slight scratching sound when the mouse is used directly on a desk without a pad.
Buttons and Switches
SteelSeries are using their own Prestige OM switches here, and they held up pretty well in my tests. There was zero lag, and I believe they're rated to last for a pretty long time.
There are two main buttons, a scroll wheel with an RGB trim, two side buttons, and a DPI cycle alongside the power switch beneath the mouse.
The main buttons' optical magnetic switches give a pretty crisp click when pressed. If you're coming from a mouse that has traditional micro-switches, you'll notice the difference immediately. This one is so much more satisfying to press.
Speed is pretty great too. Response times are really fast, and actions are almost exactly in time with real-world inputs. I compared the mouse with my Pulsar Xlite Wireless, and they both came up to 6.8 clicks per second.
That said, there have been some complaints from gamers that play CSGO and Valorant that the heavier clicks translate into slower responses. I'm not sure the type of games should make a difference, but it's something to note.
The side buttons are just fine too. Personally, I think they're a bit small, but you may not share the sentiment. The front thumb button in particular is not the easiest to reach and press. However, they respond pretty well when you do reach them.
Apart from the side buttons, there's a button for adjusting the DPI at the bottom of the mouse, just above the on/off switch. You can also adjust that with the software that's included – more on that later.
It feels like the scroll wheel on the SteelSeries Prime Wireless mouse was made especially for me, to make up for all the ones that have fallen short of my expectations and the ones that have been downright dreadful.
If the Zowie S1-C mouse's scroll wheel is a Mini Cooper, this one is a Ferrari. The wheel changes color as you cycle through the DPI levels, which is a nice touch especially since there are not a lot of customization options with the mouse.
It's up there with the best scroll wheels that I've tested, despite the fact that the click is a little loud. The notches are so smooth, and the scrolling feels very consistent.
Performance
As I mentioned earlier, the sensor used here is one of the lower-range ones. You won't find the 3335 that it's modeled after in any top-tier gaming mouse, so I was fully expecting inferior performance.
However, it looks worse on paper than it is in reality. I mean, it's still not a top-performing sensor, but it holds up fairly well. It would've been nice to see SteelSeries go with a better sensor for a supposedly "flagship" mouse though.
In-game performance is great, and you can barely tell that there's an inferior sensor here. The mouse is also really comfortable to use despite the fact that it's a bit on the heavier side, but that's no real surprise as far heavier mice have been built that still felt comfortable.
I believe that the ergonomic design, shape, and quality coating contribute to the overall comfortable grip of the mouse.
One not-so-good thing that I noticed in relation to performance was an issue with the wireless connection. It would randomly skip or disconnect without a warning, and even after getting a replacement mouse and using the large USB dongle to bridge the gap of the range, it would still happen occasionally.
Additionally, it takes about 2-5 seconds to wake the mouse when it sleeps. I think that's a tad too long, and it can get annoying after a while.
Battery
SteelSeries advertised up to 100 hours of battery life for this mouse, which is more than enough if it does last that long. There's the issue with the rigid cable, but you shouldn't need it too often so it's not a huge deal.
Software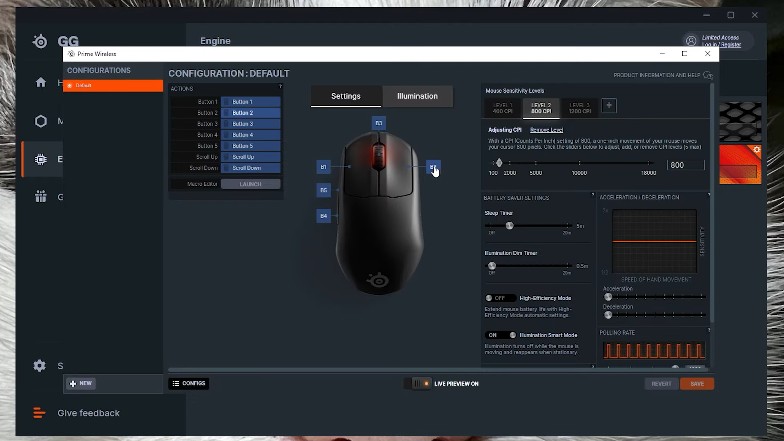 I already dislike software in gaming mice, but the one is honestly objectively bad. Right from the boot-up page, you're swarmed with a splash page of links leading to their blog articles, and I cannot fathom a situation where anyone would want to open up the software just to see that.
When you eventually get to the part where you can actually change stuff, the user experience remains very distasteful. Before I got a replacement mouse, the first one wouldn't save the settings that I changed, and it really makes me wonder how many other defective units are out there.
Anyway, the SteelSeries GG software has all the basics – changing DPI levels, lift-off distance, and experimental options such as separate acceleration and deceleration sliders. To be fair, I think those sliders could be helpful for people that have to use the mouse on less-than-ideal surfaces such as directly on a desk.
You can also tweak the RGB lighting if you want, and really maximize the flashy concept of the illuminated scroll wheel.
Finally, there's a high-performance mode that ironically dials down the polling rate to 125hz to save battery.
Cost
Normally, the SteelSeries Prime Wireless mouse costs a whopping $129.99 or £129.99 at full price, which is around the same range as the Logitech G Pro Superlight mouse.
However, I've seen the mouse with massive discounts on both Amazon and the official store, so that's something to keep an eye on if you're looking to buy.
Verdict
Overall, the SteelSeries Prime Wireless mouse is a really good product. However, I think there's a mismatch between the quality of the mouse and the price that it goes for.
For starters, SteelSeries does not have the reputation to demand such a fee in this category, as evidenced by the fact that it compares to Logitech's alternative.
Secondly, a mouse that uses an inferior sensor such as the TrueMove Air 2 should not cost this much, no matter how well it appears to hold up during basic tests. They should be using a better sensor or reducing the price to match what they have here.
The point is, I would recommend this mouse only if it was on sale. Shave £30 off and it would be a solid deal. Shave even more off and you're in serious business. But for £130? No chance. Sort it out, SteelSeries.