Dapr Valorant Sensitivity & Settings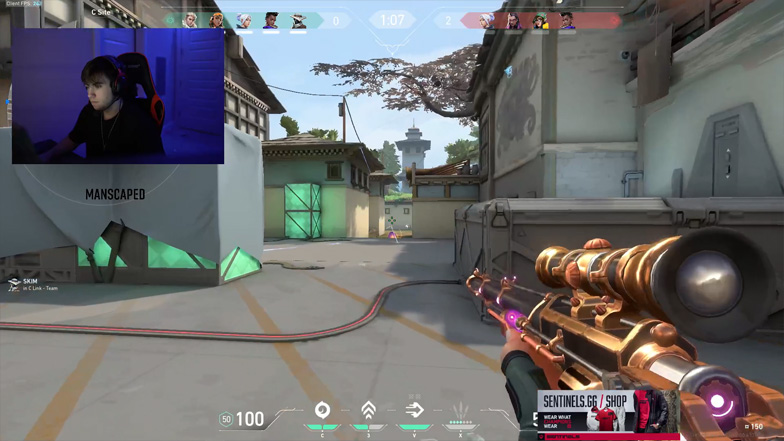 Image credit: Twitch/ dapr
One-fifth of the successful Valorant team Sentinels is dapr whose real name is Michael Gulino. After trying his luck out in Counter Strike: Global Offensive, the 22 year-old has now become one of the top players of Valorant.
As with most professional esports players, dapr is also a streamer and content creator on both Twitch and YouTube.
Dapr is appropriately named because of his dapper playstyle. He is an extremely smart player who has brought the Sentinels to victory because of his finesse and high impact kills.
If you want to emulate his duelist plays, then the first thing you must know are dapr's Valorant sensitivity & settings. You don't exactly have to apply every setting, but it can really give you a good idea why he plays a certain way. Of course, we will also help you with that part through this article.
Dapr Valorant Video Settings
| | |
| --- | --- |
| Settings Name | Dapr's Video Settings |
| Material Quality | Low |
| Texture Quality | Low |
| Detail Quality | Low |
| UI Quality | Low |
| Vignette | Off |
| VSync | Off |
| Anti-aliasing | None |
| Anisotropic Filtering | 1x |
| Improve Clarity | Off |
| Bloom | Off |
| Distortion | Off |
| First Person Shadows | Off |
| Display Mode | Fullscreen |
| Resolution | 1920×1080 |
| Frame Rate Limit | Unlocked |
With dapr's 240 Hz Zowie XL2546K monitor, powered by an Nvidia GeForce RTX 3080, it's no wonder dapr doesn't cap his frame rate. Dapr has powerful hardware that can definitely support this.
However, if you have something way lesser than what he has, or if your GPU and monitor does not match, always limit your frame rates unless screen tearing and graphic glitches are something you're into.
If your monitor and GPU does match, and if you have GSync running, then there's no reason to worry about frame rates.
Dapr Valorant Crosshair Settings
| | |
| --- | --- |
| Settings Name | Dapr's Crosshair Settings |
| Color | Green |
| Outlines | On |
| Center Dot | Off |
| Inner Line Opacity | 1 |
| Inner Line Length | 3 |
| Inner Line Thickness | 1 |
| Inner Line Offset | 3 |
| Outer Line Opacity | 0 |
| Outer Line Length | 0 |
| Outer Line Thickness | 0 |
| Outer Line Offset | 0 |
| Movement Error | Off |
| Firing Error | Off |
| Fade Error | Off |
Dapr's crosshair is rather small, and we wouldn't exactly call it the average among pros, but it actually looks and feels kind of good all things considered.
For a lot of players, a smaller crosshair allows for a more accurate shooting. However, if you're still having a hard time targeting your enemies, you can try turning the center dot on. Additionally, you may increase the inner line length from 3 to 4.
At the end of the day, how you setup and like your crosshair is quite personal. Nevertheless, we do think dapr's crosshair is a good reference especially for newer players.
Dapr Valorant Mouse Settings
| | |
| --- | --- |
| Settings Name | Dapr's Mouse Settings |
| Sensitivity | 0.66 |
| DPI | 400 |
| Hz | 1000 |
| Windows Sensitivity | 6 |
Dapr Valorant Keybinds
| | |
| --- | --- |
| Settings Name | Dapr's Key Bindings |
| Walk | L-shift |
| Crouch | L-ctrl |
| Jump | Space Bar |
| Use Object | E |
| Equip Primary Weapon | Mouse 4 |
| Equip Secondary Weapon | Mouse 5 |
| Equip Melee Weapon | Mousewheel |
| Equip Spike | 4 |
| Use/Equip Ability: 1 | 3 |
| Use/Equip Ability: 2 | V |
| Use/Equip Ability: 3 | C |
| Use/Equip Ability: Ultimate | X |
Dapr's Gaming PC
The complete details of dapr's gaming PC isn't available to the public, except for two components: his GPU and CPU.
Dapr uses an Intel Core i7-10700k, a fantastic gaming processor that could go up against the likes of the i9-10900k. The difference is that the i7-10700k is cheaper by a $130, and yet it is no slouch. Among user benchmark boards, the i7-10700k consistently ranks as one of the best CPUs around.
If your PC now is way behind times and you're considering building a PC that can run Valorant and also other triple AAA games, then the Intel Core i7-10700k is a fantastic choice.
For his GPU, dapr has an Nvidia GeForce RTX 3080 which is, without a doubt, one of the most powerful graphics cards right now. Compared to Nvidia's 2000 series, the 3000 line is definitely an almost exponential step-up.
We have to be honest though, it is overkill especially if you're only playing Valorant. You can actually run the game on integrated graphics and 60 fps would be totally fine. However, if you're also streaming or you have other graphics-heavy activities like 3D rendering or graphic designing, then these two are the perfect pair for your computer.
Partner that with a 16 GB RAM, a good mobo like a Z490, and a decently sized HDD and you're good to go.
Dapr's Mouse and Keyboard
Dapr uses a Corsair K70 TKL, a mechanical gaming keyboard that features portable, tenkeyless form-factor, a durable aluminum frame, and most importantly, a tournament mode that gets users up and ready to compete. The tournament mode automatically disables your macro keys that could potentially be clicked while in-game.
For his mouse, dapr has a Logitech G Pro which is a wireless gaming mouse with lightspeed, an ultra-accurate sensor through Logitech's very own technology called the HERO 25K, and a very light 80-gram weight. Unlike most gaming mice, Logitech G Pro still looks like your regular ergonomic mouse. It's friendly on the wrist and has a no-nonsense look.
Dapr's Headset
Like his teammate ShahZaM, dapr also uses the HyperX Cloud II; arguably one of the most comfortable gaming headsets around. For the price of $100, you're going to get premium leatherette, surround sound, a noise-canceling microphone, and a durable aluminum frame.
There are two versions of the headset which are wired and wireless. The wireless lasts for 30 hours, has 2.4 GHz speed for seamless and quick audio reception, and lastly, you can step away for 20-meters and you will still receive crisp sounds.
Wireless headsets are the perfect option for clumsy people who tend to get caught in wires.
Summary
Dapr's sensitivity and settings are a pretty good place to start tweaking. Though the 400 DPI may be too slow for beginners, you could definitely raise it to 1600 at most.
A lot of gamers don't know where to begin when finding the exact settings for them, and it could be a hundred tries before they do find the perfect setting. So, if you're still clueless, you could start with a pro players settings. Someone like dapr could really give you an idea of what to do and where to begin.