Babybay Valorant Sensitivity & Settings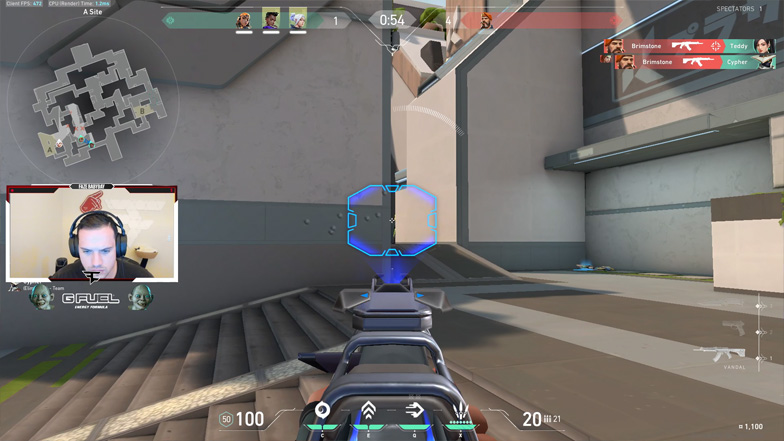 Image credit: Twitch/ Babybay
FaZe Clan is definitely one of the most talented teams around and with players like Babybay, it's easy to see why.
Andrej Francisty or Babybay is often dubbed as one of the most talented Valorant around. We're all in luck though because he streams, albeit irregularly.
His stream is also pretty nice, chill, and occasionally hilarious. It's definitely one to watch if you're looking to see exactly how pro players move. He doesn't provide a lot of commentary though, but his moves are more than enough when you're watching to learn.
If watching isn't enough for you, then it's a good thing we've also gathered the Valorant sensitivity & settings of Babybay for your pleasure. Additionally, we've also included his PC parts, gears, and other peripherals.
Our goal is not only to show you Babybay's preferences, but also why he decided to do it that way. Hopefully, you'll get some tips and tricks that'll make you play the game better.
Babybay Valorant Graphic Settings
| | |
| --- | --- |
| Settings Name | Babybay Video Settings |
| Enemy Highlight Color | Yellow (Deuteranopia) |
| Multithreaded Rendering | On |
| Material Quality | Low |
| Texture Quality | Low |
| Detail Quality | Low |
| UI Quality | Low |
| Vignette | Off |
| VSync | Off |
| Anti-aliasing | None |
| Anisotropic Filtering | 1x |
| Improve Clarity | Off |
| Bloom | Off |
| Distortion | Off |
| Cast Shadows | Off |
| Resolution | 1920×1080, 16:9 ratio |
| Display Mode | Fullscreen |
According to Babybay, there are two main reasons why keeps all his graphic settings on low. The first is that he's worried he will be trading some small graphic enhancement for a better framerate. The second reason, albeit a bit jokingly, is that TenZ does it and Babybay considers him a young but very talented player.
There are times when Babybay modifies his settings to medium and that's when he feels like he wants a pop of color in the game. However, he does this quite sparingly and prioritizes framerate most of all.
Another thing we'd like to mention is that Babybay has blood off and corpses off. During tournaments, blood and corpses aren't present either and getting used to such a setting is definitely advantageous for professional Valorant players. He also mentions that having blood and corpse disabled makes him scope better, especially if enemies are lined up.
Babybay Valorant Crosshair Settings
| | |
| --- | --- |
| Settings Name | Babybay Crosshair Settings |
| Crosshair Color | White |
| Outlines | Off |
| Center Dot | Off |
| Center Dot Opacity | 0 |
| Center Dot Thickness | 2 |
| Show Inner Lines | Off |
| Inner Line Opacity | 1 |
| Inner Line Length | 4 |
| Inner Line Thickness | 2 |
| Inner Line Offset | 2 |
| Fade Error | Off |
| Movement Error | Off |
| Firing Error | Off |
Babybay's crosshair is really, really cool. The color white is his personal preference, because he said it just looks better in his eyes. What we really like about this crosshair isn't the color though, but the inner line settings and the center dot thickness.
It's quite small but not ridiculously so, and it also enables for precise pointing. It's because of the considerable center dot space that allows a very nice point for the target. This is also particularly useful for designated AWPers, which Babybay is.
You could try and change the color to the more popular green if that's better for you visually. Overall, however, this is a crosshair setting that we definitely recommend for both newbies and experienced players.
Babybay Valorant Mouse Settings
| | |
| --- | --- |
| Settings Name | Babybay Mouse Settings |
| Sensitivity | 0.27 |
| DPI | 800 |
| Polling Rate Hz | 1000 |
| Scope Sensitivity | 1 |
| EDPI | 216 |
| Windows Sensitivity | 6 |
Babybay has a considerably low sensitivity setting for his mouse. It's quite mind boggling for some because he has always been dubbed as one of the most exceptional Jett players and we know how much quick movement that agent requires.
The simple reason why he has these settings is because they're all transposed from Overwatch, which he has since retired from.
His logic makes a lot of sense even though Valorant and Overwatch are different shooter games. It's nice to have a baseline figure for what you can do with your own settings and looking at similar genre of games that you have previously played will definitely help you a lot.
Babybay Valorant Keybinds
| | |
| --- | --- |
| Settings Name | Babybay Key Bindings |
| Walk | L-Shift |
| Crouch | L-Ctrl |
| Jump | Wheel Down |
| Use Object | F |
| Equip Primary Weapon | 1 |
| Equip Secondary Weapon | 2 |
| Equip Melee Weapon | 3 |
| Equip Spike | 4 |
| Use/Equip Ability: 1 | E |
| Use/Equip Ability: 2 | Q |
| Use/Equip Ability: 3 | C |
| Use/Equip Ability: Ultimate | X |
For most people, abilities would simply be set at QECX. For Babybay, he prefers interchanging the E and Q because of his past experience in Overwatch.
Babybay Valorant Minimap Settings
| | |
| --- | --- |
| Settings Name | Babybay Radar Settings |
| Rotate/Fixed Orientation | Rotate/Based on Side |
| Minimap Zoom | 0.8 |
| Keep Player Centered | Off |
| Minimap Vision Cones | On |
| Minimap Size | 1.1 |
| Show Map Region Names | Always |
Babybay Gaming PC and Gears
Unfortunately, we don't have a lot of information about the actual setup itself except for the fact that his graphics card is an Nvidia GeForce RTX 2080. It might not be the latest in the RTX family, but it's definitely still a powerful GPU that is more than enough for your PC to run Valorant.
For his monitor, Babybay has the reliable BenQ XL2546 240 Hz esports gaming monitor known for its Dynamic Accuracy (DyAc™) technology that allows gamers to see their crosshair and feel the impact of their actions in order to anticipate the proper recoil control. It's no wonder why it's such a popular monitor for first person shooter players.
His gears include a Logitech G Pro X Superlight wireless gaming mouse, a Logitech G640 mousepad, a Logitech G Pro X Mechanical Keyboard, and a HyperX Cloud Alpha.
Summary
For all experienced gamers out there, you can definitely learn a lot from Babybay's methods. A definite and reliable way of creating good game settings is by first having a basis and arguably one of the best starting points is another rather similar game, either in genre or in play style.
Since Babybay came from Overwatch, there were a lot of things that he adapted into Valorant. This resulted in a lot of comfort in a quick amount of time.