Want to skip past all the rubbish weapons in the game and jump straight into the action with the most overpowered guns in Call of Duty Cold War? Then perfect, this post is just right for you.
I will show you a number of the meta weapons in Call of Duty cold war that I have used to absolutely shred through the opposition. I guess, after using them, you can just say that they really should be nerfed a little bit because let's face it, they just aren't fair.
The MP5
If you have never really bothered using the MP5, chances are that the default variant is a little disappointing. Yes, movement speed is decent but the recoil and accuracy when firing at enemy targets in the distance are quite disappointing. However, once you level up the weapon and get some of the attachments, with very little improvement, you can already see how great the MP5 really is.
Now, all you have to do is just wait until you level it up so you can unlock all of the attachments. Then, the MP5 really becomes overpowered in not just medium-range exchanges but especially in close combat action when fire rate, damage, and aiming down sight are most important. This also makes the MP5 one of the best run and gun weapons on CoD Cold War.
Overpowered MP5 loadout:
Quickdot LED (Optic)
Sound Suppressor (Muzzle)
9.9" Extended (Barrel)
Foregrip (Underbarrel)
SWAT 5mw Laser Sight (Body)
Tactical Stock (Stock)
Fast Mag (Magazine)
Quickdraw Handle (Handle)
To get all eight attachments, you must first unlock and use the Gunfighter Wildcard.
The Hauer 77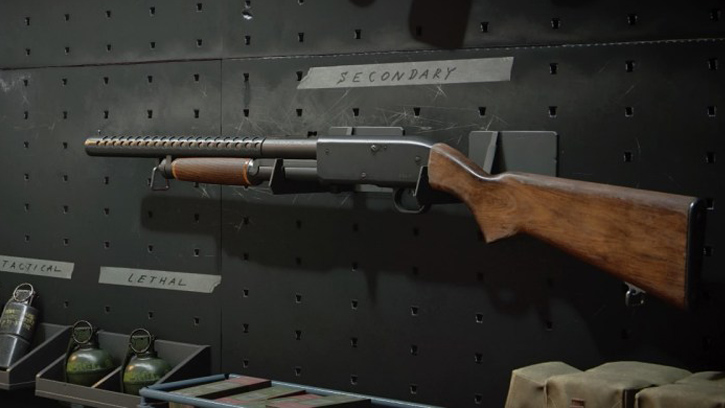 As a huge fan of shotguns myself, I absolutely love the Hauer 77. It really is a close combat beast, provided both your accuracy and reaction time are decent. If that is the case, chances of losing a 1v1 in close exchanges are almost zero as this one-shot pump can shred through even the toughest of enemies.
Duckbill Choke (Muzzle)
19.3" Overlord (Barrel)
SWAT 5mW Laser Sight (Body)
Quickdraw Handle (Handle)
Shotgun Stock (Stock)
The M16
Speaking of classic weapons, the M16 is no stranger to any Call of Duty fan. It has been in the CoD series since the very beginning, and this year, more than ever, the M16 is making a return as a true beast amongst the ARs.
Here is an overpowered M16 loadout:
Millstop Reflex (Optic)
Muzzle Brake 5.56 (Muzzle)
16″ Strike Team (Barrel)
Foregrip (Underbarrel)
Quickdraw Handle (Handle)
This is the overpowered loadout that can really make you standout in maps that require long-range fire like Satellite.
The C4
This is not so much of a weapon, however, having a C4 as your choice for lethal equipment is probably one of the easiest decisions you can make on Call of Duty Cold War. The reason is the C4 does significant damage that seems to spread much further than in any other CoD. Besides that, you can also throw them quite far, making them the perfect too to clear out doorways, tunnels, or simply wipe out everyone at a Hardpoint.