The dream of any good manager is to have their players reach their full potential, performing to the best of their abilities consistently for the team. As a manager in FIFA career mode, the goal is often the same, especially if you plan to be at a club for more than one season.
There are many reasons why improving your players is key to success in the game, but two reasons stand out more than others.
One is the fact that improved players boost the overall quality of the team, putting your squad in a better position to compete for the most important trophies regularly. The second is that developing players is one of the best ways to make money in FIFA career mode, because the market values of these players go up as they develop.
In this guide, we discuss a few tips on how to improve players in FIFA 23 career mode, from the work you do on the training ground to the efforts of the team on the pitch.
Development Plans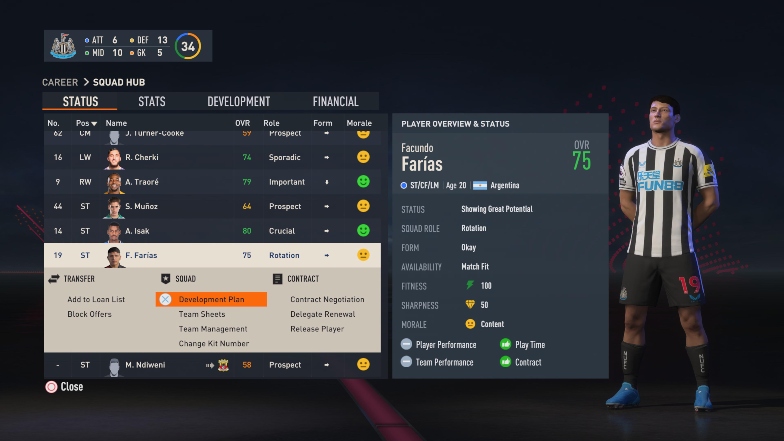 FIFA introduced development plans in career mode two installments ago, and it honestly makes a real difference in terms of helping to develop a player in a specific way.
To modify the development plan of a player in your first team, go to the "Squad Hub" section, select the player you want and you'll find the option in the dropdown menu.
As you'll see in the sample image below, using the development plan presents you with a fairly simple selection of options. Depending on the position that the player plays in, you can alter the player type further from a list of pre-determined alternatives.
In this example, I have chosen to change Facundo Farias's development plan from "Balanced" to "Mobile striker". That selection helps to ensure that improvements are prioritized in areas that help him to become that type of player.
On the basic level, improvements are made clear when the overall rating of the player goes up by a number, and you can see the estimated time for that at the top of the development plan page. However, it helps to see what's going on behind the scenes with the individual attributes too.
Development plans can also be adjusted for players that are not on the first team yet. Go to the "Youth Academy" section, select the player you want, and follow the same process as before.
Changing the development plan of a youth player can alter their potential overall ratings positively or negatively, so pay close attention to the choices you make in that regard. These FIFA 23 scouting tips can help increase your chances of landing a youth player with high potential.
If you're looking to get a reasonable headstart by signing quality talent that is already in the game from the start, you could also choose from the best young players in FIFA 23 career mode.
Training Drills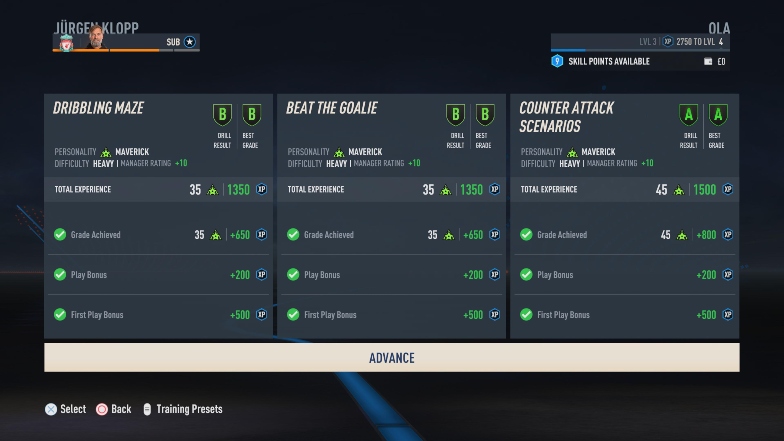 It is important to pay attention to the match sharpness of your players in FIFA 23 career mode, and training is one of the ways to do so.
Selecting the right types of drills is important too. You want to make sure that your attackers are focused on attacking drills, and that defenders are doing defensive drills.
For the first playthrough of each training drill, you should actually take control of the players yourself and try to earn an excellent grade. Then, you may decide to simulate subsequent sessions.
This is because if you simulate from the start without playing yourself, the players get a poor rating for the sessions by default. However, if you play and get a good grade, subsequent simulations will mirror the grades of the sessions that you played, providing a better platform for the players to improve.
Loan Deals
This is most effective for young players, as older players have less room for improvement if they're already playing regularly in your first team.
Young players are more likely to struggle to break into the first team, so it might be worth looking to loan them out to clubs that can offer a decent amount of game time.
In the past, loan deals even had a glitch where you could send a young player out on loan, recall him immediately and find that his potential had increased dramatically.
That glitch has been patched, but if you loan a player out and he gets enough game time, it is still beneficial for improvement in FIFA 23 career mode.
The option to make a player available for loan deals can also be found in the squad hub section of the game.
Gametime
Game time is crucial to improve players in FIFA 23 career mode for many reasons.
Firstly, it is the best way to keep match sharpness up, even though you can get sharpness to a decent level with enough training sessions.
Secondly, providing regular minutes is the only way to get a player to have a good run of form, and form is really important for growth in this game.
Speaking of form, if you're particular about getting a young player into the best position to achieve their potential, you should be intentional about the types of games you play them in.
These young players typically start out with okay stats, which might not be enough to perform at the top level, especially against strong teams.
In situations like that, you should consider playing them in easier fixtures where they're more likely to get good match ratings, as better form usually translates into faster improvement.
Final Words
If you're playing the player career mode, then you should have a look at these FIFA 23 player growth tips for more specific solutions that target the mode.
As it stands, the points covered in this guide are most effective for developing young players that still have a lot of room to grow, but you can improve established players as well, as long as they're not too old to develop.
Also, bear in mind that even though players generally have dynamic potential in FIFA 23, there is still a limit to how much improvement you can expect from each one under the best circumstances possible.