In FIFA 23, you still can't start a new career game as an unemployed manager. You still have to choose an existing club (or create your own) before you can get into the Career Mode, which is a bit disappointing for me.
The process of applying for jobs in FIFA Career Mode has not changed much since FIFA 22, save for new menu positions for certain bits of information and a gentle facelift.
In this guide, we discuss the things you need to prepare for before applying for a job in FIFA 23 Career Mode, how to apply for jobs at the club and international levels, and what to do after applying.
Before we get into it, you may want to get familiar with the best clubs to manage in FIFA 23 career mode, so you know which openings are worth jumping at when you see a vacancy.
Before You Apply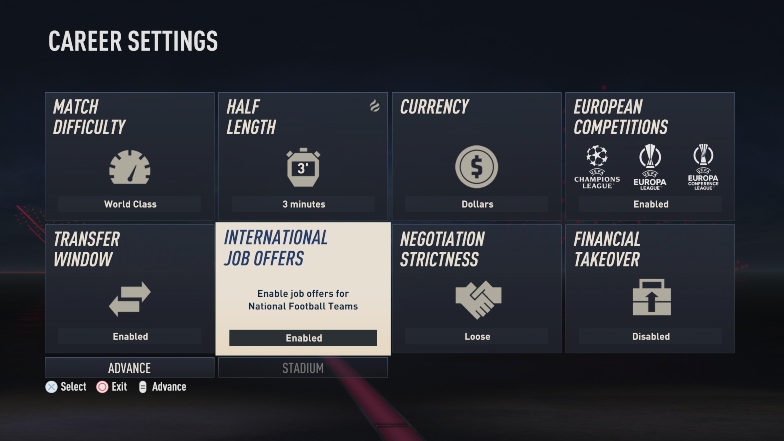 The first thing you need to do while you're setting up a new career mode game is to make sure that the option for international job offers is enabled. Even if you don't plan to take on an international job immediately, it's better to have the option and not need it than otherwise.
Secondly, you need to know that you have no control over which jobs are available at any given time. This means that no matter how much you may be interested in taking charge of a club, you cannot do so if the club does not need a new manager.
Following on from that same point, even if a club needs a new manager, applying for the job does not guarantee that you will get it.
Certain factors will be considered in the decision of the club such as the manager's stature and track record. It might be worth learning how to get job offers in FIFA 23 career mode to begin with.
Thirdly, you need to check job vacancies regularly. If you're the type to sim time and skip several days of activity, you might miss a job you would otherwise have been interested in. Try to check for openings every couple of days at least.
How To Apply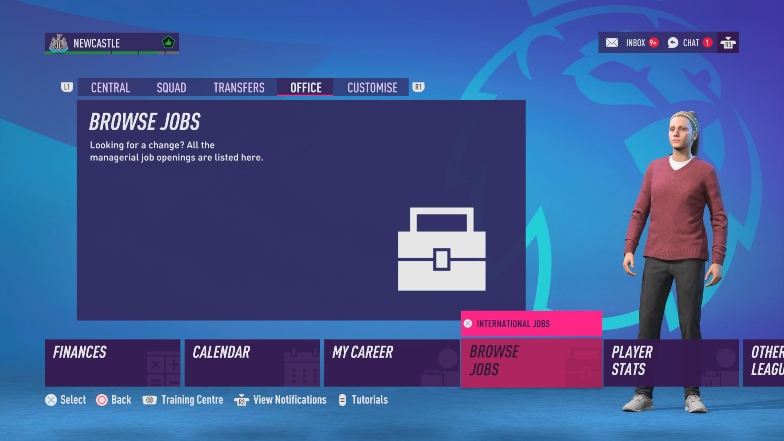 When you're ready to apply for a job in FIFA 23 career mode, navigate to the "Office" tab on the main page and scroll to the "Browse Jobs" section.
If there is a job/s available, you should be able to cycle through them with the directional buttons.
The job vacancy pages show information such as the wages on offer, the key objective/s of the club for the manager, the starting 11 of the team, their transfer budget, and the current form of the team.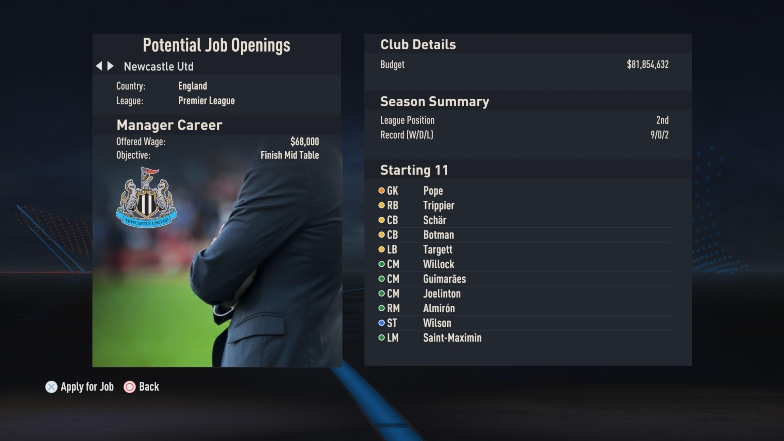 Use this information to decide which job suits your needs best. If you're looking for an easy ride, then you probably want to avoid teams that are struggling. If you don't mind a challenge, then you can take on a job with difficult objectives.
When you find a project that sounds interesting, click on "Apply for Job" to indicate your interest. If there are no jobs, don't worry. Give it some more time and keep checking back.
In my experience, job openings began to pop up sometime around late September, when teams had started to build up momentum and some managers had started to underperform. It might take more time for you, but it is worth noting.
International job offers came in by January. The "International Jobs" sub-section above the "Browse Jobs" section went from being grayed out and unclickable to colorful and clickable, indicating that I had an offer.
International job offers in FIFA 23 career mode look like this.
Note that you will still keep your job as a club manager even if you accept an international job offer. You can manage both teams concurrently as fixtures do not interfere with one another/
After You Apply
When you apply for a job, give it a few days (keep checking your inbox for new messages!) to hear back from the club. When they get back to you, they will inform you of their decision to proceed or withdraw from discussions.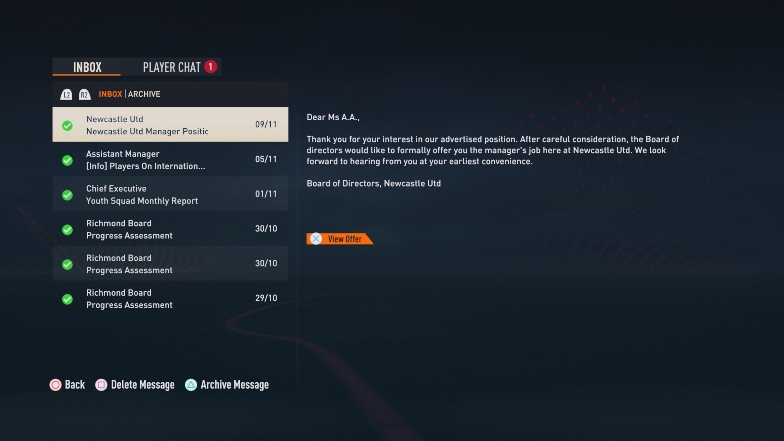 If the club chooses to proceed with discussions, they will present you with a formal offer that you can view straight from your inbox. It looks very much like the international job offer contract, albeit with less information.
If you accept the offer, a press announcement follows as you're unveiled as the new manager of the club. All the data on your main page changes accordingly to the details of your new squad, objectives, and other relevant information.
Once you're all settled in, you'll have to go through the standard process of reviewing your team and making changes where necessary.
You'll almost certainly have to invest in the transfer market, so it might be worth figuring out how to make money in FIFA 23 career mode to get your transfer budget up.