One thing that I look forward to the most when every new edition of FIFA is announced is Career Mode. EA generally adds new features and modifies existing ones in the game each year, and Career Mode is often one of the beneficiaries of such changes.
Another example is the change to how the chemistry system works in FIFA 23, and there are some interesting updates in that aspect.
Playing with rich, star-studded teams in FIFA Career Mode is great for a casual experience that lets you live out your fantasies of dominating global football fairly quickly.
However, every year, there are many other teams that offer a different but equally exciting overall experience for other reasons.
In this review, I've put together a list of the ten best clubs to manage in FIFA 23 Career Mode, sorting them by difficulty levels. Let's get into it!
Difficulty Level: Easy
Paris St. Germain (Ligue 1)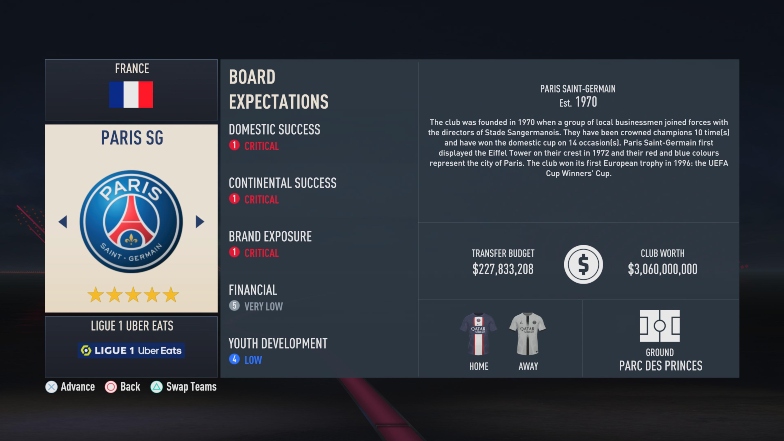 Paris St. Germain is arguably the best team to play with from kickoff on FIFA 23. They were one of the best clubs to manage in FIFA 22 Career Mode, and that has not changed with the new edition of the game.
The team's starting XI is blessed with the attacking trident of Lionel Messi (91 rated), Kylian Mbappe (91 rated), and Neymar (89 rated), and it's simply impossible to find that abundance of talent anywhere else at the moment.
In addition to this, PSG is one of the richest clubs in world football, so you have the freedom to add even more world-class players and exciting young talent to the plethora of options that are already at your disposal.
The prospect of starting a FIFA 23 Career Mode with the club should be particularly high for casual gamers and first-timers that are looking to ease into the game with minimal challenge. You should be able to win multiple trophies every season with no fuss, so this is firmly in the "easy" category.
FC Barcelona (La Liga)
Barcelona's financial problems are well-documented, but the Spanish giants are constantly pulling off miracles in the transfer market.
At the start of the season in FIFA 23, the team is brimming with talent across the pitch, especially in the attacking areas.
You have players such as Raphinha, Dembele, Ansu Fati, Memphis Depay, Ferran Torres, and Robert Lewandowski at your disposal, which is plenty more than most teams in the game can boast of.
The club also has some really exciting young talent in other positions such as Jules Kounde (CB), Pedri (CM), and Gavi (CM), and it should be fun developing these players and watching them grow into true world-beaters.
Despite their loss of form in recent seasons, there are still not many teams better than Barcelona in La Liga. In fact, they still have one of the best squads in the game, so taking over the team should also be a fairly easy challenge for FIFA 23 managers.
Chelsea FC Women (WSL)
One of the most exciting bits of new content in FIFA 23 is the expansion of women's football.
At DiamondLobby, we're particularly interested in improved gender inclusivity across video games, so we love to hear news like this.
The Barclays Women's Super League (England) and Division 1 Féminine (France) are part of the playable leagues across multiple in-game modes in FIFA 23. Career Mode is not one of those playable modes, but I'm still hoping something can change further down the line. A man can dream!
If the franchise actually manages to make it possible to play as a women's team in FIFA 23 Career Mode, it would be pretty interesting taking the reins at Chelsea FC Women.
The 21/22 WSL winners squad includes players such as FIFA 23 global cover star Sam Kerr and club legend Fran Kirby, so you have some of the best players in the league.
However, the real challenge would be to overthrow Olympique Lyonnais Féminin to become the best women's football team in the world.
Difficulty Level: Medium
Newcastle United (English Premier League)
If you're looking for a team that offers a bit of a challenge, then Newcastle United is a great option for FIFA 23 Career Mode.
Despite being a club with a vibrant history, Newcastle's best years in the game are a long way behind them. However, following the takeover of the club by Saudi Arabia's Public Investment Fund, they are rolling in cash now.
What this means for you as a manager in FIFA 23 is that you can expect a reasonably large transfer war chest to improve the squad.
The squad already boasts some exciting talent with players such as Allan Saint-Maximin and Alexander Isak in the attack. Isak, in particular, had an overall rating potential of 86 in FIFA 22, and that number should be even higher this time around.
Regardless, a lot of reinforcements will be needed if you plan to challenge at the highest level, and those reinforcements won't come cheap.
With the funds expected to be at your disposal, the challenge should be reasonably manageable, which is why this one goes in the "medium" difficulty category.
Ajax (Eredivisie)
Every year, Ajax suffer as a result of their own success. The club is famed for its youth academy and the talent that it produces, but a significant number of those players only go on to become football greats at bigger clubs.
Ahead of FIFA 23, players such as Lisandro Martinez (85 potential in FIFA 22), Antony (89 potential in FIFA 22), and Ryan Gravenberch (90 potential) have all left the club for greener pastures, leaving the manager with the yearly uphill task of blending in new talent.
It's a great project if you're looking for a challenge because you're very unlikely to get a large transfer budget at Ajax in FIFA 23 Career Mode.
There is still some talent in the squad from the start with players such as Jurrien Timber and Edson Alvarez, and you should still be able to win the league and cup competitions fairly easily.
However, you're going to need a lot more firepower if you hope to challenge in Europe and make the club big enough to keep its best players away from the rich clubs every year. That challenge makes Ajax one of the best clubs to manage in FIFA 23 Career Mode.
Bayer Leverkusen (German Bundesliga)
Bayer Leverkusen is back in the Champions League in FIFA 23!
The last time the club qualified for the competition was in 2019. However, a third-place finish in the 21/22 season makes them an exciting option for FIFA managers looking to win Europe's most coveted trophy with an underdog.
The team has some of the best young players in FIFA 23, including Jeremie Frimpong, Florian Wirtz, and Piero Hincapié. Wirtz, in particular, is expected to have a potential rating in the 90s, so you're almost guaranteed to have a world beater on your hands if you can keep him!
Patrick Schick is also rated 85 following a seriously impressive 21/22 season in front of goal, and you should be able to boost that number further within your first full season as he's only 26 years old.
Are you skilled enough to break the "Neverkusen" curse? Can you complete the treble within your first three years in charge?
Difficulty Level: Hard
Salford City (League Two)
Moving on to more difficult challenges, I've got Salford City in the fourth tier of English football. Obviously, this is for managers that are looking to stay at a single club for an extended period of time as there's a lot of room for growth.
The good thing here is, Salford City is in a better financial position than most of the teams around them.
The club is owned and backed by the pockets of the famous Manchester United "Class of 92" players: David Beckham, Ryan Giggs, Paul Scholes, Gary, Phil Neville, and Nicky Butt, so you can expect a decent amount of money to bring in new players.
However, the challenge should get much harder fairly quickly as you climb the pyramid in search of Premier League and European football.
In terms of the squad that is available to you at the start of the game, you can expect multiple players in the range of the mid 60s for overall rating, and a couple of youngsters with the potential to grow into the 70s.
Rangers (Scottish Premiership)
You're probably wondering why I've added Rangers, a hugely successful club in Scotland, to the "hard" difficulty category.
Put simply, the club is what one calls a "local champion" where I'm from. For all their success in domestic competitions, they have little to nothing to brag about when it comes to the European stage.
With their recent reemergence as a force in the Scottish top tier after years spent in the lower leagues, there is no better time to take charge of Rangers than in FIFA 23.
Joe Aribo was a real talent in FIFA 22, but he's with Southampton now. However, you can still call on the services of good players such as James Tavernier, Alfredo Morelos, and Ryan Kent in FIFA 23.
Rivals Celtic won the European Cup in the 60s, and they managed it with a team of home-grown players. If you manage to do the same with Rangers, then you can be very proud.
Como (Serie B)
Como has not played in the Serie A since succumbing to relegation in 2003. The club has been languishing in the lower leagues of Italy since that time, but they are as close as they've ever been to a return in FIFA 23.
One exciting thing about using Como in FIFA 23 is that they've just signed the legend, Cesc Fabregas. He is undoubtedly the most high-profile player in Serie B, although you're unlikely to get many years of service from him as he's already 35 years old at the start of the game.
Obviously, the challenge here is to get Como back into the top tier. Even with Fabregas, it won't be easy because you've got other "once-mighty" Italian teams around you fighting for the same thing.
Clubs such as Genoa, Palermo, and Parma should provide stiff competition in your first season, so it won't be a walk in the park – even with Cesc! However, the Spanish playmaker's presence in the team certainly makes Como one of the best clubs to manage in FIFA 23 Career Mode
Difficulty Level: Flexible
AFC Richmond (Rest of World)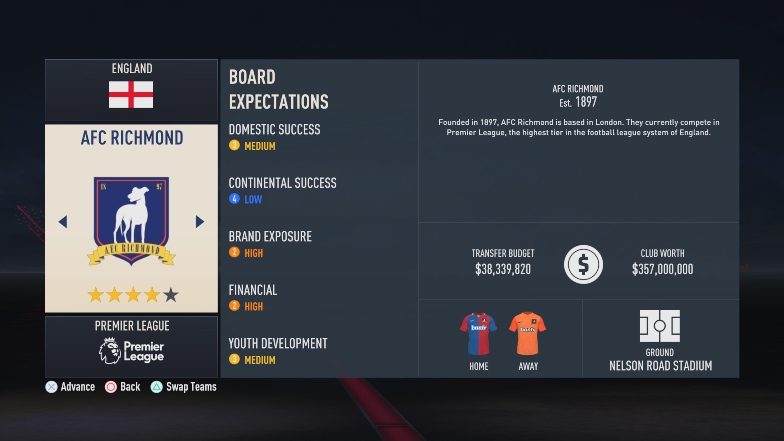 If you've never heard about the Ted Lasso show, I want you to stop for a minute and go look it up before reading further.
If you're all caught up, then you know how exciting it is that the fictional football team from the show, AFC Richmond, is officially one of the playable teams on FIFA 23!
The charismatic Ted Lasso, the main character from the show, is the official manager of the team, and you can find them in the "Rest of World" category in FIFA 23.
The difficulty level for this Career Mode suggestion is whatever you want it to be since you'll be swapping out a real-life team from their default league to accommodate AFC Richmond.
You can stick them in a competitive league where almost every other team is better, or an easier league with low-rated clubs.
AFC Richmond shares some similarities with the English Premier League team, Crystal Palace. Their main kits are similar, and both clubs are situated in London. If you're undecided about which team to swap out for the fictional club in FIFA 23 Career Mode, then Palace is an option.