One of the most exciting things in any football management simulation is the prospect of developing young players into superstars. That is exactly the case with FIFA games, and FIFA 23 is the latest iteration of the franchise that gives gamers that opportunity.
Save for a handful of well-known young players in the game, it can be a tad difficult to find talents that have a high ceiling in terms of potential, fit well into your squad, and also offer great value for money.
Last year, we had players such as Erling Haaland, Gianluigi Donnarumma, and Phil Foden feature as some of the best young players and wonderkids in FIFA 22.
This time, I'm capping the age limit at 21, so every player above that limit at the time of the release of FIFA 23 has not been considered. Not to worry though, there are still plenty of options to choose from.
If you're targeting these players, I recommend learning how to make money in the game first as they will drain your budget.
The Best Overall Young Players in FIFA 23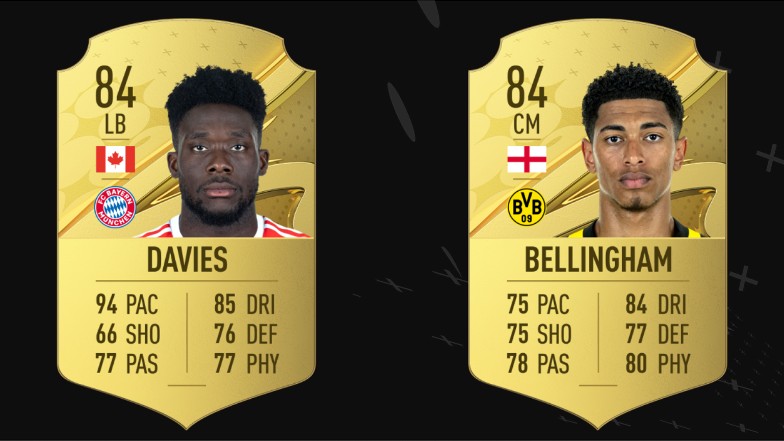 I'll start off with some of the most obvious choices. The young players in the list below have high overall ratings right from the start, and also the highest ceilings in terms of potential overall ratings.
Most of them already play for big clubs too, and this will only contribute further to their value in the transfer market.
Unless you're managing a team with a ton of money in the bank, you might be better off looking at alternatives that do not cost so much.
William Saliba (21-year-old CB, Arsenal) – 80 OVR
Wesley Fofana (21-year-old CB, Chelsea) – 79 OVR
Joško Gvardiol (20-year-old CB, RB Leipzig) – 81 OVR
Jurrien Timber (21-year-old CB, Ajax) – 80 OVR
Nuno Mendes (20-year-old LB, PSG) – 80 OVR
Alphonso Davies (21-year-old LB, Bayern Munich) – 84 OVR
Ryan Gravenberch (20-year-old CM, Bayern Munich) – 79 OVR
Eduardo Camavinga (19-year-old CM, Real Madrid) – 79 OVR
Gavi (18-year-old CM, Barcelona) – 79 OVR
Jamal Musiala (19-year-old CM, Bayern Munich) – 81 OVR
Jude Bellingham (19-year-old CM, Dortmund) – 84 OVR
Pedri (19-year-old CM, Barcelona) – 85 OVR
Florian Wirtz (19-year-old CAM, Bayer Leverkusen) – 82 OVR
Ansu Fati (19-year-old LW, Barcelona) – 79 OVR
Rodrygo (21-year-old RW, Real Madrid) – 81 OVR
Bukayo Saka (21-year-old RM, Arsenal) – 82 OVR
Now that's out of the way, let's move on to young players that I think should be more realistic targets for many teams in FIFA 23 Career Mode.
I have provided two options for each position on the pitch (except CDM) with one high-value player for richer clubs and one bargain alternative if you're working with a tighter budget.
The Best Young Goalkeepers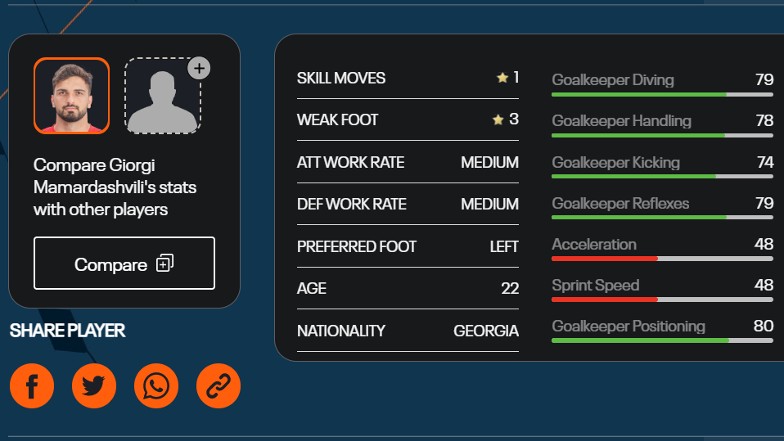 Giorgi Mamardashvili (21-year-old GK, Valencia)
Obviously, Gianluigi Donnarumma is still the best young goalkeeper in FIFA. However, he's 23 now and it would be extremely expensive to try and prize him away from PSG anyway.
A great alternative is Giorgi Mamardashvili, the Georgian goalkeeper that has been slowly but steadily building a reputation in Spain with Valencia.
He's 21 years old at the start of the season, and he stands slightly taller than Donnarumma at 1.97 meters. If you would like your keeper to have a great command of the 18-yard area, especially by claiming crosses, then that bit of information is great news.
Giorgi is Valencia's first choice between the sticks, which naturally affects the prospects of getting him cheap. Although goalkeepers are generally less expensive than outfield players in FIFA, he might still command a decent portion of your transfer budget if you hope to sign him in FIFA 23.
Maarten Vandevoordt (20-year-old GK, KRC Genk)
Much like Giorgi Mamardashvili, Maarten Vandevoordt is another young goalkeeper that has found his way into the starting XI of his team. Although he has played nearly 100 games for KRC Genk, he only truly became the club's first-choice goalkeeper in the 21/22 season.
That step up naturally reflects on his prospects as one of the top goalkeeping talents in FIFA 23, and he should cost even less than Giorgi would. He's slightly shorter, but still tall enough to be a commanding presence between the sticks for you.
If you manage to buy Vandevoordt and develop him the right way, you should be able to get his overall rating into the mid to high 80s over the course of your career mode.
The Best Young Defenders
Gonçalo Inácio (20-year-old CB, Sporting)
Gonçalo Inácio has been a regular face in Sporting's first-team squad since 2020. He was one of the best young players in FIFA 22 with a 70-rated base card, and he remains a huge prospect in FIFA 23.
Inácio has all the important attributes that you want from a well-rounded center-back. He's quick, good in the air, strong in the tackle, and can pick out a pass that breaks the lines from deep.
The Portuguese youngster had the potential to grow into the mid-80s in FIFA 22. If you manage him properly, you just might get him to cross that 90-mark in FIFA 23.
Castello Lukeba (19-year-old CB, Olympique Lyon)
Castello Lukeba was only a 65-rated, fresh-faced 18-year-old center-back in FIFA 22, but he's had a year of development between that time and FIFA 23.
The 21/22 season proved to be a breakthrough year for the French youngster. He forced his way into Lyon's first team and kept his place as one of the first-choice defenders on the team sheet.
That growth is reflected in FIFA 23, and he's now one of the brightest center-back prospects in the game. He's a left-footed player with limited weak foot ability, so his best position would be the LCB spot.
With the right development plan, Lukeba's overall rating should grow into the mid to high 80s which is not bad at all for a relatively cheap pickup.
Piero Hincapié (20-year-old LB, Bayer Leverkusen)
Piero Hincapié was on the list of best young players in FIFA 23 published by EA in the build-up to the official release of the game.
The Ecuadorian center-back got a sizeable boost from his 70-rated FIFA 22 card to a 78-rated base card in FIFA 23. This is obviously a result of completing his first full season at a top club in a top league, and his value will certainly also reflect this.
If you can afford to pay the asking price, Hincapié is the next big thing at LB after Alphonso Davies. He's quick, he's strong defensively, and he can get forward to contribute to attacks when needed.
With a base card that high, a potential overall rating in the 90s seems pretty realistic.
Luca Netz (19-year-old LB, Borussia Mönchengladbach)
If Hincapié's asking price is too much for you, then Luca Netz is not a bad alternative at all. The German is coming off the back of a busy season with Borussia Mönchengladbach's first team, and his 68-rated base card on FIFA 22 has received an upgrade as a reward for the year he had.
Netz's potential rating in FIFA 23 sits comfortably in the high 80s, which is as good as you'll usually get from the best attack-minded full-backs in the game. He's fairly quick, has good dribbling and crossing, and a decent weak foot to boot.
Even though he plays in the same league as Hincapié, Luca Netz's lower base card means that you can get him cheaper than his counterpart.
Jeremie Frimpong (21-year-old RB, Bayer Leverkusen)
The abundance of talent in Bayer Leverkusen's first team is a major reason why they're one of the best clubs to manage in FIFA 23 Career Mode. Dutch right-back, Jeremie Frimpong, is another option in the long line of exciting talents at the club, and he's also one of the most expensive.
Frimpong had a good season with Leverkusen in the past year, and his 74-rated base card in FIFA 22 has been upgraded to a gold 80-rated one in FIFA 23.
If you know anything about FIFA games, then you should know that pace is king and this man has bags of it. In fact, he is one of the fastest players in the game with a 94 rating for pace.
If you can afford to pay the asking price, then this deal is a no-brainer.
Valentino Livramento (19-year-old RB, Southampton)
Tino Livramento is a solid alternative to Frimpong that won't do as much damage to your bank balance.
The English youngster has just completed his first full season as a first-team player with Southampton, and his performances have earned him a deserved boost from his 62-rated base card on FIFA 22.
Much like Frimpong, Livramento also shines more going forward than for his defensive work, but he has a stronger weak foot to go with that attacking work rate.
He's only 19 at the start of the game too, so Frimpong has the advantage of two full years of development. With the right progress plan, that 80 overall rating should be achievable by the time Tino is 21 in your FIFA 23 career.
The Best Young Midfielders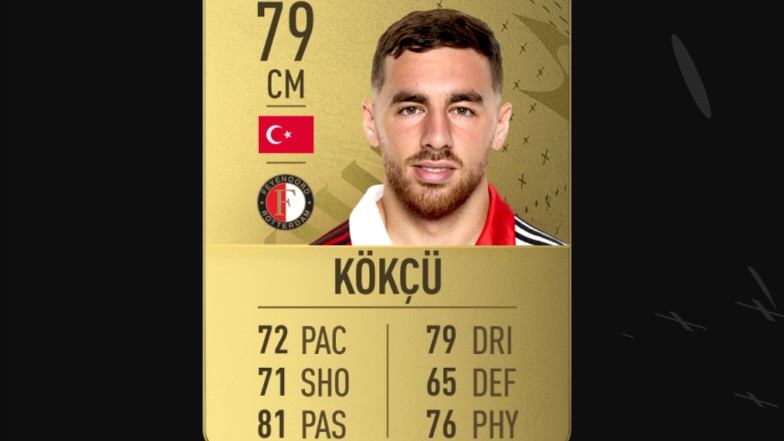 Noah Mbamba (17-year-old CDM, Club Brugge)
CDM is one of the trickier positions to get really good talents in FIFA 23. There are players that can fill in there if required, but I'm only considering players' natural first positions at the start of the game.
That said, Romeo Lavia has just joined a new team at the start of the game, so you can't get him straight away. However, it might be worth keeping an eye on him as the game progresses.
Noah Mbamba, on the other hand, is a name that some FIFA players will be familiar with already. He was a 16-year-old, 64-rated CB in FFA 22, but his potential rating was pretty close to 90.
In the past year, Noah played more games at CDM than anywhere else for Club Brugge, so he is now one of the best talents in that position for FIFA 23.
He is still young and inexperienced enough to have a relatively low valuation at the start of the game, so you must move quickly if you're looking for a bargain.
Orkun Kökcü (21-year-old CM, Feyenoord)
Orkun Kökcü is another familiar name for FIFA Career Mode players. He is one of the best young players in FIFA 23 with a 79-rated base card, and his blend of abilities makes him the ideal playmaker in the middle of the park.
Kökcü has a really strong weaker foot, and the combination of that with his range of passing means that he can find players in pretty much any situation.
He can also carry the ball forward if needed, and he's got bags of stamina to do so multiple times in a game.
Feyenoord definitely won't let him go for cheap, but this transfer should not break the bank either.
Ivan Ilić (21-year-old CM, Hellas Verona)
Ivan Ilić is the poor man's Kökcü, at least at the start of the game. His base card is not as high, and he does not have the stamina of his Turkish counterpart.
However, he can also carry the ball forward with his dribbling ability, he's a good passer, and he can even do a job defensively if required.
He might not be ready to go into the starting XI straight away (depending on the team you're managing), but give him a few years to develop and he should become a well-rounded central midfielder for your career mode team.
Giovanni Reyna (19-year-old CAM, Borussia Dortmund)
Giovanni Reyna is not a stranger to this sort of list as the American has been playing first-team football for Dortmund since the 19/20 season.
Despite enduring an injury-ravaged season in the past year, he is still one of the best young players in FIFA 23 Career Mode.
At CAM, you can take the liberty of signing players that are not so strong defensively but are great going forward, and Reyna is one of those. He is a very good dribbler and will be useful for playing in tight spaces and supplying the front line.
His base card is good enough to play in the starting XI of many teams, so you can justify the relatively high transfer value straight away. However, his potential rating is what makes him so exciting in FIFA 23 career mode.
Harvey Elliot (19-year-old CAM, Liverpool)
Due to a season-ending injury sustained in the early stages of the 21/22 season, Harvey Elliot's overall rating in FIFA 23 remains unchanged from his 73-rated FIFA 22 base card.
However, that base card is still great for a 19-year-old with lots of room to develop. His potential rating in FIFA 22 was 87, and you can expect the same figure in FIFA 23 although there's room for more depending on how you play him.
Elliot has a strong skill moves rating and a solid weaker foot, which are two things you want from a CAM. He has a decent burst of pace, good dribbling, and ball control. However, you may want to focus on improving his passing and shooting stats as they're a little underwhelming in comparison.
The best part is, he won't cost as much as Reyna will, so move quickly!
The Best Young Forwards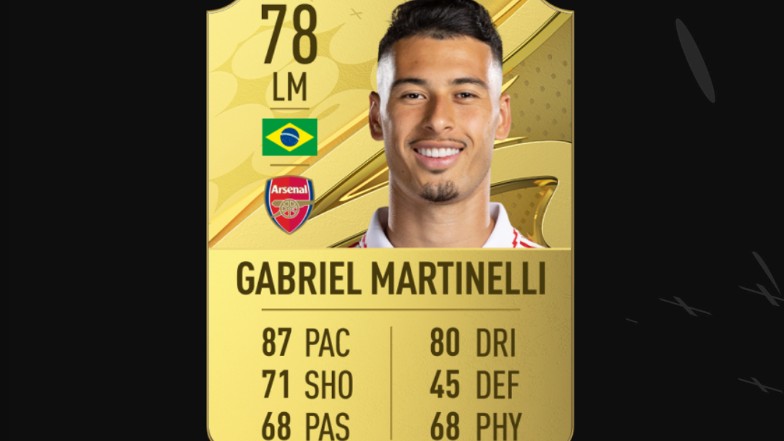 Yeremy Pino (19-year-old RM, Villarreal)
Yeremy Pino was on EA's list of the 22 best young players in FIFA 23. The Spanish teenager got a boost from his 73-rated FIFA 22 card up to 79 on the latest installment, and he's a great option for the right side of midfield if that's what you're looking for.
A quick glance at Yeremy's card suggests that he's solid in many areas, if not particularly excellent. It's sort of a "jack of all trades" situation.
He's not the strongest player, and he won't win too many headers but I'd argue that Yeremy can do pretty much anything else. His pace, dribbling, passing, shooting, and movement stats are all solid, and he has a strong weaker foot to boot.
You can focus his development in certain key areas where you want him to shine even more, but he's already on the path to becoming world-class.
Rayan Cherki (18-year-old RW, Olympique Lyon)
Rayan Cherki was a pretty exciting talent on FIFA 22, and he's keeping his place as one of the best young players in FIFA 23 Career Mode too.
This guy is a five-star skiller with a five-star weak foot, and he's only 18! If you like your wingers to have a bit of flair, Cherki has got bags of it.
His 73-rated base card is unchanged from FIFA 22, but that's not a bad thing at all. He's a technical dribbler with a decent amount of pace, passing, and shooting right from the start of the game, and the potential for development is extremely exciting.
Pino may have 6 full points ahead of him at the beginning, but Cherki should prove to be better value for money if you don't mind giving him a bit of time to develop.
Gabriel Martinelli (21-year-old LM, Arsenal)
Martinelli does not need much introduction at this stage. The Brazilian winger had a good season with Arsenal and has been duly rewarded with a boost to his base card in FIFA 23.
In fact, many might have expected him to get more than a 2-point boost in comparison to his FIFA 22 card, but the 78-rated FIFA 23 one is not bad at all still.
87 dribbling and 80 pace are the two standout numbers on the card, and they offer proof of what to expect from the player on the left flank – lots of speed, finesse, and trickery. I'm here for it.
Octavian Popescu (19-year-old LW, FCSB)
Octavian Popescu is coming off the back of a 10-league-goal season with FCSB in the Romanian league, so his 69-rated base card in FIFA 22 gets a deserved boost.
In the previous game, you could easily grow that number into the mid-80s, so the high-80s should be a realistic target in FIFA 23.
His biggest strengths are pace and dribbling, but there's a solid platform for growth with his finishing and passing too. Popescu is a cheaper alternative to Martinelli and while he might not have as much flair at the start, you won't have to wait too long.
Facundo Farías (19-year-old CF, C.A Colon)
Facundo Farías is a great option for FIFA managers that prefer a two-striker system. He has a little bit of everything from the start, although his passing is only serviceable and might need some work if you want him to link up play often.
Pace is king when it comes to FIFA, and it certainly helps any striker. Farías has a nice burst of pace that can make the difference in short distances to goal, and when his finishing grows into the high 80s, you'll have a truly devastating striker on your hands.
An alternative for managers that like a two-striker system or prefer a player that can keep the defenders busy in the middle while the wide forwards bang in the goals is Chelsea's Armando Broja. He should cost more than Farías, but he's worth the money.
Youssoufa Moukoko (17-year-old ST, Borussia Dortmund)
If you missed out on Moukoko in FIFA 22, here's a chance to right your wrongs and snap him up on the new game.
His 69-rated card in FIFA 22 had a couple of eye-catching numbers for pace (84) and dribbling (76), and his potential rating was in the region of the 90s.
Following a season with more chances to play in the first team, Moukoko remains one of the best young players to buy in FIFA 23 Career Mode.
The club has just signed another young and talented striker in Karim Adeyemi, so they may not be too reluctant to let the youngster go for a reasonable fee. If you're thinking long-term, then this is the striker to get.
The Best Budget Wonderkids and Hidden Gems in FIFA 23 Career Mode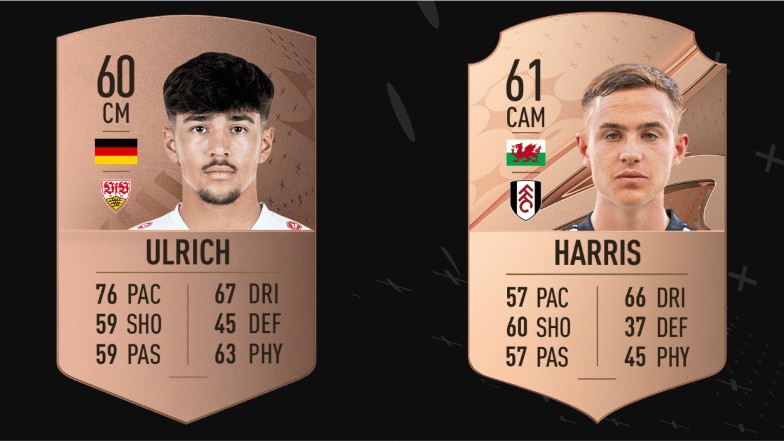 If the bargain alternatives discussed above still cost more than you can afford, then the list below contains budget wonderkids and hidden gems that are even cheaper.
While most of these players start out with very low ratings, they all have the potential to grow significantly over the course of the game. Those low starting overall ratings help to keep the initial value of the player down, which means you can pick them up for a cut price.
Guillaume Restes (17-year-old GK, Toulouse FC)
Gavin Beavers (17-year-old GK, Real Salt Lake)
Fabio Chiarodia (17-year-old CB, Werder Bremen)
Ashley Phillips (17-year-old CB, Blackburn)
Cristian Riquelme (18-year-old LB, CD Everton)
Ben Chrisene (18-year-old LB, Aston Villa)
Laurin Ulrich (17-year-old CM, Stuttgart)
Luka Romero (17-year-old CAM, Latium)
Arda Güler (17-year-old CAM, Fenerbahce)
Kacper Kozłowski (17-year-old CAM, Vitesse)
Luke Harris (17-year-old CAM, Fulham)
Alfie Devine (18-year-old CAM, Tottenham)
Kayky (19-year-old RW, Pacos Ferreira)
Cole Palmer (20-year-old RW, Manchester City)
Rodrigo Gomes (18-year-old LM, Braga)
Jamie Bynoe-Gittens (17-year-old LM, Borussia Dortmund)
Final Words
From high-grade wonderkids to reasonably priced bargains and dirt-cheap hidden gems, this guide to the best young players in FIFA 23 Career Mode should hopefully give you a solid platform to prepare your squad for the future.
After signing any of these players, the next step is to learn how to improve them and ensure that they reach their potential. Otherwise, your wonderkid might end up being a failed investment.