Unlike the matches that you play in regular kick-off modes, there is a lot more to winning games in FIFA 23 career mode than what you do on the tactics board and the pitch.
As football managers do in real life, you have to be up to date and in control of many things behind the scenes, as these things directly affect the happiness of the players and consequently their performances on the pitch.
In FIFA, the happiness of the players is represented to a large extent by their "morale". The higher the level, the happier the player is, and vice versa.
Morale works hand-in-hand with other off-pitch values such as match sharpness and fitness. You should also learn how to get high match sharpness, but this guide focuses on increasing team morale in FIFA 23 career mode.
Gametime
The first thing to pay attention to is game time. Now, unless you're the type of manager that likes to rotate your team sheet heavily, you're likely to have a fairly regular starting eleven.
It is natural, even in real-life football, for a squad to have key players, regular starters, rotational options, and backup players. Most of the time, each player understands their role within the team and the amount of game time that they can expect.
You can view the projected squad role of each player in your squad in the "Squad Hub" section, and this bit of information should give you some clarity about the amount of game time that each player is expecting.
If the numbers fall short of what you provide in reality, the affected players may suffer a drop in morale. Sometimes, even players that are "Sporadic" members of the starting eleven may feel like they should be getting more game time than you're giving, and they will also experience these drops.
Thus, you need to be aware of players that are on the fringes of the team and give them game time as often as you can afford to. You're still likely to end up having an unhappy player or two occasionally, but this is where player conversations come in.
Player Conversations
Unhappiness is only one of several reasons why a player might come to you for a conversation in FIFA 23 career mode.
Players might come to you when you put them on the loan or transfer list, they might come before a game to suggest that you start them, or to talk about the form of the team on the pitch.
The important thing to note here is that your responses have an immediate impact on the morale of the player. If you often don't respond at all, it will still have a negative impact on the morale of the players involved as they will feel like you're ignoring them.
When you do respond, be careful with your answers. I often go with the safe, diplomatic answer to avoid trouble while not making strong promises. This option is often the second in the list of three available answers, but be sure to read them each time before deciding what to do.
Contracts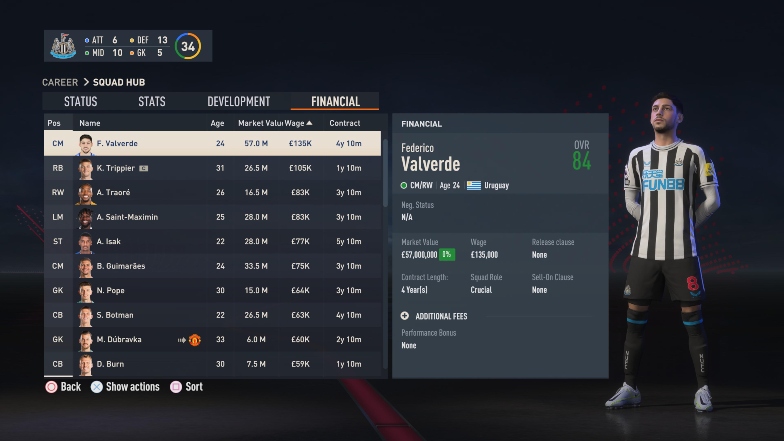 Another way to keep the morale of the players high is to ensure that they're on good contracts. This is in reference to the length of the contract, and the value of the wages offered.
When a player develops significantly, you should consider giving them a pay rise to reflect that growth, otherwise, they may grow unhappy and unsettled.
In the same way, a player whose contract is about to end may start to become unsettled. Keep up with the necessary information in the squad hub section, and delegate contract renewals if that makes things easier for you.
However, if you choose to delegate contract renewals, you may end up overpaying in certain situations. If you believe you can negotiate a good deal, it might be worth handling the contracts by yourself.
Press Conferences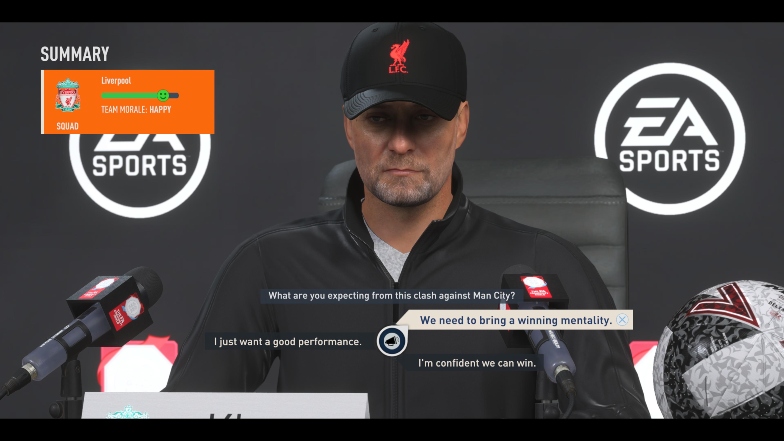 Press conferences have been added to FIFA career mode for a few years now, but it feels like the importance of what you say in them increases every year.
In FIFA 23 career mode, these press conferences that are held before and after important matches have an obvious impact on player morale just like the past year.
When you're asked questions about the team's chances, new signings, or a player's form, it is best to be positive and protect the players as this gives you the best chance of improving morale. Even if the team is in a rut, a positive spin on questions asked during press conferences can help improve the situation.
You can skip press conferences if there is no gain to be had or you just don't have the time for it, but it is worth noting that it is always an option to turn to when you need to increase team morale in FIFA 23 career mode.
Club Form
I've made it clear that off-pitch matters are crucial to success in FIFA 23 career mode, but that does not take anything away from the importance of results on the pitch too.
If the team is struggling to win games, then the morale of the players will be negatively affected. You can do all the talking you want, say all the positive things in press conferences, and sign players on to big contracts – if results are poor, morale will go down regardless.
The most obvious solution is to consider the fact that you may be playing at a difficulty level that is too high for you, so just go into the game settings and change that. When the team gets back into good form and your skill levels have increased, you can increase the difficulty level once again.
Alternatively, if it is a temporary period of bad luck or other factors on your part, then you should consider simulating some games to improve your chances of winning. Obviously, there are certain things to note if you're trying to win simulated games in FIFA 23 too, so learn about that first.
Again, when the team gets a good run of form going and morale is back up to a good level, you can continue to take charge of the games by yourself.
The new playable highlights option in FIFA 23 career mode is really tricky as it only gives a limited number of chances to score per game. If you regularly choose that option, it may be one of the reasons for bad luck and a poor run of form, so consider playing a full game sometimes too.
Training Intensity
It is important to train your players every week, but it is also important to give them well-deserved breaks as often as possible.
A rest day before and after matchday is non-negotiable, but you can adjust the rest of the training schedule to make sure that the players are not overworked in a bid to make the most of sessions.
Overworked players are more likely to become unhappy with the training sessions, and morale levels will be affected as a result.
The types of drills that you set also make a difference. Defensive players should be working with defensive drills more often than anything else, and attacking players should be given attacking drills.
If a player believes that their training sessions are not appropriate for them, they may become disenchanted with training and suffer drops in morale.
Captaincy
To be honest, I'm not quite certain how much of an impact this has on team morale, but it is a case of making sure all ends are covered.
The point here is to make sure that the person you're handing the captain band to actually deserves it. In FIFA 23 career mode, this means looking for a player in your squad that has the "Leader" trait.
In my case, I handed the captaincy to Kieran Trippier for Newcastle for that reason. I did it because I noticed that he came to me more often than any other player concerning club matters, and he had the "Leader" trait.
With that decision, I expect that I would be reasonably covered if there is any hidden attribute/stat in the game that affects the morale of the players based on the leadership qualities of the team captain.
Final Words
Generally, these tips should be fairly easy to follow if you want to increase team morale in FIFA 23 career mode.
Maintaining high morale within the squad will boost the speed of player growth and the effectiveness of training sessions. There's a whole guide on how to improve players in FIFA 23 career mode as well, so be sure to check that out next.
If one player proves to be too much trouble for you to handle with any of the tips provided, then you should start to consider moving them on to another club to avoid affecting the whole group.