For a number of reasons, one of the first things that you should do in FIFA 23 Career Mode is to set up your scouting network.
One of those reasons is the fact that there are many great deals available at the beginning of the game, both in terms of signing real players and also finding the next big thing with youth academy scouting.
If you don't move quickly, it is easy to miss these deals.
Scouting in FIFA 23 Career Mode may not be as in-depth as a game like Football Manager, for instance, but there are still a number of things to get familiar with, especially if this is your first rodeo in FIFA Career Mode.
In this guide, I will run through the key aspects of scouting in FIFA 23 Career Mode, from hiring the right scout to signing the right player for your team.
If you get your scouting and training drills set up correctly, you'll be preparing yourself for maximum success from the get-go.
Hiring Scouts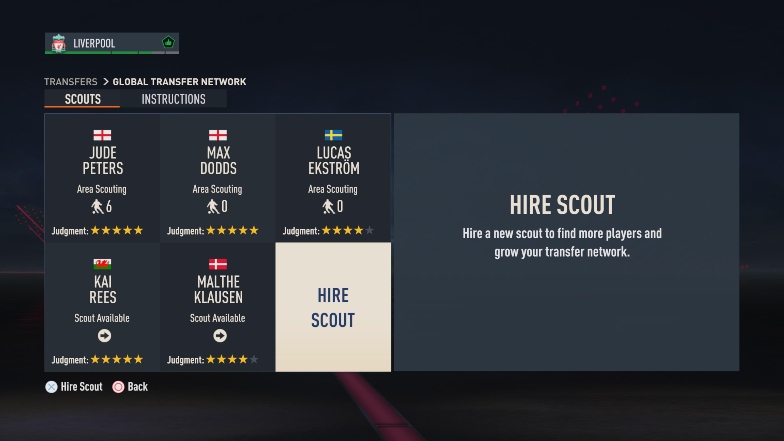 The first thing you want to do is hire new scouts. You can find the option for this under the "Transfers" tab on the main Career Mode page.
If you're managing a big club, chances are you already have a few good scouts at the club. I started a save with Liverpool and they already had two five-star scouts and two four-star ones.
In this case, hiring a new scout might not be completely necessary, especially if you're trying to invest the transfer fees somewhere else.
The same logic would apply for smaller clubs with much smaller transfer budgets, although you're less likely to start off with 4/5-star scouts in those cases.
If you're undecided about which club to start with, then you should have a look at the best clubs to manage in FIFA 23 Career Mode – there are some interesting options in there.
If you do decide to hire a new scout, there are two things to determine the quality of the scout: Judgment and Experience.
Experience directly impacts the number of players that a scout is able to pool together in their report when you send them out to a specific region.
A scout with four stars in this category will find more players than one with two stars.
Judgment affects the number of high-quality players that a scout finds in one mission.
A scout with a very high Experience level but low Judgment may find a lot of players, but only a small percentage of them will be high quality.
It is important to note that "high-quality" is often contextual, as it largely depends on the overall quality of the team that you're managing. A high-quality player scouted by a small club will not be viewed the same way at a bigger club.
Ideally, you want to hire scouts that have a good level of Experience and Judgment.
Once you decide how much of your transfer budget you're willing to spend on scout hires, it is easier to choose the highest quality scouts that fit within the budget.
The Global Transfer Network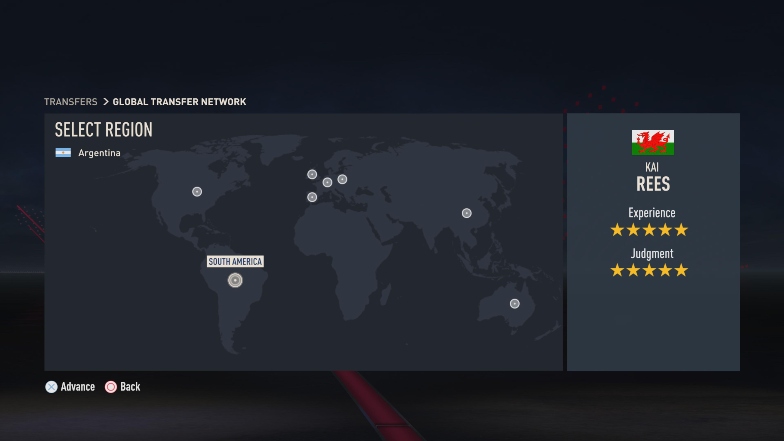 On the "Scouts" page, you can see all the scouts at the club in one place.
Selecting any of these scouts will bring up the Global Transfer Network page, which is where you assign a scout to find players in various regions.
The Global Transfer Network in FIFA 23 includes regions such as Northern Europe, Southern Europe, Central Europe, Rest of Europe, South America, North America, Asia, and Australia.
Although Northern Europe and Central Europe allow you to scout the same number of countries, you're better off scouting Central Europe first as it contains more "high-value" countries in terms of the talent found there.
Unfortunately, there's no Brazil in the South American region, and no Mexico in North America either as those leagues are not included in FIFA 23.
Both regions only have Argentina and the United States respectively, so your options there are very limited.
When you select the region and country that you want to send the scout to, you should immediately adjust the scout instructions in the next tab to filter the type of players that the scouts should be looking for.
Setting Up Scout Instructions
Not much has changed here from FIFA 22 Career Mode. You can set up to six different scouting instructions, and your scout reports will only find players that fit into the parameters that you set.
The parameters include position, attributes, age, and contract. You don't have to edit every one of them, only the ones that are important to find the player you want.
If, for instance, you're interested in left-backs nearing the end of their contracts, then you can simply adjust the position (Left Back) and contract (set to 0-1) and leave the other two parameters empty.
I would recommend searching for expired/expiring contracts at the beginning of the game as there are often pretty good deals in there if you're quick enough.
You can always check in to see the players that your scouts have found for each instruction by clicking on the instruction on the Scout Instructions page.
Analyzing Scout Reports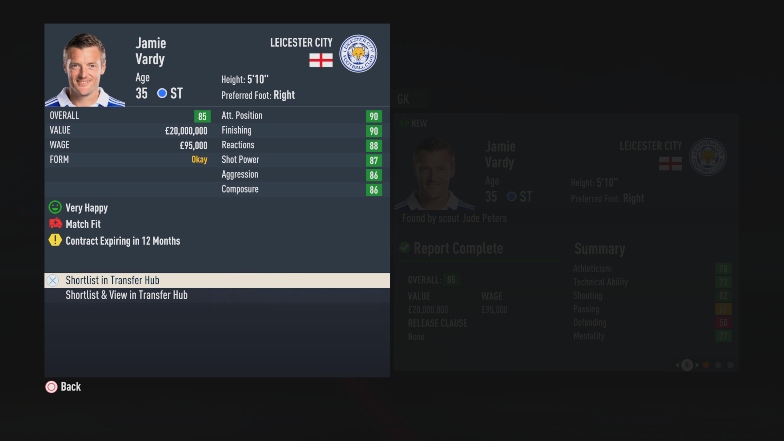 Scout reports are done in a step-by-step process.
The scout feeds the reports with bits of information as time passes until a full scout report can be provided with everything there is to know about the player.
Sometimes, you can work with an incomplete scout report overview if you're pressed for time and it already contains the piece of information that is most important to you (stat, potential, morale, physical profile, etc.).
However, many times, it is best to wait for the full scout report.
The full scout report shows the entire profile of the player – all attributes, traits, biodata, and overall rating.
From there, you may choose to shortlist the player, or shortlist them and immediately proceed to the transfer hub where you can make the transfer offer.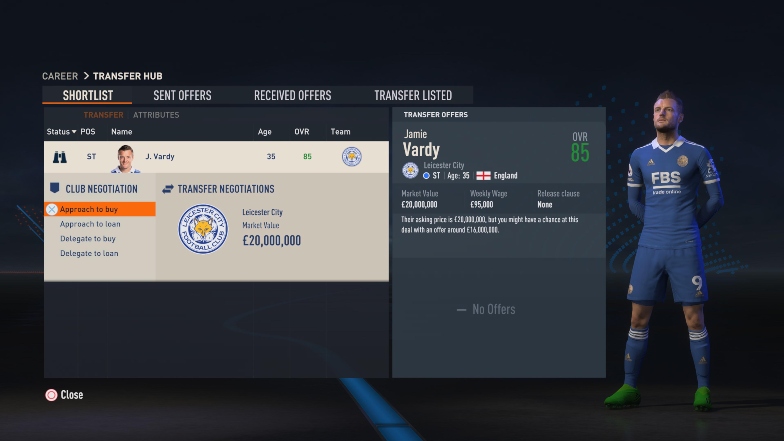 One thing to note when analyzing scout reports for young players is the message shown in the player's scout report overview.
Usually, when it reads "Showing Great Potential", it means the player has a potential overall rating between 80-85. If it says "An Exciting Prospect", that number usually falls within 86-90 and if it says "Potential to be Something Special", it means a potential rating of 91+.
If you want a decent head-start in terms of finding young talent, then you should have a look at the best young players to sign in FIFA 23 Career Mode.
Scouting for the Youth Academy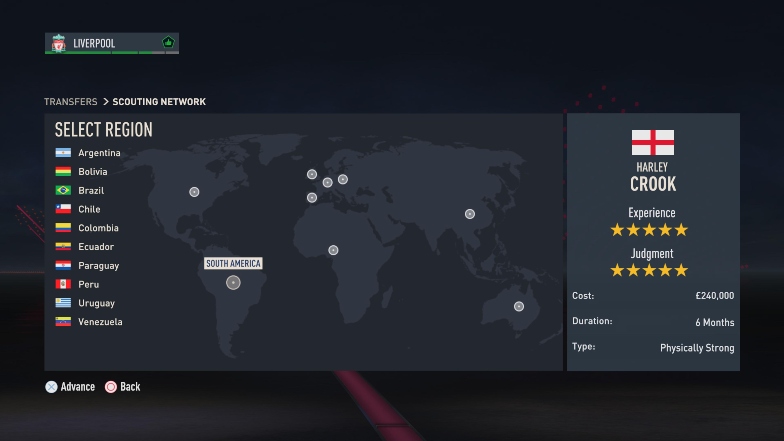 Signing shiny new players for the first team can be exciting, but there's a lot of reward in developing your own talent from the club's youth setup too.
Scouting players for the youth academy is similar to what's been discussed so far in some ways, but there are some important differences.
Firstly, the "Youth Staff" sub-section under the "Transfers" tab on the main page is where you hire/fire scouts and send them on missions.
Additionally, there are many more countries to scout for youth players in each region here compared to scouting for the first team. In fact, there is a whole region not present in the latter (Africa).
When you select the country that you want to send your scout to, you can adjust the duration of the mission (3,6, or 9 months) and also the type of player you want (e.g. technically gifted or physically strong).
The duration of the scouting mission determines the cost – the longer it is, the higher the cost. However, if you can afford to, I would recommend sending the scout away for at least 6 months, especially for countries known for producing world-class talent.
Final Words
As you progress through your FIFA 23 Career Mode, you will gather a significantly large pool of players through scouting, and it should be easier to find good deals.
However, it is important to keep your scouts busy all season and occasionally change the regions that they scout in.
This will help to keep the reports fresh and expand the overall knowledge of your overall scouting network.