Getting to create a unique character is one of the biggest joys of playing an RPG, in my opinion. I can easily spend hours looking at a character creation screen.
Hogwarts Legacy is a delight to play if you enjoy immersive RPGs. If you're also a fan of creating characters with brilliant outfits and aesthetics, you'll be happy to know that the game has the character customization options to create a wide variety of witches and wizards.
There's an in-depth character creation process at the start of the game, but you can change most appearance options at almost any point later on in the game. You can edit your gear, hair color, and even your wand handle.
Here's a quick guide on how to change your appearance in Hogwarts Legacy.
Before You Start
Before you start, you'll need to make sure that you can get to Hogsmeade for most of this. One of the key locations for changing your character's appearance is a shop in the village.
If you haven't been to Hogsmeade yet, don't worry. It's decently quick to unlock the ability to get there, as it's part of the sixth main quest. It's worth getting this done as Hogsmeade is home to a huge variety of useful shops, interesting puzzles, and strong gear, too.
Changing Your Gear
Changing your outfit in Hogwarts Legacy is quick and easy. First of all, open up the main Field Guide menu and select the gear option in the top left hand corner.
Here, you'll be able to see all the gear categories, a summary of your stats, your level, and how much money you have as well.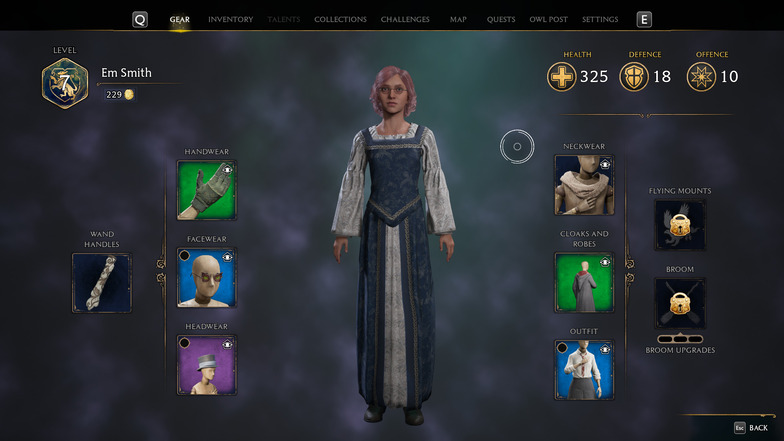 Hovering over a category will give you more information about the item that your character currently has equipped. It will tell you the quality of the item, the stats, any upgrades that you've applied, relevant traits, and the sell value, too.
If you select a specific category, you will be able to open it up and see all the cosmetic appearances and pieces of gear that you've collected so far.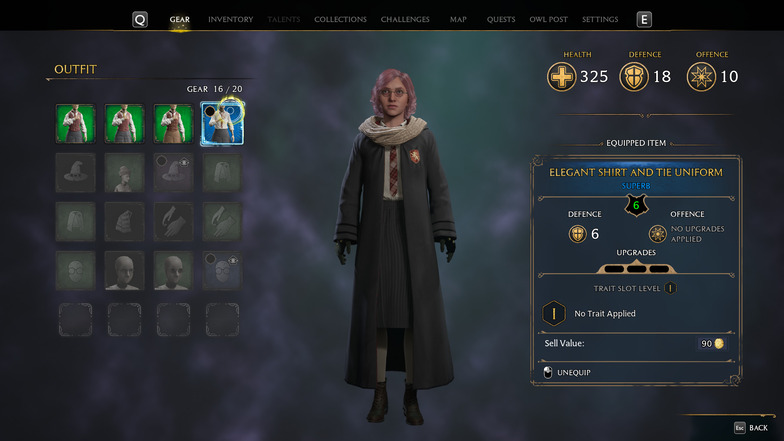 Once you've selected what items you want to wear, you can head back out of this particular menu and the game will automatically save your changes.
If you've found an item with great stats but an appearance that you're not keen on, you can change the appearance without removing the stats. This is a very handy tool for players who prefer a specific aesthetic but want to remain strong in the game.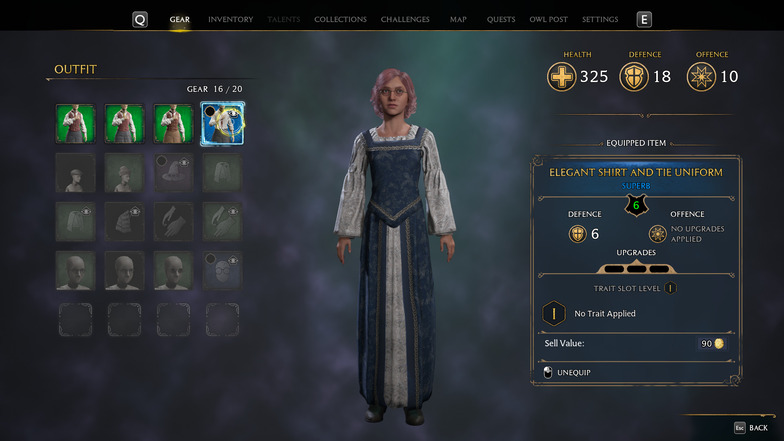 If you've received an appearance as a quest reward or achievement reward, you'll need to apply it as an appearance while wearing another item.
Editing Your Character
The character creation process at the beginning of the game is quite in-depth, and there's a few elements that you won't be able to change after starting your journey.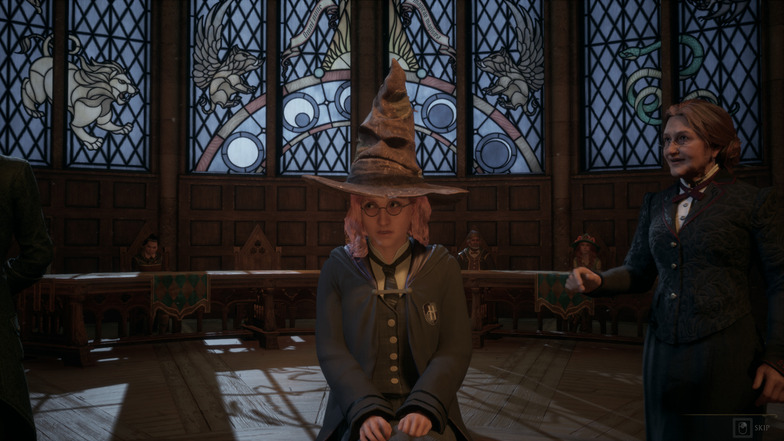 The things that you can't edit for your character are:
Your body and face shape
Your dormitory
Your skin color and details (e.g. freckles or moles)
Your voice
Everything else is changeable, though. You can fully edit your hair, eyebrows, eyes, complexion, and a few other minor details.
To do so, you'll need to find Calliope Snelling in Hogsmeade.
Head over to the village, and look for the small scissors icon on your map. This marks the hairdressers, where you can find Calliope and edit your appearance. There's a red and white striped pole outside the hairdressers.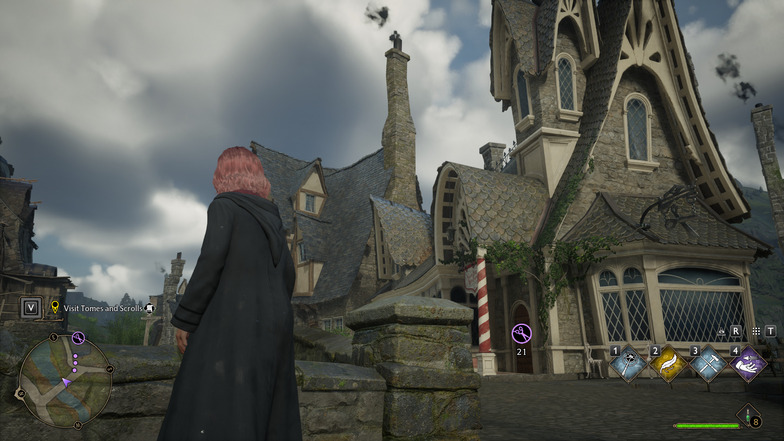 Once there, speak to her to begin the process. This does cost you Galleons, so you may need to save up a little before your visit if you're in the earlier stages of the game.
The process is intuitive and you can return at any time if you change your mind.
When you're in Hogsmeade, remember to use Revelio and look around any of the shops that you visit. There's often chests and bags that you can loot in these stores (containing Galleons, clothes, or even wand handles) and Field Pages to pick up as well.
Customizing Your Wand
During your first trip to Hogsmeade, you'll meet Gervold Ollivander, the wand maker.
If you've linked your Wizarding World account to the game, you'll get the wand type listed on your account. If not, you'll get to pick out a new one and customize the different elements.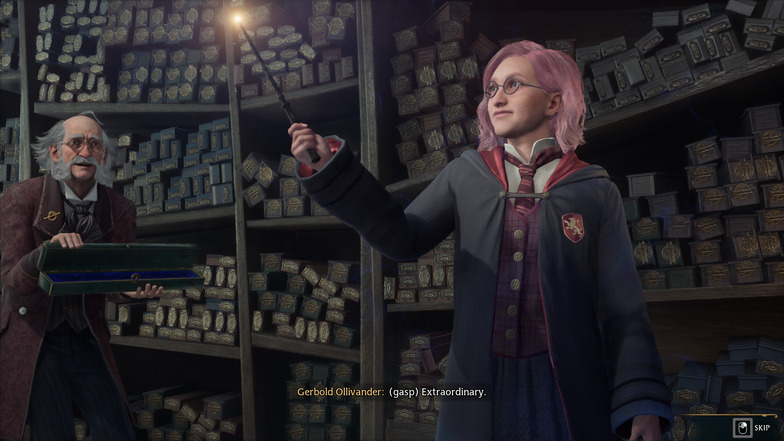 There are heaps of elements that you can change about your wand initially, ranging from the wood type and wand shape, to the length and flexibility of the wand.
It's important to note that you cannot change this wand after the initial process. While it might be annoying to not be able to change your wand in Hogwarts Legacy, it does make sense when you think about the lore.
There is another option that can help you keep your wand feeling fresh and interesting, though. There are over 40 wand handles in the game to find as you explore the world, each with a stunning design and texture.
You can equip wand handles in exactly the same way as a regular piece of equipment. Open up the main Field Page menu, select gear, hit the wand button, and then pick out which wand handle you want to use.
These handles are found in a variety of ways, so keep your eyes open and remember to loot any chests, boxes, or bags that you come across. I found my first few wand handles in Hogsmeade shops and random Hogwarts classrooms.
What to Do Next
Now that you know how to change your character's looks and gear in Hogwarts Legacy, why not spend some time tracking down some unique gear appearances and accessories? There are plenty to find, with some being given as reward for quests or puzzles.
One of my personal favorite puzzle types is the empty picture frame puzzles, which will be familiar if you've completed the Like a Moth to a Frame quest. There's one of these frames in Hogsmeade, and plenty all over Hogwarts.
If you're looking to buy some new gear appearances or get another haircut, look into some ways to earn Galleons quickly in the game. There are plenty of ways to add more Galleons to your wallet, which is handy if you're looking to fill out your appearance collection slot.