In Madden's Franchise Mode, one of the best feelings is building a team that's not just set up for current success, but long term success far into the future as well.
To build a team that's primed to stay successful into the future the most important step is making sure the roster if filled with young talent that's already good with plenty of potential to develop into being elite.
However, with a limited amount of draft picks and all the other teams also looking for this kind of talent, your opportunities to do so may sometimes be limited.
When that's the case you may need to take into your own hands by orchestrating a trade to bring in the guys you need. But that raises the question: what players should you be trading for to achieve this?
In this guide we'll break down the best young players to trade for in Madden 24, by position.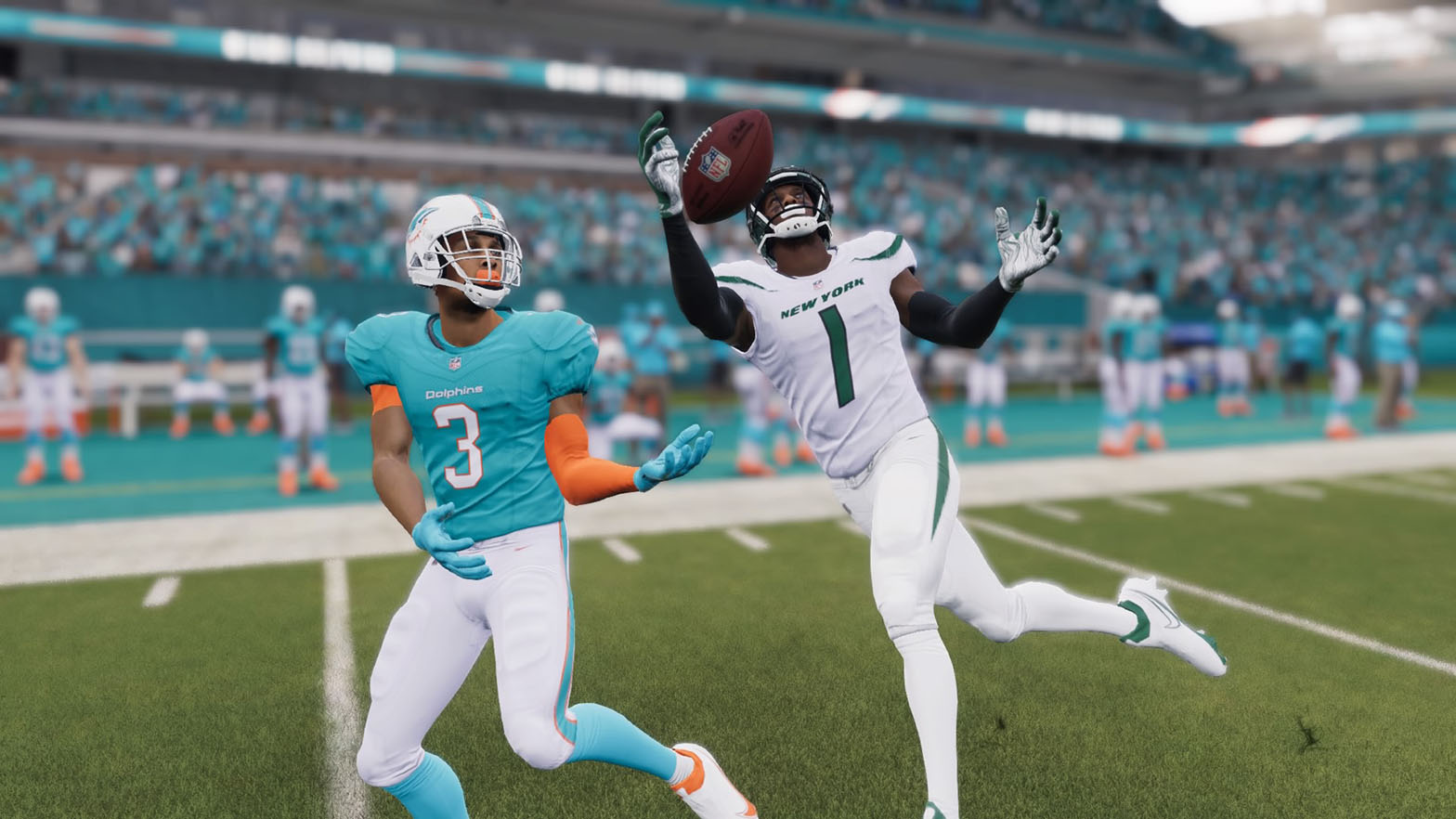 Quarterback
The NFL, and by extension Madden 24, has no shortage of talented young quarterbacks in it's ranks.
Obvious candidates jump out immediately such as the 23 year old Trevor Lawrence (82 OVR) or the 25 year old Justin Herbert (87 OVR).
You might even consider the top rookie quarterbacks such as Bryce Young, CJ Stroud, or Anthony Richardson.
While all of these quarterbacks are great players with tons of room to develop, they're also going to cost a comical amount to get a trade for them to go through, which may make them unattainable for some players.
Thankfully, we can take a look at the San Francisco 49ers for not just one, but two great options.
73 overall Brock Purdy and 71 overall Trey Lance are both only 23 years old, giving them tons of time for you to further develop their skills.
Purdy is a jack of all trades, master of none type of QB: with an average accuracy rating and a throw on run rating of 83, a throw under pressure rating of 81, and a throw power rating of 84. Purdy also has star development meaning he'll develop his skills at a faster pace than most players.
But Purdy's starting role and star dev will make him harder to trade for than his more athletic backup in Trey Lance.
Lance is a much more boom or bust player, as his 56 awareness rating makes him liable to making mistakes on the field. But thanks to his 91 throw power rating, 87 speed rating, and 91 acceleration rating the sky is the limit for Lance if you can develop him well.
Lance does only have normal development as opposed to Purdy's star dev, but all it takes is one great season or successful breakout opportunity to get him upgraded to star development himself.
Running Back
Jets RB Breece Hall is only 22 years old and is already the 23rd best RB in the game with an 82 overall.
Hall's 93 speed rating, 92 acceleration rating, and 91 change of direction rating make him borderline impossible for the defense to get ahold of once he's running with the ball in his hands. But even if a defender does get close to him, his 87 juke move rating and 82 spin move rating will help him evade them and escape tricky situations.
Whenever a defender does manage to hit Hall and bring him to the ground, his 89 carrying rating will help ensure that he keeps a steady hold of the football, and his 89 injury rating alonside his 90 toughness rating will make sure that he can pop back up to do it all over again.
While Hall does have a slight weakness as receiving back thanks to less than ideal catching and route running ratings, his star development paired with his young age will help you develop those skills to turn him into one of the best all around backs in the league.
Wide Receiver
Bengals WR Tee Higgins is already a bona fide number one receiver despite only being 24 years old.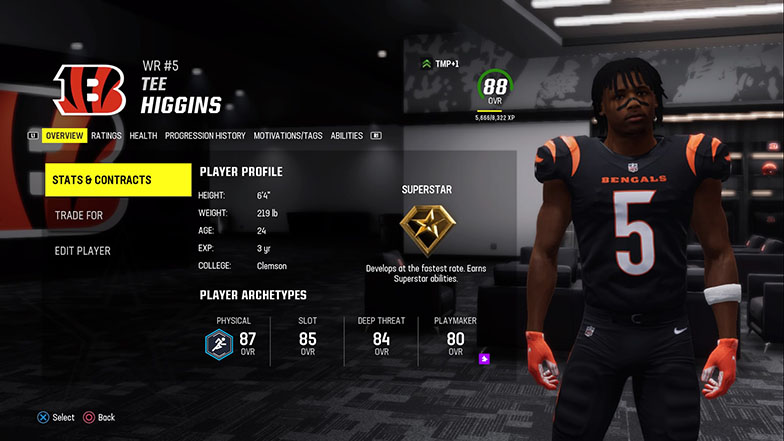 At 6'4, Tee can use his 95 catching rating, 97 catch in traffic rating, and 95 spectacular catch rating to bully DBs and haul in any pass that is even somewhat near him.
Thanks to this, Higgins can be very valuable when playing offense with a team who doesn't have a true star QB, as he can help to make up for inaccurate throws by finding a way to come down with them anyway.
Higgins is also great at getting open with his 86 short route running, 84 medium route running, and 82 deep route running. This means that Tee can be a great target for you no matter what kind of passing play or scheme you decide to call.
On top of his already great stats Higgins also has star development, which means he'll continue to improve and develop for you at an even faster rate than a player with normal or even star development would.
If you have the resources to be able to splurge when trading for a young receiver, you can also target Higgins' teammate Ja'Marr Chase (23 years old, 94 OVR) or Minnesota's Justin Jefferson (24 years old, 99 OVR).
Tight End
Falcons TE Kyle Pitts is one of the most hyped young TEs the league has seen in quite some time. Despite being only 22 years old, Pitts is already the game's sixth best tight end.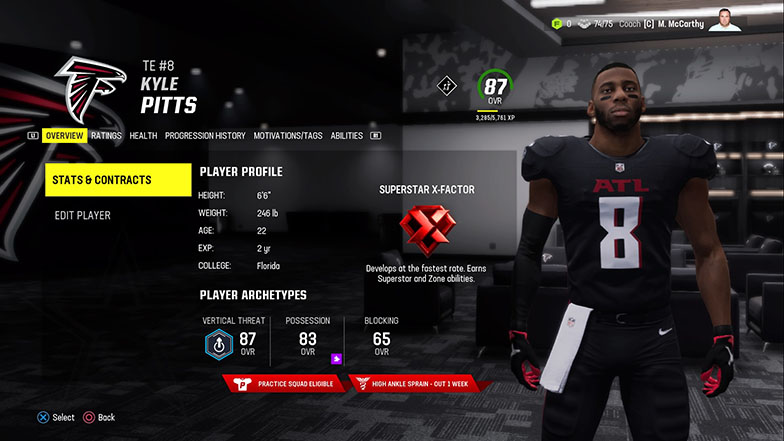 Pitts is an athletic freak with his 91 speed rating and 93 acceleration rating despite also being a towering 6'6″ tall and 246 pounds. His unique combo of size and athleticism makes him a match up nightmare for opposing defenses.
Pitts' athleticism isn't his entire game though, as he also has an impressive 88 catching rating alongside an 84 catch in traffic rating and an average route running rating of 77.
All these stats allow Pitts to be a great weapon from anywhere on the field.
Pitts' blocking rating do leave something to be desired but his ridiculous athleticism and skills as a receiving threat more than make up for it.
But even if you prefer your TE to be a better blocker, his Superstar X-Factor ensures that you can get those blocking stats up extremely quickly.
Offensive Lineman
Ravens 23 year old center Tyler Linderbaum is the best young trade candidate among the game's interior offensive linemen.
He's a good finesse blocker, with an average finesse blocking rating of 83. Linderbaum is also great in the run game thanks to his 85 run blocking, 87 run block power, and 87 run block finesse ratings.
While Linderbaum's pass blocking game does have some room to improve (75 pass blocking rating and 73 pass block power rating) his combination of youth and a star development rating ensure you'll be able to improve those skills in no time.
However, if you need an offensive tackle instead of an interior lineman, look no further than perhaps the game's best young offensive lineman in the Lions RT Penei Sewell.
At only 22 years old, Sewell is already the fourth best right tackle in the game.
At such a young age he's already an incredibly well rounded player with multiple elite traits and no true weakness, with his lowest core attribute being a still high 81 pass block power rating.
Combine that with his superstar development and it should be no more than a season or two before he's boasting a 99 overall as one of, if not the best lineman in you franchise.
Defensive Tackle
Eagles DT Jalen Carter is the first rookie to make our list.
This is because true rookie are often much harder to trade for than first or second year players, but Jalen Carter is far and away the best young DT trade target in the game.
The extra difficulty in trading for a rookie is also softened by Carter being the third DT on the Eagles' depth chart behind Fletcher Cox and Jordan Davis.
Carter is a force to be reckoned with in the run game as his 94 strength rating and 79 block shedding rating will allow him to stop opposing running backs in their tracks.
Carter's no slouch in the pass rushing game either, as his 79 power moves rating combined with his previously mentioned 94 strength make him a constant threat to collapse the pocket from the inside and bring down the QB.
At only 22 years old and having star development, Carter also has a ton of potential for improvement despite already being as good as he is. Within a few years you can develop Carter into a true game changing level DT.
Edge Rusher
Lions LE Aidan Hutchinson is one of the premier blossoming young edge rushers in the league. At only 23 years old he's already the seventh best LE in the game.
Hutchinson is incredibly well rounded as an edge, being able to heavily contribute to the run game as well as being able to rush the passer through both speed and power moves.
With a 76 power moves rating and an 80 finesse moves rating paired with his 85 strength and 89 acceleration, Hutchinson can keep opposing lineman on their toes as he's able to beat them with any pass rush move at any moment.
When you pair the stats we've already mentioned with his 78 block shedding rating, Hutchinson is also a force in stopping the run game.
Aidan also possesses star development, which when paired with his youth means that he has plenty of potential for you to achieve through development.
Linebacker
Chiefs MLB Nick Bolton is a great all around true linebacker, as his skills in both run stopping and pass coverage contribute to make him the seventh best MLB in the game.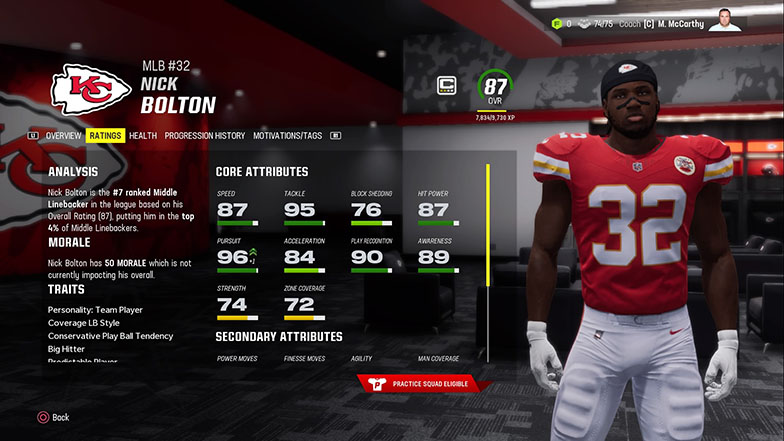 Bolton has both a tackle rating and pursuit rating that clock in at 95, which combine with his 90 play recognition rating to always be in position to make the play and bring down the opposing team's rusher.
When he does get his hands on the ball carrier his 87 hit power rating make him likely to force a fumble and give your team the chance to take back possession.
Bolton also has a 89 awareness rating and a zone coverage rating of 72, allowing him to patrol the middle of the field and make life hard for opposing QBs and their targets.
When you combine all these skills with the fact that Bolton is only 23 years old and has star development, there's a great chance that you can develop him into the best MLB in your franchise.
Cornerback
At only 23 years old and with only one NFL season under his belt, Jets CB Sauce Gardner already has an argument for being the best cornerback in football.
Sauce has no weakness as a cornerback, being able to lockdown receivers in both man and zone coverage, thanks to his 93 play recognition rating along with his 92 zone coverage rating and staggering 97 man coverage rating.
Gardner's 92 speed rating and 94 acceleration rating allow him to keep up with receivers trying to get open deep for the big play, while his 91 jumping rating combined with his 76 catching rating allow him to turn the tables and make any given snap a big play for himself with an interception.
Sauce has nowhere to go but up, as at only 23 years old but already having both a 93 overall and superstar development, it's a real possibility that he becomes a 99 overall X-Factor cornerback for you in just one season.
Safety
Dolphins FS Jevon Holland is only 23 years old and already the twelfth best safety in the game with an 84 overall.
Holland is very fast, as his 91 speed rating and 93 acceleration rating allow him to both keep up with any speedy WRs that streak into his area of the field as well as close the distance quick enough to help clean up for any mistakes made by CBs or LBs beneath him.
Holland is also very well rounded in coverage, as his 85 zone coverage rating and 83 man coverage rating allow him to both patrol the deep middle of the field as well as man up one-on-one on a player when that's needed of him.
In the event a receiver does complete a catch near him, his 70 tackle rating and 83 hit power rating ensure he'll be there to help bring them to the ground as well as have a chance at knocking the ball loose.
Jevon also has star development, which combined with his youth and the skills he already has mean that he can be developed into a truly elite safety for you with just a few seasons.