There are several ways to enjoy any NBA 2K game. Some like to grind the MyCAREER mode and live out their dreams of becoming a star. But if you're anything like me, you also find it thrilling to manage and build a team designed to win multiple championships.
To do this, you should try the franchise mode (MyNBA or MyGM) in NBA 2K23. And in the game mode, one of the best ways to build a title contender is by acquiring a few of the best players in the league.
Understandably, there is no way to trade for the likes of Nikola Jokic, Giannis Antetokounmpo, LeBron James, and Stephen Curry and put them in your team – if you're playing by the rules and using the standard franchise settings.
You have to consider a lot of factors when fielding a trade offer, such as the available trade pieces you have, the team's salary cap space, and your target players' overall rating, contract, and value. As such, an effective way of creating a championship-level squad is to look for young stars you can either build around or with whom you can complement your current stars.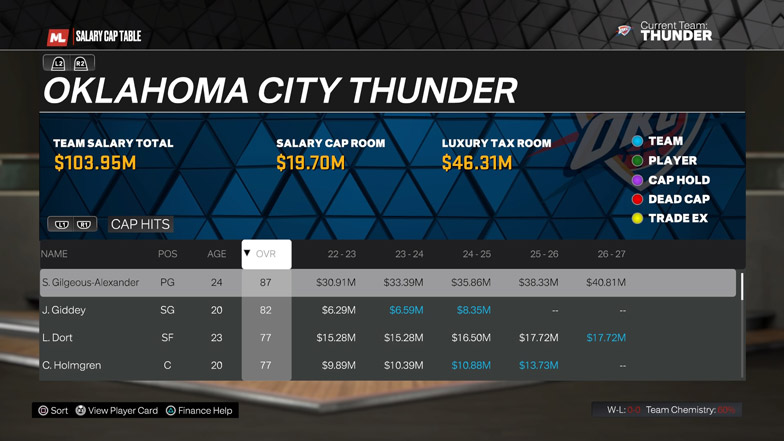 Did you know there are over 400 players available on the trade market? Due to this fact, I understand if you find it hard to seek the right player. So, let me help you out with this list of the best young players to trade for in the NBA 2K23 franchise mode.
Criteria for Selection
Before I present the list, let me first explain the criteria I used to select the players.
First off, when we say "young players," it means they have to meet a certain age requirement. After all, targeting someone like Jokic or Antetokounmpo will definitely take your team to the next level. But at 27 years old and two MVP awards apiece, they do not exactly fit the bill of what we are looking for.
Most pundits nowadays deem young players in the NBA as those who are less than 25 years old. So, this list will also only include 24-and-under players.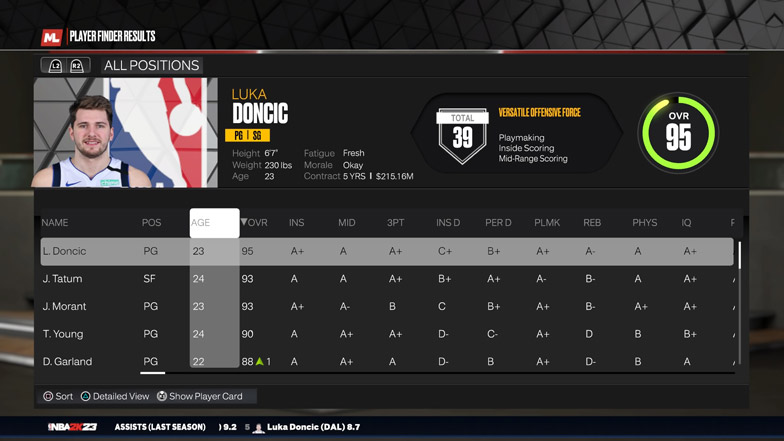 Now that we have narrowed the possible choices a bit, the next yardstick by which we measure the players on this list is their overall rating. Keep in mind, though, that a player's rating is not always an accurate representation of how great he is. And on top of that, the ratings are updated frequently.
Given these, the players discussed in this list are those with at least an overall rating of 80.
If there are some other names worth considering that did not reach the milestone, then that is only because they have a potential rating of more than 90. The attribute potential determines how much a player can possibly develop in terms of attributes and skills after playing a full season.
With these criteria, a diverse list of the best young players to trade for in NBA 2K23 was created.
Some of them are already superstars, which might make it difficult for you to package a deal for them. I also put in some future stars, which could be the missing piece of the puzzle you need to build a roster that can compete for the title for years to come.
The players here have been categorized into different tiers to help you decide who to chase; superstar young players, up-and-comers, and rookies.
Tier 1: In a League of Their Own
The players classified in this tier are already some of the faces of the league. In actuality, these names are untouchable in any trade discussion. If you are the general manager of an NBA franchise and you call another GM to determine the asking price of these players, chances are the other party would hang up.
But this is NBA 2K23, where no trades are impossible. With the right combination of players and picks, any trade target can be had.
Luka Doncic
Who wouldn't want to have a Luka Doncic on their team? The Dallas Mavericks superstar has the ability to do it all on offense. He can pound the ball inside and shoot from anywhere after crossing the half court line.
Doncic is also a superb floor general and rebounder, having career averages of 26.4 points, 8.5 rebounds, and 8.0 assists per game. Probably the only knack on his game is lack of defense and athleticism. But that does not really matter as much in videogames.
What will make it difficult to get a Doncic deal done is his salary. In 2021, he signed a maximum extension that raised his salary in the 2022-23 season to $37 million. If you do not have anyone in the roster with a high enough rating who is paid in that salary range, you will need to give up several names to get the Slovenian star.
Ja Morant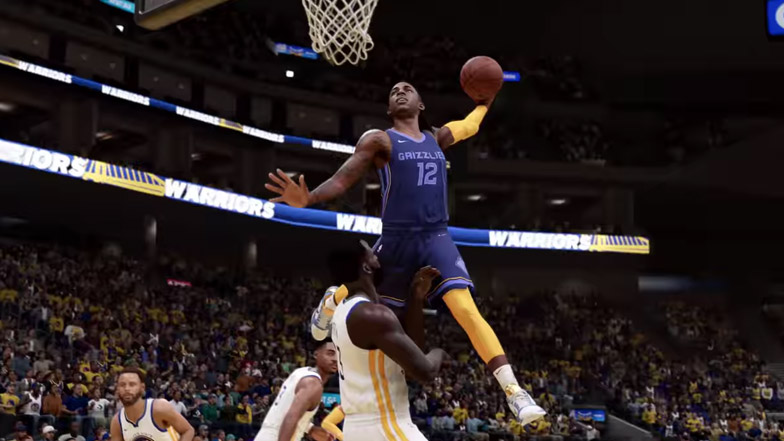 Ja Morant of the Memphis Grizzlies made headlines in the 2021-22 NBA Season for his electric play on the court and eccentric personality off it. As for NBA 2K games, he is one of the best young point guards to build your team around.
His athleticism is out of this world. In fact, he has jumped over taller defenders in multiple instances and can finish over defenders inside the paint. He has even drawn comparisons to a prime Derrick Rose, the youngest player ever to win MVP.
This season is the best time to trade for the 23-year-old. Morant's salary for the 2022-23 campaign is slightly over $12 million. His massive extension activates the following year, raising his pay to $33 million.
Jayson Tatum
Three-time All-Star Jayson Tatum is fresh off a campaign where he willed the Boston Celtics to the championship round. His team may have fallen short of clinching the title, but Tatum sure made a lot of fans by proving that he can be the centerpiece of a contender. The current makeup of the Celtics team is so good that they are one of the best teams to join in NBA 2K23 MyCAREER.
What I like about Tatum is that you can put him in various positions, making him the perfect chameleon for your team on NBA 2K23 franchise. His natural position is power forward, but you can also play him at small forward or shooting guard to field a supersized lineup.
Among the players in this list of the best young players to trade for in MyNBA or MyGM, Tatum probably has the most complete offensive arsenal. He has the height to score over smaller defenders and quickness to drive past slower opponents.
Don't be surprised if you are able to pull off Kobe Bryant-like moves when playing Tatum. After all, the 24-year-old was a protégé of the late NBA legend.
Zion Williamson
Were you also excited when Zion Williamson first entered the league in 2019?
Creating a player of his build in the MyCAREER mode is certainly difficult. His physique looks like a cross between Shaquille O'Neal and Larry Johnson in their primes. But he possesses the speed, ballhandling, and verticality of Michael Jordan.
So, if you want to use a player with Williamson's build, why not go to the franchise mode and choose the New Orleans Pelicans? Alternatively, you can select another team of your choice and look to trade for the man nicknamed Zanos.
Just like Morant, Williamson is on the last year of his rookie contract, and his supermax contract will kick in the 2023-24 campaign. Get him while he is still worth $13.5 million. The following season, his contract balloons to $33 million, which might make it challenging to complete a deal.
Trae Young
If you want to build around a sharpshooter who can drive inside the paint and create plays for others as a floor general, Stephen Curry should be on the top of your list. But the greatest shooter of all time is already 34 years old. So why not try trading for his younger version, Trae Young?
The Atlanta Hawks point guard is one of the most exciting players to use in NBA 2K23. He can shoot from anywhere on the court and break ankles easily, thanks to his ball handling rating and badges. His combination of size and speed is also reminiscent of that of Allen Iverson, who was a fan favorite during the early NBA 2K days.
For those who still cannot think of a team to manage in the franchise mode, the Hawks are actually a solid choice. On top of having Young on the roster, they also have a defense-first backcourt partner for Young in Dejounte Murray, shooters in the wings, and big men with whom you can run pick and rolls all game.
But if you prefer to manage a different franchise and are looking to add a star young point guard via trade, Ice Trae can be one of your best options.
Tier 2: Up-and-Coming Stars
The second tier includes players who are not yet on the same level as the players in the first tier. Even so, they are still worth trading for. Some of those in this section have already earned All-Star berths, while the others will undoubtedly become multiple All-Star selections in the future.
LaMelo Ball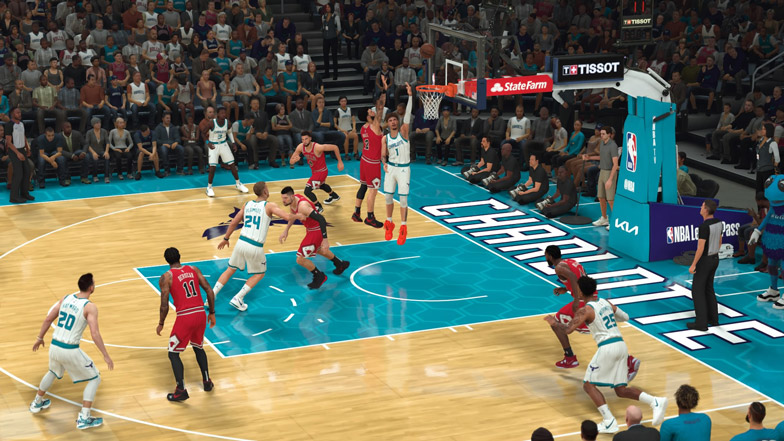 Are you one of the NBA 2K users who love chasing highlights? Then LaMelo Ball fits your playstyle perfectly.
The Charlotte Hornets point guard can provide highlight reels of ankle breakers, poster dunks, fancy passes, and even defensive plays. Like Doncic, Ball is a walking triple-double, having career averages of 18.3 points, 6.4 rebounds, and 7.0 assists per contest. He is also efficient enough from the 3-point line. In addition, he is a plus-defender.
In my opinion, the 21-year-old is someone you can plug into just about any team. Offensively, you can slot him anywhere from point guard to small forward, and you can use him either as the primary ball handler or off the ball. On defense, you can use him to check the opposing squad's best perimeter player.
Scottie Barnes
The reigning Rookie of the Year is another all-around player that any title-contending team would love to have.
Scottie Barnes of the Toronto Raptors proved to be one of the best two-way players of the rookie class last season. While he is not as prolific in scoring as the others in this list of the best young players to trade for in the NBA 2K23 franchise mode, he would still be a solid addition to your squad.
The best asset he can probably bring to your team is his defense. Think of a young Kawhi Leonard when he was still playing with the San Antonio Spurs' legendary Big 3 of Tim Duncan, Tony Parker, and Manu Ginobili.
Cade Cunningham
As the No. 1 pick of the 2021 NBA Draft, Cade Cunningham had high expectations going for him in the 2021-22 season. And he did not disappoint.
At 6-foot-8, he plays the point guard position for the Detroit Pistons. If you are looking to trade for a backcourt player for your team, he can easily slot into either of the guard positions because of his length and all-around game.
His real-life scouting report pegged his playstyle as reminiscent of Doncic. He has shown flashes of his potential to score from anywhere on the court, and he already possesses excellent court vision.
If you find trading for Doncic too costly, then Cunningham is a cheaper option.
Anthony Edwards
Minnesota Timberwolves rising star Anthony Edwards is one of the most exciting young players in the league today. He is also an excellent target for your team in NBA 2K23.
When I watch him play in real life, I am constantly reminded of Dwyane Wade. If you didn't know yet, Wade is one of the best shooting guards of all time. He has an all-around feel to his game and has an uncanny knack for scoring and distributing the ball.
Edwards' athleticism is also off the charts, giving him the ability to dunk over people, which is always a good feeling in NBA 2K games. In addition, he has the length and smarts to be a disruptive force on the defensive end.
Don't feel bad for the Timberwolves when you trade for the Ant-Man. You will probably be doing Edwards a favor by dealing for him and turning him into one of the best players in your league.
Darius Garland
The Cleveland Cavaliers were one of the feel-good stories of the 2021-22 NBA season, thanks partly to breakout star Darius Garland.
The young point guard earned his first All-Star berth in the campaign after leaping into stardom and showing a complete offensive game.
He can score inside the paint, stop on a dime for a pull-up jumper, and make it rain from the 3-point line. He has also developed into a reliable floor general with his passing and court vision. Essentially, he is many NBA 2K23 users' dream player archetype.
Garland still has a huge room for improvement on defense. But if your team has plus-defenders on the perimeter and down on the block, then that would not be too much of a problem.
Evan Mobley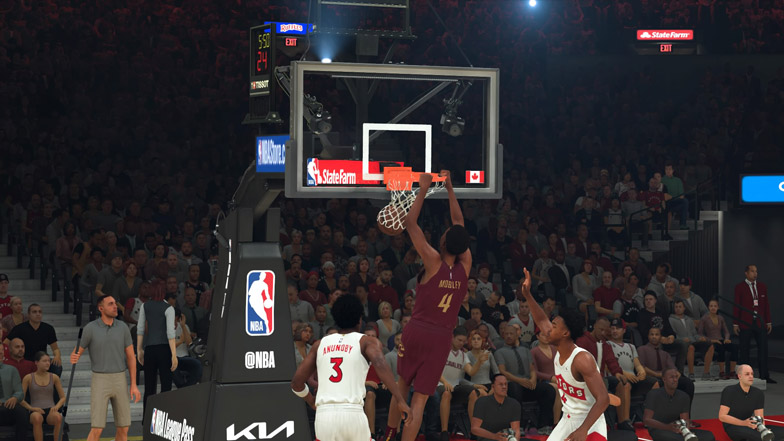 Another Cavs young gun makes our list. Evan Mobley is a big man in the mold of Kevin Garnett and Chris Bosh, making him an excellent fit for whatever team you are managing in NBA 2K23.
Offensively, he can operate in various situations, namely pick-and-roll, pick-and-pop, and high and low posts. On the other end of the court, he can protect the paint and stay in front of guards when defensive switches are made.
If your team needs a big man who can help now and evolve into an All-Star, you cannot go wrong with trading for Mobley. Or better yet, you can also manage the Cavs instead so you can get your hands on four of the best young players in the league in Garland, Mobley, Donovan Mitchell, and Jarrett Allen.
Tier 3: Rookies
The top rookies getting dealt in their first season rarely happens in the NBA. But this is NBA 2K23.
If you want to immediately trade for a rookie, nothing can stop you – as long as you have the assets that the other team is willing to receive in the transaction. Below are the first-year players you should target for a trade.
Paolo Banchero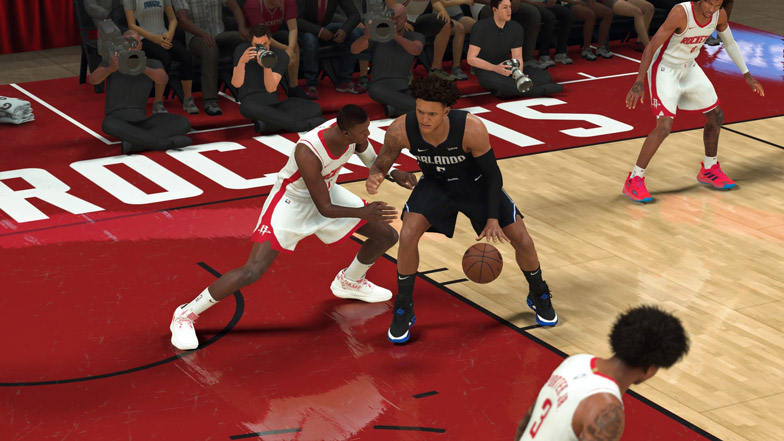 The No. 1 pick of the 2022 NBA Draft, Paolo Banchero, is a unicorn. At 6-foot-10, he already has well-developed shot creation and playmaking skills. Don't let his size fool you, though. The new Orlando Magic player has the agility to slip past opposing big men and the strength to overpower smaller defenders.
His one-on-one scoring ability will undoubtedly make him a favorite among numerous NBA 2K users. For franchise mode enthusiasts, Banchero's playmaking abilities make him a terrific trade target.
Chet Holmgren
Chet Holmgren of the Oklahoma City Thunder is one of the most intriguing rookies in recent seasons. He stands 7-feet; however, he weighs just 195 pounds. For comparison's sake, the 6-foot-2 Kyrie Irving measures the same weight.
Trading for him can give your team a big man who can move, pass, and finish at the rim like another former Thunder player, Kevin Durant.
Even though he has a wiry frame, Holmgren is an elite paint protector. He broke the Summer League record in 2022 after averaging 3.7 blocks per game and could be a real sleeper pick for your 2K23 roster.
Bennedict Mathurin
A dark horse candidate for the 2022 NBA Rookie of the Year, Bennedict Mathurin has the opportunity to produce for the rebuilding Indiana Pacers in the 2022-23 campaign.
Alternatively, you can trade for the 6-foot-7 guard and take advantage of his ability to shoot off the bounce. Additionally, Mathurin can help you rack up free-throw attempts due to his elite athleticism.
His defensive stats may not be as high as other rookie wings. But he will hopefully see increases in those attributes because of his high potential rating.
Jabari Smith Jr.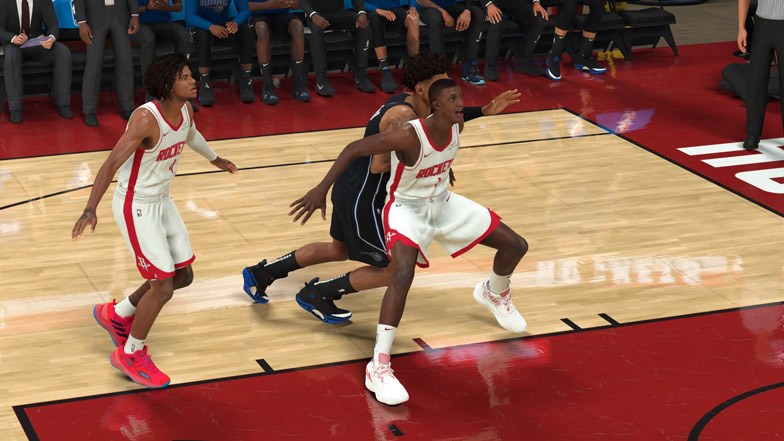 The Houston Rockets found themselves a gem in Jabari Smith Jr. in the 2022 NBA Draft after the Magic selected Banchero. You can steal that prospect for yourself if you are in the market for a young two-way big man.
You would love shooting from the perimeter while using Smith Jr. He has a fluid shooting motion and a high release, which can make him a potential matchup nightmare in pick-and-pop and pick-and-roll situations.