One of the thrills of playing NBA 2K23 is building your own team in NBA MyLEAGUE. If you are in it for the long haul, then you should definitely have at least one prospect on your roster who is young but can potentially become a star.
After you have found such a player, you can manage the franchise he is on and build around him or choose one of the best teams to manage, then acquire your preferred player via trade. Alternatively, you can start a fantasy draft and then grab the player in the first round if you think he wouldn't be available later.
Because hundreds of players are available in the game, it can take time to comb through every franchise to find your target. So, to make it easier for you, here is a guide that shows the youngsters with the highest potential in NBA 2K23.
To narrow down the list, we will only discuss the players drafted in 2019 or later. That means you won't see Luka Doncic and Trae Young here, but I'm sure you already know that those stars have high potential. Additionally, the list is based on the players' actual potential rating.
2019 NBA Draft Class
Ja Morant
Age: 23
Potential: 96
Overall: 93
The Memphis Grizzlies star surprised a lot of users when they saw his potential attribute in NBA 2K23 at 96. The jury is still out if Morant deserves such a rating. But if you've seen him play in real life, you might actually think that a 96 potential is low.
Morant reminds fans of a prime Derrick Rose, who set an NBA record in 2011 as the youngest player to win MVP at 22 years old. Of course, Ja has no more chance of breaking that record, given that he has already turned 23. Still, there's no denying how much more he can improve, even in the game.
What's exciting about having an electric point guard on your roster is that he can see a considerable increase in his three-point shooting and defense attributes after several seasons.
Zion Williamson
Age: 22
Potential: 94
Overall: 87
There was a time when Williamson was seen as the greatest prospect coming out of the 2019 NBA Draft class. However, Morant has already surpassed him in that regard because the New Orleans Pelicans star has been on the sidelines more than the court.
Still, Williamson has the potential to be a superstar, especially on NBA 2K23, where you can adjust the settings to minimize the occurrences of injuries.
Just how strong can the No. 1 pick of the 2019 draft be? Think of a stronger LeBron James without the playmaking abilities. But who knows? With that high of a potential, the Williamson in your MyLEAGUE may see a massive development in the playmaking department.
Darius Garland
Age: 22
Potential: 93
Overall: 87
Garland surprised a lot of people in the 2021-22 season, during which he turned into a bona fide star and team leader. In NBA 2K22, he only had an overall rating of 82. However, the Cleveland Cavaliers point guard made a five-point jump in NBA 2K23.
Currently, Garland has a similar build to the best point guard build in that he is excellent at outside scoring and playmaking. Given his potential, don't be surprised if his defense and inside scoring attributes level up significantly after just a few seasons.
Tyler Herro
Age: 22
Potential: 88
Overall: 84
The Miami Heat shooting guard is a polarizing figure in the NBA world. Some people see him as a future star, while some believe his ceiling is being a team's offensive spark plug. The brains behind the game likely belong to the former group, as evidenced by his potential attribute of 88.
Herro's attributes resemble our best shooting guard build in NBA 2K23, but with much less athleticism. If you plan to have him on your roster, his physicals and defense attributes hopefully see improvements because of his potential.
2020 NBA Draft Class
LaMelo Ball
Age: 21
Potential: 93
Overall: 87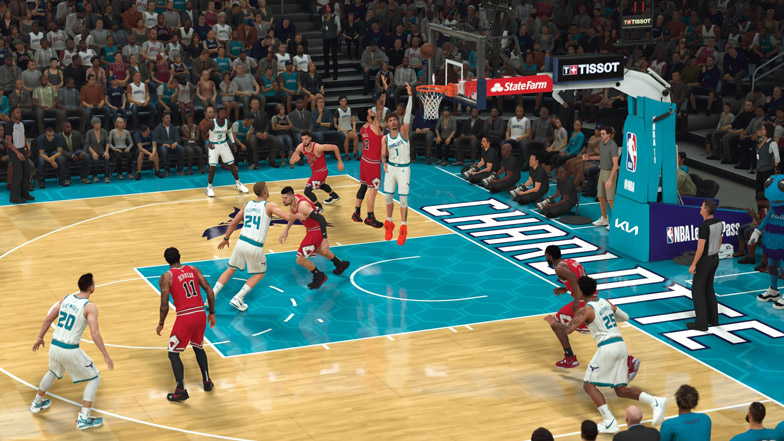 The Charlotte Hornets 2020 draft selection has a play style built for a videogame. He is flashy and athletic, and you can slot him at point guard, shooting guard, or small forward.
The brash youngster also has decent outside shooting attributes in NBA 2K23, so it wouldn't be that difficult to control the player.
Unfortunately, the youngest Ball brother only has 19 badges, none of which are in the gold or Hall of Fame tier. However, since he is oozing with potential (93!), you can expect the player to level up after a season or two.
Anthony Edwards
Age: 21
Potential: 90
Overall: 86
Ant-Man is the No. 1 overall pick of the 2020 draft for good reason. He is athletic with solid outside scoring and playmaking attributes. In addition, he has a Gold-tier Posterizer badge, which has always been a favorite among NBA 2K users.
Some of his attributes that could use a boost include defense and passing. Hopefully, his great potential in the game can raise those attributes further down the line.
If you plan on using Edwards, I suggest managing the Minnesota Timberwolves because they already have an excellent set of core players that include Karl-Anthony Towns, Rudy Gobert, and D'Angelo Russell. You can retain them on the roster or use them as trade pieces.
Tyrese Maxey
Age: 21
Potential: 88
Overall: 85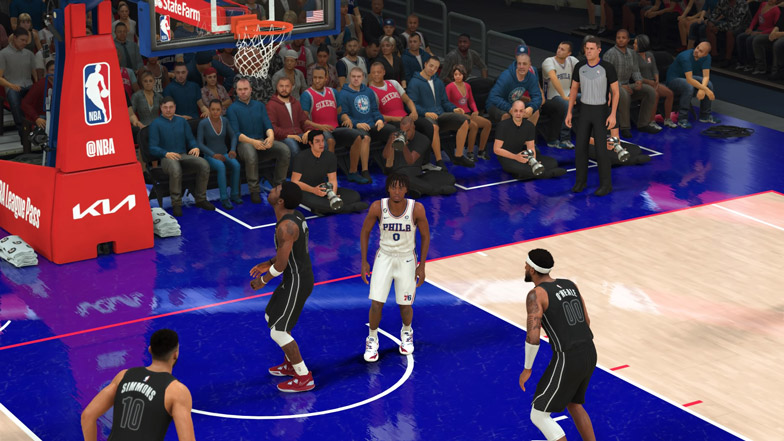 The players that get the most spotlight in the Philadelphia 76ers are Joel Embiid and James Harden. But one of the squad's unsung heroes is third-year guard Tyrese Maxey.
The youngster affectionately called "Mad Max" was the No. 21 overall pick of the 2020 class, but he has far outperformed his draft position. He has also made a massive jump from his original rating. In NBA 2K21, he was given a 72 overall rating, 13 less than his current one.
Presently, Maxey's outside scoring, athleticism, and playmaking attributes are generally high. But his inside scoring and defending attributes can benefit from seeing a boost.
Tyrese Haliburton
Age: 22
Potential: 88
Overall: 84
Some NBA pundits are flaming the Sacramento Kings for trading Haliburton away midway into the 2021-22 season. After he got sent to the Indiana Pacers, he has developed into a nightly 20-point, 10-assist threat.
In NBA 2K23, he is the prototypical point guard you can build your franchise around. He has height (6'5") and terrific outside scoring and playmaking attributes. As for his inside scoring abilities, he has an 84+ layup rating, which allows him to finish inside the paint effectively.
Because of his potential level of 88, you can expect the character to overcome its in-game weaknesses.
2021 NBA Draft Class
Evan Mobley
Age: 21
Potential: 95
Overall: 84
The game developers are clearly fans of the Cavs big man. Among all the youngsters with the highest potential in NBA 2K23, Mobley has the third-highest with 95. If you plan on playing MyLEAGUE for several seasons, expect the 7-foot prospect to be a future superstar in your league.
Mobley's attributes are similar to the best center build's because they are pretty solid all around. The only facet of his game that is lacking is playmaking. But since he does not need the ball in his hands that often, that weakness is not much of a game-changer.
Cade Cunningham
Age: 20
Potential: 93
Overall: 84
Cunningham has been one of the most-watched prospects since his collegiate days. The 6'6" playmaking shot creator is a triple-double threat who has often been compared to Doncic or Detroit Pistons legend Grand Hill.
In real life, the Pistons point guard is often knocked for his passiveness during games. However, that would be no problem in NBA 2K23 since you will be controlling the player.
Hopefully, his potential of 93 can help improve his athleticism and defending attributes after a few seasons.
Jalen Green
Age: 20
Potential: 91
Overall: 82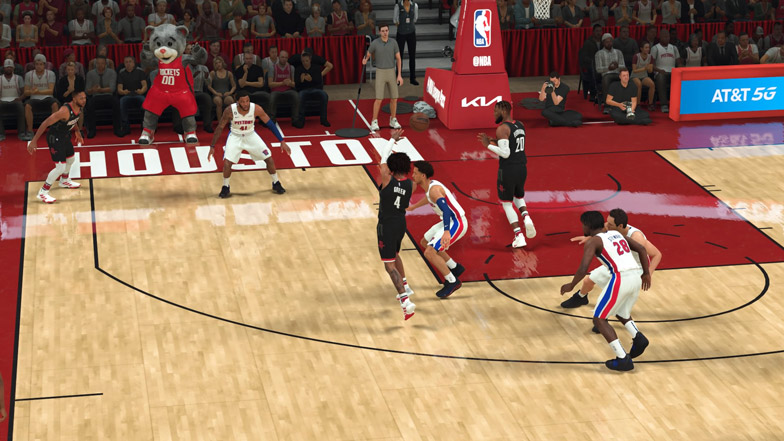 Green is one of the league's trailblazers as he chose to forego playing in college and went pro after his high school career. He joined the G League Ignite team, where he displayed his immense athleticism and potential as an offensive star.
In NBA 2K23, he is still seen more as a prospect, given his overall rating of 82. But with a potential of 91, the 6'4" wing player can reach his ceiling after several years.
Scottie Barnes
Age: 20
Potential: 90
Overall: 84
The reigning rookie of the year, Barnes has a skill set that is reminiscent of the best small forward build in NBA 2K23. He is already a force – and can still be better – on offense and defense, who can score from inside and outside.
Like most other youngsters with the highest potential who play any of the forward positions, he is still lacking in defending and playmaking. If you plan on having him on your team, his defense attributes can hopefully level up quickly so he can help cover some of the best forwards in your league.
Josh Giddey
Age: 19
Potential: 90
Overall: 82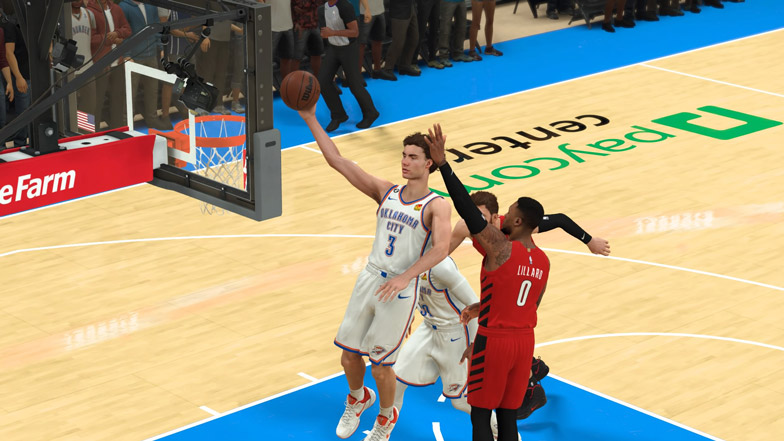 Giddey was one of the biggest surprises of the 2021-22 season. There was very little doubt as to what the Australian basketball player would eventually be capable of. But in just a few months in an NBA uniform, he became a triple-double machine. That's something you want in a franchise cornerstone, right?
When playing the 6'8" phenom, be sure to practice a little bit of patience. Compared to his peers, his athleticism and defensive attributes are still lacking.
And here's a tip for you. If you want Giddey on your team, you can just choose to manage Oklahoma City Thunder. It is one of the few teams with the most cap space in NBA 2K23, and it has several assets that can help you create a superteam.
2022 NBA Draft Class
Paolo Banchero
Age: 19
Potential: 89
Overall: 80
Right from the get-go, the No. 1 overall pick of the 2022 NBA Draft has been turning heads after showing he has what it takes to take over the league.
Through his first four games in the Association, Banchero scored at least 20 points, making him the seventh rookie in NBA history to achieve the feat. Some of the other names on that list are Wilt Chamberlain and Oscar Robertson. That's pretty good company, if you ask me.
And that's part of the reason why I'd understand if you want the 6'10" Orlando Magic rookie on your roster in NBA 2K23.
Bear in mind that during the earlier seasons, you would want to play Banchero near the basket because he can perform effective post moves, and his outside scoring still needs to be developed. Although with a potential attribute of 89, don't be surprised if his shooting attributes increase very soon.
Jabari Smith Jr.
Age: 19
Potential: 89
Overall: 78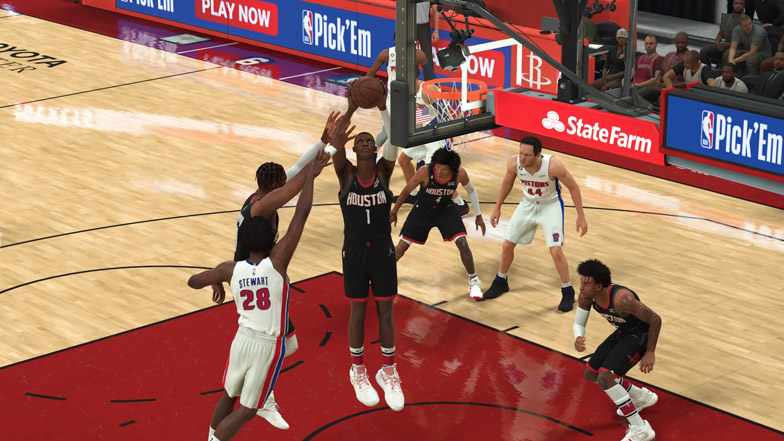 Selected right after Banchero in the draft, Smith of the Houston Rockets is a prospect with tremendous upside. He has smooth shooting skills similar to that of the best power forward build in NBA 2K23. His ability to connect on his outside shots makes him a good fit for any franchise in the game.
Unfortunately, his rebounding and interior defense are a tad inferior for a power forward or center. It's a good thing, then, that his potential is rated 89.
Chet Holmgren
Age: 20
Potential: 89
Overall: 77
Do you want a big man who can move like a guard but protect the paint like he is supposed to? The Oklahoma City Thunder 7-footer is the perfect player for you.
In real life, other players can bully him around because of his low weight and strength. But in NBA 2K23, that wouldn't be much of an issue. Also, his ratings are still a bit down, which is logical because the rookie still has to prove himself. But with that high of a potential, Holmgren can provide you with a two-way force at the pivot after a few seasons.
Shaedon Sharpe
Age: 19
Potential: 87
Overall: 72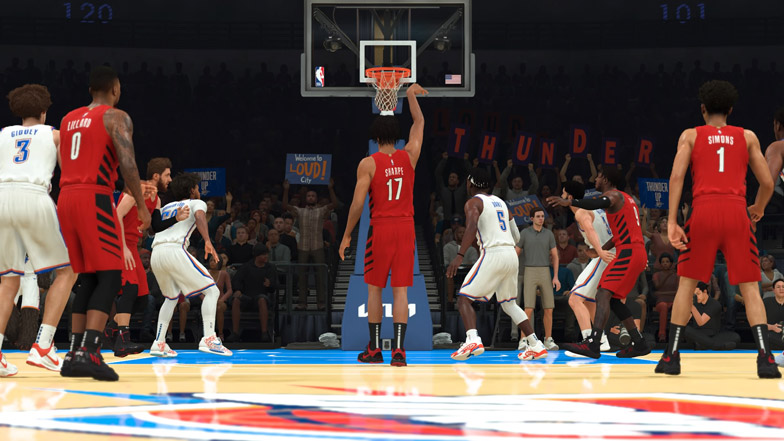 Sharpe is one of the most surprising players on the list. The No. 7 pick of the 2022 draft was given by the game developers with the fourth-highest potential rating among all rookies. And he only has an overall rating of 72, which means he has a long way to go in the game.
If you select the Portland Trail Blazers, then make sure to give the 6'6" wing player enough playing time so that its attributes will increase quickly. If you're managing a different franchise, you can trade for Sharpe easily, given his affordable contract and low rating.