Building a superteam is a bit complex, especially for players who don't want to deal with contract numbers and grinding through simulation.
You have to think about trades, contracts, salary caps, player development, and a lot more.
Choosing a pre-made superteam like the Golden State Warriors, Brooklyn Nets, or the Philadelphia 76ers is the easiest way to build a superteam, but if you want a superteam built from the ground up, this guide is for you.
We will show you how to create a superteam in MyGM with any team in the league, so you can play almost any team you want and build on them.
Strategy
The strategy can depend on the team you choose. As a good example, I have chosen the Detroit Pistons, which is one of the worst teams in the NBA.
But, the Pistons are also one out of a few teams with the most cap space in the league. This is why they can also be considered one of the best teams to manage in MyGM.
For the strategy, you want to build up assets in the following form.
expiring contracts
promising or good young players
draft picks
a lone superstar
Every single team in the NBA has at least two of the things listed. The Pistons have a young promising player in Cade Cunningham, including a few valuable draft picks (valuable because the Pistons are a bad team).
They also have many expiring contracts (1-year contracts), which will free up space for the free agency period.
With all of these said, you would want to keep a good young player on a rookie contract as the number one priority. This is because you want your superteam to have a superstar-caliber player on less than $13 million per year.
Promising young players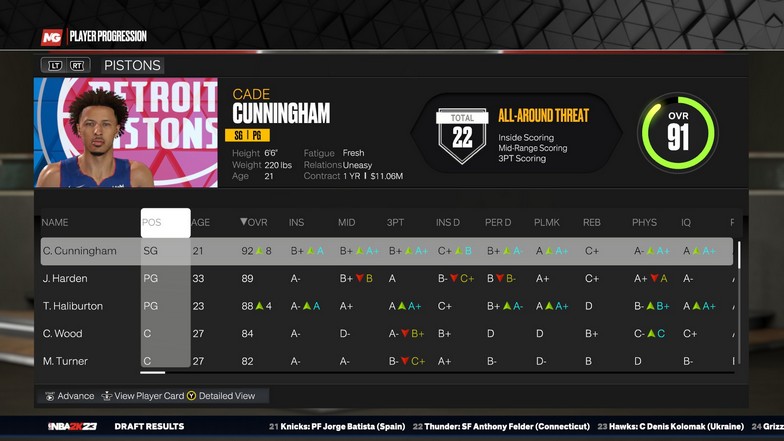 All rookie contracts have a team option at the end of the contract, so you can keep the player's value by paying him less than what he is worth.
Ja Morant's or Zion Williamson's draft class (2019) will not be possible because the best players on the draft have already signed their max contracts with their respective teams.
This means that a player like Ja Morant, who is on his last rookie contract year, will be paid the max contract after his rookie contract expires. Holding a player like Ja Morant will not free up cap space for you.
The best way to look for young players to trade for will be by looking at the draft class from 2020 to the most current. Here are a few notable names
Anthony Edwards
LaMelo Ball
Tyrese Haliburton
Tyrese Maxey
Cade Cunningham
Jalen Green
Scottie Barnes
Evan Mobley
Paolo Banchero
Chet Holmgren
None of these players are above 90-rating overall, but after simulating the first year, Anthony Edwards, LaMelo Ball, and Cade Cunningham all went past the 90 overall rating mark.
These are the top players you need to get. They are attainable but insanely hard to get. You will be giving more than their worth because you will be paying a premium for their upside or potential.
Superstars like Kevin Durant, Giannis Antetokounmpo, and Luka Doncic are harder to obtain than these players and are basically "untouchables," so signing superstar rookies is our only option to get three superstars on a team.
If you cannot get Anthony Edwards, LaMelo Ball, or Cade Cunningham, you might as well go for the other players on the list.
By playing the Detroit Pistons, I would already have Cade Cunningham. The challenge will be attaining more assets.
Accumulate expiring contracts
The next step in the strategy is filling up your roster with 1-year contracts. This one is a bit easy to do because there are a lot of players who are on a 1-year deal.
The Detroit Pistons almost have their entire roster on a 1-year deal already. You can also look for contracts on the Los Angeles Lakers since they also have most of their roster on 1-year deals.
Almost each price point has a player you can trade for.
For example, Russell Westbrook is on a $40 million 1-year deal. Al Horford is on a $26.5 million 1-year deal. Nikola Vucevic is on a $22 million 1-year deal. Steven Adams is on an $18 million 1-year deal. Will Barton is on a $14 million 1-year deal.
You can also combine multiple players on a 1-year deal just to make the contracts match. Your main goal is to get the most value, even if you are just trying to acquire 1-year deals to clear cap space.
Your players might have more value than other players. Take advantage of these scenarios and try to take a few draft picks if you can. This will be important later, and it will be talked about more in the next section.
You just have to find the right players for the contracts you are offloading. Your goal at this point is to have a promising young star and have the rest of your roster on 1-year expiring contracts.
This will free up some space in the upcoming free agency.
Acquiring draft picks
While this might not be as mandatory as the others, it would be a great bonus to accumulate draft picks.
When you are trying to do the first two steps, you might end up giving your draft picks away, but that is fine. Your assets are purely dependent on the team that you choose.
Just remember that the goal is always to accumulate as many assets as possible and prepare for the next season. Treat each trade you do as a loss, and the more you trade, the more you lose value.
If you want to maximize efficiency, you can look at each roster and find the weakest team. Trade for their draft picks before you start playing regular season games.
If they end up losing, that draft pick's value will get higher. However, they can end up winning as well, so it is a bit of a gamble.
Trading for draft picks is only for those with a few assets remaining after completing the first two steps.
For a quick example, choosing the Charlotte Hornets will already give you LaMelo Ball as your promising young superstar.
You need to offload Gordon Hayward, Terry Rozier, and Cody Martin. They have enormous contracts, but you can always find a player to trade for, like Gordon Hayward for Kevin Love or Terry Rozier for Caris LeVert. Add a few players to match the difference.
If you are giving away a more valuable player, try to ask for draft picks. If not, you can swap the remaining valuable players on your roster for picks.
You can trade Kelly Oubre Jr. for a worse player + draft picks. Miles Bridges has some value as well, and teams won't account for his 11-year jail sentence in NBA 2K23 anyway.
Starting with one superstar on the team
Some of you might choose a team like the Portland Trail Blazers (Damian Lillard), the Atlanta Hawks (Trae Young), the Dallas Mavericks (Luka Doncic), or the Memphis Grizzlies (Ja Morant).
If you have a team built like this, you can skip the first step and clear some cap space to sign another superstar in the next free agency.
You can pair any of the superstars mentioned with someone entering the free agency market, like Kyrie Irving or James Harden.
However, your team will be a little bit weaker because you can only sign one superstar. Here are the hypothetical differences after finishing a single year.
Dallas Mavericks = Luka Doncic + Kyrie Irving + starter-worthy player + minimum contract players
Detroit Pistons = Cade Cunningham + Kyrie Irving + Harden + minimum contracts or even Cade + Harden + 2-3 starter-worthy players + minimum contracts players
These can change because the free agency is quite random. However, Kyrie and Harden always decline their player options.
Signing them is the biggest hurdle because offering the max contract does not guarantee them signing with you.
Tips & Tricks You Should Know
Importance of team success
Before starting your MyGM playthrough, you will need to choose a team. Each team has an owner with different expectations. Look for the "importance of team success" and make sure that your owner does not value this as much.
Since the whole strategy is built around tanking the first season and immediately forming a superteam after the first season, the GM will fire you before the season ends.
If you choose to play your games during your tanking season, you can win a few games and satisfy a few tasks along the way to keep everyone happy.
This method is a bit of a grind, but the faster way is just simulating everything and buttering up the owner, staff, and players with chitchats, which is the next tip.
Unlocking chitchats
As a GM, you will earn skill points to allocate by doing management stuff. You first want to unlock chitchats for players, staff, other GMs, and the governor.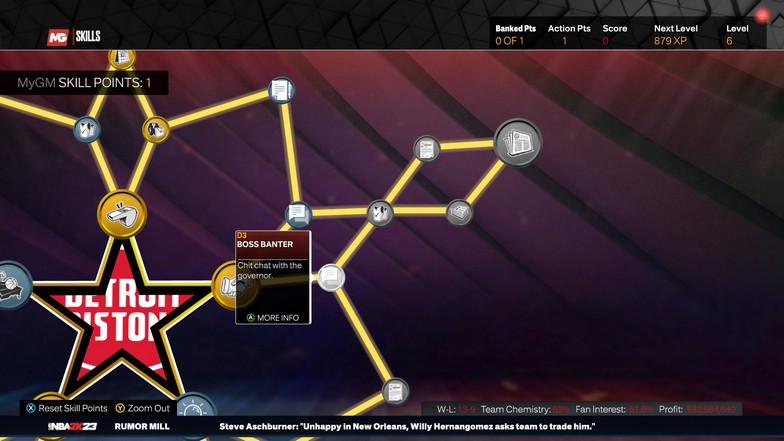 The most important one will be the governor. He will be the one that fires you. Failing to complete promised tasks, disappointing players, staff, and fans, offloading decisions to staff members, and answering wrong in press conferences will reduce the trust and morale of the governor.
If it falls down to zero near the end of the season, you will get fired, and you will be forced to sign to a new team.
Chitchats will always increase trust and morale. You can use all your action points on it every week to maintain good relations.
To get the skill points, all you have to do is level up by doing the strategy. A single trade will already level you up. Once you unlock any chitchat, you can spam the chitchat activity to gain even more skill points.
Finish easy tasks
Tasks such as signings, trading players, and firing/hiring staff are quite easy to do. If you get these tasks, always promise the completion to get more morale and trust.
Your goal is always to please the governor. If you have to lose morale and trust ratings with anyone else, you can just hire new staff members.
Avoid win streak promises if you are simulating. Simulations are quite a coin toss, even if your team is good.
Following all these tips will secure your job position so you can reach the free agency.
Unlocking the Favorable Destination skill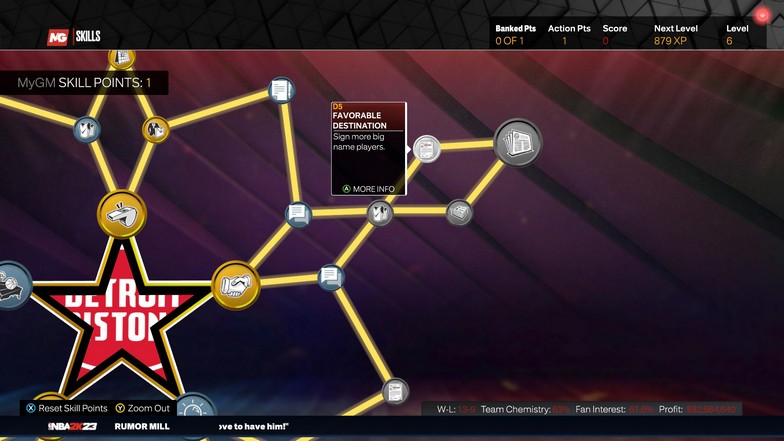 In your skill tree, you will see find the Favorable Destination skill on the upper-right portion of the tree.
The skill increases your chances of landing big-name players in the free agency market. It will not guarantee the signing, but it is a mandatory skill to get before hitting the free agency.
Failing to sign one out of the two best superstars in free agency will force you to restart the whole process.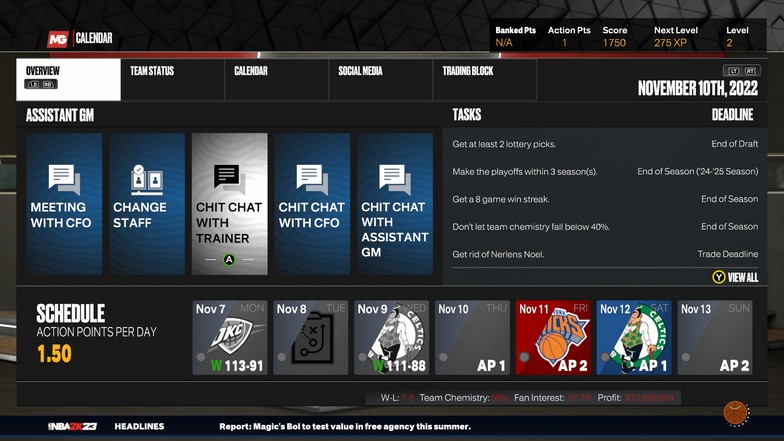 Spamming chitchat will level you up to gain skill points throughout the season. It will be easy to get this skill node before the end of the season if you follow the strategy.
Free Agency Tips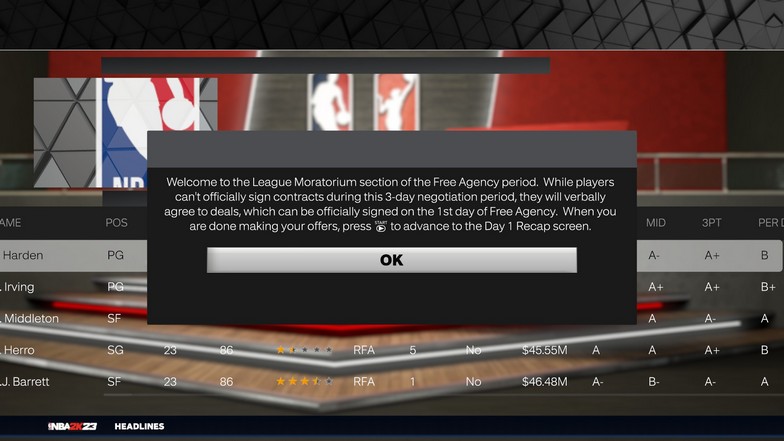 During the offseason, there is always a moratorium period before free agency. This is a period where you can offer player contracts through verbal agreements.
Always offer every single player their desired contract. You can throw offer sheets for the top 10 players in free agency during the first day.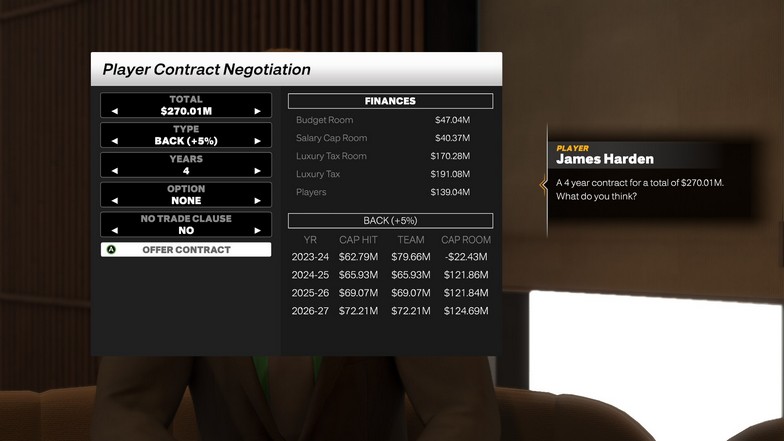 You can choose to accept which players you want to sign from all the players that have accepted, but the timing of their decisions can be a bit random.
For the top players like James Harden and Kyrie Irving, add a player option to increase the chances of signing them.
You can use the same strategy with every free agency period. If you don't like James Harden or Kyrie Irving, the 2024 free agency will have Jaylen Brown and Klay Thompson as the two best free agents.
The 2025 free agency has the biggest players if you want to simulate up to this point. The free agency pool has LeBron James (who might retire), Anthony Davis, Kawhi Leonard, Paul George, Jamal Murray, Brandon Ingram, and Ben Simmons.