Part of what makes NBA 2K23 addicting is the vast ways you can enjoy the game.
If you want to know what it's like to be a top college prospect who grows to become an NBA star, then the MyCAREER mode is right for you. Some of the best teams to join in NBA 2K23 MyCAREER that will give you high chances of winning include the Golden State Warriors, Milwaukee Bucks, and Philadelphia 76ers.
If managing a team is your thing, MyGM or MyNBA (franchise mode) is the best option. And one of the aspects of the franchise mode that has hooked players is the fantasy draft.
By turning the setting on, all the teams in the league will take turns selecting players and building their squads. For NBA 2K23 users, the fantasy draft offers them a clean slate and the opportunity to create a roster that is more to their liking.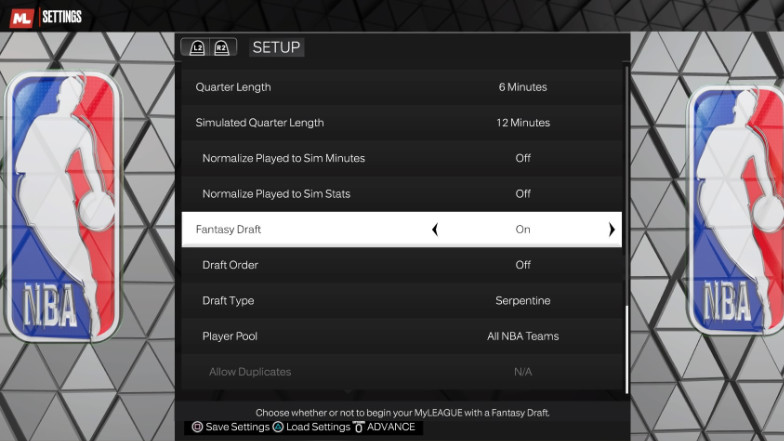 Here, I will discuss the best first round picks for MyGM fantasy drafts in NBA 2K23. The first-round selection is important because it will set the tone for how the next rounds will shape up for your franchise.
Things to Consider
Most users will just go with their guts or pick their favorite players in the first round. And that would be fine. But keep in mind that you will need to build around your first-round pick. So, it is better to be intentional with your selection.
Another matter that you have to consider is the age of the players. For instance, while LeBron James is one of the highest-rated players in the game, the King is already 37 years old. Therefore, drafting him would be reasonable if you will be playing just a few seasons in MyGM or MyNBA.
Your target player's contract length is also worth weighing. What if you draft James Harden and get just one season of the former MVP because he decides not to re-sign with your franchise anymore?
Now that you know what to consider, here is the list of the best first round picks in NBA 2K23.
Tier 1: Superstars
These are the obvious picks. In real life, almost every team covets these names. However, chances are you can only nab these players in NBA 2K23 if you are at the top of the draft order.
Giannis Antetokounmpo
Arguably the greatest in the league right now, Giannis Antetokounmpo is the best player to build around in NBA 2K23. Also, he has the highest overall rating (97) in the game.
The Greek Freak is a force of nature, having the height, length, strength, and agility to dominate on both offense and defense. Maybe the only knack on his game is his lack of outside shooting. But it does not really matter because of his high playmaking attributes.
After bringing in Antetokounmpo to your franchise, filling out the roster will not be that difficult. What you will need to prioritize in the next rounds is a 3-and-D guard and a big man who can space the floor.
Kevin Durant
There was a time when Kevin Durant looked poised to take the title of the greatest player of this generation. Unfortunately, injuries robbed him of that opportunity. Even so, there is no denying that he is a generational talent.
Offensively, you can use him to score in any situation. He is potent with the ball and without it. On defense, he is sneakily elite and can even contend for the Defensive Player of the Year in your league.
A problem you could encounter is that his loyalty attribute likely took a significant hit after the real-life Durant's run-in with the Brooklyn Nets in the 2022 offseason. If his contract is about to be up, and the player has expressed his plan to test the free agent, you can just deal him for one of NBA 2K23's best young players.
Joel Embiid
If you are an old-school NBA 2K user and love playing a post-up threat, Joel Embiid is the best player to draft. He has a man of many moves near the basket. Moreover, his range extends to beyond the 3-point arc.
Many argue that Embiid is the best center in the league because he is also a terrific defender. In fact, if he did not miss a significant number of games in some of his recent seasons, he could have won the Defensive Player of the Year award.
You cannot go wrong with Embiid if he is still available when you are on the clock.
Stephen Curry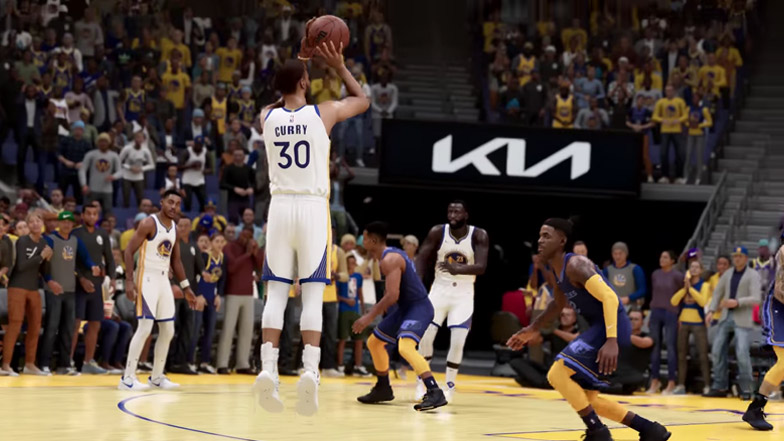 The reigning Finals MVP when NBA 2K23 rolled out, Stephen Curry is the favorite of many users. He is also among the best first round picks for MyGM fantasy drafts.
Chef Curry revolutionized the sport. Remember when the game developer added a Limitless Range badge because of the four-time NBA champion's affinity for deep 3-point shots? Grab the chance to light up your league and set various 3-point records when you draft Curry.
In the past years, I've built my NBA 2K teams around Curry. An effective technique to get him going offensively is drafting a pick-and-roll partner in the frontcourt in the following rounds.
Nikola Jokic
Nikola Jokic is the reigning two-time MVP. He and Embiid are tied with an overall rating of 96. But some will argue that Jokic is the better cornerstone for an NBA 2K squad.
The Denver Nuggets star is a 6-foot-11 unicorn whose ability to score and distribute the ball makes him a fantastic player to build your team around.
Personally, I love selecting an elite center with my first round pick in MyGM fantasy drafts. Then during the second or third round, I'd go hunting for a point guard who can set the team's offense. With Jokic in tow, however, you get a big man who can also serve as your floor general.
Tier 2: Young Cornerstones
Some users prefer choosing young players to create a team that can compete for the title immediately as well as in the foreseeable future. If you are inclined to do so, draft one of the names below.
Luka Doncic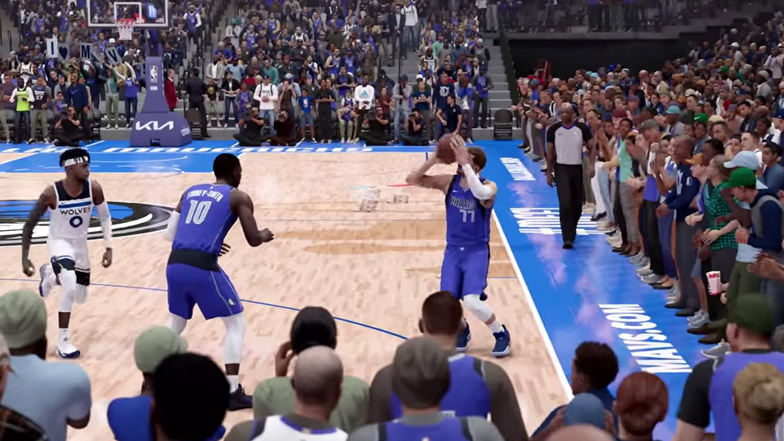 A lot of people around the NBA are raring to crown Luka Doncic as the best player in the league. Of course, that would not have been surprising if the Slovenian star were not only 23 years old.
Doncic is known for his all-around game. He has the ability to put the ball in the basket no matter where he is on the court. Playing the point guard position, he also has the size and decent ratings to post the ball against smaller opponents.
If you want a tip on creating a title contender with Doncic as your cornerstone, draft a solid big man who can do the pick-and-roll dance with him. After that, fill your roster with 3-and-D players to complement his strengths and defensive limitations.
Jayson Tatum
After taking the Boston Celtics to the 2022 NBA Finals, Jayson Tatum proved he could be the best player in a championship contender. The same is true in NBA 2K23.
Tatum is like a younger Durant in that scoring comes easy for him. Furthermore, a look at Tatum's attributes would also show that he has a few weaknesses. He is a decent defender, playmaker, and rebounder.
Ja Morant
Ja Morant is undoubtedly one of the breakout stars of the 2021-22 NBA campaign. For that reason, NBA 2K gave the Memphis Grizzlies an overall rating of 93, making him the third-best point guard behind Curry and Doncic and ahead of the likes of Damian Lillard and Chris Paul.
If you want a point guard with your first round selection, Morant is a terrific choice. His blend of athleticism, playmaking, and scoring skills makes him the ideal NBA 2K player.
One of the upsides of drafting Morant is that you will have a loyal player on your roster for years to come. That is because the young Grizzlies All-Star is under contract until the 2027-28 season.
Devin Booker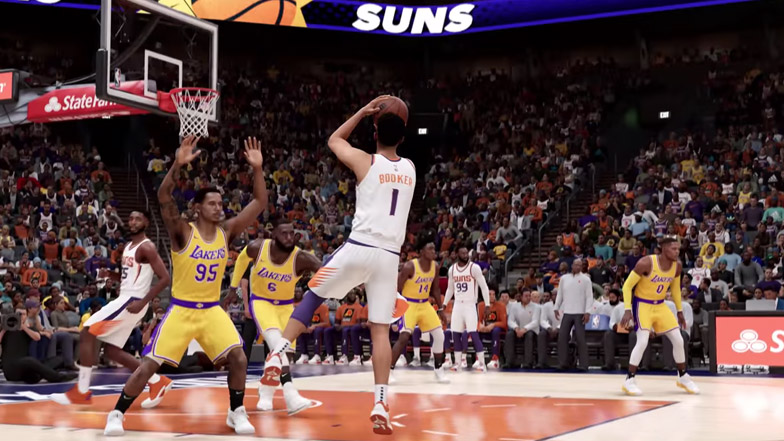 The rising star from the Phoenix Suns, Devin Booker, is already one of the best scorers in the league. Since the 2018-19 campaign, he has averaged at least 25 points per game every season.
When playing the franchise mode, you want to compete for the title year after year. Booker has actually been to the Finals in the 2020-21 season, so drafting him makes sense from that standpoint.
NBA 2K23 lists Booker's secondary position as point guard. That versatility can be advantageous for you, especially if you find high-value elite wing players in the later rounds.
Trae Young
Trae Young is one of the most exciting young players in the NBA. He can shoot from anywhere on the court, and he has sublime ball-handling skills that can help you break ankles in the game.
Building around Young is also kind of straightforward. Pairing him with a defensive big man who can set solid screens can cover his defensive shortcomings and unleash his shot creation abilities. You should also look to flank him with 3-and-D players on the wings and frontcourt.
Tier 3: Late Picks
Choosing in the late 20s in an NBA 2K23 fantasy draft can lose you the opportunity to draft some of the biggest names in the league. Fortunately, there would still be players left who are solid picks and exciting to play.
Karl-Anthony Towns
With an overall rating of 89, Karl-Anthony Towns is the third-best center in the league. If Embiid and Jokic are already off the board, Towns is not an awful consolation prize.
Some NBA experts consider the 6-foot-11 the best-scoring big man in the league at the moment. He is a beast both inside the paint and from the perimeter. To wit, he is the first center since the legendary Shaquille O'Neal to put up 60 points in a game. Additionally, he won the 2021-22 NBA 3-Point Contest.
On top of his offensive abilities, he is also no slouch on defense. For these reasons, he is one of the most valuable first round picks in MyGM fantasy drafts in NBA 2K23.
Zion Williamson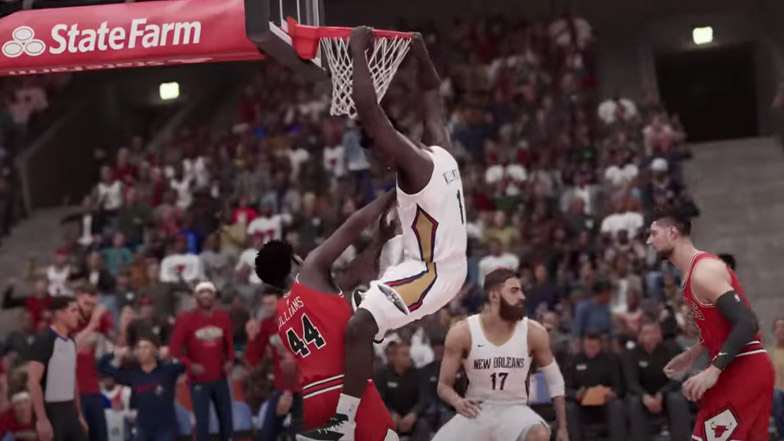 Have you ever wondered how Zion Williamson will fare in the NBA? So do I. Unfortunately, injuries have limited his availability on the court. So, how about living out your Williamson fantasy in NBA 2K23 instead?
Williamson is a freak of nature. He is one of the strongest and heaviest players, yet he is also among the most athletic. If he could stay healthy, his overall rating of 87 would definitely be much higher.
An advantage of his relatively low rating is that he could be available late in the first round in your fantasy draft.
Thanks to his versatility, there are various ways you can go about the remainder of your draft with him as your first choice. For example, you can make him your team's No. 1 offensive option. Or you can use him as a complementary scorer to let him assume a jack-of-all-trades role.
LaMelo Ball
The Charlotte Hornets chose to give the reins of their franchise to LaMelo Ball in 2020. What has resulted is a continuous increase in their number of wins.
If your team in NBA 2K23 is placed low in the fantasy draft order, it can provide you the opportunity to draft the flashy point guard, who has an overall rating of 87. Don't worry about his relatively modest rating. He is the potential to be one of the best all-around players in your league.
Darius Garland
Some users prefer to select a point guard with their first round pick because the options become scarcer in the later rounds. If the best point men have already been taken, look for Darius Garland.
The All-Star had a breakout 2021-22 season, helping elevate the Cleveland Cavaliers to playoff contention status. He could do the same for your team in NBA 2K23. He is a crafty scorer and playmaker, making him a valuable floor general.
At 6-foot-1, he is shorter than the likes of Ball, Dejounte Murray, Jrue Holiday, or other similarly rated point guards. This fact can make him a defensive liability, even if he is certainly better in several offensive facets. To compensate, you can look for high-class perimeter defenders in later rounds.
Anthony Edwards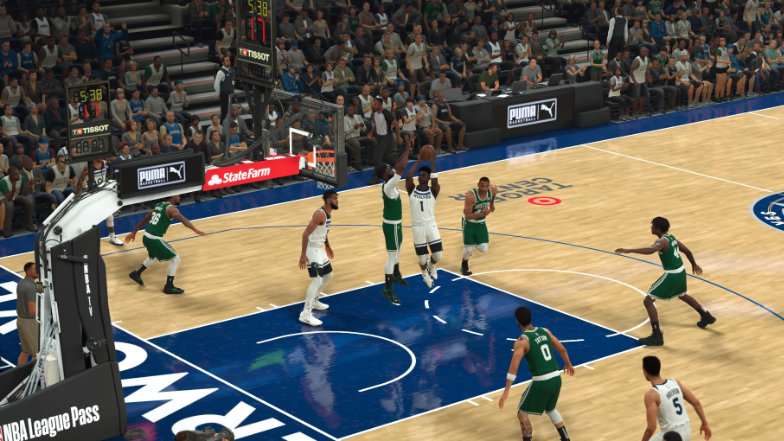 Perhaps two of the most electrifying young players in the league in the 2021-22 season were Morant and Anthony Edwards. While Morant is a high selection in MyGM fantasy drafts, Edwards will likely be drafted late in the first round or early in the second round.
Ant-Man makes for an excellent foundational piece for a playoff-bound team because of his offensive and playmaking abilities. In NBA 2K23, he is a must-have player because of his athleticism and knack for throwing down dunks over defenders.