There are a lot of teams in the NBA that are easy to manage because they have multiple superstars on their team.
Teams like the Golden State Warriors, Brooklyn Nets, Los Angeles Lakers, Boston Celtics, or the Philadelphia 76ers always come to mind. However, when we talk about managing, we are also looking for the future outlook of the team.
For this list, we will also account for the team's assets and financial position in determining the best teams to manage in MyGM & MyLeague in NBA 2K23.
This means a team like the New Orleans Pelicans can be almost as valuable as the defending champions, the Golden State Warriors.
Criteria
We factored in the team's overall value in terms of player talent, player potential, cap space, draft picks, and favorable contracts.
A team might have all the talent, but their outlook might look a bit grim. A team can also have a lot of cap space but really doesn't hold any valuable players apart from it.
The teams that will be selected will have a mix of every factor mentioned, and that will make them both fun to manage and play.
For some examples, the Los Angeles Lakers will not be on the list even if they have one of the greatest to ever play the game, Lebron James and Anthony Davis.
Why? They have no depth, no cap space, a few draft picks left, and Westbrook's contract is a huge liability.
Their whole team, apart from Anthony Davis and LeBron James, are the only players signed up for the 2023-2024 season.
For another example, the Dallas Mavericks will not be on the list because, apart from Luka Doncic's huge upside, the players on their team don't have favorable contracts.
The team has a $100 million payroll split among seven players, excluding Luka, who are quite far from being an all-star level player. These two teams mentioned can still be fun to manage for some, but it will be quite a headache to fix compared to the teams mentioned on the list.
Golden State Warriors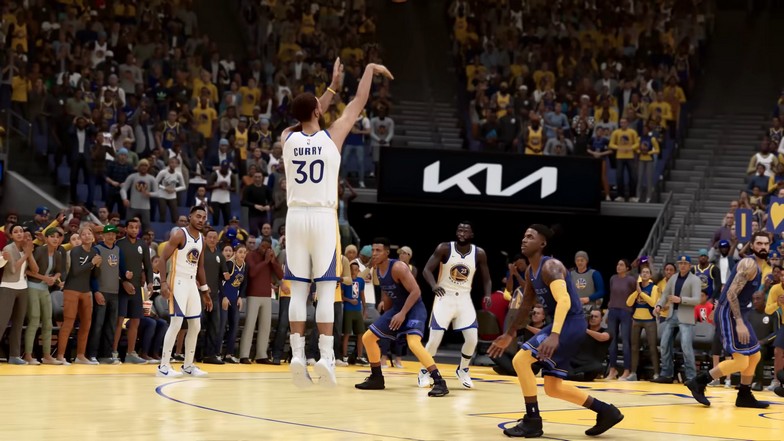 The Golden State Warriors have two of the best shooters, Stephen Curry and Klay Thompson, in NBA history. They also have young rising players like Jordan Poole, Jonathan Kuminga, and James Weisman.
The team can absolutely win with their current roster and continue to become a powerhouse team for the upcoming years. Andrew Wiggins has really improved with the Golden State Warriors, but his contract is too much.
You won't be able to make any significant changes through trading for the upcoming seasons because of the cap space restrictions.
However, you can try to offload your assets with cap space to make another deal. For example, you can trade Andrew Wiggins, a few players, and some other picks to the Indiana Pacers for Tyrese Haliburton.
With Tyrese, you have another potential superstar and continue to improve throughout the years in your playthrough.
Boston Celtics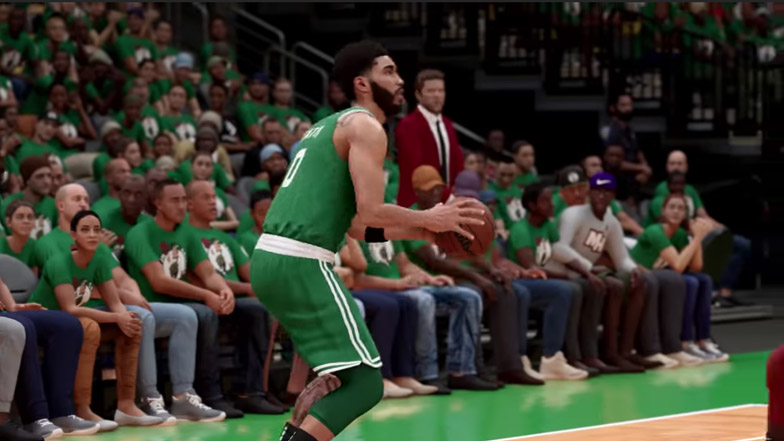 The Boston Celtics probably have the best team in terms of value out of the list. They have Jayson Tatum and Jaylen Brown, who can be considered superstars with a tremendous upside because of their youth.
The Boston Celtics still have a ton of assets in terms of draft picks. They have great new additions like Malcolm Brogdon while retaining their core and role players.
If you aren't looking to even make a single trade in the next five years, the team would still have a great chance of winning the championship every year as their youth gets better.
It will be hard to trade for anyone without giving up Jayson Tatum or Jaylen Brown. Your cap space is quite restricted because of all the big contracts.
Al Horford is only on a 1-year, $26 million contract, but letting it expire won't even free up some cap space for the 2nd year of your playthrough.
Your hands are a bit tied when it comes to managing the team more. However, you can create insanely good trades with all the assets, like swapping Jaylen Brown, picks, and other players that fit the money for a player like Damian Lillard.
In short, the team's upside is heavily carried by their youth as they have some of the best young players in the NBA.
Minnesota Timberwolves
The Minnesota Timberwolves have a young rising star in Anthony Edwards. They also have Karl Anthony Towns, who is one of the best Centers in the league at a very young age as well.
They also recently acquired Rudy Gobert from the Utah Jazz, which is a weird deal, but their goal is to put Karl Anthony Towns on the four and stretch the floor.
In NBA 2K23, it might be too much, so you can create trades to change the roster. Pairing Rudy Gobert and Anthony Edwards in a trade can get you a superstar already. The money will match up for a superstar with a max contract since Anthony Edwards is still on his rookie contract.
If you choose to play the team as is, the Minnesota Timberwolves have a ton of depth on their roster. They have D'Angelo Russel, Taurean Prince, and Kyle Anderson.
The team will be fun to manage since you have a lot of options when it comes to roster changes.
Memphis Grizzlies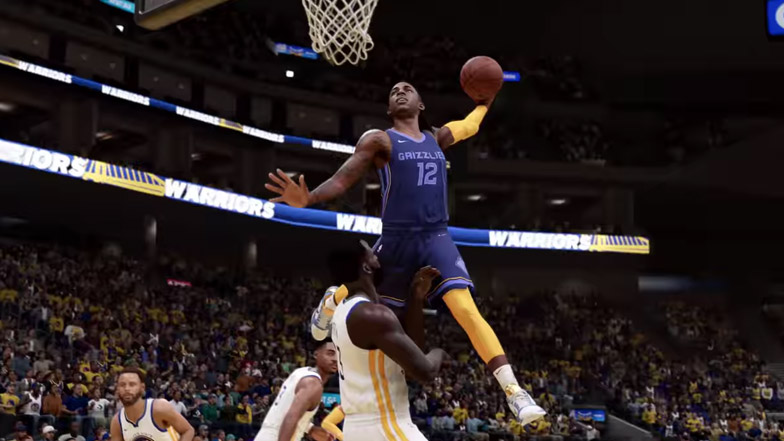 With the Memphis Grizzlies' recent success as a very young team, you can assume that they will be a great team for years to come. The roster other than Ja Morant isn't valued that high.
However, they are rated quite average, like Jaren Jackson Jr., Dillion Brooks, and Desmond Bane.
Steven Adams is on a 1-year $17 million contract, and the team has a ton of cap space because most of their players have low contracts.
With a ton of cap space flexibility and a lot of core young players, including a franchise star in Ja Morant, it is no question that the Memphis Grizzlies is a good team to manage.
You can simulate your first season and set it up for the next season. You can sign a superstar in the free agency to pair up with Ja Morant while maintaining the whole roster.
Philadelphia 76ers
The Philadelphia 76ers is a no-brainer. They have Joel Embiid and James Harden on their roster. The reason why they could easily be the best team to manage on the list is because of their other players.
Tyrese Maxey is a good young player with a low contract for two years. Matisse Thybulle is on a low contract and is also valued really high because of his potential.
However, the only blemish on the team would be Tobias Harris's enormous two-year contract. You can try to push for a trade by offering Tobias, Tyrese, and Matisse, but you won't be able to get a top-tier player in return.
I would hold on to Tyrese and let him develop first before assessing his value in a trade. You have a lot of flexibility, so managing the 76ers will be a lot of fun.
Denver Nuggets
The Denver Nuggets are on the list solely because of Jokic and the potential of Jamal Murray and Michael Porter Jr.
Since Jamal and MPJ are coming off of serious injuries, their value might not be as high until you update the roster. However, their potential is still valued high by other teams and can be used to trade for other players you want.
Their contracts are quite high, which makes this incredibly difficult. Throwing a few draft picks can land you a good player, and you can either keep Jamal or MPJ and develop them throughout the season.
You don't have much flexibility in terms of cap space because of all the players with big contracts, including Aaron Gordon and even KCP.
The team is also very top-heavy and will lack a bit of depth. They will only be fun to manage if you are willing to let go of Jamal or MPJ and try to free up some space as well.
Brooklyn Nets
The Brooklyn Nets is a bit hard to analyze. However, they are on this list solely because of Kevin Durant. He is probably considered the best player in the league and will almost be impossible to trade for.
The team also has Kyrie Irving, but only on a player option. Ben Simmons still has potential, and luckily in NBA 2K23, you can force him to play.
Those three players mentioned already make up for most of the team's cap space. It will be hard to work out deals without giving one of them up.
If you do want to make a trade, you can easily trade for any superstar if you decide to let some of them go.
Joe Harris has a big contract for a rotational player. Seth Curry fits in a lot of systems. The depth of the Brooklyn Nets is decent at best, but you can make it work.
Milwaukee Bucks
Just like the Brooklyn Nets, the Milwaukee Bucks have one generational player in Giannis Antetokounmpo – another untouchable superstar.
Their depth is as deep as any team. Their starting five is pretty decent because everyone can pretty much defend anyone. Jrue Holiday and Khris Middleton are good players, but their contracts are insane.
These are the struggles of a low-market team, but they were able to get success because the team is systematically good together.
You can flip a player like Jrue Holiday or Khris Middleton, some young players, and draft picks to upgrade the roster a bit.
The Milwaukee Bucks have one of the biggest payrolls in the NBA, so your cap space is ridiculously limited unless you free up some space.
If you ever get to trade for a superstar while retaining Giannis Antetokounmpo, you will be all set.
New Orleans Pelicans
The New Orleans Pelicans are an underrated team to manage on this list. They have CJ McCollum, and Brandon Ingram are both all-star caliber players. Jonas Valanciunas and Devonte Graham are both decent starters.
However, their biggest star and asset is Zion Williamson. He is on the tail end of his rookie contract, so you still have one year to adjust your cap space to resign him.
His value is off the charts because of his potential. The New Orleans Pelicans have all the assets and look good on paper. However, it hasn't transitioned to success in the NBA just yet.
In NBA 2K23, you have a lot of things to fix and adjust to make the team successful. They are definitely one of the best teams to manage.
Detroit Pistons
The Detroit Pistons might be a bit of a stretch, but they can be a fun team to manage. Here is why.
More than half of the team is on contracts with a team option, meaning you can let them go if you decide not to free up some cap space.
Apart from that, the team doesn't even have a single player above $13 million per year. They have so much cap space that if you decide not to resign any player on a team option, you might be able to sign two superstars in the next free agency.
The team also has the former number #1 pick in Cade Cunningham and a young player with some potential in Marvin Bagley III.
If you can swap Kelly Olynyk's contract for someone with an expiring deal, like Steven Adams, you can literally build the team from scratch if you want to because the only players you are keeping are Marvin and Cade.
Best Teams to Manage on a Fantasy Draft
Believe it or not, you can actually gain value by choosing the right team, even if you set up a fantasy draft.
If you choose the teams who had a bad regular season record in the NBA, their draft picks will be valued higher at the start of the fantasy draft season in NBA 2K23.
These teams are the following:
Sacramento Kings
Portland Trailblazers
Oklahoma City Thunder
Houston Rockets
Indiana Pacers
Detroit Pistons
Orlando Magic
Once you simulate enough games through the season, their draft picks will adjust according to their success.
It is best to take advantage of this on teams that have a good roster and a valuable pick and vice versa.
For example, if the Orlando Magic happens to get a high draft pick during the fantasy draft, their team will most likely get a good record. As the GM of the Orlando Magic, you would want to swap these draft picks while it is still valuable.
If a team like the Golden State Warriors has a low draft pick during the fantasy draft, you can trade for their picks while their draft picks are still underrated.