In NBA 2K24's MyCareer mode, we don't have any more storylines where we come up as a rookie and go for the high draft pick.
We are immediately sent to the league and given a choice of which team to choose. It can be tough to improve your player, especially if you didn't avail of any special edition bonuses that include VCs.
In this short guide, we'll help you get more minutes in MyCareer mode even if you start off as a 60 overall rating player.
Getting Starter Minutes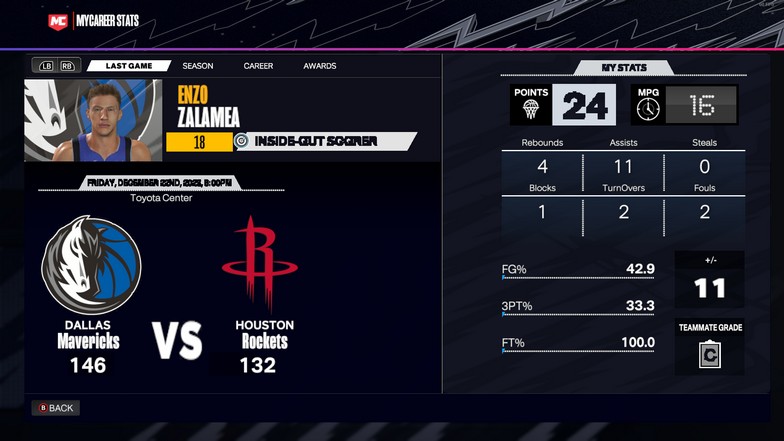 On your first game in MyCareer mode, you'll have an allotted 20-24 minutes for your player. If you are playing for less than 12 minutes per quarter, you are getting even fewer minutes.
The default of 6 minutes per quarter will only give you at least 10-12 minutes of playing time on the court.
It'll be hard to get a high teammate grade of A+ every game if you are playing less. The trick is to increase the minutes per quarter setting for the first two or three games. It is up to you if you want it at 12 minutes per quarter or less.
The goal is to get a teammate grade of A+. Producing a high number of stats every game doesn't guarantee you higher minutes.
However, producing well can lead to a higher teammate grade anyway. As long as you do things that do not reflect on the scoreboard, like setting screens, good shot contests, and good passing, you'll increase your teammate grade without getting stats.
Starter minutes would be around 33-38 minutes. You can see that on the "My Minutes" tab on the main screen of MyCareer.
In about 25 games (16-9 record) on the Dallas Mavericks, I was able to get the same amount of minutes as Luka Doncic and Kyrie Irving.
Finishing takes a while, but the grind is all worth it. It is worth noting that my first three games were finished with a teammate grade of B+. The bonuses were bugged out so I still played my player at a 60 overall rating.
It is doable, but it takes some time.
If you just want to run through the season normally, that is good, too. You'll probably get your starter minutes around 20-30 games.
It may be a bit random, but your position and your team also count. Picking a good team in MyCareer can also be bad for your player or team.
For example, if you are playing a small forward on a team like the Boston Celtics, you'll be fighting for minutes over Jayson Tatum and Jaylen Brown.
However, if you consistently get a teammate grade of A+, you might demote Jayson or Jaylen to the bench.
That wouldn't be good for your team, but you should know that you can still get the minutes from them.