All zombie shooter games are most fun when you play with your friends.
This genre of game is a throwback for many people who used to play two-player zombie shooters in arcades — in real life, rather than over the internet.
Playing with friends in Back 4 Blood is almost a requirement, not just a nice-to-have, for anyone that used to enjoy this classic arcade style.
However, it's not completely obvious how to invite friends to games in Back 4 Blood, or how to start a party with your mates. Don't worry, we've figured it out.
This short guide will teach you how to play with friends in Back 4 Blood — even if you're playing on different consoles or platforms.
Is Back 4 Blood Crossplay?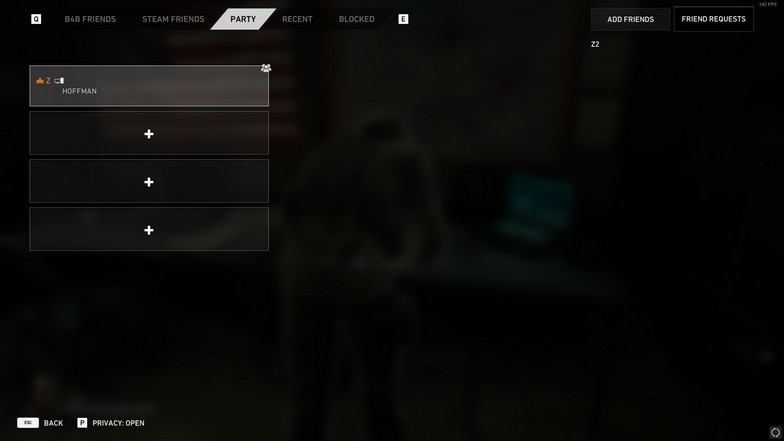 Yes, there is crossplay on Back 4 Blood meaning you will be able to play with your friends on any platform regardless of if you're on PC, PlayStation or Xbox. You will all receive your own unique username when you first start playing the game. This is what you will give to your friends to add you.
If you are playing on the PC, you will automatically see your friends playing when you go to the 'Steam Friends' tab on the social screen.
Friends from other platforms will be seen under the 'B4B Friends' tab. This is assuming you have already added them as a friend because they will not show up if you have not added them yet.
How to Add Friends
To add friends, open the in-game menu (by pressing 'Esc' if you're on PC). Choose the Social tab and you will see the 'Add Friend' button on the upper-right corner of your screen.
Simply click it and a text box will show up where you can search for your friend's account name. This is the same username given to any player who started the game.
For friends who are receiving the invites, you will be able to see the requests here as well.
How to Invite Your Friends to a Party
There are multiple ways to invite friends to your party. From the play screen (where you choose what game mode to play) you will be able to see empty slots on your party.
These slots are interactable and you will be able to invite friends by clicking it and choosing who to invite.
When you are already in the middle of a game, your friends can still join you. Just press 'Esc' again to open the in-game menu and choose Socials. You will be able to see your friends online here and invite them to join your current game.
And when you are playing with them, beware of friendly fire!
If it is not working, you will have to set your privacy options as you might have closed your lobby accidentally.
Setting Your Privacy Options
On the Socials screen, you will see your privacy options on the lower-left area of your screen. It should say 'Privacy: Open'. This means that any player can join your lobby at any given time including random players you do not know.
If you want to create a Back 4 Blood private lobby that will be exclusive to you and your friends only, you can press 'P' to open the privacy options and set it to either 'Invites only' or 'Friends only'.
The "Back 4 Blood friends only' option will give your friends the freedom to join your game anytime while the 'Invites only' will require an invitation to be sent so they can join you.
'Closed' is the option you'll want to use if you're a player who wants to play alone.
Conclusion
This will all seem very easy once you've learned how play with friends on Back 4 Blood, but everything is always only easy once you've been taught it.
Playing with friends, or at least good teammates, is important in this game due to the PvP aspect and needing players that can support you, heal other players, and lead you to victory.