To mark the end of the FIFA franchise and the beginning of FC, EA incorporated several new changes to the first game in the new series, FC 24.
Usually, career mode feels like an afterthought due to how repetitive most of the features in the game mode are every year. Although there is still a lot to be improved in FC 24, we have to admit that there are a few changes that make a significant difference this time around.
One such change is the introduction of tactical visions, a feature that allows you to customize the way that your team plays based on predetermined tactics that replicate the most popular styles of play that we see in real life.
This guide breaks down the new feature by listing all the tactical visions in FC 24, categorizing them according to degree of effectiveness, and offering tips for maximizing their efficiency for your team.
What are Tactical Visions?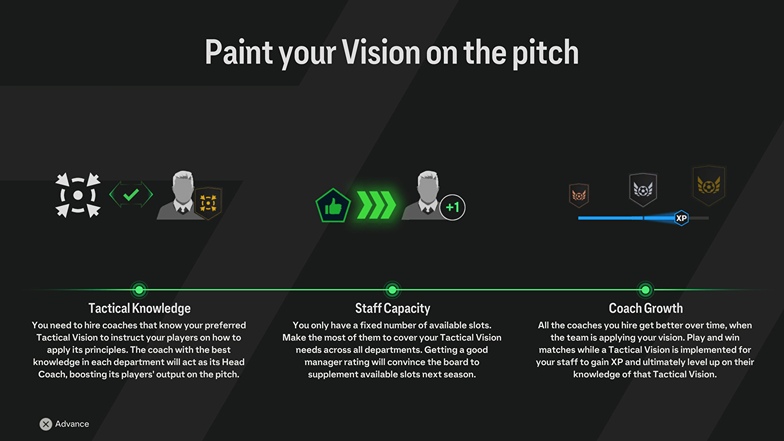 Tactical Visions in FC 24 are custom tactics that are based on real-life playstyles of football clubs around the world.
These tactics range from manager-associated tactics such as gegenpressing for Jurgen Klopp to other generally applied tactics such as counterattack systems.
There are seven tactical visions in FC 24 Career Mode, including:
Standard
Tiki Taka
Wing Play
Gegenpressing
Counter Attack
Kick and Rush
When you select any one of these tactical visions, your team's custom tactics will be automatically adjusted to match the required team and player instructions that fit that vision.
This removes the need for adjusting custom tactics by yourself, although you can still go that route if you want a deeper customization for yourself. We've got tactical guides to custom tactics for Pep, Arteta, and Klopp's styles of play that you can learn from if you're going down that route.
The Best Tactical Visions
The general idea behind tactical visions is certainly very thoughtful, especially for people who generally struggle to replicate a certain style of play by themselves with custom tactics.
However, with the way that this game works and the patterns of AI behavior in it, some tactical visions are generally more effective than others.
The best tactical visions in FC 24 career mode are:
Gegenpressing
Description: Your strategy is based around a high press. Your team tries to win back the ball in the opponent's third wherever possible, using turnovers to create goalscoring opportunities before the opposition can settle back into shape.
This tactical vision is so effective mainly because of the press. Pressing is overpowered in this game and when applied correctly, makes it very difficult for the opponent to get out of their half talk less of getting into yours.
Two caveats are that this tactic is a stamina drainer and it can leave your defense exposed if you fail to win the ball with the press because your players are regularly dragged out of position.
Wing Play
Description: Your side makes use of the full width of the pitch when in possession, getting the ball out to attacking players close to the touchlines quickly and using overlapping full-backs to add to the threat from those areas.
This tactical vision is effective because of how much better crossing is in FC 24 compared to FIFA 23 where crossing was a much less viable way to score.
Since the tactical vision focuses on wing play, your players will often find themselves in a position to make or receive a cross, and you can expect to score regularly from those chances if applied correctly.
A caveat is that this tactic is less effective when you play opponents that crowd the box with defensive players and deep defensive lines.
Counter Attack
Description: Low-risk and a low block are the keys to your team's style of play. Players defend the penalty area and then, once possession is regained, get the ball forward quickly with attackers ready to run into space behind the opponents' defensive line.
This tactical vision is most effective when you're using a team that is playing in a competition where the opponents are much better. It allows you to be strong defensively while presenting a few chances of your own to attack.
The caveat is that you often have to rely on a slip-up from the opponent to score goals. It is a very reactive style of play that can lead to multiple dead-rubber matches.
These are the descriptions for the four other tactical visions in the game:
Standard
Description: Your team takes a balanced approach to the game, focused on maintaining a shape which will help you stay strong defensively while still offering a threat going forward.
Tiki-Taka
Description: You look to employ a possession-based style of play. Comfortable on the ball all over the pitch, your players use short passing and rotations while waiting for opportunities to play in attackers who've run into channels or gaps between opposition defenders.
Park the Bus
Description: Your team bases its game around solid, uncompromising defending. You're always disciplined and well-organized out of possession, usually employing a very low block, throttling opponents' attacks before winning the ball and trying to get forward yourselves.
Kick and Rush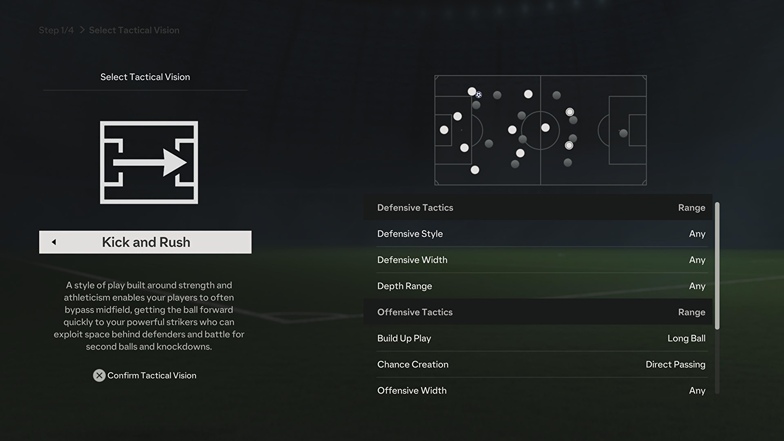 Description: A style of play built around strength and athleticism enables your players to often bypass midfield, getting the ball forward quickly to your powerful strikers who can exploit space behind defenses and battle for second balls and knockdowns.
Maximizing Tactical Visions
There are a couple of ways to make tactical visions more effective for your team in FC 24 career mode – coaching and scouting.
Coaching
Coach Management is a major part of maximizing your tactical vision in career mode. When you choose a tactical vision, you will be required to sign coaches to help you carry out that vision.
Signing the right coach will improve the speed of adapting that tactic to your squad, and it will also increase the speed of growth of your players in the areas that suit that tactic.
For instance, if you choose a defensive tactical vision such as "Park the Bus", you will have more success implementing that tactic with a coach that has 5-star DEF skills compared to one that has 5-star attacking skills because the former will improve key player stats that contribute to defense.
Scouting
Additionally, scouting plays a part in the success of your tactical vision because you will find better success by signing players that already suit the system, rather than signing anybody and trying to train them to it.
A practical example is a manager who uses the Tiki-Taka tactical vision. If you're in the market for a central midfielder, it would make more sense to sign one that has good passing stats and playstyles.
If you're not familiar enough with playstyles in this game, we have guides on how playstyles work and choosing the best playstyles for each position.
While we're on the topic of scouting, one of the first things that you want to do when taking over a team in career mode is to sign a few young players with high potential. Check out our guide to the best young players in the game for some recommendations!