The best way to counter pace is with pace. Considering the fact that a major part of the meta in FC 24 Ultimate Team is using rapid attackers, it's no surprise that fast center-backs are very popular in the game mode.
The good thing is that there seems to be an option for every budget if you need a fast center-back in your team. This guide discusses the fastest center-backs in FC 24 Ultimate Team, and it should help you find a few options on the market to help your team compete.
Jeremiah St. Juste
St. Juste is quite popular among Ultimate team players, and that's mostly because he's usually in and around lists like this one.
In FC 24, his card has 90 acceleration and 96 sprint speed. He also has the Quick Step playstyle which enables faster acceleration during explosive sprints.
He has the right-back position as his alternate position, so you can put that pace to good use on the flanks as well if you want. The card is a 77 overall, and he plays for Sporting in the Portuguese Liga NOS.
Falaye Sacko
Falaye Sacko's default position is actually right-back, but his 75-rated card has center-back as an alternate position, so you can play him there if you need a cheap, rapid option.
He has 92 overall pace with a pace split of 91 acceleration and 93 sprint speed. He's also 5'10" which is a decent height for the CB spot as long as you pair him with a taller partner.
Additionally, this card has the Quick Step and Rapid playstyles. The Rapid playstyle increases sprint speed while dribbling and reduces error while sprinting. You'll feel its effect more on the flanks, but it's still useful for playing out from the back at CB.
He plays for Montpellier in the French Ligue 1.
Jetmir Haliti
Haliti is a 64-rated bronze card that you'll find in the Swedish Allsvenskan. The card has 91 overall pace with a split of 90 acceleration and 91 sprint speed, but there's not much else going on here apart from that.
He should be useful if you're looking to complete the Bronze squad objectives though, so there's that.
Nouhou Tolo
Nouhou is a 71-rated Cameroonian left-back who plays in the American MLS. Like Sacko, he has the CB spot as an alternate position, and he's 5'10" so he's a decent size for it.
His card has 89 overall pace with a split of 90 acceleration and 88 sprint speed, along with the Rapid playstyle. A solid option for a silver squad.
Allan Arigoni
Allan Arigoni is another rapid bronze card that can play CB. He's 63-rated, 6 feet tall, and plays in the Swiss Super League for FC Lugano.
His card in FC 24 has 89 overall pace, with a split of 88 acceleration and 90 sprint speed. He has the Jockey playstyle which works well with that speed. Jockey increases the maximum speed of speed jockeying and the speed of transition from jockey to sprint.
His default position is right-back, but you won't find a much better option to play at center-back in the bronze category.
Tyler Magloire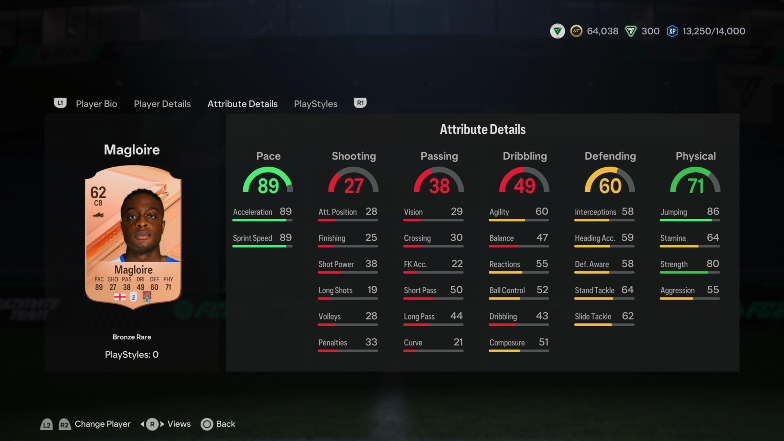 Tyler Magloire is a 62-rated center-back who plays for Northampton in the EFL League One. His card in FC 24 has 89 overall pace with a balanced split of 89 acceleration and 89 sprint speed.
Apart from his pace, there's nothing else to see here.
Tristan Blackmon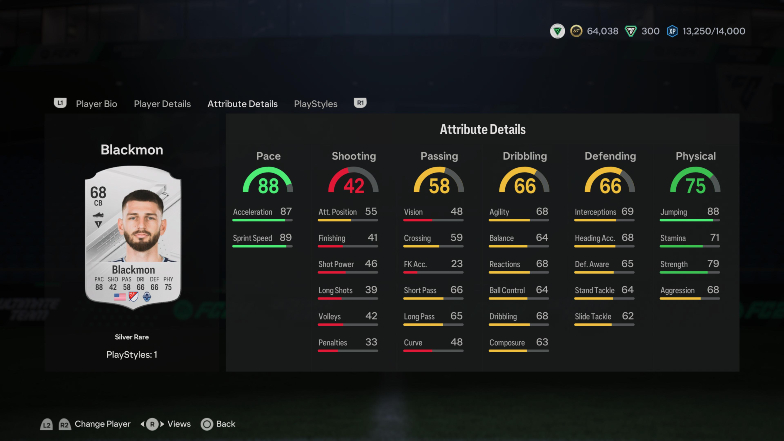 Tristan is another solid silver option from the MLS. He plays for the Whitecaps and is rated 68 overall. The pace on his card is 88 overall with a split of 87 acceleration and 89 sprint speed. He does not have any speed-related playstyles.
Fran Tudor
We're still on silver cards. Fran Tudor is rated 72 but his overall pace is 88. The pace split stands at 91 acceleration and 86 sprint speed, so he's very quick to hit his top speed.
Now this is a card that although he has the CB alternate position and he's rapid, it's probably not a good idea to actually play him there. His starting position is right-midfield, and he's only 5'8″. Go figure.
He does have the Rapid playstyle though – if that helps.
Phil Neumann
Phil Neumann is a 70-rated CB who plays for Hannover 96 in the German Bundesliga 2. He's a 6'4″ wrecking ball with 87 overall pace and a pace split of 84 acceleration and 89 sprint speed.
He also has the Rapid playstyle, and this is probably my favorite option for a rapid center-back from the silver cards discussed in this guide.
Hassan Tombakti
There are several decent gold cards in the Saudi Arabian league this year, but you'll also find some silver gems there and Tombakti is one of them.
He's a 74-rated card that plays for Al-Hilal in the ROSHN Saudi League. His card has 87 overall pace with a split of 85 acceleration and 88 sprint speed. He also has the Jockey playstyle, which is always a good thing.
The table below contains more notably quick centre-backs in FC 24 Ultimate Team, including some names that are considered to be among the best meta cbs in the game, and other less popular names that have at least 85 overall pace.
I've also included the speed-related playstyles possessed by each player where applicable, and I have differentiated the cards that have CB as their default position from those that don't.
| Name | Club | OVR | Pace | Acceleration | Sprint Speed | Playstyle | Default Position |
| --- | --- | --- | --- | --- | --- | --- | --- |
| Jayden Oosterwolde | Fenerbahce | 69 | 87 | 84 | 90 | N/A | No (LB) |
| Fikayo Tomori | AC Milan | 84 | 86 | 80 | 90 | N/A | Yes |
| Hamdan Al Shamrani | Ettifaq FC | 66 | 86 | 83 | 88 | Quick Step | No (LB) |
| Jawad El Yamiq | Al Wehda | 75 | 86 | 84 | 87 | Quick Step | Yes |
| Eder Militao | Real Madrid | 86 | 85 | 82 | 88 | N/A | Yes |
| Nnamdi Collins | Frankfurt | 63 | 85 | 83 | 86 | N/A | Yes |
| Josh Key | Swansea City | 66 | 85 | 86 | 84 | Rapid | No (RWB) |
| Micky Van de Ven | Tottenham | 78 | 85 | 77 | 91 | N/A | Yes |
| Ibanez | Al Ahli | 80 | 85 | 85 | 85 | N/A | Yes |
| Jordan Torunarigha | KAA Gent | 74 | 85 | 82 | 88 | N/A | Yes |
We've also got icons/heroes such as Carlos Alberto, Lothar Matthaus, Ivan Cordoba, and Paolo Maldini who can all play center-back and they have 85+ overall pace. However, this guide is focused on regular bronze, silver, and gold cards.
If you're looking for more rapid players to fill out your team, check out our guide to the fastest strikers in FC 24.