The Fastest Center Backs on FIFA 23 Ultimate Team
For many years, FIFA Ultimate Team has been one of the most popular game modes. Ultimate Team consists of hundreds of thousands of players battling their way through competitions, trying to find the perfect team combinations for success.
One of the most important attributes to ensure your team has a chance at success is ensuring you have fast center backs.
The fastest center backs offer you plenty of cover for when your opponent manages to get behind your back line, making you more likely to keep a clean sheet.
This article will highlight the fastest center backs on FIFA 23 Ultimate Team for you to add to your squad and take your team to the next level.
Kalidou Koulibaly
After losing several defenders in the summer 2022 transfer window, it was important for Chelsea to restructure their defense with a big signing, and they did just that with Koulibaly.
Widely regarded as one of the best defenders in the world over the last few seasons, Koulibaly is one of the top-rated players in FIFA Ultimate Team.
Therefore, it is no surprise that he also offers excellent pace statistics. Time will tell whether he can keep pace in the premier league for his new team, but one thing is for sure, he would be a fantastic addition to any Ultimate Team squad.
Club: Chelsea
Rating: 87
Pace: 82
Acceleration: 74
Sprint Speed: 87
Dayot Upamecano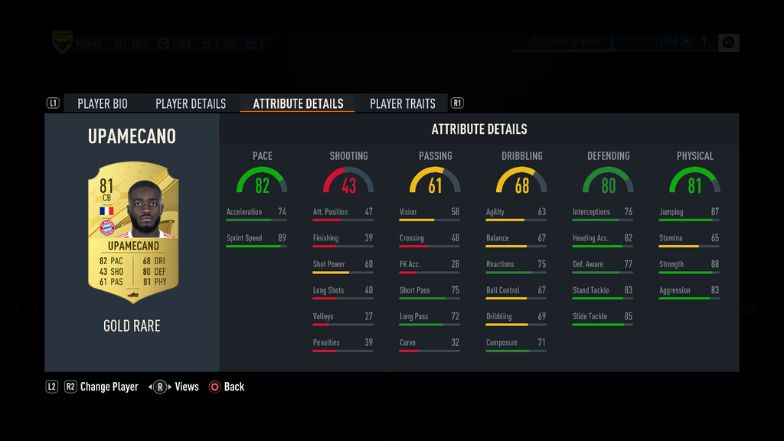 Bayern Munich has dominated the German Bundesliga for many years now, so it is no surprise that one of their center-backs made it onto this list.
At 23, Upamecano has pace to burn and has already impressed in his short career and made several appearances for France.
Upamecano doesn't have the most impressive acceleration statistic, but with a 90 sprint speed, he more than makes up for it and would be a great choice for your team if you have other french players or german defenders in your team.
Club: Bayern Munich
Rating: 82
Pace: 81
Acceleration: 70
Sprint Speed: 90
Lukas Klostermann
One player many gamers might not be aware of who has excellent pace statistics is Lukas Klostermann. Rated as an 80 overall, this gold card also offers excellent defending and physicality statistics, so you can be sure to see him in many Ultimate Teams.
He will also be slightly cheaper than other gold cards on this list, such as Rudiger, as he is a less well-known player.
Club: RB Leipzig
Rating: 80
Pace: 86
Acceleration: 79
Sprint Speed: 91
Antonio Rudiger
Antonio Rudiger's transfer from Chelsea to Real Madrid in the 2022 summer transfer window largely went under the radar. As Chelsea was dealing with many off-field issues, including a government ban on signing new players or resigning players with expired contracts, Real Madrid swooped in and secured the signature of one of Europe's fastest defenders.
It is easy to see why he has already become a major hit at Madrid, with his fantastic pace and athleticism.
Rudiger's speed and other essential defensive statistics make him a fan favorite for any ultimate team in FIFA 23. He definitely doesn't have the best acceleration, but he is rapid across the ground once he gets going.
Club: Real Madrid
Rating: 87
Pace: 82
Acceleration: 64
Sprint Speed: 84
Nouhou Tolo
The first silver card mentioned on this list, Nouhou Tolo, is a very solid choice for anyone looking to increase the speed of their center-backs without spending all their cash.
Tolo prefers to play left-wing-back but can also do a fine job at center-back.
Whatsmore, he has extremely strong pace and physicality statistics, making him very effective. His defending statistics are slightly lower but certainly still usable.
Club: Seattle Sounders
Rating: 71
Pace: 89
Acceleration: 89
Sprint Speed: 89
Fikayo Tomori
Ever since Tomori's high-profile move abroad from Chelsea to AC Milan, he has been a constant fixture in the Italian giant's back four. On some occasions, he operates at right back, but his preferred position is center back.
One of the main reasons he has seen so much real-life success is due to his incredible pace and reaction time.
These statistics are replicated in his FIFA 23 statistics, with a strong 82 pace statistic and an excellent 86 sprint speed.
Club: AC Milan
Rating: 79
Pace: 82
Acceleration: 78
Sprint Speed: 86
Allen Arigoni
As you will have noticed, some players on this list will not come cheaply. However, you don't have to miss out on securing a fast center back. There are also Bronze options for you to choose from, such as Allen Arigoni.
Arigoni has fantastic pace statistics and is also moderately physical, making him a helpful budget option for you to choose.
As you would expect from a Bronze player, his defending statistics are not great, but his pace will compensate for some of these shortcomings.
Club: FC Lugano
Rating: 61
Pace: 90
Acceleration: 91
Sprint Speed: 90
Jules Kounde
It is no surprise that Barcelona spent big on Kounde in the 2022 summer transfer window. Not only does he have excellent pace, but he is also an excellent all-around defender.
His 84 pace rating is sure to stifle any attacks you might face online or in Ultimate Team challenges, but due to his recent high-profile move to the Spanish giants, don't expect him to come cheaply.
At just 23 years old, Kounde has many years at the top of his game to come, so he would be a great addition to any roster.
Club: Barcelona
Rating: 84
Pace: 81
Acceleration: 81
Sprint Speed: 81
Reggie Cannon
For any players interested in a budget center back with pace to burn, Reggie Cannon is a solid option. While he prefers to play right wing-back, he can also be deployed at center-back. His defending is respectable, and he is a 74-rated silver card, so not a bad choice at all.
However, his pace statistics set Reggie apart from other similar-rated players.
Reggie has excellent acceleration and sprint speed statistics, making him ideal for the FIFA 23 Ultimate Team meta.
Club: Boavista FC
Rating: 74
Pace: 91
Acceleration: 89
Sprint Speed: 92
Maxence Lacroix
Although Maxence Lacroix may not have the best overall rating on this list, he does have the second-best pace statistic for center-backs.
Lacroix's appearances for Wolfsburg over the last couple of seasons clearly impressed the statisticians over at EA Sports, as he has an impressive 93 sprint speed rating.
Lacroix is definitely not the most aggressive defender, but he has respectable defensive statistics, and his added pace is sure to make him an excellent addition to any squad.
Club: Wolfsburg
Rating: 79
Pace: 88
Acceleration: 81
Sprint Speed: 93
Eder Militao
Eder Militao is the second Real Madrid center-back to feature on this list and another that has fantastic speed in Fifa 23 Ultimate Team.
At just 24 years of age, Militao has spent several years at Real Madrid, developing into an excellent all-round defender. However, one of his main attributes is his blistering pace. This pace helps defenses get out of trouble time and time again.
Pairing Militao with Rudiger is sure to add a lot of pace to your defense and also meet the new chemistry requirements in FIFA 23 Ultimate Team.
Club: Real Madrid
Rating: 84
Pace: 82
Acceleration: 81
Sprint Speed: 84
Jeremiah St. Juste
St. Juste might be the last name on this list, but he is sure to be extremely popular with top-level FIFA 23 Ultimate Team players.
Although his overall rating of 76 is not going to attract much attention, he is unbelievably fast. Not only that, but due to his lower overall rating and the fact he doesn't play at a leading European club, players are more likely to sell him at a lower price without realizing his potential benefits to an Ultimate Team.
Club: Sporting CP
Rating: 76
Pace: 91
Acceleration: 87
Sprint Speed: 94
Final Thoughts
As FIFA 23 continues to release new cards for special events and other moments, there are sure to be cards that contain fantastic speed statistics.
It is important to keep an eye out for any new cards that could help improve your team going forwards.
If you need advice on what to do first when you set up your Ultimate Team, here's everything to do first in FIFA 23 Ultimate Team.