One of the most important things to do to give your team a good chance at success in FIFA Ultimate Team is to ensure that you have fast players across the pitch.
In defense, fast center-backs offer plenty of cover when your opponent manages to get behind your back line, increasing your chances of keeping a clean sheet. 
At the other end of the pitch, the fastest strikers give you an advantage over players who feature defenders that are not so quick.
This guide highlights the fastest center backs on FIFA 23 Ultimate Team. Let's get into it!
The Fastest Center Backs
First, here's a table of the top 11 fastest center-backs in the game, including bronze and silver cards (useful for completing objectives and milestones). I know 11 is a weird number, but the last two players have the same overall pace score, so I had to have them both in.
| Name | Club | Origin | Rating OVR | Pace OVR | Acceleration | Sprint Speed |
| --- | --- | --- | --- | --- | --- | --- |
| Jeremiah St. Juste | Sporting CP | Gold | 76 | 93 | 90 | 96 |
| Allan Arigoni | FC Lugano | Bronze | 61 | 90 | 91 | 90 |
| Jetmir Haliti | Mjallby AIF | Bronze | 61 | 90 | 89 | 91 |
| Eder Militao | Real Madrid | TOTY | 94 | 90 | 87 | 92 |
| Tyler Magloire | Northampton | Bronze | 62 | 89 | 89 | 89 |
| Phil Neumann | Hannover 96 | Silver | 70 | 88 | 84 | 92 |
| Tristan Blackmon | Whitecaps FC | Silver | 68 | 88 | 87 | 89 |
| Jawad El Yamiq | Real Valladolid | SBC | 85 | 88 | 86 | 89 |
| Fikayo Tomori | A.C Milan | Winter Wildcards | 88 | 88 | 82 | 92 |
| Virgil Van Dijk | Liverpool | TOTY | 96 | 88 | 80 | 95 |
| Josko Gvardiol | R.B Leipzig | Future Stars | 89 | 88 | 86 | 90 |
The Best Fast Center Backs
Moving on to the cards that you'll actually want to use, I've gone into more detail about the best fast center-backs in Ultimate Team at the moment.
I made sure that there is at least one option from each one of the top five leagues to make it easier to choose a fit that works with your team build for chemistry purposes.
Lukas Klostermann
Club: RB Leipzig
Origin: Winter Wildcard
Rating: 86
Pace: 87
Acceleration: 80
Sprint Speed: 92
Lukas Klostermann is a 6'2″ German center-back from the Bundesliga, so he's already off to a good start with those links.
His acceleration is a bit on the lower end of the scale, but he makes up for it with a really high score for sprint speed.
If you slap an Anchor chemistry style on him, you can switch his acceleRATE type from "Controlled" to "Lengthy" which is really useful for center-backs on current-gen platforms.
Josko Gvardiol
Club: RB Leipzig
Origin: Future Stars
Rating: 89
Pace: 88
Acceleration: 86
Sprint Speed: 90
Gvardiol is another option from the same club in the Bundesliga as Klostermann.
He's a left-footed Croatian left-back that stands at 6'1″ so he can make a great partner alongside his club teammate if you're building a team with Bundesliga players.
It's not quite a "hyperlink" due to Gvardiol's less-popular nationality, but there are a handful of really good Croatian players in the game that you can use for hybrid builds.
Gvardiol's card starts out with the Lengthy acceleRATE and remains so with a Shadow chemistry style that boosts his pace to 96 overall if you can get him on full chem.
If the Future Stars version of this player is too expensive for you, you can get the cheaper Team of the Tournament version with 86 overall pace. His base gold card is even cheaper but is outdated at this stage of the game.
Jurrien Timber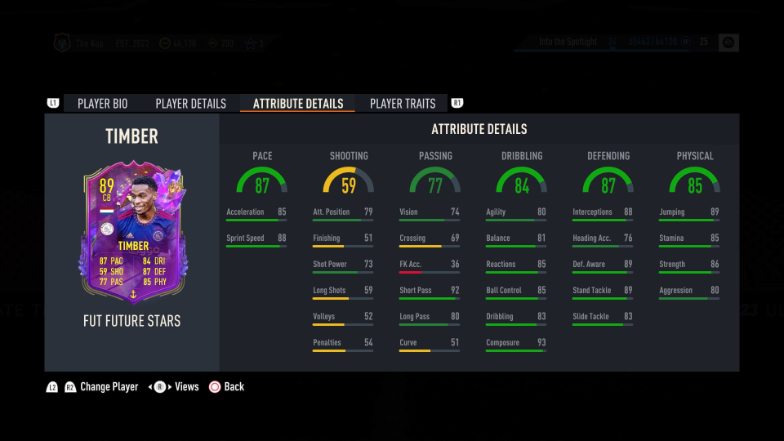 Club: Ajax
Origin: Future Stars
Rating: 89
Pace: 87
Acceleration: 85
Sprint Speed: 88
We've had loads of Dutch promo cards this year, including one for Jurrien Timber's twin, Quentin. That should settle any uncertainties about linking this guy's Future Stars card which looks pretty good overall.
He's not the tallest of center-backs, standing only 5'10", but he's one of the best players in that position on the ball.
The best chemistry style for him in my opinion is Anchor which makes him Lengthy and boosts his pace on full chem to 91. However, if you're on old gen, you can go for the Shadow chem style which gives him 95 overall pace.
A side note here is Timber's alternate RB position which is potentially useful for squad-building or if you need a defensive right-back. His 84 overall dribbling score, 4-star weak foot and 92 short passing make playing him at full-back a realistic proposition.
Jules Kounde
Club: FC Barcelona
Origin: World Cup Phenoms
Rating: 86
Pace: 86
Acceleration: 87
Sprint Speed: 85
Jules Kounde's card is pretty similar to Timber's. They have a similar height and build in-game and the same alternate position. However, Kounde has better defensive animations but he's not quite as good on the ball as Timber.
His pace split is well-balanced, and you can also make him Lengthy with an Anchor chem style or leave him as Controlled with the Shadow.
With his high-high work rates, you need to be careful triggering any runs with him to avoid leaving a gap in your defense – recovering will be difficult. He's quick, but not that quick!
Ivan Cordoba
Club: HERO
Origin: HeroTeam2
Rating: 87
Pace: 86
Acceleration: 87
Sprint Speed: 85
Speaking of center-backs on the shorter side of things, Ivan Cordoba is the shortest player on this list. He's only 5'8″ tall, which almost guarantees that you need to play him alongside a tall partner.
He's also Colombian, which is not great for team chemistry, but he has Serie A links and since he's a FUT Hero, he automatically plays on full chem as long as you start him at CB.
His 87-85 pace split is solid, but he stays as a Controlled acceleRATE type no matter the chemistry style you apply to the card.
However, with a Shadow chem style, this bull has 94 pace and 96 defending. Perhaps even more impressive is his 91 score for Balance – it's ridiculous!
Fikayo Tomori
Club: A.C Milan
Origin: Winter Wildcards
Rating: 88
Pace: 88
Acceleration: 82
Sprint Speed: 92
We're moving on to absolute meta FUT players in this category now. From day one, Fikayo's base gold card has not only been one of the fastest center-backs in the game but also one of the best overall.
He has since had an in-form upgrade before this Winter Wildcard one, so you have options to choose from depending on what your budget is.
Tomori has great links for team chemistry, and his med-high work rates are perfect for the position. His pace split is begging for the Anchor chemistry style to make him Lengthy, but you need the Shadow if you're on old-gen – especially for short-burst runs.
Presnel Kimpembe
Club: Paris St. Germain
Origin: FUT Centurions
Rating: 86
Pace: 85
Acceleration: 85
Sprint Speed: 85
Kimpembe was one of the best center-backs in FIFA 21 and FIFA 22, and EA has continued the theme this year.
His base gold card from the start of the game has 80 overall pace which was really good at the time, but he clearly needed this promo card boost.
As far as squad-building goes, you can't do much better than French and PSG links. There are so many players that you can link him to.
His overall score of 91 in the Physical department is already excellent, so all you need to do is slap a Shadow chem style on him to boost pace to 93 and defending to 95 on a Lengthy acceleRATE type.
Paolo Maldini
Club: FUT ICONS
Origin: Prime
Rating: 94
Pace: 86
Acceleration: 85
Sprint Speed: 86
You know I had to have an icon in this list, and who better than one of the greatest center-backs in history, Paolo Maldini?
With an Anchor chemistry style applied, this card has it all – 90 pace, 99 defending, and 88 physical.
A Shadow chem style would still keep him Lengthy, but it feels a bit wasted especially since Anchor gives him max defending with a much-needed boost to strength as well.
If this Prime version is too expensive for you, his mid and base cards are quick as well. Not as quick as the Prime card, but good enough.
He's only going to offer links for the Italian national team, but that's alright. He's Paolo Maldini.
Eder Militao
Club: Real Madrid
Origin: TOTY
Rating: 94
Pace: 90
Acceleration: 87
Sprint Speed: 92
The TOTY promo is arguably the most-hyped promo in FUT every year, and cards like this Militao one provide some context about why that is so.
Like most of the other cards in this list, Militao's base gold card was one of the best center-backs in the early stages of the game, and good performances in real-life (as well as hype) led to him receiving this boosted Team of the Year card.
He did get a World Cup Phenoms card earlier on as well, so check that out if, like me, you can't afford this one – it's rapid as well.
With an Anchor chemistry style, this card has 94 pace, maxed-out defending, and 97 strength. He's not only one of the fastest center-backs in FUT23, he's up there with the absolute best.
Virgil Van Dijk
Club: Liverpool
Origin: TOTY
Rating: 96
Pace: 88
Acceleration: 80
Sprint Speed: 95
If you're a regular FUT gamer, then you already know what this big man is like in-game. His build is an absolute unit, his defensive animations are as glitchy as they come, and he's one of the best automatic defenders in the game.
No, seriously, this guy is a one-man defense.
His 80-95 pace split looks suspect on paper, but you can boost that with a chemistry style. Now, many people will probably go for the Anchor or Shadow – both max out his defending score.
However, if you're feeling adventurous, you can try out the Catalyst as well. It still offers the important pace boost but adds to his passing stats as well instead of defending or physical.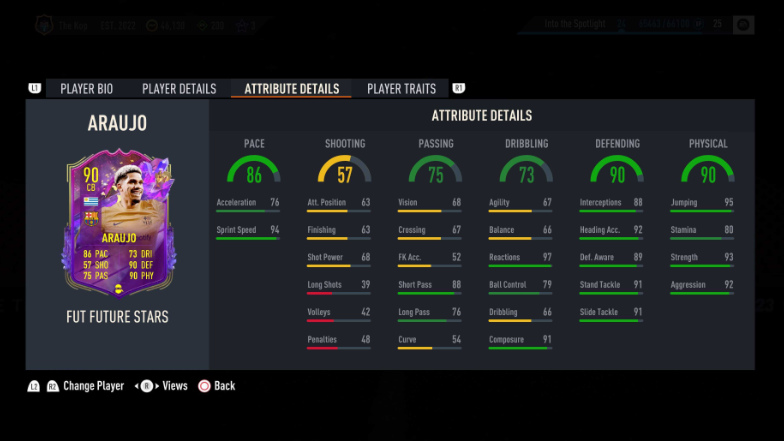 An honorable mention that just missed out on this list is Barcelona's Ronald Araujo.
His Future Stars card has an overall score of 86 for pace which is technically higher than Kimpembe's, but I just couldn't justify including him because of the 76-94 pace split although he is quicker than those stats suggest. The cut-off was a minimum of 80 for acceleration.
Araujo is undoubtedly still one of the best center-backs in the game and his defensive animations are absolutely broken, but this guide is focusing on the fastest players.
Final Thoughts
As FIFA 23 continues to release new cards for special events and other moments, we will continue to update this article to reflect the new best fast center-backs in FUT23. Keeping up with the power curve is important to remain competitive after all.
If you need some advice on what to do first when setting up your Ultimate Team, have a look at that guide as well.