Wouldn't it be fitting to create an NBA 2K23 MyCAREER build based on No. 23 himself? Michael Jordan is one of the best ever to lace it up. He is even widely regarded as the greatest of all time (GOAT).
There are numerous reasons Jordan is deemed the best. One is that he could elevate his game when it mattered most. His six rings are proof that his mentality to win is unmatched.
Another reason MJ deserves the GOAT title is that he was a catalyst for raising the popularity of the NBA and basketball to new heights in the late 1980s and early 1990s. His legacy and influence on the sport can still be felt today.
So, are you convinced yet to play as His Airness in the MyCAREER mode? If so, we have prepared the best Michael Jordan build in NBA 2K23 for you.
Overview
For those who studied Jordan's career as I did, you'll see how his offensive skillset evolved as the years went by.
During the first seasons of his career, he played like a daredevil, entertaining crowds with his athleticism and prolific scoring inside the paint. Of course, he was also able to shoot from the perimeter and distribute the ball like a point guard.
By 1991, when the legendary shooting guard led the Chicago Bulls to their first three-peat, he added a post-up game and his trademark fadeaway jump shot to his offensive arsenal.
What never changed for Jordan, though, from his rookie season until his retirement were his prolific trash-talking, competitiveness, unparalleled work ethic, and defensive tenacity.
Given what you now know about his career, the next step in customizing the build is deciding which version of Mike you want to base your player on. Will it be the high-flying Jordan? Or will you opt for the Jordan who had some of the most effective post moves?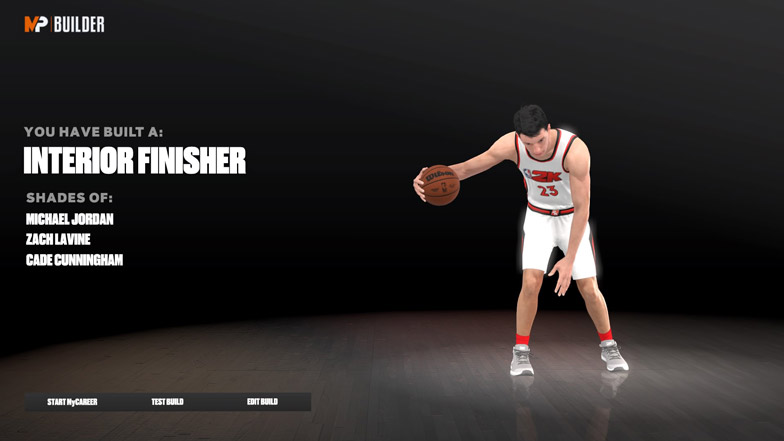 If you watch his highlight reels, you'll find that many of them involve dunking over some of the best rim protectors ever. You can make your own compilation of in-your-face slams by creating a build based on a younger Michael Jordan.
Body Settings
We will follow Air Jordan's actual body measurements in creating this build.
He stood 6'6" and weighed 195 lbs during his earlier years. As for the wingspan, it extended to 6'11". There is no reason for us to increase it any further because changing it will not provide additional benefits for the build.
It would have been nice if NBA 2K allowed users to adjust hand sizes. Jordan's hand length and span were some of the biggest in NBA history.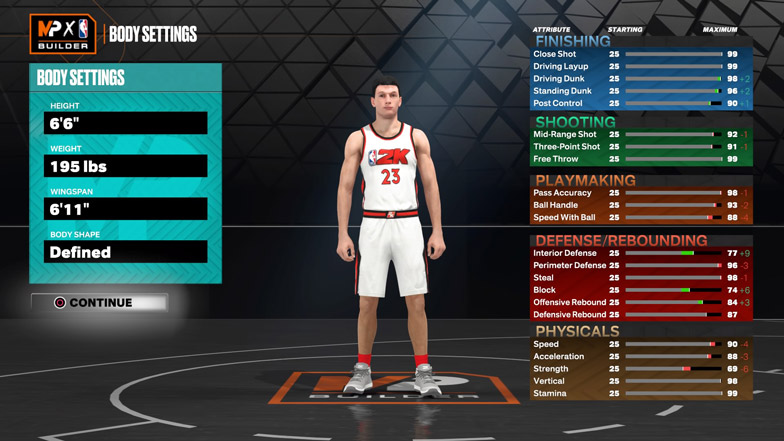 Height: 6'6"
Weight: 195 lbs
Wingspan: 6'11"
Attributes
Given that Jordan is considered the GOAT, I'd understand if you believe your player should have higher potential attributes than the ones listed below. However, there is a limit to how many we can add.
Following this guide will provide you with a character whose player archetype is an interior finisher with shades of MJ himself and the Bulls' current star shooting guard, Zach LaVine.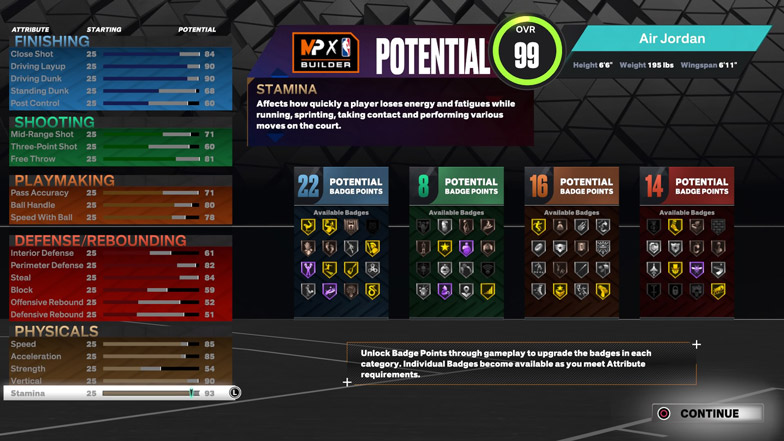 Finishing
The best Michael Jordan build in NBA 2K23 should definitely have high finishing attributes. What you will want to prioritize are close shots, driving layups, and driving dunks. If possible, these attributes should be raised to at least 95. But doing so will sacrifice some points that could have been allotted to other attributes.
Because we are using a younger Michael, there is no need to boost your player's potential post control significantly.
How great would it be if you could customize your player to have elite slashing skills like the real Jordan did during his rookie season? Unfortunately, you will have to wait a while. But, if you know the fastest way to earn VC, then you can upgrade the finishing attributes more quickly.
Close Shot: 84
Driving Layup: 90
Driving Dunk: 90
Standing Dunk: 68
Post Control: 60
Shooting
This category is the hardest part. As much as we would like to increase this Jordan build's mid-range shot, there is no way to do it without removing precious points away from other attributes.
Adding a Middy Magician badge later on can do the trick and counterbalance his relatively low mid-range aptitude. Moreover, make sure to master how to get hot zones in NBA 2K23 and take advantage of them to boost your player's shooting percentage from the mid-range.
As for the three-point shot, a value of 60 will do. After all, three-point shooting was not Jordan's strength, particularly in his early years.
Mid-Range Shot: 71
Three-Point Shot: 60
Free Throw: 81
Playmaking
One of the misconceptions about MJ is that he was a selfish superstar. But his numbers say otherwise, even if he was not an elite playmaker like LeBron James, another player who has a case for the GOAT title.
During his first years, Jordan averaged nearly 6.0 assists per game. He even posted 8.0 assists per contest in the 1988-89 season. Therefore, you should increase your player's pass accuracy potential to not less than 71.
More importantly, increase the ball handle and speed with ball attributes to at least 78 each. That way, your player will receive enough potential badge points.
Pass Accuracy: 71
Ball Handle: 80
Speed With Ball: 78
Defense/Rebounding
In the defense/rebounding department, the attributes you will want to concentrate on initially are perimeter defense and steal. After all, Jordan was a fierce one-on-one defender who stole the ball from opponents nearly three times per match during the 80s.
Boosting the other attributes to a decent value should also give you a player with a defensive acumen that resembles the real Jordan.
Here's a neat trick for you. Be sure to rack up the rebounds, steals, and blocks. These actions can speedily increase teammate grade. But in order for you to pad up these stats, you will need to upgrade the relevant defense and rebounding attributes.
Interior Defense: 61
Perimeter Defense: 82
Steal: 84
Block: 59
Offensive Rebound: 52
Defensive Rebound: 51
Physicals
Jordan was pretty athletic during his heyday. He was nimble and could outjump a lot of opponents. For that reason, a lot of your attribute points must be spent on the physical category.
Apart from strength, you should bring every physical attribute near the maximum. Don't go overboard to make sure you can still upgrade the other attributes.
Speed: 85
Acceleration: 85
Strength: 54
Vertical: 90
Stamina: 93
Takeovers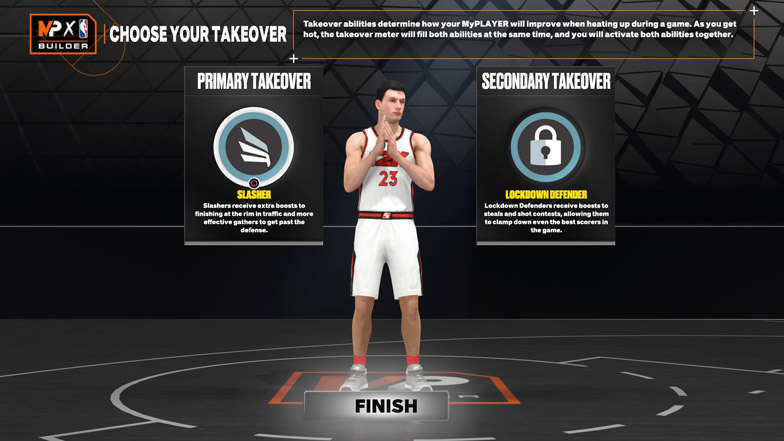 Current-Gen
Primary takeover: Slasher
Secondary takeover: Lockdown Defender
When he was on fire and given space, MJ could not be stopped as he drove to the lane. Because of this, the primary takeover you need for your character is Slasher. It can boost your finishing at the rim in traffic and make your gathers more effective when trying to get past the defense.
The Lockdown Defender for your secondary takeover option fits Jordan's personality and abilities well. He was a menace on defense and had a penchant for clamping opponents or stealing the ball from them.
Next-Gen
Primary takeover: Finishing Moves
Secondary takeover: Pull-Up Precision
When you play the title's next-gen version, you will gain access to a broader selection of the best takeovers in NBA 2K23.
For your MJ-based build, the primary takeover you need is Finishing Moves. When activated, your player will be able to absorb contact and finish at the rim more effectively.
As for the secondary takeover, you have two options. You can either select a Defense or Shot Creator takeover. I prefer the latter as the Pull-Up Precision can raise your efficiency when attempting shots off the dribble.
These two takeovers can also help you become unstoppable on offense when playing on REC because opponents will have to decide whether to sag off your player or stay on your hips when you're driving to the basket. You can punish them either way by pulling up for a runner or jump shot if they are far away or slamming the ball in their face if they come too close.
Badges
After setting your potential, you will find that you can earn a total of 60 badge points throughout your player's career. Will this be enough to create the ideal Michael Jordan build in NBA 2K23? Not really, when the current version of MJ in the game has 49 badges unlocked. Many of them are in at least the silver tier, which would cost two or three badge points in MyCAREER.
Discussed below is a list of the best badges to use, given the limited badge points.
Finishing
A grand total of 22 finishing badge points will be available for your player.
And most of the badges in this category are fitting for your player. So, instead of wasting precious points to upgrade some badges to the gold or Hall of Fame tier, let's just unlock as many badges as possible.
Acrobat: Silver
Aerial Wizard: Bronze
Dream Shake: Bronze
Fearless Finisher: Silver
Giant Slayer: Silver
Limitless Takeoff: Silver
Masher: Silver
Post Spin Technician: Silver
Posterizer: Silver
Slithery: Bronze
Shooting
Since we can only increase the player's mid-range and three-point shot attributes to 71 and 60, respectively, there are not that many options for the shooting badges.
You will receive only eight shooting badge points when all is said and done. Make sure to allocate a majority of them to Clutch Shooter and Comeback Kid. After all, some of Jordan's best qualities that endeared him to countless fans are his ability to step up in the clutch and when his team is trailing in games.
As I mentioned earlier, Middy Magician can help you convert more shots between the shaded area and the three-point line, especially considering how relatively low your mid-range attribute is going to be. But you cannot go wrong with unlocking only the bronze tier so you can assign another point to the Volume Shooter badge.
Clutch Shooter: Silver
Comeback Kid: Silver
Middy Magician: Bronze
Volume Shooter: Bronze
Playmaking
When upgrading your playmaking badges, it is better to focus on those that can help you drive into the paint more easily. Yes, Jordan was a solid dimer in his own right. However, it was more natural for him to put the ball in the basket himself than to set up teammates for scoring opportunities.
Ankle Breaker: Silver
Clamp Breaker: Silver
Handles for Days: Bronze
Hyperdrive: Silver
Quick First Step: Silver
Unpluckable: Silver
Defense/Rebounding
Mike was a menace on the defensive side of the court. So, it would have been apt for our Michael Jordan build to have tons of defense badges. But with the way the potential attributes have been set up, only 14 badge points will be available for the defense/rebounding category.
Set your sights on the badges that will increase your likelihood of stealing the ball. These are Glove and Interceptors.
Other essential badges you ought to unlock are those that can help you stay in front of opposing ball handlers.
Ankle Braces: Silver
Chase Down Artist: Silver
Clamps: Bronze
Glove: Bronze
Interceptor: Silver
Pick Dodger: Bronze
His Airness Replica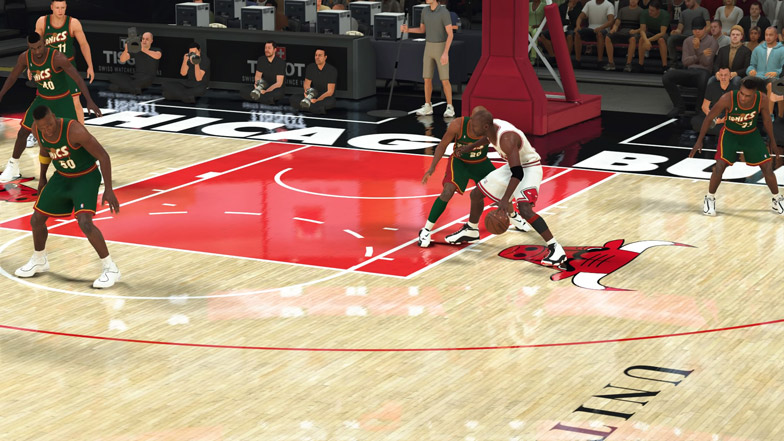 One of the coolest features of playing NBA 2K23 on next-gen is the ability to uncover special replica builds of past and present NBA icons, including Michael Jordan's. You can unlock them by copying the exact position, jersey number, and body profile of the players and setting a correct combination of the attribute potential.
After you've successfully unearthed the replica build, the archetype name will be the legend's nickname. For Jordan, it will be "His Airness." That will also be your display name in the park.
Because the game is sort of a tribute to Jordan, there are two secret Michael Jordan replica builds, which you can unlock by following the information and details below precisely.
As for the takeovers and badges, you can pick any of the options as it does not matter in unlocking a special replica build. For more authentic gameplay, you can follow the choices I suggested in the previous sections.
Rookie Michael Jordan Replica
Position: Shooting Guard
Handedness: Right
Jersey Number: 23
Height: 6'6"
Weight: 195 lbs
Wingspan: 6'11"
Close Shot: 84
Driving Layup: 90
Driving Dunk: 92
Standing Dunk: 68
Post Control: 61
Mid-Range Shot: 68
Three-Point Shot: 53
Free Throw: 77
Pass Accuracy: 71
Ball Handle: 81
Speed With Ball: 79
Interior Defense: 54
Perimeter Defense: 82
Steal: 85
Block: 60
Offensive Rebound: 45
Defensive Rebound: 44
Speed: 85
Acceleration: 86
Strength: 53
Vertical: 91
Stamina: 92
Prime Michael Jordan Replica
Position: Shooting Guard
Handedness: Right
Jersey Number: 23
Height: 6'6"
Weight: 205 lbs
Wingspan: 6'11"
Close Shot: 87
Driving Layup: 89
Driving Dunk: 73
Standing Dunk: 53
Post Control: 90
Mid-Range Shot: 88
Three-Point Shot: 75
Free Throw: 71
Pass Accuracy: 76
Ball Handle: 77
Speed With Ball: 71
Interior Defense: 78
Perimeter Defense: 90
Steal: 66
Block: 43
Offensive Rebound: 41
Defensive Rebound: 49
Speed: 76
Acceleration: 77
Strength: 74
Vertical: 82
Stamina: 91
For our next trick, we've also got a guide to creating the best Steph Curry build, and if you go through the archives, you'll find a couple more fun builds as well. Happy hunting!