Stephen Curry is the greatest shooter ever to play the game, and you're probably here to try and emulate his greatness in your player.
The Steph Curry build we have here is slightly different from his skill set in NBA 2K23 since he is an active player in the league.
This is because all the limitations make it hard to allocate your attributes to attain Steph's real skills.
However, we have the best Steph Curry build in NBA 2K23 for you to follow, and we based it on Steph's real game rather than his video game version.
We'll also give you the flexibility to tweak a few things to cater to your playstyle while maintaining Steph's core strengths.
Overview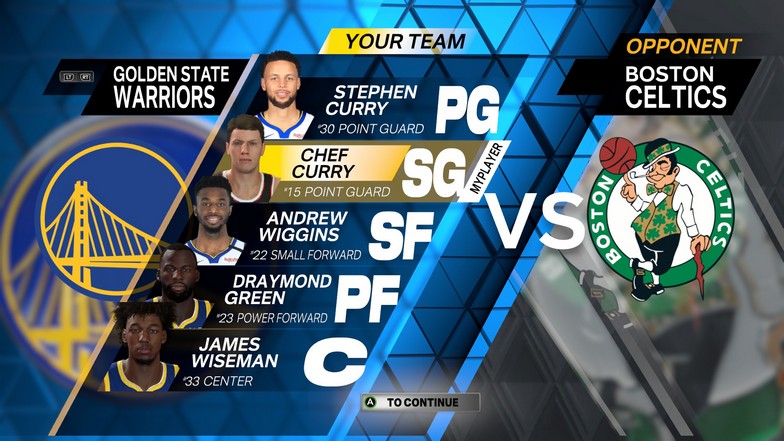 Stephen Curry is the best shooter in the NBA ever. He is actually the only player in NBA 2K23 to have a 99 rating in 3-point shooting.
That 99 3-point rating will be hard to replicate to a player build because every point past 90 in any attribute will take up a lot of 'maximum' points to allocate to other attributes.
We'll go into more detail later about these attributes.
Steph's play is usually based on the Golden State Warriors' system. The ball moves around a lot, and each player on the team moves well off the ball.
His strength lies where he can either create a shot for himself, move off the ball as a deadly catch-and-shoot player, or find the open player.
These strengths will be highlighted more in the badges section since attributes alone don't make up for all these skills.
Steph is also considered a below-average defensive player. He might be underrated on some occasions, but you can see how every team they face in the playoffs tries to force Steph into defending their best player through switches.
His lack of size and strength makes a big difference in his defensive capabilities.
Steph also has one of the best endurance and stamina in the NBA. When opponents try to expose him on the defensive end, he always has to work hard.
On the offensive end, he moves non-stop off the ball and with the ball. He also attempts a ton of threes per game and creates his own space for a shot. All of these sound so exhausting, but Steph makes it work.
Stamina in 2K23 isn't as in-depth as in the NBA, and it will be hard to replicate it in any player build.
Body Settings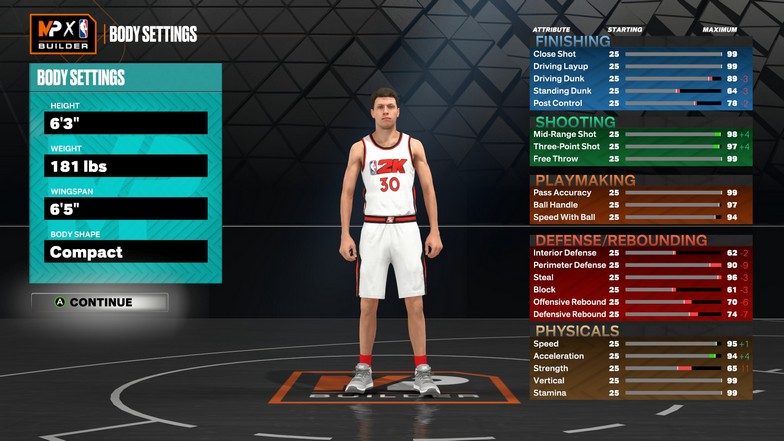 Steph's body settings are the following.
Height – 6'3″
Weight – 181 lbs
Wingspan – 6'5″
Body Shape – Compact
The height can be adjusted to around 6'3″ or 6'4″, and adjust the wingspan by 2 inches apart from the height you chose.
All of these physicals are hard to believe in the NBA as they are usually measured in the combine or a training camp. They are required to be barefoot during the measurement.
I am mentioning this because there are a lot of controversies regarding height, like Kevin Durant or Kevin Garnett. Players usually change their height by a few inches so they won't be forced to play a certain position.
This might not be true for Steph's height, but there are different measurements out there that say he's 6'3″ or 6'4″. Either way, you can choose which one you prefer.
The other body settings can affect your overall attributes, so make sure to follow the weight and wingspan correctly. For example, if you increase your wingspan, your shooting will suffer.
Attributes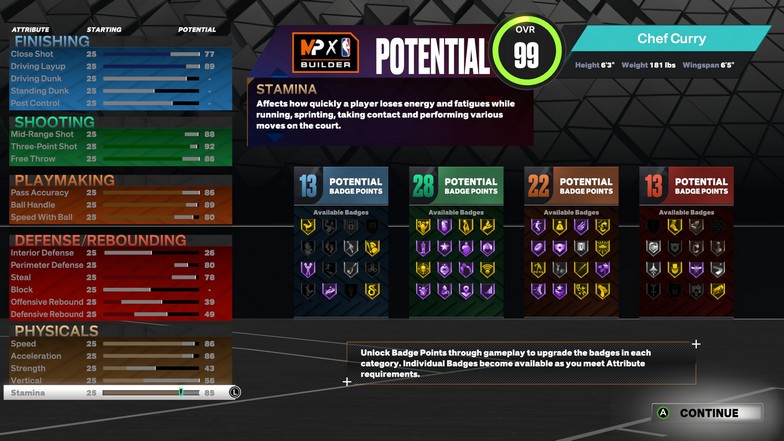 Finishing
Close Shot – 77
Driving Layup – 89
Driving Dunk – don't touch
Standing Dunk – don't touch
Post Control – don't touch
Close Shot isn't really one of Steph's strengths. He might be good at finishing around the rim, but his size is an extreme disadvantage.
Most of Steph's shots in the paint come from layups, good cuts to the basket, or just driving and making ridiculous contested layups or floaters.
89 on Driving Layup is pretty high, and we actually want more on it, but we need to be more conservative with the other attributes in this build. The Giant Slayer badge can compensate for the layups being below 90.
For Driving Dunk, Standing Dunk, and Post Control, just leave it be. They will automatically adjust depending on your physicals and other attributes.
We don't want to allocate points in these categories. Steph isn't known for his dunking, even though he can do simple dunks. He also doesn't play on the post.
Shooting
Mid-Range Shot – 88
Three-Point Shot – 92
Free Throw – 86
Steph's Three-Point Shot attribute is actually at 99 in NBA 2K23. No other player even comes close to it.
However, if we max it out to 99, we are going to have trouble with the other attributes.
The Three-Point Shot attribute will be fixed at 92 or above. It will give you access to a top-tier shooting badge we will need for the build. Adding extra points to the attribute will be entirely up to you.
We will have a ton of shooting badges to complete Steph's shooting arsenal.
Free Throw is a bit low at 86, but it will be decent enough as long as you can master his form. We really need the points for the other attributes.
Mid-Range Shot is at 88, even if we rarely see Steph take mid-range jumpers. We know he can make them, but why shoot mid-range jumpers if you can splash threes?
Playmaking
Pass Accuracy – 86
Ball Handle – 89
Speed With Ball – 80
The Ball Handle attribute should be fixed at 89 or above. It gives you a top-tier badge, which will show later on in the guide. The same goes for Pass Accuracy being at 86 or above.
Steph has one of the most ridiculous handles in NBA history. Players like Allen Iverson, Kyrie Irving, and Stephen Curry are in a league of their own.
Some players can also be considered honorable mentions, like Jamal Crawford or Tim Hardaway, but AI, Curry, and Irving are just different.
For the attributes, we can't go more than 89 as we want to save more points for allocation.
Speed With Ball isn't as high as we want it to be, but Steph isn't particularly fast in pushing the pace with the ball in his hands. The Warriors' system doesn't highlight it as much as they have incredible ball movement.
Defense/Rebounding
Interior Defense – 26
Perimeter Defense – 80
Steal – 78
Block – don't touch
Offensive Rebound – 39
Defensive Rebound – 49
Steph's lateral movements are quick but not the best. He is a below-average defender because of his size and strength.
However, Steph has great hands and can poke the ball if the opponent isn't careful. He averages around 1.7 steals per game for his career. Most of these are from interceptions, so we don't really need a high stealing attribute for the build.
The Perimeter Defense attribute will be fixed at 80 or above for an important defensive badge in the build.
Stephen Curry has great rebounding skills for a point guard. However, we can't really increase it as much as we want to.
Physicals
Speed – 86
Acceleration – 86
Strength – 43
Vertical – 56
Stamina – 85
Speed and Acceleration are both at an above-average rating for a point guard. Since he isn't close to the fastest guards in the league, these physicals are a bit accurate.
Strength and Vertical can be lowered to increase other attributes above if you want.
The notable attribute here will be Stamina, which is set at 85. Since Steph moves around a lot, we need to increase this attribute.
If you lose energy during the game, your attributes will lower. In the NBA, Steph runs a lot without the ball to get open looks and work through the picks. He never stops running and shoots at a high volume too.
He rarely gets gassed, but in NBA 2K23, it makes a big difference. If you are adjusting a few attributes above to your preference, give the Stamina a quick look.
If you are playing online with the build, it doesn't matter as much.
Takeovers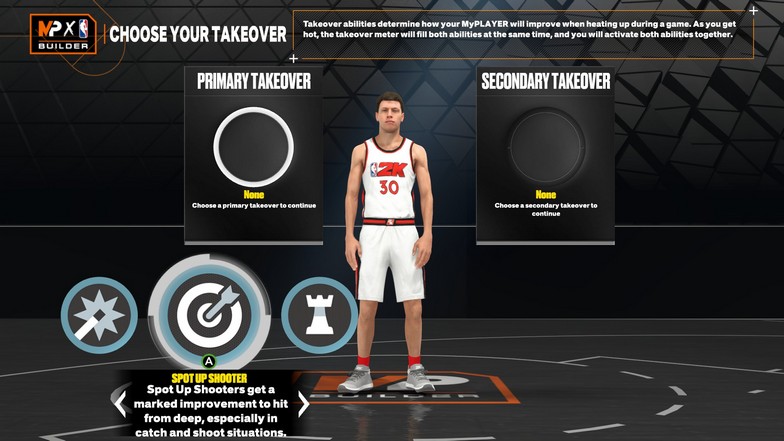 We have three takeovers to choose from – Spot Up Shooter, Shot Creator, and Playmaking.
Every single takeover applies to Stephen Curry's game. It is completely up to your preference in choosing which takeovers to take. You can have one primary takeover and one secondary takeover.
I suggest taking Spot Up Shooter, which is one of the best takeovers in NBA 2K23. It fits Steph's off-the-ball playstyle perfectly.
Shot Creator is fairly balanced, but it will be more effective in online play. Playmaking would be the more all-around choice for the second takeover.
Playmaking gives you better handles while making your teammates better. Shot Creator is more for dribbling to create some space for a shot.
Badges
Finishing Badges
Acrobat – Bronze
Giant Slayer – Diamond
Slithery – Gold
For finishing badges, I mainly focused on getting Giant Slayer up to Diamond. Maybe it is because of all of the Steph highlights where he lays it up over all the tall defenders.
It does seem fitting because his size is a big disadvantage. He isn't a flashy or acrobatic finisher, but the bronze badge will help you get more layups while driving to the basket.
Slithery is important, as attacking the basket through defenders is how you are going to get most of your layups.
Fearless Finisher or Pro Touch isn't included, but you can drop the diamond badge from Giant Slayer if you want to allocate these badges.
Steph isn't really known for finishing through contact (Fearless Finisher).
Shooting Badges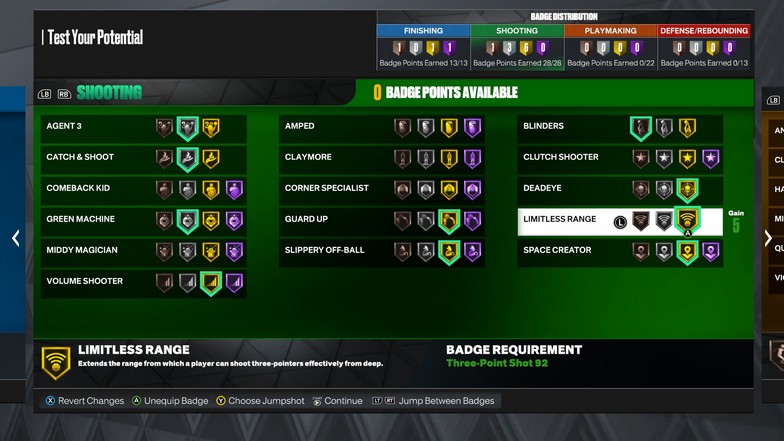 Agent 3 – Silver
Catch & Shoot – Silver
Green Machine – Silver
Volume Shooter – Gold
Guard Up – Gold
Slippery Off-Ball – Gold
Blinders – Bronze
Deadeye – Gold
Limitless Range – Gold
Space Creator – Gold
If we're being realistic, Steph should probably have a Diamond badge on every single shooting badge here.
However, we are limited to 28 shooting badges (if you followed the attributes). All of the badges mentioned above are self-explanatory.
Even if you change some of them, they will still be in line with Steph's skill set.
Claymore, Middy Magician, and Green Machine are the badges that really don't resonate with Steph's game.
Green Machine is one of the best badges to use in NBA 2K23 because it is based on the user's timing on the shots. It is included in the build because it is really fun to use in online play.
The most important badges will probably be Agent 3, Catch & Shoot, Volume Shooter, Deadeye, Limitless Range, Slippery Off-Ball, and Space Creator if you want to mimic Steph's game in the NBA.
Adding a diamond tier to any of these badges will force you to miss out on some of the other badges, so it is entirely up to you.
You can focus on an "off-the-ball" Steph build and go for Blinders, Slippery Off-Ball, Catch & Shoot, and Guard Up.
If you want a shot creator Steph build, you want to focus on Volume Shooter, Space Creator, Deadeye, Blinders, and Limitless Range.
Playmaking Badges
Ankle Breaker – Gold
Clamp Breaker – Silver
Handles for Days – Silver
Mismatch Expert – Silver
Quick First Step – Silver
Hyperdrive – Bronze
Special Delivery – Silver
Killer Combos – Silver
The playmaking badges above are an all-around build based around Steph.
Steph can break ankles (Ankle Breaker), dribble non-stop to create space (Handles for Days and Killer Combos), put switching bigs on skates (Mismatch Expert), quick first steps to the basket (Hyper Drive and Quick First Step), and find the open man when driving to the hoop (Special Delivery).
You can adjust the tiers of the badges to your preference. You should only have 22 playmaking badges to choose from.
Defense/Rebounding Badges
Clamps – Bronze
Glove – Bronze
Off-Ball Pest – Gold
Challenger – Bronze
Interceptor – Silver
Pick Dodger – Silver
For Steph's defensive badges, we don't have a particular badge to focus on. Clamps is one of the best defensive badges for perimeter players, but Steph's build can only have it at the bronze tier.
Combining Off-Ball Pest and Interceptor can get you a decent number of steals per game.
If you want to use this build for online play, you can exchange Challenger, Interceptor, and Off-Ball Pest for Menace and Ankle Braces.
You have to grind it out until you get a 99 overall rating to fully experience our version of the best Steph Curry build.