Did you know that some of the best players in the league today are small forwards? This list includes LeBron James and Kawhi Leonard.
Giannis Antetokounmpo, Kevin Durant, and Jayson Tatum also deserve mentions, but because of the makeup of their rosters, they are better suited to the power forward position. Even so, their natural position is the 3.
In the virtual world, you can get the chance to surpass these superstars and become the greatest small forward in the league. To assist with that, you should utilize the best small forward build in NBA 2K23.
Your role will be extremely versatile and this SF build makes the most of that. While you will be primarily playing at the 3 position most of the time, you can also be assigned to shooting guard or power forward in certain lineups.
Overview
There are so many ways to customize your small forward build in 2K23. You can design it to be a finisher, shooter, playmaker, or any combination of the three.
In fact, you even have the option of making the player adept at all three.
However, I recommend against being a jack-of-all-trades because you only have a limited number of points to distribute across many attributes, and a good number of these should be allocated to defense, rebounding and physical attributes.
To be the best SF build in NBA 2K23, you need to be a two-way player.
Do you remember the stars I mentioned above? You will be facing up against some of them and plenty of other big names on a nightly basis once you have became a starter in MyCAREER.
With this in mind, you need to be a star on both offense and defense, and I recommend going for a 2-way interior finisher build.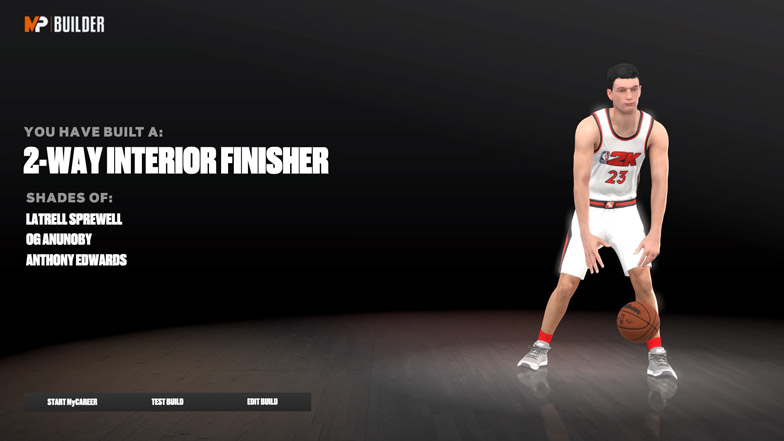 Below, you'll find all of the stats and settings you need for the perfect small forward build in NBA 2K23.
Body Settings
Height: 6'7"
Weight: 210 lbs
Wingspan: 7'1"
Right out of the gate, you will face difficult decisions when building your small forward. Deciding on what your character's height and weight is certainly a predicament because it affects so many of the attributes.
In the NBA, there is no ideal height for small forwards. He can be as short as 6'3" like Gary Payton II, or he can even be as tall as 7'0" like Lauri Markkanen.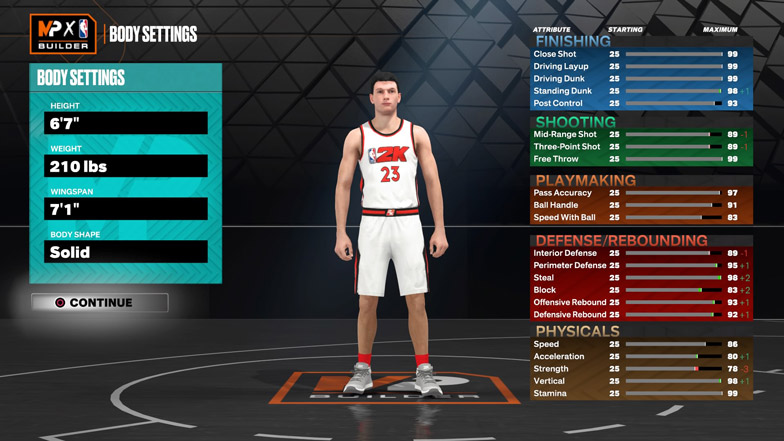 What I recommend is setting it to 6'7" with a weight of 210 lbs. This way, it will have enough speed and acceleration to help make the character shifty and agile. Not only will those qualities help you in your MyCAREER, but they can also be advantageous when you play at the REC.
As for the wingspan, you can expand it to 7'1", which is slightly more than one inch shorter than that of the Klaw himself, Leonard.
Attributes
Now for one of the most exciting parts of building your SF in NBA 2K23 MyCAREER.
In this section, you can set your character's potential in the various attributes. As you will see, the player build we will produce has all-around abilities.
The combination of potential attributes will also let your player eventually reach the maximum overall rating, even higher than Antetokounmpo's. Be sure to study how to get a 99 rating in NBA 2K23 to speed up your journey of becoming the top-rated player in your league.
Finishing
Close Shot: 83
Driving Layup: 90
Driving Dunk: 90
Standing Dunk: 60
Post Control: 25
Since you will be using a small forward, it is ideal for him to be able to finish strong in the shaded area. Can you imagine an elite frontcourt player who isn't efficient inside the paint?
Increasing your finishing attribute potential can make for an exciting gameplay because you can posterize defenders. There's no need to worry about post control, as your player will be more of a slasher than a post-up player.
Shooting
Mid-Range Shot: 70
Three-Point Shot: 60
Free Throw: 73
There is a chance that you will want to boost your outside shooting to make sure your player can punish opponents who allow you even a sliver of space at the perimeter. However, because we are allotting points to the finishing and playmaking attributes, something has to give. Therefore, we will need to sacrifice shooting a bit.
If you want a more efficient scorer from the 3-point line and midrange area, you can imitate the best shooting guard build in NBA 2K23.
Playmaking
Pass Accuracy: 74
Ball Handle: 86
Speed With Ball: 83
Contrary to some users' belief, playmaking attributes are not just meant for point guards or floor generals. You can also increase some of the attributes under this category to help your player create separation from the opponent or drive past them for easy shots.
I recommend concentrating on the ball handle and speed with ball attributes. Raising these attributes can help you during fast break situations and when going one-on-one against defenders.
You could also allot some points to pass accuracy to increase your player's potential to become a facilitator.
Defense/Rebounding
Interior Defense: 60
Perimeter Defense: 90
Steal: 82
Block: 49
Offensive Rebound: 27
Defensive Rebound: 50
As mentioned, a significant percentage of your points should be saved for defense/rebounding.
Remember, as a small forward, you can shift between the frontcourt and backcourt. It makes sense then to upgrade both your interior and perimeter defense. In addition, you will really need to boost the potential of the interior defense attribute to give your player a two-way archetype.
Some users prefer to maximize perimeter defense. I personally believe it is fine to sacrifice a few points that you can allot to the steal attribute. This allows you to unlock more stealing badges, which we will get to later.
Physicals
Speed: 86
Acceleration: 80
Strength: 78
Vertical: 87
Stamina: 95
Agility is one of the keys for your player to become elite and enjoyable to play. After all, using a player who can finish well inside but is unathletic seems counterintuitive.
There is no other way to go about the physicals attribute. I advise maximizing all of them, except vertical and stamina. A potential of 87 and 95, respectively, will suffice and can allow you to add some more points to some of the other attributes.
Takeovers
Current-Gen
Primary takeover: Slasher
Secondary takeover: Lockdown defender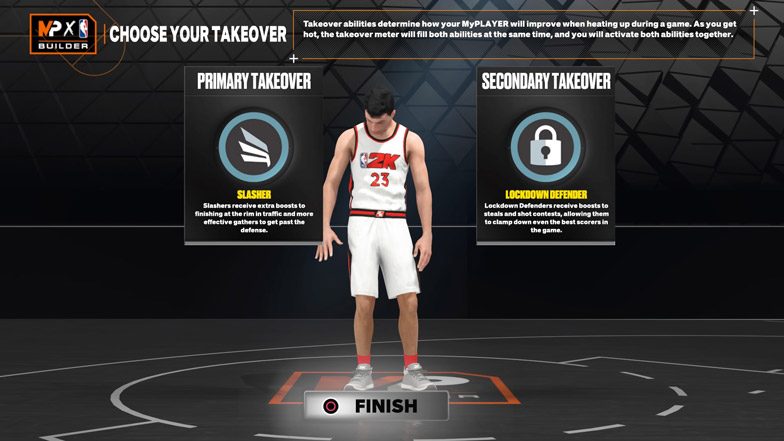 Current-gen takeover options are few and far between.
For the primary, get the Slasher option because it increases your finishing and ball handle stats whenever your player is doing well. Pad up your points with this takeover.
For the secondary, Lockdown Defender is a favorite among users. It boosts your defensive stats, particularly steals and shot contests. The takeover has let me snatch the ball from opposing ball handlers time and time again. Just be careful not to overdo it to avoid getting yourself in foul trouble.
Next-Gen
Primary takeover: Finishing Moves
Secondary takeover: Extreme Clamps
Because your gameplay will involve a lot of slashing into space and finishing at the rim, it makes sense to select a primary takeover that can increase your efficiency inside the paint.
There are three badges under the Slashers category, and I recommend Finishing Moves, as it will allow you to absorb contact, which happens a lot in NBA 2K23, and convert layup or dunk attempt more efficiently.
You can set another Slashers option for your secondary takeover. However, because your player archetype is a two-way interior finisher, it would be better to equip a Lockdown Defender takeover. Since you will be going head-to-head with some of the best players in the league, Extreme Clamps will help you stay in front of your opponents.
Badges
You will need to be wise about the use of badges to ensure that you earn can actually enhance your gameplay – or at least make the game more thrilling.
Finishing
Acrobat: Gold
Aerial Wizard: Silver
Fearless Finisher: Gold
Giant Slayer: Gold
Posterizer: Silver
Since your character's archetype is a two-way interior finisher, the finishing badges you should look for are those that will let your player convert layup and dunk attempts at an efficient rate.
In addition, the player's height is just 6'7". Consequently, many of the defenders you will be looking to put on a poster are taller. As such, I recommend the Giant Slayer Badge. It would be tempting to unlock the Hall of Fame tier, but doing so would mean fewer badge points for the others. The gold-tier badge will then do.
Shooting
Amped: Silver
Clutch Shooter: Silver
Slippery Off-Ball: Silver
Because we focused less on your player's shooting, it will be provided with the least amount of available badge points. In fact, you will only be given a maximum of eight shooting badges throughout your player's career.
A personal favorite of mine is the Amped badge. It reduces the penalty that fatigue has on your player's ability to convert a field-goal attempt. If you're anything like me, you will be moving a lot on the floor, which can use up your character's energy early in the game. The badge can help you hit jumpshots even with low stamina.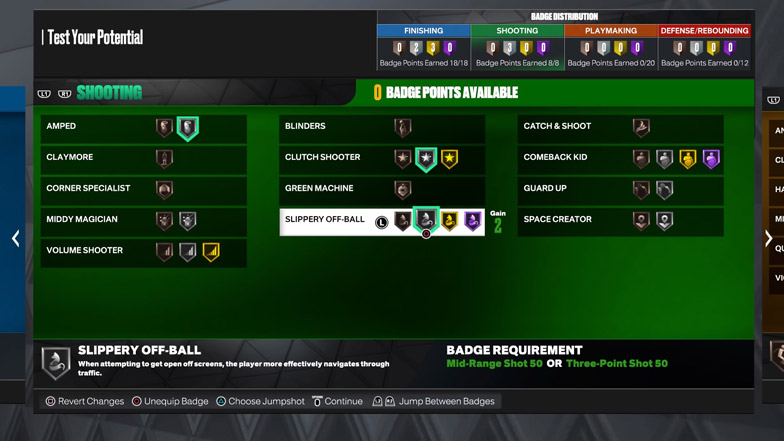 Playmaking
Ankle Breaker: Silver
Floor General: Silver
Handles for Days: Silver
Hyperdrive: Silver
Killer Combos: Silver
Mismatch Expert: Bronze
Quick First Step: Gold
You will be given a maximum of 20 playmaking badges with this SF build. There are plenty of options you can take with that number of points.
However, I suggest upgrading the options that will allow you to quickly get past defenders after a few dribble moves. These badges are Ankle Breaker, Handles for Days, Hyperdrive, Killer Combos, and Quick First Step.
An excellent badge to unlock is Floor General. It boosts some of your teammates' offensive stats and increases your chances of winning games.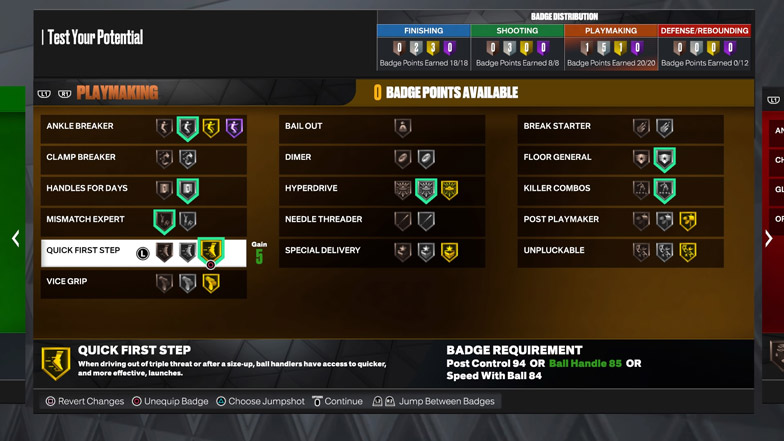 Defense/Rebounding
Boxout Beast: Silver
Challenger: Silver
Clamps: Silver
Interceptor: Silver
Menace: Bronze
With only 12 points available for the defense/rebounding category, you can either go all-in on two badges or distribute them evenly to around four. If you choose the second option, the following badges can help you lock down opposing ball handlers and pad your stats and rebounds.
Final Thoughts
With the best small forward build in NBA 2K23 already at your disposal, the next step is to determine what team to join. You have 30 alternatives, and some of them have a hole in either wing position (shooting guard or small forward.)
The Minnesota Timberwolves are one of the best teams to join if you are a small forward. The fit is even promising because the squad is missing an elite ball handler. Expect to contend for a playoff spot in Minnesota, more so because the roster already has Karl-Anthony Towns, Rudy Gobert, and Anthony Edwards.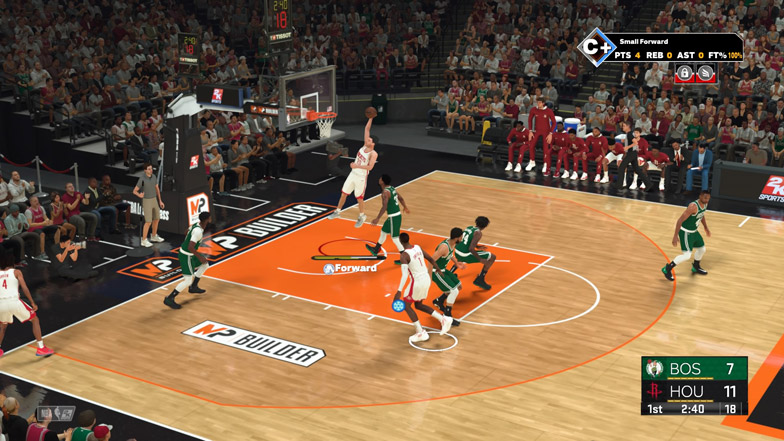 If you want to be the star, the Houston Rockets are the ideal option. They are filled with young players and have another rookie in Jabari Smith Jr.
The franchise's starting backcourt is Kevin Porter Jr. and Jalen Green, both of which aren't natural point guards. Due to that fact, you might find the ball in your hands a ton if you opt to get drafted by Houston.