Are you searching for the perfect center to add to your NBA 2K23 MyTEAM roster?
Perhaps you have reached a point in the game where the matches are starting to get a little tougher, and you need a strong center to help take your game to the next level.
Or maybe you are just starting out on your journey, and you need a quick budget center to add a focal point to your offense.
Whatever the case may be, we have lined up the best centers in NBA 2K23 MyTEAM for you to add to your roster.
Rik Smits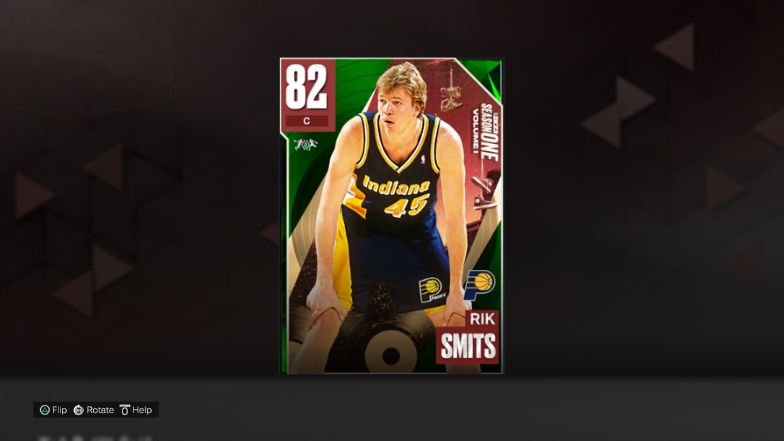 The first card on this list is an excellent choice for any player looking to assemble a team on a budget.
Unfortunately, not every player is blessed with tens of thousands of MT coins, but fortunately, the Rik Smits card is an excellent option that you can get for cheap from the auction house.
Despite his low price, Smits offers plenty of benefits going forwards and in defense.
Smits offers plenty of support defensively, especially early in your Domination mode journey, but his real asset is his scoring in and around the basket.
As you would expect for such a cheap card, he does also come with a couple of negatives. For one, Smits is an extremely slow player and lacks the stamina needed to be a big influence for long periods.
However, he is an excellent first pick-up to make immediate improvements to your starting roster.
Rik Smits' key stats:
Strength – 88
Post Moves – 87
Post Hook – 87
Post Fade – 87
Hands – 99
DeMarcus Cousins
The next center to make this list is the DeMarcus Cousins card. DeMarcus Cousin is an extremely effective Center, especially on defense. This is in no small part due to his height and impressive wingspan.
He stands at 6'10" tall, with an enormous 7'5″ wingspan.
As you would expect, this incredible reach makes him a rebounding demon, and he is sure to turn over many possessions under the rim.
His Boxout Beast and Brick Wall badges are sure to come in handy in the latter stages of any close matches.
Not only is Cousins excellent on defense, but he is also extremely reliable on offense. He is excellent under the opposition basket, but he also has a very capable mid-shot, which can add an extra layer to your offense and allow you to execute slightly more advanced plays from your playbook.
DeMarcus Cousins' key stats:
Shot Close – 90
Shot Mid – 88
Standing Dunk – 90
Post Fade – 90
Draw Foul – 92
Andre Drummond
Another player worthy of making this list of 2K23's best centers is the Andre Drummond card.
In NBA 2K23 MyTEAM, Drummond is the rebound king, and his defensive statistics are incredible. With a 92 offensive rebound and a 96 defensive rebound, Drummond is a fantastic pick-up for any team.
These statistics make Drummond a fantastic player for plays that involve a pick and roll, which many of the top MyTEAM playbooks do.
Unfortunately, Drummond does not offer any mid-range shooting abilities, so he is quite one-dimensional. However, that one dimension is extremely effective, and you will find yourself calling on his skills frequently in tight games that require a safe pair of hands.
With regards to badges, he has one Hall of Fame finishing badge and eight gold ones. He also has six defensive badges, so you have plenty of bonuses on offer with this card.
Finally, Drummond has fantasy stamina, so you can utilize his skills for many minutes per match.
Andre Drummond's key stats:
Kevin Love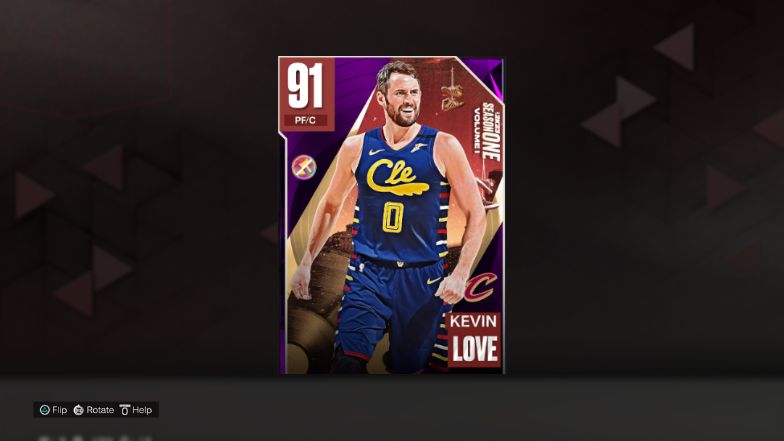 This pick might surprise a few people, as Kevin Love is often deployed as a power forward. However, Love's statistics also mean that he is a very effective center.
For starters, he has fantastic post moves and can also shoot from all around the court, adding extra layers to any offense. Having a center that can shoot effectively from mid-range and the outside adds so much to your offense in NBA 2K23 MyTEAM and will come in handy when you are facing tougher teams with more disciplined defenders.
Another benefit to the Kevin Love card is that he has one of the easiest releases in the game, making it extremely easy to get consistent with him no matter where you are shooting from on the court.
With nine gold and one Hall of Fame badge, Love offers plenty of benefits going forward and in defense. 
The only time you may find Love becomes a little less effective is when you are up against one of the bigger centers in the league. Given his size and wingspan, he does have the potential to get bullied a little bit against the biggest centers.
However, if this occurs, you can always move him to Power Forward and put a more traditional center into the game. That way, you can still utilize the various shooting benefits that Love provides.
Kevin Love's key stats:
Arvydas Sabonis
If you are searching for a center that will bully your opposition around the basket, look no further than Arvydas Sabonis. This guy is built like a human tank. Standing at 7'3″, with a 7'6″ wingspan, and weighing 250lbs, Sabonis is sure to knock around any other centers you come up against and bully his way to the basket on offense.
There are other MyTEAM cards that can offer you similar dominating features, but none of them offer you the same level of shooting that the Sabonis card does.
He has incredible post statistics, making him almost untouchable around the basket. But Sabonis is not a one-dimensional card. He is also a fantastic shooter from mid-range, with plenty of shooting options up his sleeve. He even has a 92 three-point shot. On offense, there is nothing that this card can't do.
There are certainly a couple of better options on this list defensively, but Sabonis still offers a 93 offensive and defensive rebound and a 93 block, so he is more than capable of running your defensive line.
The Sabonis card provides any player with an unlimited number of options on offense, and you will be spoilt for choice when it comes to scoring past your opposition.
Arvydas Sabonis' key stats:
Rudy Gobert
Rudy Gobert is another fantastic defensive center that deserves to get included in this list. Gobert is a fantastic defender with excellent block, interior defense, and help defense IQ statistics.
Standing at 7'1″, he towers over even the tallest centers in the league and can dominate under either basket. With an astounding 7'8″ wingspan, he is able to take passes under the basket that most players couldn't and score vital points inside the paint against the toughest opponents.
Gobert is not only strong defensively. He also provides plenty of firepower going forward, with a 95 rating for standing dunk and more than compatible post moves and hook.
There are certainly more dynamic or more offensively-minded players on this list, but Gobert is a fantastic choice for anyone that wants to shore up their defense and have a solid pair of hands-on offense.
Rudy Gobert's key stats:
Blake Griffin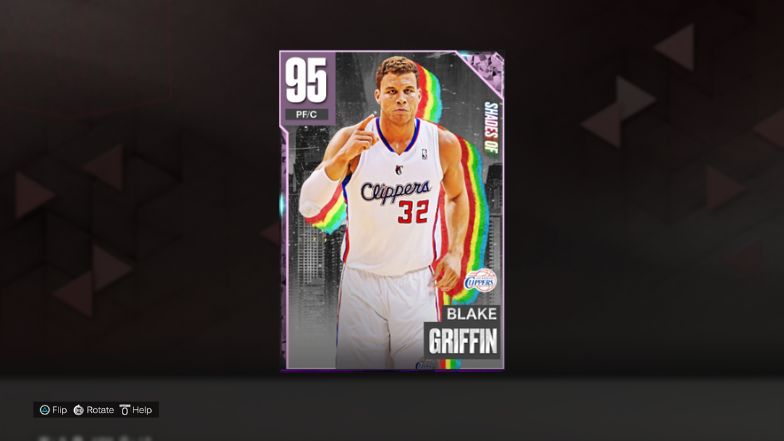 The NBA 2K23 MyTEAM Blake Griffin card is easily one of the best cards in the game. So much so that he also made our Best Power Forwards in NBA 2K23 MyTeam list.
The Blake Griffin card contains a host of excellent qualities, especially going forward. He doesn't have the biggest wingspan for a center on this list, but he offers the most well-rounded offense for you to capitalize upon.
His wide variety of shooting capabilities allows you to play a very fluid system, where your power forwards and centers frequently rotate, which is a defender's worst nightmare.
The only time you may consider playing an alternative center is if you come up against someone much bigger than Griffin.
On offense, this matchup would be no problem, but he may struggle to guard a center that is significantly bigger than him.
However, he does boast a 94 Strength and a 97 Vertical, so he is sure to handle himself well on the court in whatever position you choose to play him.
Griffin is not only an offensive threat. He is also a very competent defender with many Hall of Fame defense badges to call upon. He also has a 90 offensive and defensive rebound score.
The Blake Griffin card will be a tricky one to get, as it likely will not appear on the Auction House very soon, if at all.
However, if you do manage to get this card, he is sure to add quality to any roster and is undeniably one of the best centers in NBA 2K23 MyTeam.
Blake Griffin's key stats:
Final Thoughts
Utilizing a top Center within your MyTEAM roster is sure to help you in the latter stages of Domination Mode, where games get much tighter, and those consistent points in the paint make all the difference.
A strong center is also a must for anyone playing online, as real-life defenders tend to be savvier to your mid-range and three-point plays.
Be sure to check out our list of the best shooting guards in NBA 2K23 MyTEAM to keep adding excellent players to your roster!