LeBron James is still an active player in the league, yet he already has a case for being named the greatest of all time (GOAT). It is no wonder then that many users look to create an NBA 2K player built like the King.
Of course, many people who follow the NBA are not ready to crown James with the title of the GOAT. But there is no doubt that he is one of the best all-around players of all time.
He can do just about anything on the court. More importantly, he can lead his team to a championship. Get ready to do the same by following the best LeBron James build in NBA 2K23.
Overview
James is a basketball enigma.
He has the body to keep up with the strongest power forward or center, but he can also move with agility like a guard. He is one of the most efficient scorers inside the paint, but he is a better playmaker than the above-average point guard.
On offense, he has one of the most versatile skill sets. The only slight on his offensive game is he isn't the best jumpshot shooter. Although, if he were able to light it up from the perimeter like Steph Curry, that would be quite unfair, wouldn't it?
James is no slouch on defense either. He has understandably lost a step on defense. After all, the four-time MVP has been dominating the league since 2003. But during his heyday, he was a fearsome defender who came close to winning the Defensive Player of the Year award.
Having said all that, it would be perfect if we could create a 100-percent accurate build that emulates all of James' abilities during his prime. However, there are limitations to how many points we can allocate to a player's potential attributes in the game.
This guide shows the best NBA 2K23 LeBron James build we have come up with.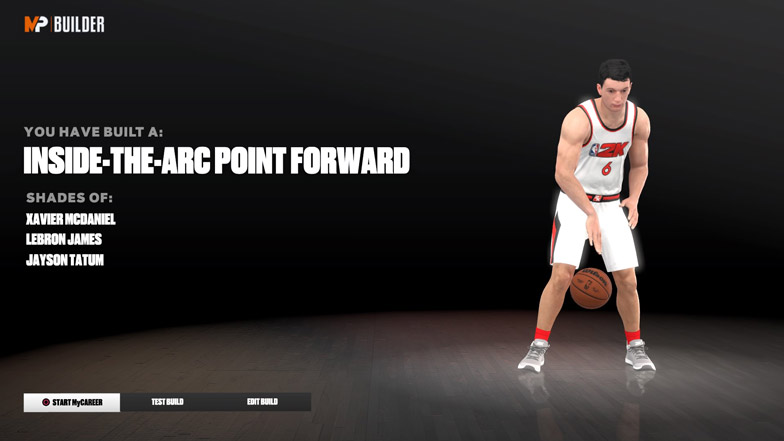 Body Settings
For his body settings, you should follow the Chosen One's real-life height of 6'9". There is no added benefit to either increasing or decreasing the height.
However, I don't recommend copying James' weight of 250 lbs. Because the Los Angeles Lakers star is a freak of nature, he is nimble on his feet despite his muscular frame. Unfortunately, NBA 2K23's Player Creator mechanics cannot take his unique athleticism into account.
Adjusting your player's weight to 250 lbs will slow down its maximum speed with ball attribute. As such, I recommend lowering the weight a bit to 241 lbs.
As for the wingspan, you can set it to at least 7'0". The potential attributes you will be setting will not be affected that much by the wingspan.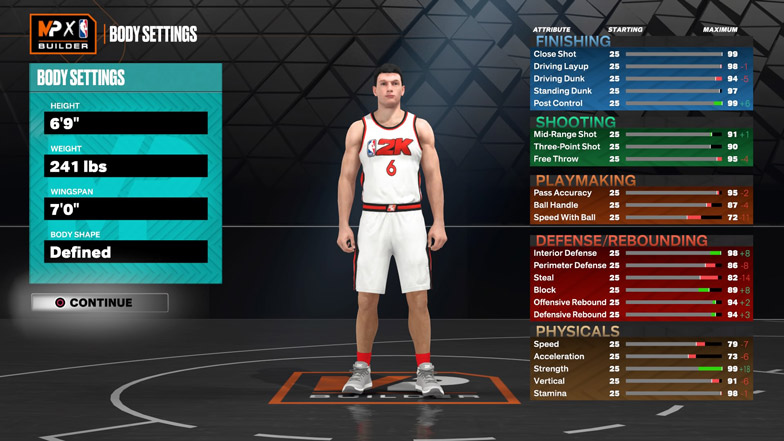 Height: 6'9"
Weight: 241 lbs
Wingspan: 7'0"
Attributes
When following this guide, you might find yourself asking if it's justifiable giving your LeBron James build a low potential in some attributes. Those situations are unfortunately necessary because of the limited number of points available.
If you copy the attributes and the body settings exactly, you will get a player archetype of inside-the-arc point forward.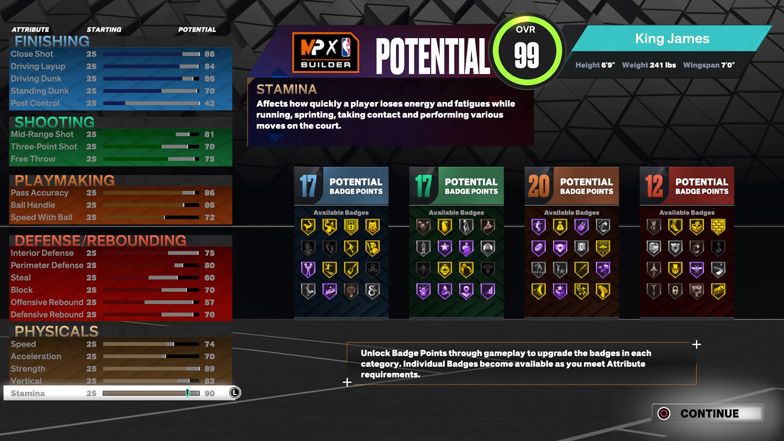 Finishing
LeBron James has reigned supreme inside the paint since his rookie year. He is one of the most efficient scorers in the shaded area ever. Given this fact, it only makes sense to allot a lot of points to your player's finishing attributes.
You might be perplexed as to why the post control attribute only has 42 points when LeBron has developed at least a decent post game over they years. Unfortunately, increasing post control would limit the points we can add to other significant attributes.
Close Shot: 86
Driving Layup: 84
Driving Dunk: 86
Standing Dunk: 70
Post Control: 42
Shooting
Pundits have been thrashing James because of his supposed lack of outside shot. However, if you look at his numbers, he actually shoots well from outside the restricted areas. Of course, there are some seasons when he was lackluster from the perimeter. But almost every player suffers through shooting slumps.
Still, I wouldn't fault you if you don't want to increase your player's shooting attributes. However, it wouldn't be the best LeBron James build without some shooting.
Mid-Range Shot: 81
Three-Point Shot: 70
Free Throw: 75
Playmaking
The King is one of the best passers not just of this year but all time. It is even ironic because he is on the heels of claiming the title of all-time leading scorer in the history of the NBA. Yet, he is an elite ball handler and playmaker.
Make sure to adjust your potential pass accuracy and ball handle to 86. As for the speed with ball, you have to maximize it. A value of 72 does not do justice to how quick James is with the ball. But it will have to do, given that your player has to be built like a tank, and you cannot lower the weight further.
Pass Accuracy: 86
Ball Handle: 86
Speed With Ball: 72
Defense/Rebounding
James is one of the few players who can defend both small, quick players and bruising big men. As such, you should allocate a significant number of points to your character's defense attributes.
It would be ideal if we could add more points to steal. After all, James is better at steals than blocks. The reason block should be at 70 is for the Chase Down Artist badge, which is one of the best badges to use for a LeBron James build.
In addition, LeBron is a pretty good rebounder. Before his Lakers teammate Russell Westbrook took the league by storm with his triple-doubles, James was racking up the stats first. It is essential then that you level up your player's potential rebounding attributes.
Interior Defense: 75
Perimeter Defense: 80
Steal: 60
Block: 70
Offensive Rebound: 57
Defensive Rebound: 70
Physicals
If there's one thing that was apparent in James' gameplay early in his career, it was that he was uber-athletic. Impressively, he is currently more athletic than a majority of other players in the league despite being nearly 40 years old.
Unfortunately, the mechanics of NBA 2K23 MyCAREER prevent your player from having high physicals attributes off the bat. By learning the fastest way to earn VC, you can upgrade these attributes quickly.
The attributes you should prioritize early on are speed, acceleration, and stamina. Once you have leveled up your rating enough, focus then on strength and vertical.
Speed: 74
Acceleration: 70
Strength: 89
Vertical: 82
Stamina: 90
Takeovers
Current-Gen
Primary takeover: Slasher
Secondary takeover: Playmaker
The real-life LeBron is able to take over the game in various ways. Unfortunately, NBA 2K23 only allows two takeovers.
For his primary option, go for Slasher takeover. It will further boost your finishing skills and allow your player to get past opponents.
For the secondary takeover, either the Playmaker or Shot Creator choices would be terrific. However, I suggest Playmaker because it increases both your ball handling and playmaking stats. It can let you drive into space more effectively and increase your assists, which is an excellent way to increase teammate grade.
Next-Gen
Primary takeover: Finishing Moves
Secondary takeover: Team Ratings Boost
Playing on next-gen will provide you with even more options and probably more headaches because many of the choices fit the best LeBron James build well.
However, two of the most ideal are Finishing Moves, which tops all Finishing takeovers, and Team Ratings Boost, because James is renowned for making his teammates better.
Badges
Deciding which badge to unlock for this build is challenging. The current version of LeBron James in NBA 2K23 has a total of 45 badges, with many of them in the Hall of Fame or gold tiers.
Since we cannot replicate all of those badges for your MyCAREER character, let's break down the best badges to use for this build.
Finishing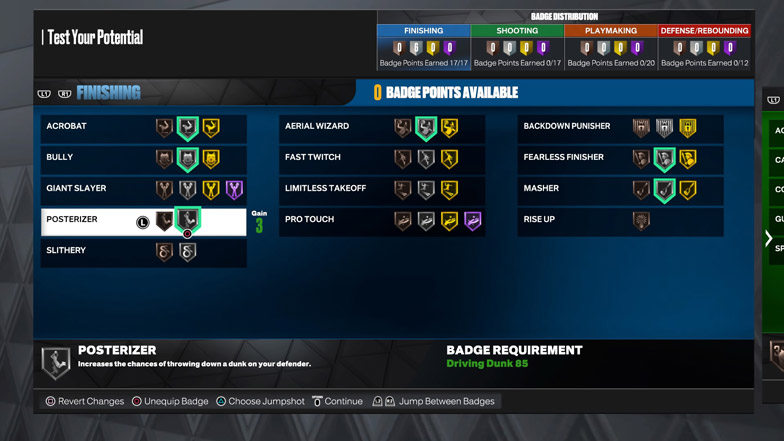 For the finishing category, 17 badge points will be available. We should use them to distribute and upgrade as many badges to silver tier as possible.
Acrobat: Silver
Aerial Wizard: Silver
Bully: Silver
Fearless Finisher: Silver
Masher: Silver
Posterizer: Silver
Shooting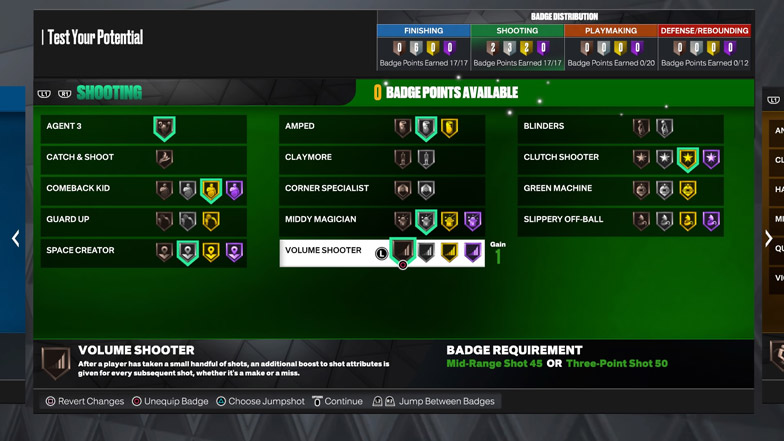 The shooting badges you should concentrate on are Clutch Shooter and Comeback Kid. If you watch the four-time champion play, then you've definitely seen how he takes his game to the next level during crunch time and when his team is down.

Some of the other badges that are worth considering are Amped to lessen the penalty of fatigue on your jump shots and Middy Magician because it can boost your stationary and off-the-dribble midrange attempts.
Agent 3: Bronze
Amped: Silver
Clutch Shooter: Gold
Comeback Kid: Gold
Middy Magician: Silver
Space Creator: Silver
Volume Shooter: Bronze
Playmaking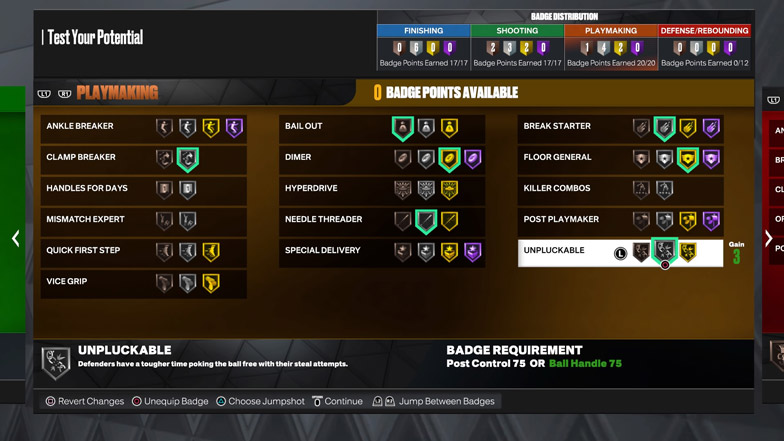 This is where it gets tricky for a LeBron James build because you might get torn when choosing between ball-handling and passing badges.
Your best bet would be to prioritize passing badges as the 2019-20 NBA assists leader would rather make his teammates look good than look flashy while dribbling.
Bail Out: Bronze
Break Starter: Silver
Clamp Breaker: Silver
Dimer: Gold
Floor General: Gold
Needle Threader: Silver
Unpluckable: Silver
Defense/Rebounding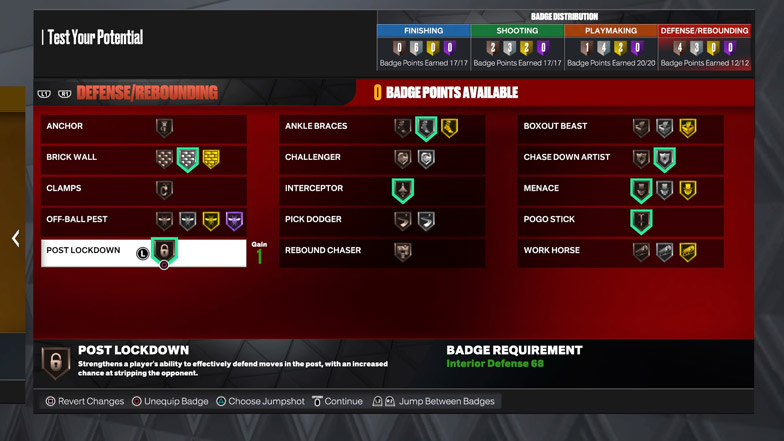 One of the most iconic plays LeBron has ever been involved in is his clutch chase-down block of Andre Iguodala's layup attempt in Game 7 of the 2016 NBA Finals. Also, his highlight reel includes numerous chase-down swats. Therefore, the first defense/rebounding badge you should upgrade is Chase Down Artist.
You can divide the remaining badge points as follows.
Ankle Braces: Silver
Brick Wall: Silver
Chase Down Artist: Silver
Interceptor: Bronze
Menace: Bronze
Pogo Stick: Bronze
Post Lockdown: Bronze
Final Thoughts
Now that you have the best LeBron James build in NBA 2K23 in your hand, the next step to greatness is becoming the top-rated player in your league. Getting a 99 rating can be a tough task, but with the right strategy, you can do it in no time.
It also helps to join a team where you can quickly become a starter and set the league on fire. Or how about joining a frontcourt-starved Lakers team instead and play with the King himself? Even if your player is a small forward, you can slot right in next to James at power forward.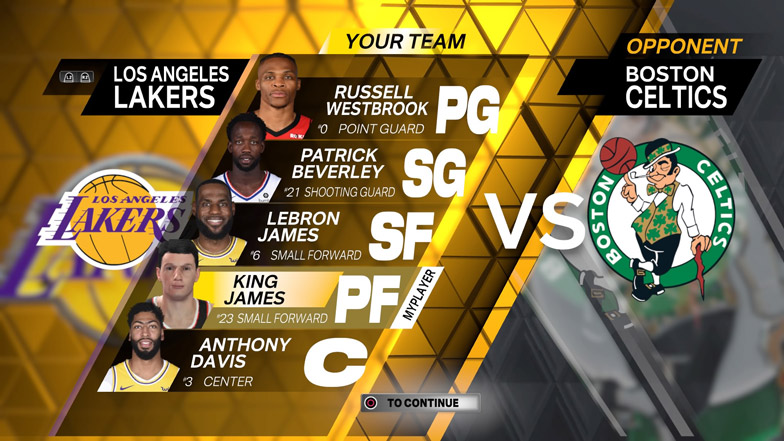 There are many other squads that can use a player of your caliber. Just make sure to enjoy every step of your journey to becoming an NBA 2K23 legend.