Most NBA 2K players today love playing as the late Los Angeles Lakers legend Kobe Bryant. He is an extremely athletic player who can light it up on offense and clamp down on defense.
In addition, there is probably no other player with a bigger killer instinct besides Michael Jordan. Both Bryant and his idol actually have a case for the title of the best shooting guard in history.
Since his player model was introduced to a video game, Kobe "Bean" Bryant has been a favorite among users. If he is yours, too, what if I told you that you could customize a player based on the Hall of Famer?
We have here the best Kobe Bryant build in NBA 2K23. Of course, you can tweak the details a bit, depending on your preference. But if you're on the current-gen and would like to get a character that has shades of the five-time NBA champion and two-time Olympic gold medalist, I suggest you follow the guide.
Also, be sure to scroll down to the end to see how you can unlock the Mamba Mentality perk and create a Kobe Bryant replica build for NBA 2K23 next-gen.
Overview
If you grew up watching Bryant – and yelling "Kobe!" whenever you take a shot virtually and in real life – then you'd know that he aspired to excel at everything related to basketball.
And although some people tagged him as a selfish superstar, that was hardly the case, as he averaged almost five assists per contest throughout his career. There is no doubt that he was one of the most complete players to ever set foot on a basketball court.
When creating this build, take note that the Lakers icon's game evolved significantly as his career progressed. From a high-flying act in his early years, he became a master of effective post-moves during his peak. Naturally, the best Kobe Bryant build in NBA 2K23 is based on his prime years.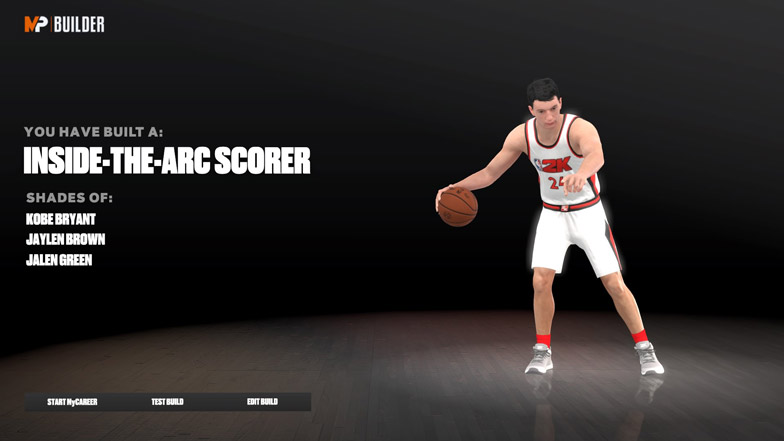 It also makes sense to design a build inspired by a younger Kobe. That was the time he teamed up with Shaquille O'Neal to form one of the best center and shooting guard duos of all time.
But Bryant only embodied his Black Mamba persona years after he moved out of the shadow of his former teammate. So, that's the version of Kobe Bryant we are going with in this guide.
Body Settings
For the body settings, I suggest copying Kobe's real-life height and wingspan of 6'6" and 6'11", respectively. There is no benefit to adjusting either setting.
However, the weight is a different matter. Bryant's weight maxed out at 212 lbs during his playing days. Unfortunately, being that light will limit your character's potential post control attribute. Thus, we will need to increase it a bit.
Height: 6'6"
Weight: 221 lbs
Wingspan: 6'11"
Attributes
The downside to the 18-time All-Star's all-around greatness is that it is challenging to make a perfect Kobe Bryant build in NBA 2K23. Of course, we can only allot a certain number of points to his potential attributes.
That being said, there is a way to customize the build that will allow you to imitate Kobe's gameplay.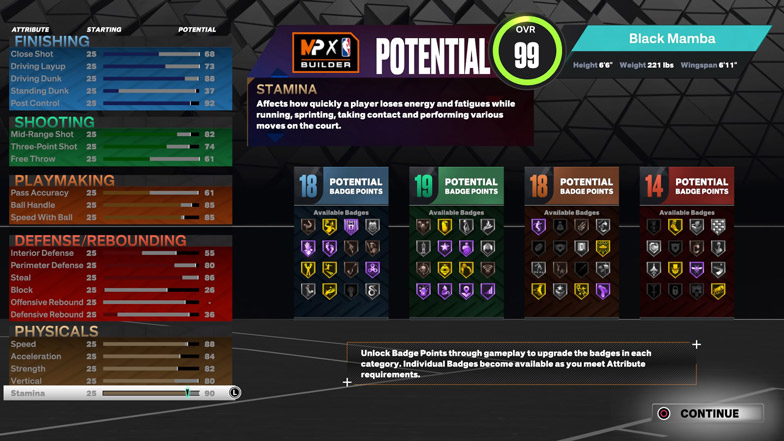 Finishing
Kobe was a beast inside the paint. Even at an old age, he exhibited the ability to contort his body for acrobatic layups and the strength to finish over taller and bigger opponents.
Unfortunately, we can't have the best of both worlds with this build. We will just focus then on maximizing his driving dunk and adding a few dozen points to close shot and driving layup. These stats will suffice and let you do a floater and connect on a layup efficiently.
The other finishing attribute we will focus on is post control. Be sure to raise it to the limit to become an elite post-up scorer and playmaker like Bean.
Close Shot: 68
Driving Layup: 73
Driving Dunk: 88
Standing Dunk: 37
Post Control: 92
Shooting
Some people slam Bryant for his lack of scoring inefficiency. In a way, they may be right because, throughout his 20-year career, he shot just 44.7 percent from the field and 32.9 percent from beyond the arc.
Even so, his ability to hit the shots that matter most is part of what defined his legendary journey in the NBA.
As such, we should balance both considerations and increase his mid-range shot and three-point shot attributes to 82 and 74, respectively. Just don't expect your player to be able to make it rain from deep like Steph Curry.
As for the free throw, we will need to limit it to just 61 despite Kobe being an 83.7 percent shooter from the charity stripe. It would be ideal to increase it to around 70 or 80. But adding more to the attribute will use up points that have to be allocated to others. You can compensate for the low rating by honing your free-throw shot at the Team Practice Facility.
Mid-Range Shot: 82
Three-Point Shot: 74
Free Throw: 61
Playmaking
The playmaking attributes we will concentrate on are the ball handle and speed with ball. Increasing them will give you access to more dribbling moves, which Bryant was known for. Also, raising these attributes will unlock some of the best badges for your Kobe build.
If there were more points to spare, they could have been used to boost pass accuracy. However, increasing it to an acceptable 61 will work. If you want to pad your assists, mastering how to call for a screen can lead to open shots for your big men. That is also an effective way to increase teammate grade in NBA 2K23 MyCAREER.
Pass Accuracy: 61
Ball Handle: 85
Speed With Ball: 85
Defense/Rebounding
With Kobe Bryant being a high-quality two-way player, you might be expecting more potential points to be allocated to defense/rebounding attributes. But we have a similar dilemma in that there are just not enough points.
Consequently, the attributes in this department you will focus on are perimeter defense and steal. I also recommend adding a significant number of points on interior defense to give your character more potential badge points for defense/rebounding.
Remember that the meager ratings for blocks, offensive rebounds, and defensive rebounds do not indicate his skills during his playing days. It's just what's required for the best Kobe Bryant build in NBA 2K23 current-gen.
Interior Defense: 55
Perimeter Defense: 80
Steal: 86
Block: 26
Offensive Rebound: 25
Defensive Rebound: 36
Physicals
For the physical attributes, we will have to maximize almost all of them, namely speed, acceleration, and strength.
There is a case for lowering strength in favor of some defense/rebounding attributes. I won't fault you if you decide to do so. But an advantage of raising the strength is that it provides you with more options when posting up opposing defenders.
Kobe was already extremely athletic when he entered the league as an 18-year-old prodigy. Sadly, your player cannot have the same gifts from the get-go.
To help you advance the physical attributes faster, you should definitely look for the most efficient ways to earn VC, as these are what you need to upgrade the attributes. It won't be surprising to get a 99 rating after several weeks of grinding.
Speed: 88
Acceleration: 84
Strength: 82
Vertical: 80
Stamina: 90
Takeovers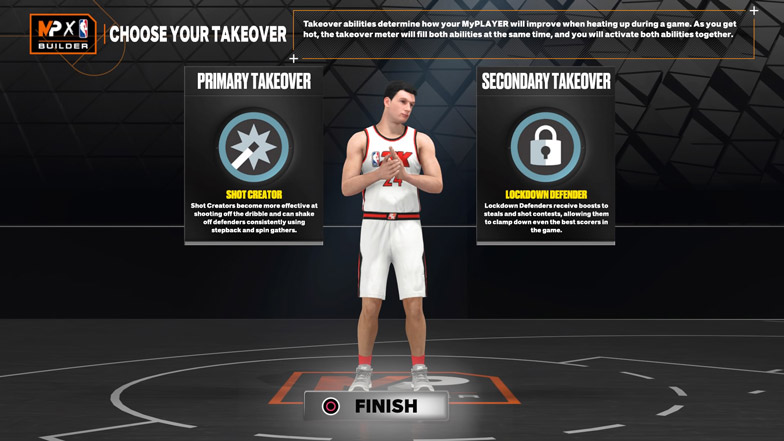 Current-Gen
Primary takeover: Shot Creator
Secondary takeover: Lockdown Defender
Since you will have an inside-the-arc scorer at your disposal, one of the best takeovers for your player is Shot Creator. Activating it when your character gets hot will boost its ability to make off-the-dribble shots and lose defenders with dribbling moves.
As for the secondary takeover, it's a toss-up between Lockdown Defender and Slashing. I recommend the former, though, because it can help you win games. Moreover, the Black Mamba was a fearsome defender. He put that perception to good use when he played for the U.S. national basketball teams in 2008 and 2012.
Next-Gen
Primary takeover: Pull-Up Precision
Secondary takeover: Advanced Post Moves
If you're playing on next-gen, there are so many takeovers to select from. And, honestly, many of them are fitting for this build. However, we can select only two.
For the primary takeover, let's go with a Shot Creating takeover like what I suggested for current-gen. Pull-Up Precision is an apt choice because Kobe was adept in attempting and making shots off a dribble move.
Options for your secondary takeover include Finishing, Post Game, Defense, and even another Shot Creating takeover. However, I recommend equipping Advanced Post Moves, as it will let you maximize your post control and strength attributes.
Mamba Mentality
One of the not-so-hidden features of NBA 2K23 is the potential to unlock the Mamba Mentality takeover. Introduced in NBA 2K21 as a tribute to the legend, equipping it will allow you to switch takeover abilities prior to any game.
Now, wouldn't it be perfect if you could use the badge for the best Kobe Bryant build in NBA 2K23? But first, you will need to learn how to unlock it.
To do so in current-gen, you will need to complete the questlines of Pippa and El Capitan Samuel Deuces, then defeat Pippa in a 1v1 game in MyCOURT.
If you're playing next-gen, the Mamba Mentality quest is given by NBA trainer Chris Brickley, as has been the case in previous NBA 2K editions. To complete the quest, you will need to earn three stars on seven different normal practice drills and seven hard drills. Aside from the Mamba Mentality, you can also gain two takeover options in the process.
But here is the catch: only two drills from Brickley are available per day. Accordingly, you will need at least a week to accomplish the quest.
Badges
Creating this build to the tee will give you a maximum of 69 badge points. To be honest, I was hoping to have more because a lot of the badges are perfect for a Kobe Bryant-like player. However, since that's not possible for this build, I will discuss what the best badges are given the constraint.
Finishing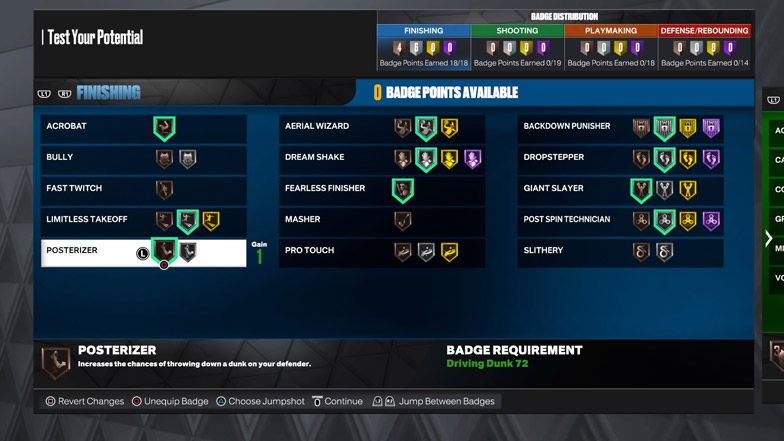 The finishing badges you should upgrade should be a balanced mix of post-up and dunk/layup badges. Alternatively, you can choose just a few and level them up to gold or Hall of Fame tier.
Some of the options you should prioritize are Aerial Wizard, Backdown Punisher, Dream Shake, and Post Spin Technician.
Acrobat: Bronze
Aerial Wizard: Silver
Backdown Punisher: Silver
Dream Shake: Silver
Dropstepper: Silver
Fearless Finisher: Bronze
Giant Slayer: Bronze
Limitless Takeoff: Silver
Post Spin Technician: Silver
Posterizer: Bronze
Shooting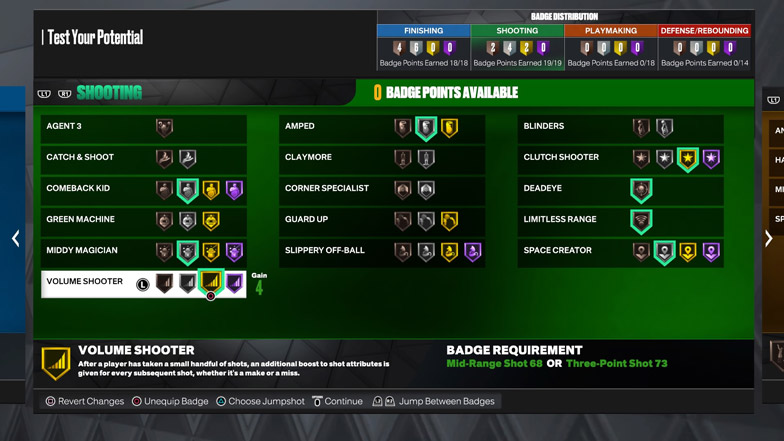 Did you watch Kobe's swan song where he willed L.A. to a comeback win after attempting 50 field goal shots and 12 foul shots? Pundits say the game is the epitome of the former MVP's Hall of Fame career.
Hence, it makes sense to prioritize the Volume Shooter, Clutch Shooter, and Comeback Kid badges.
Other shooting badges I advise getting up to at least the silver tier for a Kobe Bryant build are Amped, Middy Magician, and Space Creator.
Amped: Silver
Clutch Shooter: Gold
Comeback Kid: Silver
Deadeye: Bronze
Limitless Range: Bronze
Middy Magician: Silver
Space Creator: Silver
Volume Shooter: Gold
Playmaking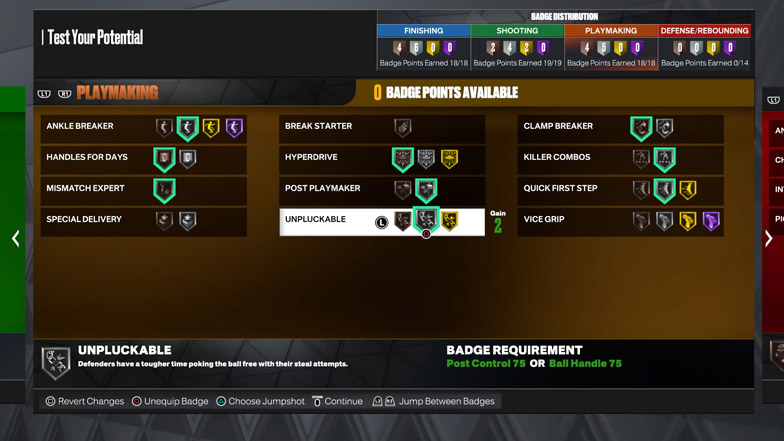 Kobe was a hard cover for defenders because of how shifty he was with the ball. He also had a quick first step that allowed him to blow by or even break the ankles of opponents.
For these reasons, you should allot some badge points to Ankle Breaker, Handles for Days, Hyperdrive, Killer Combos, and Quick First Step.
Another badge worth leveling up is Post Playmaker and Unpluckable to prevent turnovers whenever you play in the post or drive to the basket.
Ankle Breaker: Silver
Clamp Breaker: Bronze
Handles for Days: Bronze
Hyperdrive: Bronze
Killer Combos: Silver
Mismatch Expert: Bronze
Post Playmaker: Silver
Quick First Step: Silver
Unpluckable: Silver
Defense/Rebounding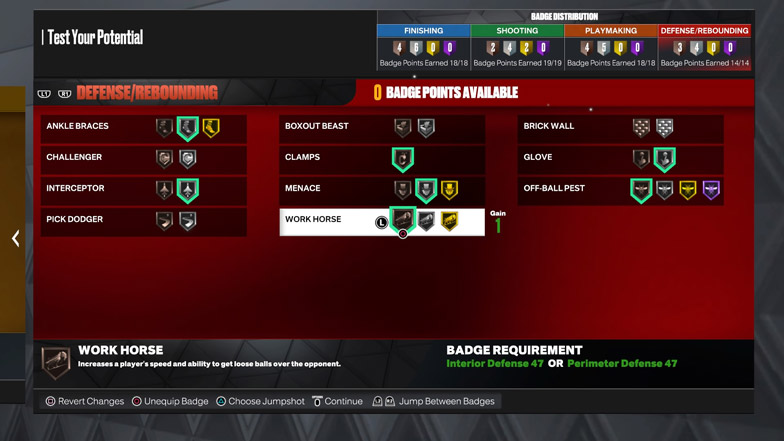 Even though he did not win a Defensive Player of the Year award like his mentor MJ, Kobe was still an elite defender in his own right. He was a 12-time All-Defensive Team selection who had no qualms about taking on the assignment of guarding the opponent's best perimeter player.
Additionally, he showed a knack for stealing the ball from opposing ball handlers and off passes.
The defense/rebounding badges you must focus on unlocking are those that can help you imitate Bryant's defensive prowess.
Ankle Braces: Silver
Clamps: Bronze
Glove: Silver
Interceptor: Silver
Menace: Silver
Off-Ball Pest: Bronze
Work Horse: Bronze
Mamba Replica Build
For those who are on next-gen, you can unlock various replica builds of retired and current NBA icons by creating a character with a certain combination of player settings and attributes.
One of the players with a replica build is Bryant. As a matter of fact, there are two ways to create a Mamba replica build, with each one representing a different phase of his lengthy career. Follow one of the guides below to unlock either of them.
No. 8 Kobe Bryant Replica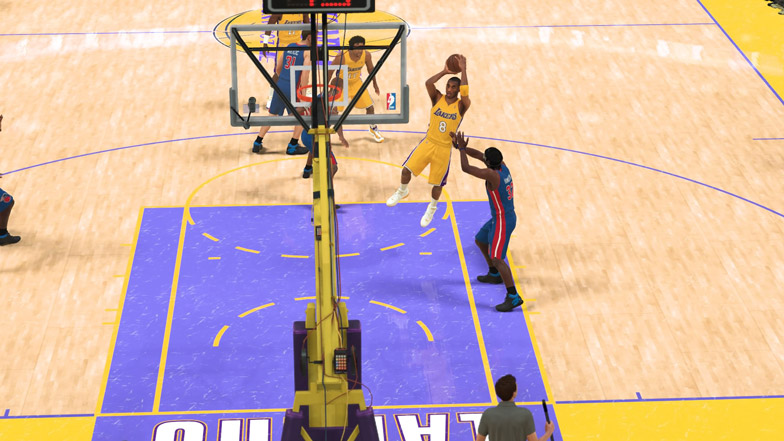 Position: Shooting Guard
Handedness: Right
Jersey Number: 8
Height: 6'6"
Weight: 200 lbs
Wingspan: 6'11"
Close Shot: 88
Driving Layup: 90
Driving Dunk: 87
Standing Dunk: 32
Post Control: 60
Mid-Range Shot: 86
Three-Point Shot: 71
Free Throw: 77
Pass Accuracy: 76
Ball Handle: 81
Speed With Ball: 78
Interior Defense: 61
Perimeter Defense: 87
Steal: 69
Block: 46
Offensive Rebound: 48
Defensive Rebound: 51
Speed: 80
Acceleration: 79
Strength: 68
Vertical: 80
Stamina: 98
No. 24 Kobe Bryant Replica
Position: Shooting Guard
Handedness: Right
Jersey Number: 24
Height: 6'6"
Weight: 200 lbs
Wingspan: 6'11"
Close Shot: 84
Driving Layup: 90
Driving Dunk: 85
Standing Dunk: 33
Post Control: 60
Mid-Range Shot: 86
Three-Point Shot: 75
Free Throw: 77
Pass Accuracy: 77
Ball Handle: 81
Speed With Ball: 78
Interior Defense: 55
Perimeter Defense: 88
Steal: 72
Block: 51
Offensive Rebound: 38
Defensive Rebound: 56
Speed: 80
Acceleration: 80
Strength: 70
Vertical: 80
Stamina: 92