Power forward is a brilliant position to choose to play in NBA 2K23. Several teams have a quality gap at the 4, giving you plenty of options when creating your own legendary career.
You will have large shoes to fill, with some of the all-time greats having played the position. These include Tim Duncan, Dirk Nowitzki, and Karl Malone. Even a few of the top players in this generation play the 4, such as Giannis Antetokounmpo, Kevin Durant, and Anthony Davis.
To help you join that list of esteemed players, you need the best power forward build in NBA 2K23.
This guide will teach you what body settings, attributes, takeovers, and badges you need for your power-forward build.
In addition, some of the best teams to join in NBA 2K23 MyCAREER as a power forward are also discussed.
Overview
Before we go to how you should set up your character, it is helpful to understand what roles power forwards play nowadays.
Some of them are tasked with being a team's go-to scorer, having the ability to beast inside the paint, light it up from the perimeter, or both. Defensively, they aid in stopping opponents from scoring inside the paint through one-on-one coverage or help defense.
As a big man, players at the 4 are also expected to at least be decent in the rebounds department. If a power forward is a below-average rebounder yet sees significant minutes on the court, that is likely because he is a specialist, such as a three-point marksman or enforcer.
If there's one thing to take here, it's that power forwards have to be versatile. More so because they can be assigned one position up and play center. In some situations, they can play with two more big men for a supersized lineup.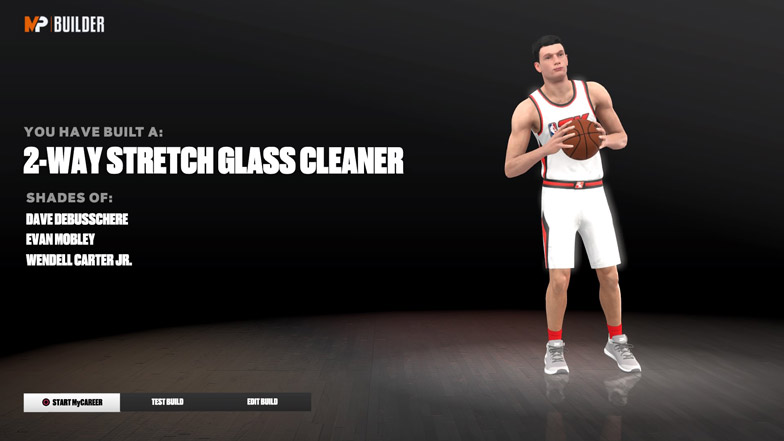 Because of these possibilities, the player archetype we are gunning for in making the build is a two-way stretch glass cleaner. Its skill set allows him to be a force on offense and defense while having the ability to dominate the boards and score from deep.
Body Settings
Height: 6'9"
Weight: 218 lbs
Wingspan: 7'7"
In the past, a power forward being taller and heavier gave him an advantage on the court. These days, a height of 6'4" is enough for coaches to slot a player in the position.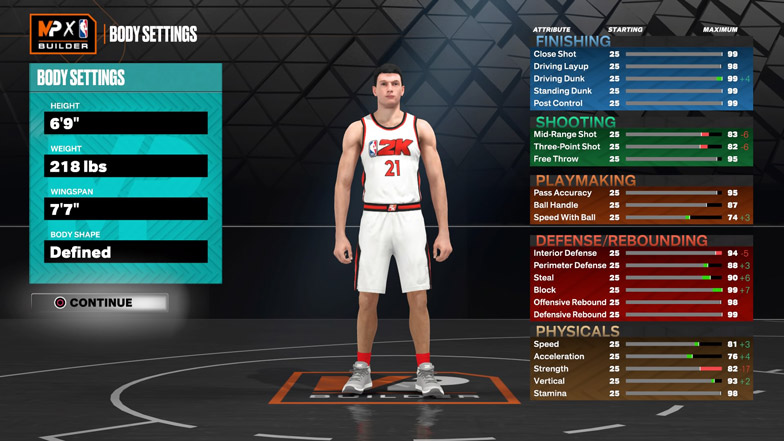 However, there are some upsides to setting your player to a "normal" height for a big man. Adjusting it to 6'9" can provide your player with the ideal stats it needs to be effective.
The weight of the best power forward build in NBA 2K23 is where it gets confusing. Normally, a forward that tall weighs at least 230 lbs. But the weight I recommend is 218 lbs. That amount will provide your character with enough speed and acceleration. The tradeoff will be a huge drop-off in maximum strength. But a player with this archetype does not have to be that stout anyway.
As for the wingspan, you can set it to any value above the default. After all, the ideal potential of relevant attributes wouldn't be affected by maximizing the wingspan. Although for cosmetic purposes, you can extend the wingspan to 7'7".
Attributes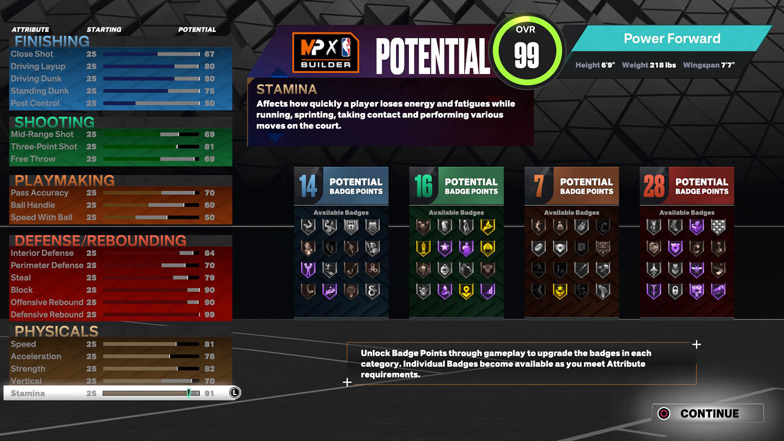 The attributes I will suggest will give you the ideal power-forward build in NBA 2K23.
Of course, you can adjust some of them a bit, and you will still get the two-way stretch glass cleaner archetype. But if you don't want to risk the archetype ending up differently, you can just follow this guide to a tee.
Finishing
Close Shot: 67
Driving Layup: 80
Driving Dunk: 80
Standing Dunk: 75
Post Control: 50
Because we are focused on creating a stretch forward, the finishing attributes do not have to be that high. However, make sure to bring your layup and dunk attributes to at least 75 to ensure that you can still score efficiently when inside the paint.
There may be instances when you find yourself matched up against smaller defenders after setting a screen. To punish the opponent, you can set your close shot to at least 65 and post control to 50. Remember, though, that these attribute levels can prevent you from backing down bigger defenders. So, focus on getting layups and dunks instead of post-up shots.
Shooting
Mid-Range Shot: 69
Three-Point Shot: 81
Free Throw: 69
Nowitzki changed the game when he normalized a big man having elite shooting. Many of the star power forwards of this generation have followed suit and worked on their outside game. If you want your player to hurt the opponents in several ways on offense, you should upgrade its three-point shot.
For the mid-range shot and free throw attributes, a rating of 69 each will suffice. Raising it more would mean having to sacrifice others that are more important to the player you are building. To help you become a more efficient shooter, make sure that you learn how to get hot zones and attempt most of your shots from those areas.
Playmaking
Pass Accuracy: 70
Ball Handle: 60
Speed With Ball: 50
Because there is a maximum number of points that you can allot, you will have to limit your player's playmaking potential.
The playmaking attribute you should concentrate on is pass accuracy. Doing so can limit your turnovers and let your player dish the ball, especially when double teams come. There is no need to prioritize the ball handle and speed with ball attributes. You can leave the ball-handling duties to your backcourt teammates instead.
Defense/Rebounding
Interior Defense: 84
Perimeter Defense: 70
Steal: 79
Block: 90
Offensive Rebound: 90
Defensive Rebound: 99
When setting your player's potential, you have to keep in mind that it will be one of the team's anchors in the paint. Some lineups will also have your player at the center position.
For these reasons, allocating a reasonable sum of points to the defense/rebounding attributes is necessary.
I recommend maximizing the defensive rebound to make sure that you are able to outrebound opposing big men and limit the enemy team's possessions. Furthermore, it is essential to give precedence to interior defense, block, and offensive rebound.
Like in the best center build in NBA 2K23, improving the perimeter defense and steal attributes will be beneficial for your gameplay because it will let you keep up with swifter players.
Physicals
Speed: 81
Acceleration: 76
Strength: 82
Vertical: 70
Stamina: 91
The physical attributes should be among the first ones you upgrade during the early parts of your career. If you are having difficulty leveling your character up, I suggest studying how to get a 99 rating in NBA 2K23 when you take a break from playing.
The attributes you have to maximize are speed, acceleration, and strength. As for stamina, set the potential to at least 90 to ensure your player does not get fatigued quickly. And since your player is already on the taller side, there is no need to raise your vertical to more than 70.
Takeovers
Current-Gen
Primary: Spot Up Shooter
Secondary: Glass Cleaner
The takeover options will be perfect for the player archetype you have just created.
While the Shot Creator takeover would seem perfect, given how low your ball handling is, that would not play to your strengths. The best two takeovers you should select are Spot Up Shooter and Glass Cleaner.
Spot Up Shooter will help significantly boost your shooting clip from beyond the three-point arc. As for the Glass Cleaner takeover, it will raise your rebounding attributes further when you heat up during a contest. Use it to secure more offensive rebounds and putbacks off your teammates' misses.
Next-Gen
Primary takeover: Spot Up Precision
Secondary takeover: See the Future
As a stretch power forward, it makes sense to equip Spot Up Precision on next-gen. The takeover will boost your well-timed and well-aimed stationary jump shots. Limitless Range is another solid possibility. However, your field-goal attempts will likely be coming from the mid-range or near the 3-point arc.
The secondary takeover option, See the Future, can help you grab even more boards. Depending on the camera option you selected, predicting where the ball is heading after a missed shot attempt can really be difficult. But when this takeover is activated, you will be shown the best position to snatch the rebound.
Badges
There are various ways to allocate the 65 total badge points you will be provided with, providing you've unlocked all badges, of course.
Here are the best badges in NBA2K23 to use as a power forward:
Finishing
Aerial Wizard: Silver
Bully: Silver
Fast Twitch: Bronze
Fearless Finisher: Silver
Limitless Takeoff: Silver
Posterizer: Bronze
Since you are more of a stretch forward than an interior player, the maximum finishing badge points you can earn is 14.
You can unlock badges that will help you be a more effective post player, such as Backdown Punisher and Post Spin Technician. However, there is a high likelihood that you will be playing alongside a center that is paint-bound. It might be difficult to post up in such a situation due to the lack of floor spacing.
It is better to distribute the points to badges that can increase your chances of converting dunks and layups even in the face of opponents.
Shooting
Amped: Silver
Catch & Shoot: Bronze
Deadeye: Bronze
Middy Magician: Silver
Space Creator: Gold
Volume Shooter: Gold
Although your player's shooting is not as highly rated as that of the best shooting guard build in NBA 2K23, he still has the potential to be an efficient marksman from the perimeter. The badges I suggest in this section will certainly help you achieve that.
Space Creator and Volume Shooter are badges you should look to upgrade to the gold tier. This is because Space Creator can boost the player's shot percentage after creating space from the defender. On the other hand, Volume Shooter is the ideal badge for those who plan on attempting tons of field goals every game.
Playmaking
Bail Out: Bronze
Break Starter: Bronze
Hyperdrive: Bronze
Post Playmaker: Bronze
Vice Grip: Silver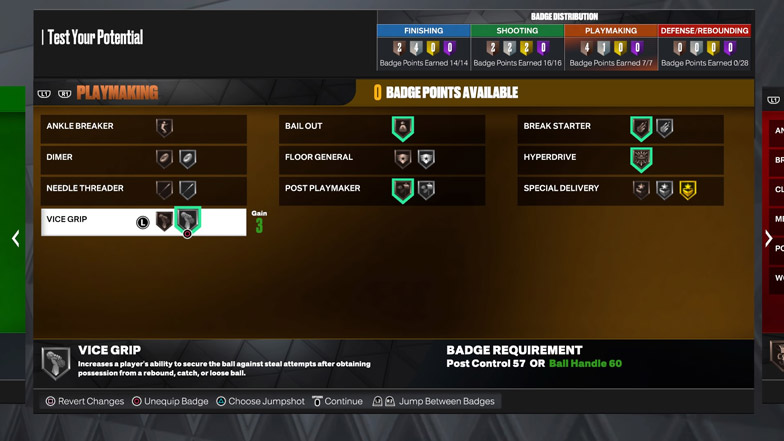 With only seven badge points to play with, you can either select a few playmaking badges and upgrade them to silver or distribute the points to more badges.
I always recommend big men to upgrade the Vice Grip. The badge can help prevent turnovers after a player has obtained possession of the ball from a rebound, pass, or loose ball. Remember that when you use your character in the REC or other multiplayer games, opponents tend to attempt a steal right after you grab the ball.
The other badges I advise getting are Bail Out, Break Starter, and Post Playmaker. These will increase the accuracy of your passes in various situations.
Defense/Rebounding
Anchor: Silver
Ankle Braces: Bronze
Boxout Beast: Gold
Brick Wall: Silver
Chase Down Artist: Gold
Pogo Stick: Gold
Post Lockdown: Silver
Rebound Chaser: Gold
Work Horse: Gold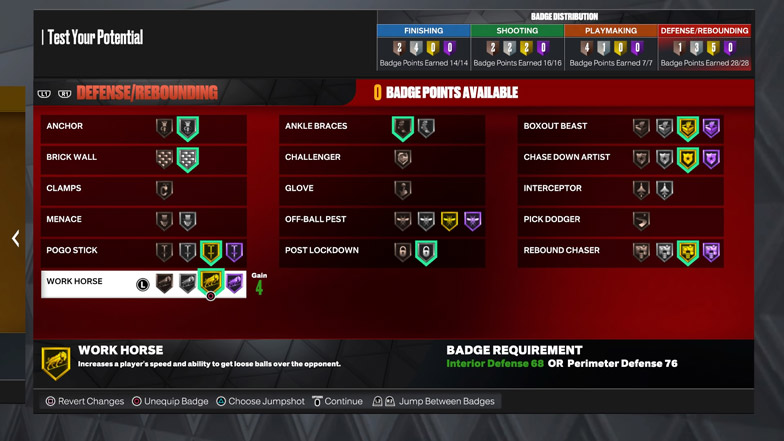 The defense/rebounding department is where you can get crazy because a maximum of 28 badge points will be available for this build.
Some of the badges you ought to upgrade to the gold tier are Box Out Beast, Chase Down Artist, Pogo Stick, Rebound Chaser, and Work Horse. These options will improve your rebounding and blocking stats. You can even unlock the Hall of Fame tier if you favor any of these badges.
The other badges you should also consider in order to limit the opponents' offensive abilities when you are on the court are Anchor and Post Lockdown.
Final Thoughts
Are you ready to become the next Duncan or Nowitzki? How about the next Kevin Garnett? You can even imitate The Big Ticket and request a trade after several seasons if your team cannot make some noise in the playoffs.
But if you join a strong team that is a power forward away from winning the championship, there might be no need to move from franchise to franchise.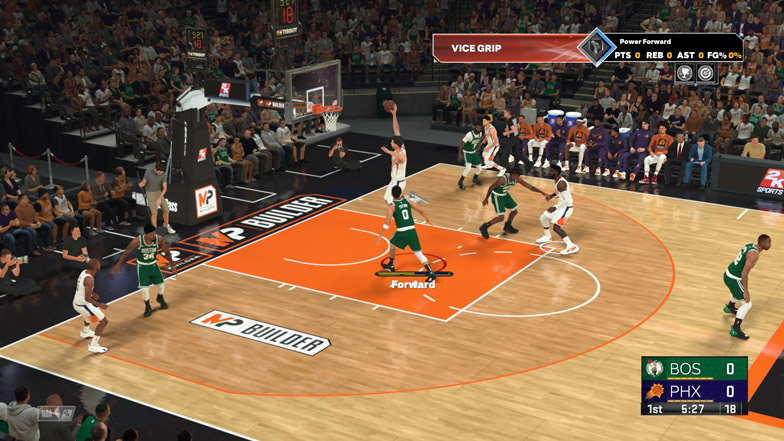 Take a look at the Phoenix Suns. They were two victories away from claiming the title in the 2021 NBA Finals and are just a power forward away from potentially making that extra step to glory.
Joining the Suns will allow you to play with one of the best point guards in Chris Paul, as well as the NBA 2K23 cover athlete Devin Booker.
The list of other teams with a hole at the power forward position and where you can play with first-class teammates includes the Dallas Mavericks, Denver Nuggets, and Miami Heat.