Perhaps you have just purchased NBA 2K23 and jumped straight into the MyTEAM game mode.
Or maybe you have decided to move away from your MyGM superteam or other game modes, and you want to try MyTEAM.
Whatever the reason, every player will be hit with a big question right at the start of their journey, as they are forced to choose a starter card.
But what's the best starter card to pick in NBA 2K23 MyTEAM?
This article will discuss the three different players you can pick from, their attributes, and which one is the right player for you.
What Cards Can You Pick From?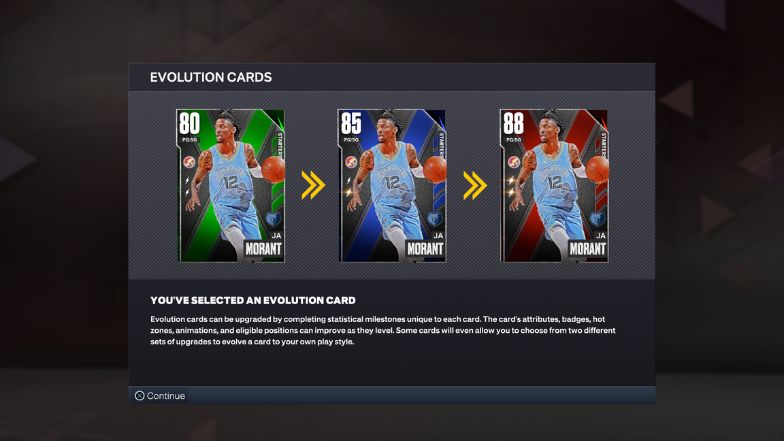 Selecting your starter card is one of the first things to do in MyTEAM, but it isn't a decision you should make lightly.
Before choosing your favorite card, it is essential to note that each player has the same base rating (OVR 80). Each starter card is also an Evolution card. Evolution cards can be upgraded when you hit specific statistical milestones. These milestones vary depending on your pick. Badges, hot zones, attributes, eligible positions, and animations will improve each time you level up your card.
Each card has three variations. The first evolution (OVR 80), the second evolution (OVR 85), and the final evolution (OVR 88).
Although each card has the same overall rating, each offers you a unique set of skills.
Ja Morant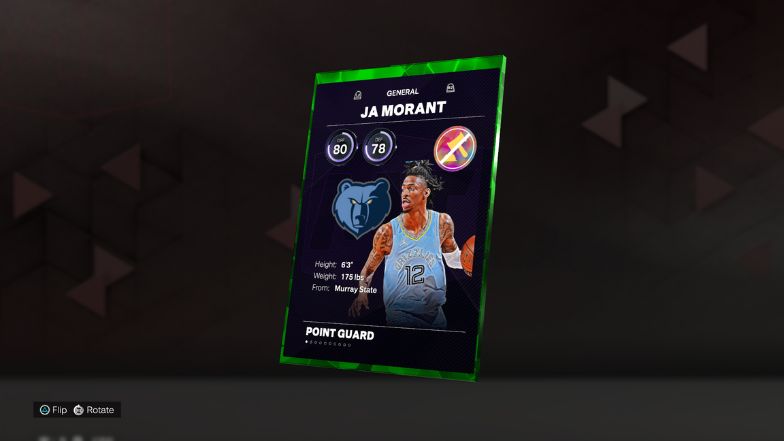 The first option available to you is Ja Morant. Morant offers a range of benefits, including quick scoring ability and the option of shooting from the outside. If you enjoy playing fast, free-flowing basketball, Morant is an excellent option.
Morant has a strong ball handling score of 84, and pass IQ of 85, and a diving dunk of 83. All these skills are sure to bring plenty of flair to your offense.
However, it is worth pointing out that Morant's defensive skills are not as good as the other choices on this list, so you must ensure the rest of your roster can pick up the slack.
After such a strong season last year in the NBA, Morant is sure to be popular with many players.
Jimmy Butler
The second option available to you is Jimmy Butler. Out of the three options on offer, Butler is probably the most rounded player defensively and offensively.
He provides a mid-range threat and will be a versatile option for many players looking to execute a balanced play style.
However, when it comes to in-game impact, Butler is potentially the weakest of these three options. He is less likely to stand out going forward or single-handedly carry your defense.
That's not to say he wouldn't be a solid player for any team, but he is probably not a superstar pick compared to Morant and Embiid.
Joel Embiid
That leads us to the final option, which is Joel Embiid. Anyone following the NBA knows that Joel Embiid is a defensive machine, which is reflected in his statistics on NBA 2K23.
If you enjoy focusing on a defense-first style of play, where the goal is to shut out the other team in lower-scoring encounters, Joel Embiid would be a great choice.
Of course, Embiid also offers some offensive benefits, as he has excellent inside scoring grades.
Embiid will allow users to play a more structured basketball style, which will suit some more than others.
Final Thoughts
Ultimately, the choice will come down to which type of player suits your NBA 2K23 play style. If you prefer to focus on attacking flair and back your team to score more baskets than you let in, Ja Morant is a fantastic choice. As one of the most exciting young players in the league, he is sure to attract much interest from other players.
However, if you prefer to play a more rigid style of basketball, focusing on tight defensive shape and low-scoring games, then you would be much better off choosing Joel Embiid. His defensive ability is fantastic, and he also offers plenty going forward. Don't expect to be able to play quite as open, attacking basketball as with Morant, as your other players will not be as good, but expect to be much more solid when your opponent has the ball.
Finally, if you want someone that is a bit of both Morant and Embiid, Butler might be the right choice for you. We anticipate that he will be the least picked option, as he is not a stand-out star at either offense or defense, but he offers solid support on both. Some players might also like to choose the less popular option, making the game a little more challenging.
Whoever you choose, ensure you note how to upgrade your player to quickly move through the evolution ranks and dominate your opposition.