To keep DiamondLobby free to read, this post may contain affiliate links. Learn more
Zowie is one of the biggest manufacturers of esports gaming mice.
Personally, my opinion of the brand is a bit of a mixed bag. I've used Zowie mice that I fell in love with from the first interaction, and there have been others that I just never got myself to like. I assume the same can be said of many gamers with a vast mouse catalog out there.
I was curious to see if the Zowie S1-C would be the mouse that swings my opinion more in favor of Zowie products, or if the reverse would be the case.
I've provided as much detail as I can in this Zowie S1-C mouse review, so by the end of it, I hope you know if you want to make a purchase.
Specs
The basics of the S1-C are pretty standard, with the following key specs:
| Size (mm) | Weight | Polling Rate | Sensor | DPI | Cable Type |
| --- | --- | --- | --- | --- | --- |
| 120 × 64 × 38 | 69 grams | up to 1000 Hz | Pixart 3360 | Up to 3200 | Paracord |
The size of the Zowie S1-C is quite similar to the Roccat Burst Core, with the only difference being the 64mm width (Roccat's was 58mm). They even weigh practically the same.
Also, Zowie's 3200 DPI limit is hardly anything to boast of, but I'll allow it. It's got four steps from 400, 800, and 1600 to 3200.
You get 5 buttons in total, and Zowie continues to use the Huanos switches found in previous models. The standard 1000hz polling rate can be adjusted to 125hz or 500hz, and there's a 24-step scroll wheel too. From the looks of it, they were really proud of that one, specifically calling it out as a feature in their advertising material.
A paracord cable comes with the package, but nothing out of the ordinary is included.
Design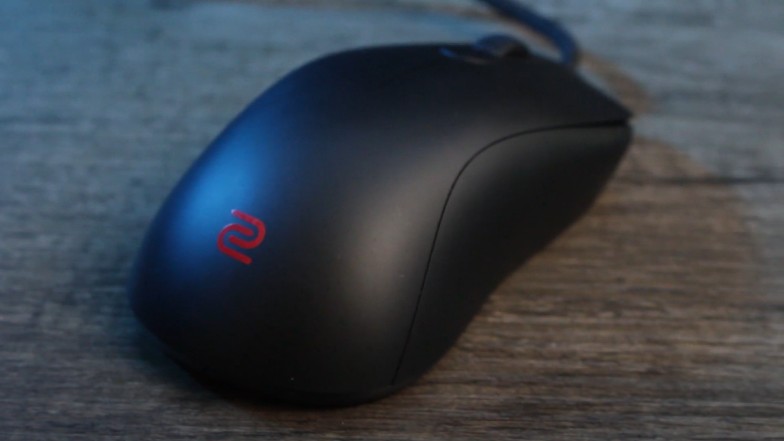 One of the reasons why Zowie became so popular was the attention they paid to design. Don't get me wrong, I'm pretty sure there are many gamers out there that are not fans of their mice design choices, but it's a big part of the brand image.
They pay a lot of attention to designing each mouse with an idea of how exactly it should be held and used, and they've kept that approach for many years.
It's not just the attention to detail that I like, it's the ability to keep things simple while at it. There are other manufacturers that place a lot of emphasis on design, but their idea of a good design is how flashy it looks and how many million colors they can fit in the RGB lights.
For me, the absence of RGB lighting here is a pro more than it is a con. If you're looking for something to match the color of the LED lights around your gaming setup, then this mouse is not for you.
As far as branding goes, there's a small "Zowie" logo on the lower back of the mouse and a small "BenQ" sign on the side. That's it.
Shape
That said, "Shape is King" is a phrase that's commonly used when referring to Zowie mice, and the shape adopted here is very deliberate in terms of how the mouse should be used. Again, visit the product page on the manufacturer's website to get a full understanding of what I mean.
In my own experience, the shape is super comfortable for my preferred palm grip, so much that it feels like Zowie specifically made this for me. I love it.
I did notice that they've adjusted the cable entry point on S1-C too. There were complaints about previous models immediately dragging on the mousemat when the mouse is in use, but Zowie has raised the entry point here, so that drag is significantly reduced.
Also, the braided cable that comes with the S1-C is of superior quality to what I've seen from Zowie in the past. It's a lot less stiff and easier to maneuver if need be.
Coating
There's a matte black coating here which I like. It's softer than many others that I've tried, and it doesn't collect as much dirt in crevices. I think the overall feel of the coating hits a sweet spot where it's nice, smooth, and almost glossy, but not enough to make it a distraction by reflecting too much light like the Logitech G305 Lightspeed.
Feet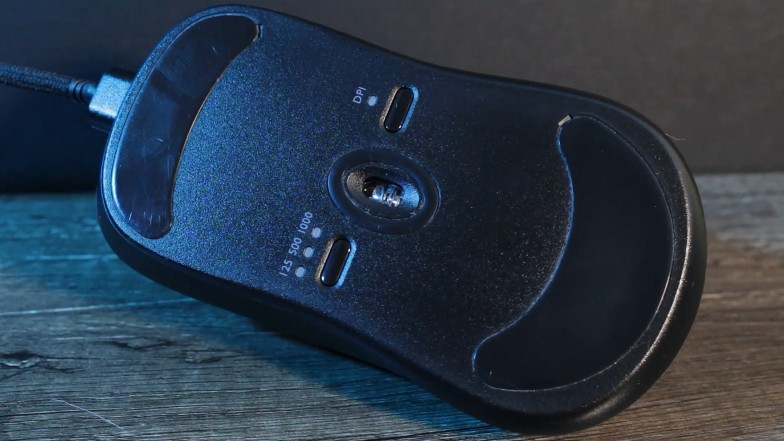 Two large feet cover a good portion of the surface area underneath the mouse, but there's room for a small ring around the sensor and a couple of buttons.
I'm not certain what the feet are made of, but if I had to guess, I'd say they are PTFE. If they are, they're not the best that I've used, to be honest. I think they're just a tad slower and don't glide as well as one would expect.
They're still smooth though, and the reduced speed could be a positive for some because it gives you more control when you're aiming at stuff in-game. So, it really depends on what games you're playing.
Buttons and Switches
The buttons are pretty efficient. The side buttons are well-placed and easy to reach with a roll of the thumb, and there are a couple of buttons underneath the mouse too.
The one on the left is used to adjust the polling rate, and the one on the right is for adjusting DPI.
Personally, I like the simplicity of the whole package. The DPI only has four steps, so you can use the dedicated physical button without a fuss and there's really no need for software. I say this because there are a lot of mice that come with software that's so basic, there's barely a real need for it.
Anyway, it was all going great until I had to test the scroll wheel. To put it mildly, I'm very disappointed with how the Zowie S1-C mouse performs in this department. It's especially annoying because Zowie specifically called out the "24-step scroll wheel" as a feature. They literally call your attention to a bad situation.
It's not the first time either. My experience with other Zowie mice- the ZA12 and the EC2-B in particular (who comes up with these names, anyway?!) was the same. The scroll wheel felt like an afterthought that they added the day before the mice were released.
With the S1-C, it's pretty easy to get the wheel stuck in between notches. The switch itself is good, but even that requires more force than is necessary to click. If you're playing a game where you have to click that switch a lot, then you probably want to steer clear if you still need your fingers to function before your old age.
Oh, also, it's pretty darn loud. No, really, just hit the "play" button on my video review below and you'll hear what I mean.
I'm probably making a bigger deal of this than I should, but it's just disappointing that a manufacturer of Zowie's standing builds an otherwise easy-to-recommend product with such a glaring issue with the build quality. It might not matter as much to other gamers, depending on what you use the wheel for while gaming, but it's something to note.
Moving on quickly.
Cost
At the time of writing, you can grab a Zowie S1-C on the official product page on the manufacturer's website for $69.99, £62, or €70.
Verdict
With Zowie gaming mice, I think it's a bit hard to recommend any single product for a large section of gamers. There are just so many options in different shapes and sizes that your decision should be hugely influenced by personal preference.
However, if you just need convincing to go ahead and purchase the Zowie S1-C mouse, then, by all means, do. It's one of the most comfortable mice I've ever used, and it offers a nice blend of features in a simple package. Good price, too.
In-game performance is great – I paired it with my Xtrfy GP4 mouse mat and it was amazing. It's unobtrusive, and you barely notice it's there until the screeching sound of the scroll wheel reminds you.
That scroll wheel is the only real issue I have with the product and depending on your specific needs, you may or may not think it's a big deal too.
Zowie S1-C
The Zowie S1-C is one of the most comfortable mice I've ever used and has a good blend of features.
Pros
Extremely comfortable
Nice button placement
Great switches
Braided cable
Cons
Poor scroll wheel
Subpar mouse feet