The Best Gaming Mouse in 2022: Top Picks Reviewed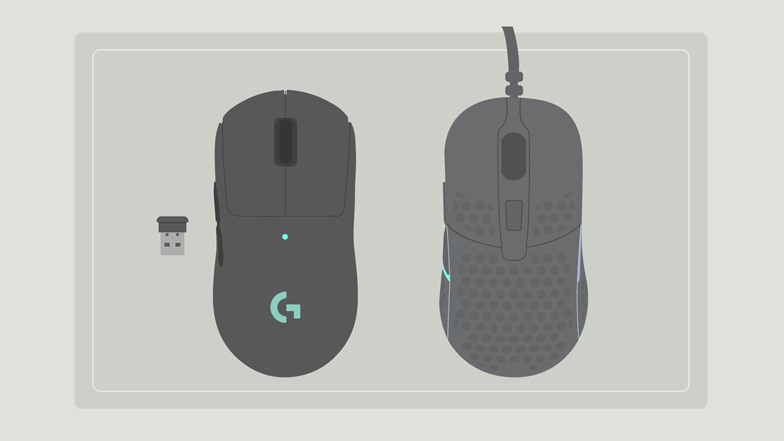 Photo: DiamondLobby
To keep DiamondLobby free to read, this post may contain affiliate links. Learn more
You should always invest in the best gaming mouse you can afford to buy. In return, you will get lighting-fast response time, pixel-precise accuracy, and be in full control of your gaming performance.
To help you find the best gaming mouse for your needs, we conducted all the research for you, and below, you will find 8 of our favorite picks for this year. We considered each of the mice's:
Size and Weight
Connectivity
Sensor Type
DPI Range
Software
RGB Functionality (though this was just a factor to comment on, rather than to judge a mouse with)
But, before we take a look at our top recommended picks, it's important for you to know why you can trust this review and what we have to say first.
At DiamondLobby, we believe in complete transparency. The gaming mice that you'll see in just a second have been recommended because we truly believe they deserve a spot in this guide for no other reason but because they're great in terms of performance, value for money, and more importantly – they've been trialed and tested either by professional gamers or by ourselves.
The goal of this guide is to bring forward a list of the best gaming mice this year and clearly and concisely outline their design, features, as well as other performance attributes that you need to be aware of in order to make the right decision.
When picking the mice for this list, we considered a range of different aspects including:
Size and Weight
When it comes to the size and weight of the mouse, every gamer is different. For me personally, I prefer smaller gaming mice that are lightweight. That's why I use the Logitech G203. It's my favorite mouse. It's also cheap and does the job extremely well. And for that reason, I don't think I'll go with another model for quite some time.
As a result of the different preferences that gamers may have when it comes to the size and weight of their gaming mouse, we made sure to pick a variety of small, medium, and large mice that varied in weight.
Connectivity
Unlike years ago when wired gaming mice dominated the market, today, the split is fairly even. And as a result, we made sure to select a fair number of both wired and wireless mice that were not only worth their money but were actually good.
For example, we wouldn't recommend a wireless gaming mouse just because it's wireless if it was no good.
Sensor Type
When it comes to gaming mice, there are two types of sensors that you can get – mice with laser sensors and mice with optical sensors. Based on our research, we believe that optical sensors are by far the best – and our opinion was further confirmed by the fact that the most widely-used mice by pro players were indeed optical.
And as a result, in this guide, we only made sure to include gaming mice with optical sensors.
DPI
Every gamer is different, and so, we believed that it would be best to recommend gaming mice that have great flexibility in regards to the DPI range. While some gamers might prefer to play at 400 DPI, there are plenty of others who prefer 1,800 plus.
As a result of that, below, you will come across a vast range of mice that can go up to 25,600 in DPI.
RGB Lights
Not so much of a necessity but more of a cool feature is having RGB lights on your mouse. You can sync it up with the rest of your gaming setup, and make your gaming experience a bit more vibrant. If you're not a fan of RGB lights, don't worry. The picks that we have recommended below can have the RGB illumination completely shut off.
| Size | Connectivity | Sensor Type | DPI | RGB |
| --- | --- | --- | --- | --- |
| Medium | Wireless | Optical | Up to 25,600 | Yes |
If you're looking at getting the best of the best when it comes to gaming mice, nothing comes close to the Logitech G Pro X Superlight in our opinion.
The best price at the time of writing was $129.99.
Design
Visually speaking, the Logitech G Pro Superlight gaming mouse looks incredible. The slick and smooth black wrapping contributes greatly to the solid outer layer that protects the performance that is hidden beneath the core.
It is worth mentioning that despite the hype around the mouse, it is only designed for right-handed gamers as the two side buttons are positioned on the left-hand side of the mouse.
Despite the level of performance you can extra from this mouse, it is ultra-lightweight at under 63 grams. This is nearly 25% weight reduction compared to the standard Pro wireless, which we featured as our runner-up pick.
If you're not a fan of the black, you can also find this very mouse in white.
Performance
Logitech claims that this model is their fastest and most reliable pro mouse to date. Thanks to the HERO sensor, which was designed from the ground up by Logitech engineers, this mouse is incredibly precise, quick, and consistent no matter the task at hand.
Furthermore, the large PTFE feet deliver a super smooth glide across your mousepad for a purer and more flush connection with the surface.
With 5 fully programmable buttons, you have the flexibility to customize each key as per your liking. This gaming mouse is definitely worth it for shooter games. If you were playing MMORPG, we'd probably recommend you a mouse with more side buttons that you can customize for various in-game actions.
If you want to buy the Logitech G Pro Superlight, you can do that from the official Logitech website and Amazon.
| Size | Connectivity | Sensor Type | DPI | RGB |
| --- | --- | --- | --- | --- |
| Small/Medium | Wired | Optical | Up to 8,500 | Yes |
If you're on a budget, we believe that the best mouse that you can buy within its price range is the Roccat Burst Core.
The best price at the time of writing was $30.43.
Design
At just 68 grams in weight, the Roccat Burst Core is one of the smaller and lighter gaming mice on the market. Despite its relatively lightweight and ergonomic nature, this mouse does feature a solid honeycomb shell in black that looks and feels very good.
One of the more notable design features that we need to point out is that the left and right mouse buttons are actually relatively smaller compared to the other mice you'll find in this guide. This is due to the positioning of the scroll wheel and the DPI button. Despite that, this unique feature wouldn't cause performance issues.
And as for RGB lighting, though the mouse does technically have some illumination, it's very minimal and is only visible on the scroll wheel.
If you're not a huge fan of the black design, you can also find this mouse in white.
Performance
The Roccat Burst Core is a fully wired mouse, meaning that despite the fact it's super cheap, you can still expect ultra-fast response time. In combination with the PMW3330 PixArt-based optical sensor, this gaming mouse can be customized to a DPI of up to 8,500.
The PTFE mouse feet allow the ultra-light mouse to glide exceptionally across various surfaces.
As for the mouse buttons, they host Titan Switches, which not only provide a more mechanical feel upon reaching the point of actuation but are also super quick to register your in-game actions.
If you'd like to make use of this gaming mouse, you can buy it from the official ROCCAT website and Amazon.
| Size | Connectivity | Sensor Type | DPI | RGB |
| --- | --- | --- | --- | --- |
| Small/Medium | Wired | Optical | Up to 8,000 | Yes |
The Logitech G203 is one mouse that no other product on the market can beat when it comes to value for money. It's super affordable, durable, and an overall excellent choice.
The best price at the time of writing was $29.99.
Design
The Logitech G203 comes with a simple, no-frills design that is built to last thanks to the robust yet lightweight shell. The height profile is a bit on the tall side, but the length is conservatively retained to classic levels to suit those with small and medium-sized hands.
Funnily enough, despite its smaller size, it is relatively heavier compared to some of our top picks – 85g. Despite that, however, it will cause you absolutely no trouble to get used to it. We've tried and tested several gaming mice from various weight classes and the difference is so minimal, you will barely be able to notice.
Performance
While the Logitech G203 may be a cheap option to grab for your needs, it sports a gaming-grade optical sensor that offers excellent and accurate tracking that can be customized for up to 5 sensitivity profiles ranging from 200 to 8K DPI in increments of 50 dots a time through the Logitech G HUB software.

This software also controls the mouse's three LIGHTSYNC RGB zones in which you can choose from 16.8 million colors and multiple effects. Adding to G HUB's list of controllable options is the unit's 6 programmable buttons that you can assign specific macros and shortcuts to.
The main clickers also sport an exclusive spring button tensioning system that improves feedback, speed, and button rebound to keep the clicking experience as consistent as possible.

Going back to the DPI profile settings, the Logitech G203 LIGHTSYNC can move through the 5 saved profiles via a dedicated DPI cycle button to fit every situation, from normal browsing to competitive gaming.
I would recommend you to turn that off, however, since clicking on the DPI button by mistake in heated moments happens way too often for me, which throws me off and gets me eliminated almost every time.
If you believe that the G203 is the right mouse for you, you can buy it from Amazon, Dell, and the official Logitech website.
| Size | Connectivity | Sensor Type | DPI | RGB |
| --- | --- | --- | --- | --- |
| Small/Medium | Wireless | Optical | Up to 25,600 | Yes |
The Logitech G Pro Wireless is one of my favorite wireless gaming mice out there. And that isn't the case just for me but for thousands of casual and professional eSports gamers.
The best price at the time of writing was $120.00.
Design
Touted as Logitech's prodigy mouse over the last few years resulting from a collaboration with pro gamers, the Logitech G Pro looks surprisingly simple at first sight.
Looks can be deceiving though as beneath the core this gaming mouse has a specially-tuned build structure that makes use of an ultra-lightweight endoskeleton without sacrificing durability at all.
This allows this gaming mouse to weigh a mere 80 grams, which is a far cry from conventional offerings that play near the hundred-gram mark.
To take its design one step further, this gaming mouse carries an ambidextrous design for a no-discrimination functionality that can fit left and right-handed gamers equally.
Performance
Despite the fact that this gaming mouse is fully wireless, it still beats a lot of its wired competition with its response time of just 1ms – as advertised by Logitech.
And in combination with the 25K HERO optical sensor, gamers have all the flexibility in the world to choose their perfect DPI range from as low as 100 to as high as 25,600.
The G Pro wireless also has one of the most well-built buttons, which are advertised to last upwards of 50 million clicks. And with a 35+ hour battery life, you can rest assured that this mouse will provide a great level of performance throughout your entire gaming session.
This is one of the reasons why so many pro players in the likes of Nikof, Dr Lupo, and Airwalks use this very model to compete. It's overall one of the best gaming mice for Fortnite.
If you're a fan of this gaming mouse too, you can buy it from Amazon, the official Logitech website, and Best Buy.
Other Great Gaming Mice
Razer Viper Mini
| Size | Connectivity | Sensor Type | DPI | RGB |
| --- | --- | --- | --- | --- |
| Small/Medium | Wired | Optical | Up to 8,500 | Yes |
The Razer Viper Mini is another fantastic entry by Razer. This time, Razer has come up with a more intricate design that closely mimics the DeathAdder V2.
The best price at the time of writing was $28.02.
Design
The Viper Mini comes in at just 61 grams, which is super impressive considering the quality build that Razer has managed to achieve with this gaming mouse. It is even smaller when put next to the G203, which is already a pretty tiny mouse so if you have smaller hands, it's definitely a good choice.
It does have an ambidextrous design, meaning it is suitable for both left and right-handed gamers alike. Whatever hand you may be playing with, you will have access to the same set of keys and buttons.
Performance
The Viper Mini is a wired mouse, meaning you can expect an ultra-fast response time. Razer claims that despite the wire, it is so drag-free that you can experience a very real wireless-like performance. You won't need to spend any money on mouse bungees, or other additional equipment to make the most out of your mouse.
It is home to an 8500 DPI optical sensor, which allows for plenty of flexibility when it comes to customization. In combination with the Razer optical mouse switches, which make use of light beam-based actuation, your actions will be registered without any delay.
On top of that, you have access to 6 fully programmable buttons that allow for endless reconfiguration through the Razer Synapse 3 to suit your in-game needs.
And for RGB light, you can pick between 16.8 million different color combinations and modes to illuminate your gaming setup that much more.
You can buy the Razer Viper Mini from sites like Razer and Amazon.
Xtrfy M42
| Size | Connectivity | Sensor Type | DPI | RGB |
| --- | --- | --- | --- | --- |
| Medium | Wired | Optical | Up to 16,000 | Yes |
If you're looking for a unique and highly customizable (literally) gaming mouse, the Xtrfy M42 should definitely be one to consider.
The best price at the time of writing was $59.00.
Design
Straight out of the box, the first thing you'll notice about the Xtrfy M42 from a design standpoint is that it's different. There are a number of holes throughout the top layer casing of the mouse, which not only make it super prone to breaking if you spill something over it but the holes also make it look really cool.
In terms of weight, this mouse weighs 50 grams. That's right. It's probably the lightest mouse that we've come across, and despite that, it's also one of the best on the market.
One really awesome feature about the design of this mouse is that you can actually change the shape of it. You can swap out the part where your palm rests for a smaller and slightly higher pad that will mostly benefit those who play with the claw grip.
The M42 also comes with RGB illumination and in plenty of different colors so finding the perfect one for your setup won't be a challenge at all.
Performance
This gaming mouse by XTRFY features the 3389 PixArt optical sensor, which allows gamers to customize the DPI up to 16,000. That's more than anyone will ever need but is always nice to have.
It is wired, so in terms of connectivity, you have absolutely nothing to worry about. The mouse itself is optimized with Omron switches, which are rated for 20 million clicks. Compared to some other mice, that's not a lot but you can rest assured it will last you for years.
Combined with the PTFE skates with rounded edges, you can expect the mouse to glide smoothly across your mousepad for pixel-precise accuracy.
If you're a fan of the Xtrfy M42, you can buy this gaming mouse from the official Xtrfy site and Amazon.
Razer Viper Ultimate
| Size | Connectivity | Sensor Type | DPI | RGB |
| --- | --- | --- | --- | --- |
| Medium | Wireless | Optical | Up to 20,000 | Yes |
Razer has made one of their strongest entries in the market for mice with the Razer Viper Ultimate, and since its release, gamers have struggled to resist it thanks to its top of the line features and design.
The best price at the time of writing was $92.69.
Design
This gaming mouse by Razer was built using premium materials that emphasized ruggedness. The mouse was designed in tandem with a lightweight profile that clocks in at an impressive 74 grams, which is very impressive.
It's also worth mentioning that the Razer Viper Ultimate isn't picky with whoever wants to own it thanks to the ambidextrous design that can cater to the gaming needs of lefties or right-handed gamers.
Performance
The Razer Viper Ultimate uses a Focus+ 20K DPI sensor, which is way more than anybody will ever need, but it's a great thing to know what a sensor is capable of. Moreover, this gaming mouse also sports the brand's very own optical switches, which boast greater response speeds versus traditional mechanical clickers, and are rated for over 70 million clicks.
And while those who seek exceptional response time would prefer to go for a wired model, the Viper Ultimate provides wireless connectivity through the HyperSpeed feature for an ultra-low-latency and responsive gaming experience. Furthermore, it is backed by an impressive 70-hour battery life to minimize charging times in between your gaming sessions.
Other features include eight programmable buttons and Chroma RGB lighting that can be both tweaked in the Synapse software for customization to a tee. You also get a tactile scroll wheel that lets you know how much you've turned via raised rubber edges, and a textured side grip to improve hand traction in intense gaming situations where sweat is an unavoidable factor.
If you're interested in the Razer Viper Ultimate, you can buy this gaming mouse from Amazon, Newegg, and the official Razer website.
Endgame Gear XM1r
| Size | Connectivity | Sensor Type | DPI | RGB |
| --- | --- | --- | --- | --- |
| Medium | Wired | Optical | Up to 19,000 | No |
And lastly, we have the Endgame Gear XM1r, which is not only one of the best-looking mice but also one of the best in terms of performance amongst its wired competitors in its price bracket.
The best price at the time of writing was $59.99.
Design
The Endgame Gear XM1r is probably one of the sleekest and clean-looking gaming mice in our selection today. Measuring at 4.8″ in depth, 1.5″ in height, and 2.59″ in width and with a total added weight of only 70g, this gaming mouse is perfect for people used to lighter and smaller to medium-sized mice.
The XM1r features a symmetrical design made for right-handed gamers. It is further equipped with two main buttons, two thumb side buttons, and a mouse wheel – plenty for anyone who plays shooter games like Warzone, Fortnite, and Halo.
All of the mouse's buttons were hand-picked Kailh GM 8.0 switches, which are advertised to last upwards of 80 million clicks.
Performance
In terms of performance, this mouse is fully wired, meaning the response time is ultra-fast – 1ms to be precise – and as long as it is plugged correctly, you will have no connectivity issues even during the most intense gaming moments. This gaming mouse features the improved Flex Cord 2.0, which is designed to reduce drag and improve your accuracy and precision.
The XM1r features the PixArt PAW 3370 sensor, which has a resolution of between 50 to 19,000 CPI that is tuned for exceptional performance thanks to the mouse's 400 IPS. The lift-off distance of this mouse is just 1mm.
To buy the Endgame Gear XM1r, you can pick it up at Endgame Gear or Amazon.
Before you settle for a gaming mouse, below are a few points that you should take into consideration before pressing the buy button.
Wireless vs Wired – Which is Better?
Previously, wired mice were preferred for their guaranteed stability in terms of connection and response time. Today, wireless gaming mice are on par with their wired counterparts, meaning that the connectivity you go for should mainly be based on personal preference rather than performance you may expect.
Despite that, this mostly applies to top picks that are quite costly. Still, when it comes to budget-friendly options, we'd advise that you go for a wired mouse for better peace of mind.
Pay Attention to the Weight of the Mouse You Go For
A couple of grams extra might not seem like a lot, but it can make a big difference. If you're used to gaming on a mouse that is 70-80g and jump to a mouse that is upwards of 90, you'll struggle. It will take you time to get used to the added weight. In some cases, that may even enhance the strain that you get on your wrists after prolonged periods of gaming.
It's always a good idea to check the weight of the mouse that you're used to and seek a similar alternative unless you are ready to spend some time getting used to the added weight.
The Number of Extra Buttons After 6 Is Irrelevant for Most Gamers
Unless you're playing games like LoL or WoW, there really isn't much use of gaming 15 programmable buttons on your gaming mouse. They just take space and are unnecessary. For that reason, take into consideration the games you play, and go for a mouse that suits the genre of games you play.
For example, if you're into Warzone, 6 buttons on a mouse are plenty. The same goes for Halo, R6, Fortnite, and other shooter games.
It's common for gamers to struggle with picking the right gaming mouse for their needs. So, what we have done is provided you with three highly relevant scenarios alongside the best gaming mouse for each.
That way, if you relate to any of the scenarios from below, you will know which mouse is best for you.
Scenario 1: You're on a budget but despite that, you still want to get your hands on the best gaming mouse that is within the lower bracket in terms of price.
In this case, we'd recommend you our budget-friendly pick, the Roccat Burst Core.
Scenario 2: You want to perform at your very best at all times, and as a result, you want to make use of the best gaming mouse that is currently available on the market.
In such a case, we'd recommend you to go for the Logitech G Pro Superlight.
Scenario 3: You are on a budget and want a mouse that is not only great but is also on the smaller end in regards to size.
For this case, we believe that you will best benefit from the Logitech G203.
Making use of a great gaming mouse will make a massive difference in the level of performance you end up getting. From greater response time to pixel-precise accuracy, using a mouse that is made for gaming will guarantee you the best chance of success during combat. Besides, they also look sleek, modern, and cool.
Though we mentioned a very good number of gaming mice across various price brackets, some other gaming mice that you should take into consideration include the Razer DeathAdder v2, Razer Naga Trinity, and SteelSeries Rival 710.