In FIFA 23, players need to be able to get the most out of the striker position, especially when playing Pro Clubs.
On top of knowing various skills and meta ways to finish chances, strikers should also pick the ideal attribute set. A proper striker build in Pro Clubs will give you an advantage in any balanced match.
But, like with any position in FIFA Pro Clubs, you'll need to understand how to use the game's character creation tool in your favor. You'll also need patience; creating a perfect build takes many levels and skill points.
Let's get right into the nitty-gritty of the best striker build for FIFA 23 Pro Clubs.
ST Physical Attributes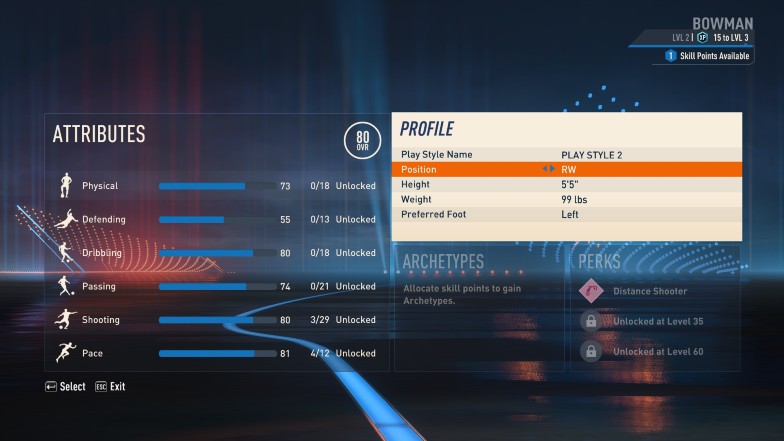 First, a good striker build in FIFA 23 Pro Clubs begins during avatar customization.
Treat your player to a roughly 5'6" height and 99lbs weight setting. Your main goal during the avatar's physical customization is to make it light and fast.
The best height for a striker in Pro Clubs will depend slightly on your individual and team playstyle. Don't go too small; anywhere between 5'5″ and 5'8″ is probably about right, especially when you're just starting out.
Once you've leveled up and earned lots of skill points, a height of around 5'9″ can also be really effective.
Best Perks
Setting up the perks is trickier since you'll need to level up and unlock most of them.
Still, you should start with the "Distance Shooter" bonus during your first levels. This perk noticeably enhances your long shot precision, as well as giving you the Finesse Shot trait, the Outside Foot Shot trait, and also adds 5-star weak foot ability.
Even as you level up, this is the best perk to use as a striker in FIFA 23 Pro Clubs.
As you evolve and unlock more perks, you'll benefit from choosing these:
First Time Shot — Increases your first-touch accuracy, granting you better headers and first-time shots. Additionally, you'll unlock vital traits like the Finesse Shot, Outside Foot Shot, and Flair.
Poacher — Improves your shots from inside the box.
Skilled Dribbler — Improves your dribbling and skill moves and gives the Flair trait.
Active First Touch — Improves ball control, agility, acceleration, and sprinting speed. This skill also gives the Flair trait.
I recommend using the Skilled Dribbler alongside the Distance Shooter perk once you unlock two perk slots, and the third slot can come down to personal preference based on play styles.
Best Attributes
Every position in FIFA Pro Clubs has priority attributes you need to unlock during the early game.
For example, prioritize the goalkeeper and physical sections when creating a GK avatar. Likewise, you'll need to prioritize your skill points for Pace, Shooting, and Dribbling to be a proper striker.
This build focuses on becoming a real goal scorer, so hopefully, you've got a good CAM playing behind you or some dangerous, tricky wingers alongside you in the attack.
To start with, unlock 3-4 attributes on Acceleration.
Since you're in the beginning, worry about the Finishing attributes later – you already have some useful traits from your perk, remember. The crucial thing here is to have enough opportunities to score.
Next on the line is dribbling. Allocate a few points on Dribbling and Agility. Finally, assign a small number of skill points to Strength and Stamina.
As you evolve, you'll want to focus on increasing your pace and then work on your Finishing attributes.
Then, once you get more points to spend, pursue unlocking the following archetypes:
Cheetah
Lynx
Finisher
Maestro
This skill distribution is also pretty valuable when scouting strikers in career mode.
Positioning
The build above works exceptionally well when playing the ST role. However, if you want to slot in as a goalscoring left or right winger in the style of Mo Salah, this striker build can still be effective.
I would recommend opting for the default build above, but as you level up, look to add a few passing attributes to your player.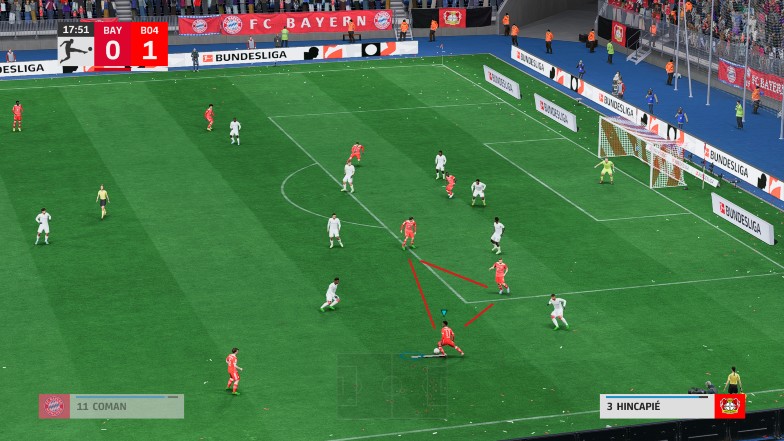 It will only take a few days of playing Pro Clubs, winning games, and getting good match ratings, to level up your pro to a point where it's actually very effective as a striker.
Don't track back too much on defense; you need to be the out ball and you need to be able to launch counterattacks.
Hovering by the halfway line when your team is defending is a perfectly viable strategy in the ST position on FIFA, and make runs into the channels to exploit your pace if space opens up.
To speed things up a bit and achieve the max rating for your pro as soon as possible, you should learn how to level up fast, whether you're a striker or a player in any other position. Good luck!