If you're accustomed to the older editions of FIFA Ultimate Team, you might be initially disconcerted by how chemistry works in FIFA 23.
The previous scoring system was overhauled in favor of one where the highest possible squad chemistry score is 33 instead of 100. However, once you figure out this new system, you'll see that it actually makes squad-building a bit easier compared to the previous one.
Despite that, building a squad with full chem in FUT23 can still be a daunting task, especially when you're restricted to choosing players with a particular type of card. In this case, I'm talking about the bronze cards.
For this guide, I have put together the best bronze team with full chemistry in FIFA 23 Ultimate Team, along with a couple of substitute options.
The squad was carefully handpicked to fit a particular formation and style of play, with specific meta attributes/traits put into consideration as well. Let's get into it!
The Starting XI
Considering the fact that bronze cards are the lowest quality types of cards in the game, we're already handicapped in terms of quality player options that fit the meta of the game.
However, one particular meta attribute that can be found fairly easily across all quality levels is pace, and I've tried to make sure that every player in this team is blessed with a good amount of it.
When FIFA 23 was first launched, we found that pace also worked differently from previous games. Tall, stocky players with low scores for pace were catching up to the likes of Mbappe and Coman because of a certain "Lengthy" trait.
Following a few patches, the effect of the lengthy trait has been nerfed by EA, but players that are already pretty quick on paper can still benefit significantly from having the trait. That said, you'll also find some of them in this squad.
My starting eleven consists of players with English nationality, alongside players that play in the Australian League. I've gone with a flat 4-4-2 formation which is one of my favorites in FIFA 23.
GK: Lee Burge – England/Northampton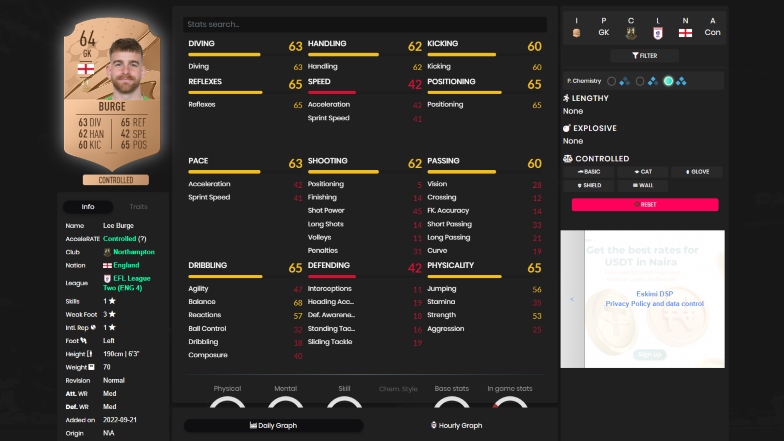 Burge looks like a well-rounded goalkeeper, with his lowest attribute being 42 for speed. Clearly, he's not the greatest sweeper keeper you'll find, but his stats in every other area are pretty solid for a bronze card.
He's pretty imposing physically, standing at 190cm tall, and he has 3 stars for his weaker right foot which is an added advantage for clearances under pressure.
LB: Ali Koiki – England/Northampton
Burge's teammate, Koiki, is an attacking full-back blessed with pace, stamina, and strength. With a high/medium work rate, expect him to get up and down the flank nicely all game.
You can boost his pace and its effect on his movement even more by applying any of the chemistry styles that make him lengthy (see attached image for reference).
LCB: Timi Odusina – England/Bradford City
Odusina plays in the same league as the last two players, albeit for a different team. With the frequency by which players use fast strikers in FUT, you need a center-back like this if you hope to win any foot races.
You can also make him lengthy by applying a chemistry style, and his 86 rating for strength is not bad at all for shrugging attackers off the ball too.
RCB: Tyler Magloire – England/Northampton
Partnering Odusina at the heart of the defense is yet another Northampton player, Tyler Magloire. With an 89-pace rating, this guy is already one of the fastest center-backs on FIFA 23 Ultimate Team, and you can make him lengthy!
He's not as strong as Odusina, and he also has a medium defensive work rate in comparison to his partner's "high" one, but that recovery pace makes up for it in so many ways.
RB: Thomas Aquilina – Australia/Central Coast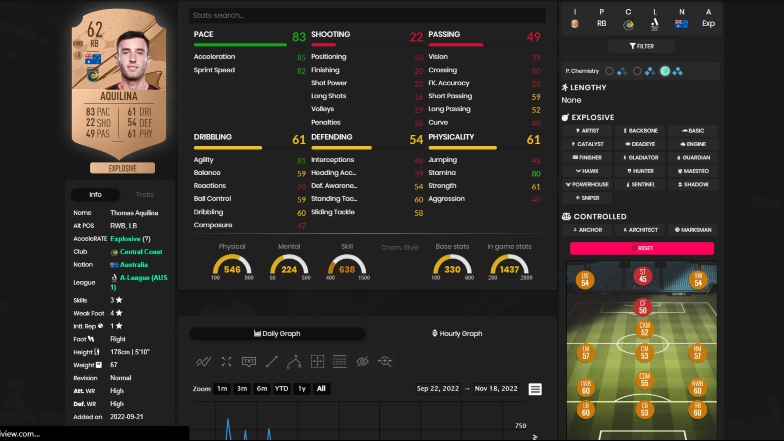 You won't find many bronze full-back cards with 3-star skill moves and 4-star weak foot ratings, and I dare say that even if you do, they won't be as good as Thomas Aquilina.
Thomas is fairly quick off the mark, and his high/high work rate combined with 80 stamina bodes very well for positioning up and down the right flank.
LCM: Alex Gilbey – England/Stevenage
Stevenage's Alex Gilbey is quick, strong, good in the air, and has 60> ratings for shooting, dribbling, defending, and passing. Add the lengthy trait and 3-star skill moves + weak foot ratings on top of that and you get one of the most well-rounded bronze midfield cards in FUT23.
Gilbey also has the "playmaker" and "long-shot taker" traits, so you can count on him to create a few scoring opportunities for himself and his teammates. His high attacking work rate certainly supports it.
RCM: Rahmat Akbari – Afghanistan/Brisbane Roar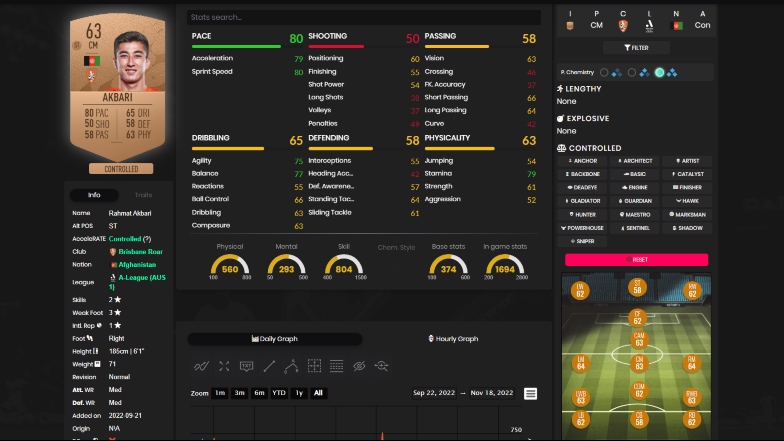 Although he is only a bronze common card, Akbari's nationality alone makes him one of the rarest cards in FUT23.
The Afghanistan midfielder is another physical presence in the heart of our midfield alongside Gilbey, and he is also blessed with pace and decent ball skills. I'd use him as the more defensive-minded player of the pivot.
LM: Nikola Mileusnić – Australia/Brisbane Roar
With his versatility across the attack, Mileusnic is one of the fastest strikers in FUT23. However, for the purpose of this guide, we're leaving him in his natural LM position.
Pace is clearly his biggest strength, and his body type complements his "speed dribbler" CPU AI trait very nicely. He is right-footed, but he has a 4-star weak foot so you can go wide for a cross just as well as you can cut in with this guy.
His high/low work rate suggests a strong focus on attack, which is great if you want your wide midfielders to get into the box often as I do.
RM: Dylan Pierias – Australia/Western United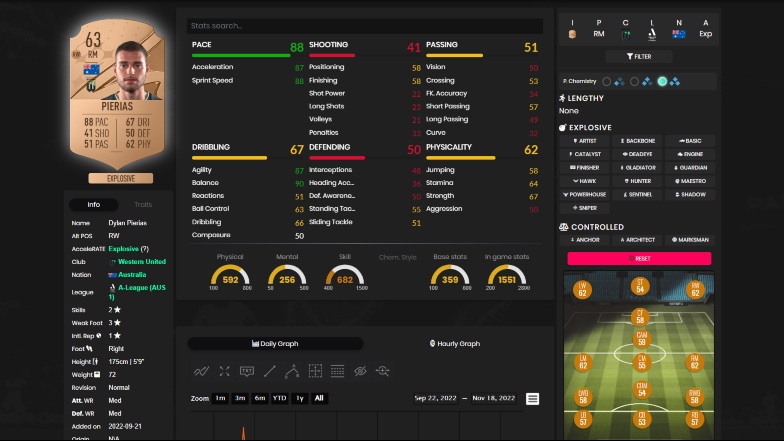 Pierias is another explosive option out wide from the same league and country as Mileusnic.
He also has the speed dribbler trait, but his 3-star weak foot and 2-star skill moves ratings are not as impressive. They suggest that he's built better for staying wide and whipping crosses into the box rather than cutting in.
Midfield players with medium/medium work rates can be a bit difficult to work with, but Pierias can contribute to defensive efforts when Aquilina gets caught out of position far up the pitch.
ST: Kusini Yengi – Australia/WS Wanderers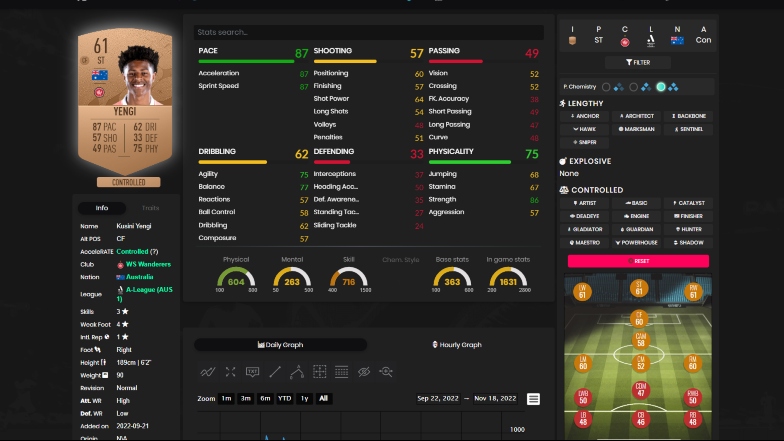 Whenever I'm playing with a two-striker formation, I like to have a big, strong guy partnered with a smaller, pacey guy.
With Yengi, you get the best of both worlds with bags of (lengthy) pace and strength in one player. He is one of the best bronze options when it comes to fast cheap strikers in FUT23.
His 4-star weak foot rating helps him to fit nicely on the left side of the front two, and that strength rating makes him a great focal point for long balls and hold-up play for the next player I'm about to discuss.
ST: Dylan Wenzel-Halls – Australia/Western United
Wenzel-Halls is not as quick as Yengi on paper, but his body type will make it much easier to run and turn with the ball compared to his striker partner.
He has the "technical dribbler" and "finesse shot" traits, and 3-star ratings for his weaker foot and skill moves. With those stats, he is the perfect foil for Yengi in our 4-4-2 lineup.
Substitute Options
These players can offer similar levels of quality off the bench, but you may have to sacrifice one or two chemistry points to get some of them into the starting XI.
Alex Bass (Goalkeeper, Sunderland)
Ro-Shaun Williams (Center-back, Doncaster)
Matt Hatch (Left-back, Perth Glory)
Alex Pattison (Central Midfield, Harrogate Town)
Jaushua Sotirio (Left Midfield, Newcastle Jets)
Shilow Tracey (Right Midfield, Cambridge United)
Elliot List (Striker, Stevenage)
Now that you're set up for bronze objectives, check out the best silver team as well for those Silver Cup and Silver Lounge challenges.