Hybrid teams have been a staple of FIFA Ultimate Team since its inception in 2009. They've offered a solution to use a variety of players from different nations, clubs, and leagues in the same starting XI.
With the new chemistry system in FIFA 23, hybrid teams might seem harder to build, but there are many different players that can make your life a lot easier.
This article will highlight the best players for hybrid builds in FIFA 23 Ultimate Team so that you can use all of your favorite names together on the pitch.
We have focused on selecting affordable and attainable players to ensure that many people can actually sign these players for an easier hybrid squad-building experience.
What is a Hybrid Team in FIFA?
For a team to be considered 'hybrid', you must have at least two different leagues in it. For example, having five players from the Premier League and six from Serie A would be a hybrid squad.
The main benefit of building a hybrid team is that you can use the best players from different leagues to fill out each position. If one league has incredible winger options, you can pair it with a league that has amazing defensive options so that you end up with an all-round, well-balanced squad.
The Best Players for FIFA 23 Ultimate Team Hybrids
Alphonse Areola – French – West Ham United – 81 OVR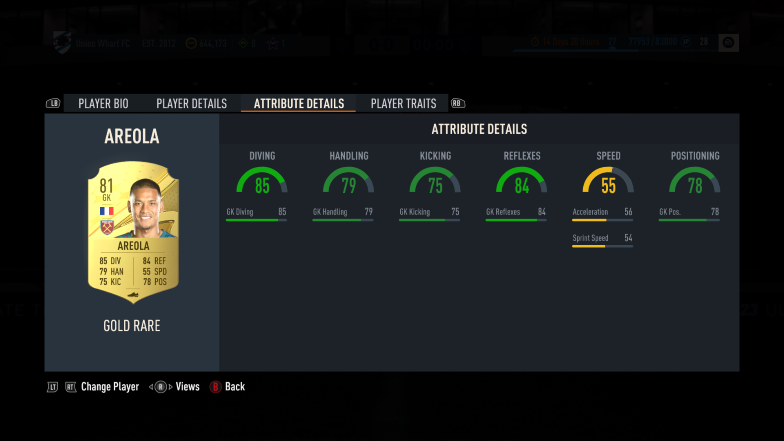 The first player on our hybrid team sheet is the goalkeeper, Alphonse Areola. As an 81 overall, Areola seems a little low-rated, but his height and in-game stats make up for this.
The reason why Areola is a great option for hybrid teams is due to his League and Nation compatibility. Being a French GK in the Premier League opens up a variety of different ways you could build your team.
You could go with a Ligue 1 contingent containing French players, or choose a more overpowered route by buying Ferland Mendy for LB, making it a Premier League and La Liga hybrid.
With very strong ratings for diving and reflexes, Areola is a very good, cheap goalkeeper for any Ultimate Team and will provide good chemistry points for a wide variety of options elsewhere.
Dayot Upamecano – French – Bayern Munich – 81 OVR
Next, we have the first player on our list from the Bundesliga. Upamecano is a great choice for a somewhat cheap CB and offers similar benefits to Areola in terms of his French links and highly desirable league.
Along with this, he's also got some brilliant stats for his rating, with 89 Sprint Speed and mid-80s for both Stand and Slide Tackle. Also, his 63 Agility combined with 88 Strength means that he's one of the best, cheap lengthy players in the game.
Having Upamecano at the back will sure up your defense, and will also provide a chemistry point for any other French players in the team, making him an invaluable asset for hybrid squads.
Bremer – Brazilian – Juventus – 83 OVR
Changing things up completely, we now have a Brazilian CB from Juventus – Bremer. Similar to Upamecano, Bremer is also lengthy and has some great stats for his cheap price tag.
Bremer has plenty of pace to go nicely with excellent defensive stats across the board.
There are many desirable Brazilian cards on the game, dotted around all of the best leagues available. Whether they're cheaper options like Antony from Manchester United or Neymar from PSG, Bremer will help get them into a team on full chemistry.
Whilst having great Nation links, the Serie A is also a gold mine for defenders, so you should have absolutely no issues when it comes to finding a partner for him at the back.
Jeremie Frimpong – Dutch – Bayer Leverkusen – 80 OVR
Heading back to the Bundesliga, we have Jeremie Frimpong from Bayer Leverkusen.
It wouldn't take a hardened FIFA veteran to realize why he's a solid choice at RB with his 94 Pace, but he also boasts some very decent stats to go with it, such as 83 Crossing, 91 Agility, and 90 Balance.
Having this much pace and attacking capability makes Frimpong a real threat when going forward, which is very important for full-backs in FIFA 23.
Being Dutch also makes him an excellent choice for hybrids due to the many other options this nation has to offer. If you want to go for a Bundesliga and La Liga hybrid, you could pair him with Frenkie De Jong for example.
Alongside his convenient nationality, the German league is also flooded with affordable options to put around him, so if you need a right-back to link different leagues together, Frimpong is your man.
Nuno Mendes – Portuguese – PSG – 80 OVR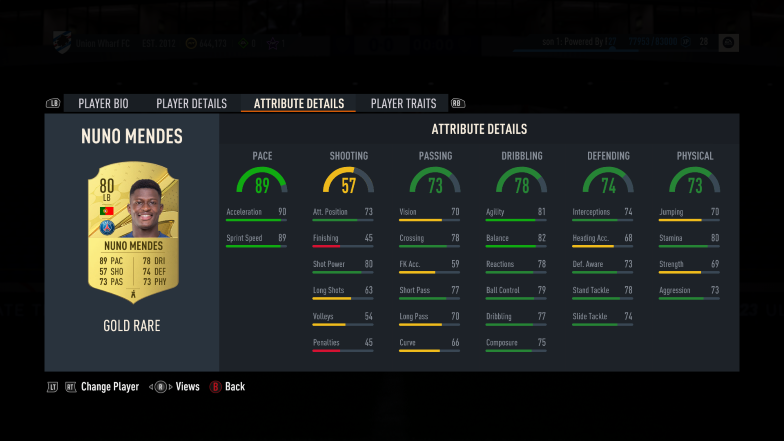 Similar to Frimpong, Nuno Mendes has a lot to offer down the left-hand side with his blistering 89 Pace and good all-round statistics for a full back.
Mendes is our first player from Portugal, which is another Nation that can provide a lot of great links. If you're looking for players to partner with Mendes from other leagues, you could go with affordable options like Goncalo Guedes from Wolves, or if you have a lot of coins, you could opt for someone like Cristiano Ronaldo.
Another factor that makes Mendes a brilliant option is that he plays for PSG – a team that has a plethora of options to link with him. His cheap price and excellent versatility make Nuno Mendes a go-to option for Hybrid teams in FIFA 23 Ultimate Team.
Aurelien Tchouameni – French – Real Madrid – 82 OVR
The first player we've selected from La Liga is Aurelien Tchouameni. Tchouameni's rise to the top has been very recent, with him having an excellent season for Monaco in 2021/22, earning him a huge summer move to Spanish league giants, Real Madrid.
It's well established by now that French players work well in hybrids, and Tchouameni is no different. On top of the many links he has to other leagues, he also has three brilliant perfect links within his own team, being Ferland Mendy, Karim Benzema, and Eduardo Camavinga.
Whilst his pace might deceive you into thinking he may not play well in-game, you can actually give him an Architect chemistry style to make him Lengthy, meaning he can more than keep up with quicker players, often out-pacing them and getting to the ball first. This alone is clear evidence as to why you need the best chemistry style for every position in FIFA 23 Ultimate Team.
Once he gets to the ball there are very few players that can get him off it again as he possesses brilliant strength and dribbling attributes for a holding midfielder.
If you haven't tried out Tchouameni yet and you're looking for a budget CDM, believe me, you need to get him into your team.
Renato Sanches – Portuguese – PSG – 80 OVR
Back over to PSG again, we have Renato Sanches. Over the last few years, Sanches has become synonymous with the word 'meta', mainly due to his outrageous Pace, Dribbling, and Physical stats for a Central Midfielder.
With Sanches being both Portuguese and from PSG, he is able to provide a perfect link to Nuno Mendes, which will sort them both out for chemistry but will also mean that you can get some other Portuguese players in.
Even though he may not be as cheap as some of the other options on our list, Sanches is still very affordable for most and can do it all for you in the midfield.
Kai Havertz – German – Chelsea – 84 OVR
For only our second Premier League player on this list, we've selected Kai Havertz, mainly for his reliable links to the Bundesliga or any other German players in other leagues you might want to use.
Havertz himself is a solid player with very well-rounded stats for a CAM. Playing for Chelsea he also has a tonne of great links from his own teammates, making him a flexible option for Hybrid squads.
As well as being versatile for Chemistry, he's also able to play at either CAM, CF, or ST, so getting him into your team should be no issue at all.
Rodrygo – Brazilian – Real Madrid – 81 OVR
A great Brazilian option for your hybrid team is Rodrygo. There is a much more expensive option in Vinicius Jr. but Rodrygo still offers a lot for his extremely low price tag.
He also makes life a lot easier for you when building your hybrid squad as there are loads of Brazilian players to pair him up with.
Not only can he help you get some Brazilian flair into your side, but he also has a bunch of world-class teammates for you to choose from – the possibilities are endless when using Rodrygo in your hybrid team.
Rafael Leao – Portuguese – AC Milan – 84 OVR
Back to Portugal, we go. This time, we're looking at Rafael Leao from AC Milan. Leao had an amazing 21/22 season which has subsequently landed him an 84 overall rating in FIFA 23.
Along with Leao boasting some incredible stats for a winger, such as 91 Pace, 89 Dribbling, and 80 Finishing, he also links nicely to the many brilliant Portuguese options in the game.
Milan themselves have a few solid players that you can link him with as well, making Leao a superb choice if you're looking to add another league to your starting XI.
Joao Felix – Portuguese – Atletico Madrid – 84 OVR
Finally, we have Joao Felix, who is a Portuguese ST playing for Atletico Madrid. He isn't the quickest forward in the game, but believe me, his technical attributes make up for this.
To go with his 89 Dribbling, 88 Ball Control, and 88 Agility, Felix also has 5* skills, making him eligible for selection when building the best 5* skill team in FIFA 23.
What makes him even better when building a team with flair is that he can provide essential chemistry links for any other players from Portugal that you might want to use.
To top it all off, Atletico Madrid themselves have a lot of good options to choose from to provide even more chemistry, so if you need a striker to link your squad together, consider Joao Felix.
Final Thoughts
There you have it, an affordable list of players to help you build a hybrid squad in FIFA 23 Ultimate Team.
It would be easy to include players such as Neymar on this list or some of the fastest center-backs in FIFA 23 Ultimate Team, but we know not everyone has endless coins to spend, so we've gone for more universally attainable options.
However, if coins are not an issue, then you can check out this guide to the best meta players in FUT23. You will get great options for a hybrid team in there as well, and this time, they're some of the best players in the game.