Hybrid teams have been a staple of FIFA Ultimate Team since its inception in 2009. They've offered a solution to use a variety of players from different nations, clubs, and leagues in the same starting XI.
With the new chemistry system in FIFA 23, hybrid teams might seem harder to build, but there are many different players that can make your life a lot easier.
This article will highlight the best players for hybrid builds in FIFA 23 Ultimate Team so that you can use all of your favorite names together on the pitch.
We have focused on selecting affordable and attainable players to ensure that many people can actually sign these players for an easier hybrid squad-building experience.
What is a Hybrid Team in FIFA?
For a team to be considered 'hybrid', you must have at least two different leagues in it. For example, having five players from the Premier League and six from Serie A would be a hybrid squad.
The main benefit of building a hybrid team is that you can use the best players from different leagues to fill out each position. If one league has incredible winger options, you can pair it with a league that has amazing defensive options so that you end up with an all-round, well-balanced squad.
The Best Players for FIFA 23 Ultimate Team Hybrids
Ederson – Brazil – Manchester City – 89 OVR (Gold Rare)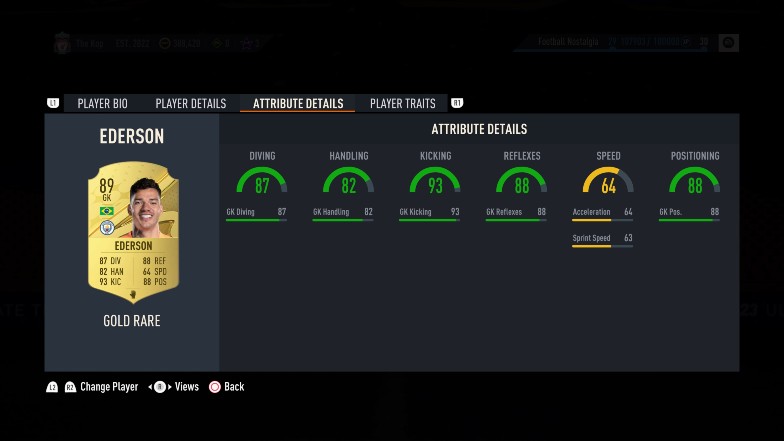 Manchester City has the best players in the English Premier League in FUT23, especially when we're considering promo cards.
The club has meta cards such as FUT Birthday Bernardo Silva, TOTY Joao Cancelo, Fantasy FUT Ruben Dias, and Future Stars Julian Alvarez on its books, and even their goalie, Ederson got a special card during the FUT Ballers promo.
Now, that promo was an SBC, which is why I'm recommending his gold rare card. If you did the SBC, then you can use that instead but if you missed out, his gold rare card can still do a job. Goalkeepers are mostly hit or miss in this year's game anyway.
I don't have to say much about the Brazilian links. There are loads of great Brazilian players in the game, including Icons and Heroes.
Jeremie Frimpong – Netherlands – Bayer Leverkusen – 86 OVR (IF)
Leverkusen is not brimming with special FUT23 cards, but this Jeremie Frimpong card is a great option for players that are building a hybrid squad that includes other Bundesliga players.
You could even get him on full chem very easily if you did the RTTF Moussa Diaby SBC. That SBC is, in my opinion, one of the best we got from EA this year and it should be fairly easy to link him and Frimpong into any squad that also includes Dutch and French players.
Speaking of Dutch links, Frimpong can link up with the likes of Virgil Van Dijk, Frenkie de Jong, and Jurrien Timber.
Mats Hummels – Germany – Dortmund – 90 OVR (FUT Birthday)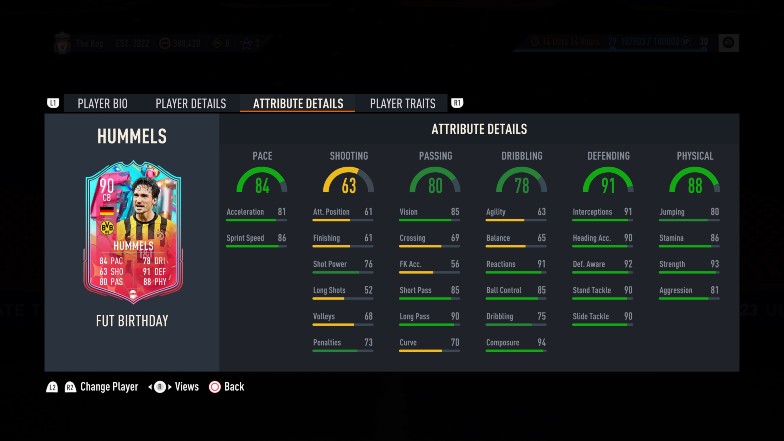 This is the first time in a long time that we've gotten a usable Mat Hummels card in FUT. The best part is, it is severely underpriced, possibly due to the fact that Bundesliga players are generally cheaper this year.
However, there are lowkey a good number of great cards that you can link this Hummels card with. In the Dortmund squad alone, you've got perfect links to players such as FUT Centurions Marco Reus and Future Stars Karim Adeyemi.
We've also had some excellent SBCs such as Thomas Meunier and Raphael Guerreiro that link up nicely with him as well, and that's before you dive into the pool of other talents in the league as a whole.
Hummels is fast, strong, and reasonably agile for a center-back. He would fit in any quality hybrid team without issues.
Virgil Van Dijk – Netherlands – Liverpool – 90 OVR (Gold Rare)
Forget the fact that this is only a gold rare card, VVD's base card in FUT23 is still one of the best center-backs at this stage of the game. I know because he's still in my starting XI and I have a 90-rated meta team.
His body type is just built differently and his auto-defending is super overpowered. If you're building a hybrid team that includes Premier League or Dutch players, he's a must-have.
There are no perfect links for him in the game, but you can link other great Liverpool promo cards such as FUT Centurions Trent/Mohamed Salah, FUT Birthday Darwin Nunez, Fantasy FUT Diogo Jota, and Winter Wildcards Andy Robertson.
Theo Hernandez – France – AC Milan – 86 OVR (IF)
Honestly, you could get away with linking any French player in any kind of team in this game – they're everywhere. But, combine French and AC Milan and you have a super link that'll fit in most people's meta teams.
For starters, there's a hyper link with Mike Maignan, the French goalkeeper at Milan. He has a TOTY Honorable Mentions card that's pretty good performance-wise.
Apart from Mike, you can link Theo with other Milan cards such as Future Stars Charles de Ketelaere (SBC), Winter Wildcards Fikayo Tomori, World Cup Phenoms Rafael Leao, and FUT Centurions Zlatan Ibrahimovic.
If you're building a Prem, French, or Serie A hybrid team, Theo would fit right in. If you have a large enough budget, you should also consider his World Cup TOTT or TOTY cards.
Fabian – Spain – PSG – 90 OVR (Fantasy FUT)
There are numerous PSG links in this game. In fact, you could build a full PSG team with special cards only.
Players such as Donnarruma, Nuno Mendes, Marquinhos, Ramos, Hakimi, Verratti, Soler, Fabian, Sanches, Messi, Neymar, and Mbappe all have special cards. Those special cards are pretty OP as well, it's crazy!
The fact that Fabian is also Spanish opens up even more possibilities when it comes to linking the card in-game, and as far as quality goes, just look at those stats.
To take maximum advantage of his qualities, you need to find the best chemistry style for the role that you plan to play him in. I recommend an Anchor chem style.
Rabiot – France – Juventus – 86 OVR (IF)
Rabiot's card is somewhat similar to Fabian's in terms of the style of play of both players. They even share the same medium/medium work rates.
When it comes to links for a hybrid team, Rabiot offers plenty of options with French, Juventus, and Serie A links. He has a perfect link with TOTY Flashback Paul Pogba which is another one of the best SBCs we've had this year and a popular sight in meta teams.
His best role, in my opinion, is left-sided central midfield where he can play as a balanced CM that shuffles duties between attack and defense. His build and height make him a strong presence to stop opponents' attackers and also contributes to making him hard to stop when he's running with and protecting the ball.
If you completed the FUT Birthday SBC for Rabiot, then you're in luck because the boosted stats and 5-star weak foot are massive upgrades. If not, this in-form card is still a good budget option for cheap hybrid teams.
Pedri- Spain – Barcelona – 90 OVR (TOTY Honorable Mentions)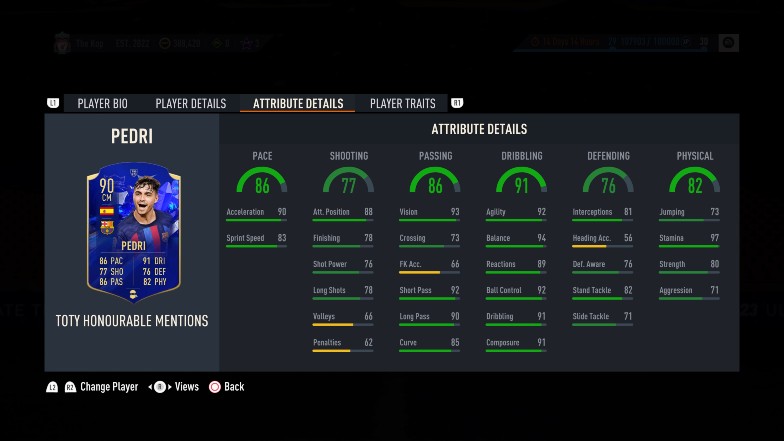 Pedri got a FUT Birthday SBC that's even better than this TOTY card, but the SBC was priced at about 400k so many people passed on it. This TOTY card offers better value, has 5-star skill moves, and has excellent links.
Naturally, Real Madrid and Barcelona players offer the best links in La Liga, but the fact that Pedri is also Spanish makes it even better.
There are many good Spanish promo cards in other top leagues so you can build a hybrid team with this guy fairly easily. He even has a perfect link with teammate Jordi Alba (FUT Centurions card) who's a very good option at left-back.
In terms of how the card itself is formatted, it's an all-action midfielder with high/high work rates and a small body type that makes him feel wonderful on the ball. He's a silky dribbler, but he can also chase attackers down and pinch possession for your team with ease.
With a shadow chem style to boost that pace and defending even further, you have a near-complete midfielder on your hands.
The TOTY card is already very reasonably priced, but if you're working with a smaller budget, you can go for the cheaper World Cup Phenoms card instead.
Raphinha – Brazilian – Barcelona – 88 OVR (IF)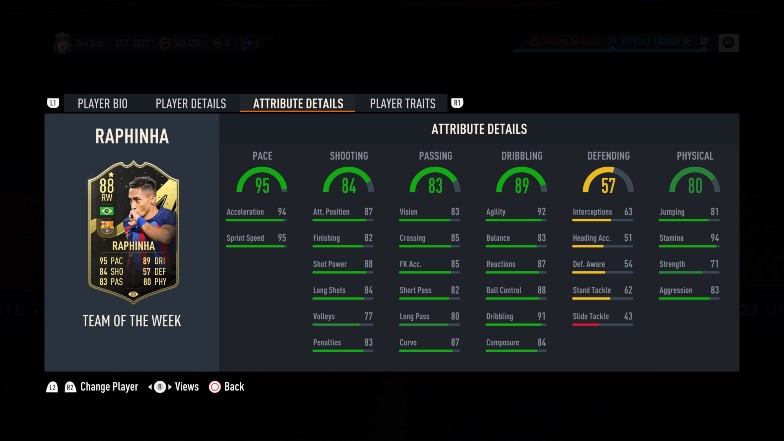 Raphinha is a great player for hybrid teams in FUT23 for the same reasons as Pedri. Brazilian links are numerous, and so are La Liga links.
This in-form card is not very popular in people's teams, but he's actually a very good dribbler with bags of pace to get down the line and past opponents' defenders. If you slap a Deadeye chem style on him to boost the passing and shooting, he can be very deadly cutting in on that right flank.
This card is fairly cheap on the market, but you can still go for the cheaper RTTK card if it's more than you can afford.
Jack Grealish – England – Manchester City – 89 OVR (World Cup PTG)
I absolutely love dribbling with Jack Grealish cards in this game. To be completely honest, his shooting and weak foot leave a lot to be desired and can be frustrating at times. However, he is still one of the best-value players in his position when you consider all factors.
Like teammate Ederson, he got a FUT Ballers card during the promo with juiced stats in every area, but you can still buy this World Cup PTG card on the market if you missed that objective.
I recommend using a Hunter chemistry style to boost his shooting and pace, although you will still have to work with his 3-star weak foot and try not to shoot with it too often.
As far as links go, there are many options in the Manchester City squad alone, including a hyperlink to teammate Kyle Walker. You can also link him to other English players in the Premier League such as FUT Centurions Trent and TOTY Honorable Mentions Harry Kane.
Alexandre Lacazette – France – Olympique Lyon – 89 OVR (Winter Wildcards)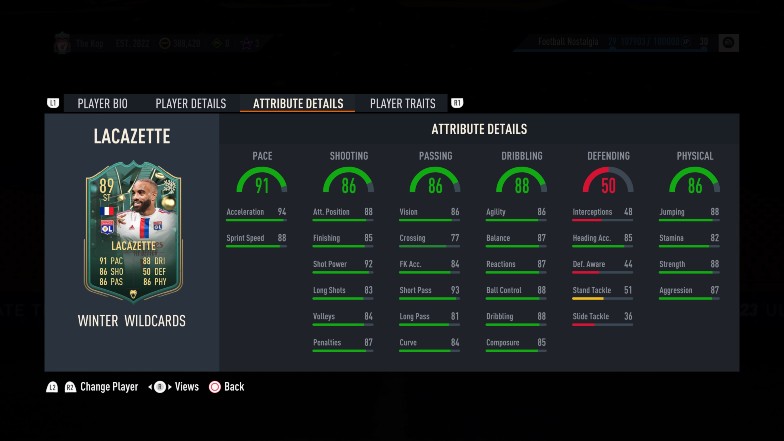 There's a running joke about this Lacazette card being the poor man's Mbappe. I can definitely see it too – they have a similar build in-game, and Lacazette also has a 4-star weak foot and 5-star skill moves.
They're both French and both play in the Ligue 1 as well, although Mbappe's PSG links offer more options than Lacazette's Lyon.
As far as cheap options go, this card is one of the best 5-star skill attackers at this stage of the game. His finishing is very good, he feels nice on the ball, and he has enough pace to beat defenders regularly.
If you're looking for a hyperlink, consider Rayan Cherki's Future Stars card. It's not exactly a budget option, but he's well worth the money. A budget alternative would be FUT Centurions Anthony Lopes who could slot right into a goalkeeper spot.
Final Thoughts
There you have it, an affordable list of players to help you build a hybrid squad in FIFA 23 Ultimate Team.
It would be easy to include players such as Neymar on this list or some of the fastest center-backs in FIFA 23 Ultimate Team, but we know that not everyone has millions of coins to spend, so we've gone for more universally attainable options.
However, if coins are not an issue, then you can check out this guide to the best meta players in FUT23. You will get great options for a hybrid team there as well, and this time, they're some of the best players in the game.