VC, or Virtual Currency, is the lifeblood of all NBA 2K games. You want to earn as many VCs as possible to keep the ball rolling or keep the game entertaining.
Almost every single game mode gives you multiple ways to earn VC in NBA 2K23, and it will be hard to find the 'best' way to get them.
You can choose to play the game modes you want to play and naturally earn VC as you progress.
In this guide, we'll show you the fastest way to earn VC in NBA 2K23, as well as all the methods you can do to easily get them even without playing!
Ways to Earn VC
Before we get to the fastest method to earn VC, you need to know all the ways to earn VC first because there are a lot of them.
By knowing these methods, you can easily devise your own way of earning VC or combine a few things to make yourself more efficient.
MyCareer games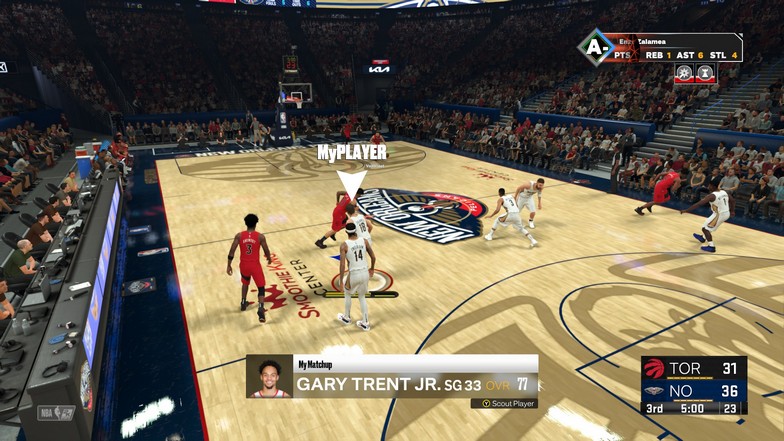 In MyCareer, you can earn VC by playing your created player through the career mode. Each game played will get you some VC, but you want to increase these earnings.
If you increase the difficulty of the game, you will earn much more VC per game.
Here are the difficulty modifiers for VC earnings in MyCareer.
Rookie = 30% VC & MyPoints Modifier
Semi-Pro = 60% VC & MyPoints Modifier
Pro = 100% VC & MyPoints Modifier
All-Star = 120% VC & MyPoints Modifier
Superstar = 140% VC & MyPoints Modifier
Hall of Fame = 160% VC & MyPoints Modifier
As you can see from the difficulty modifiers above, the difference between Semi-Pro to Pro is insanely big. There will be no reason to play Rookie or Semi-Pro if you are looking to get VC fast.
However, choosing among Pro, All-Star, Superstar, and Hall of Fame is a bit different. Since playing Superstar or Hall of Fame will be insanely hard, you will not be performing as well as the lower difficulties.
If you perform badly, you will be earning less VC even with the higher difficulty modifier. The best way to choose is to find the hardest difficulty you can consistently get an A+ teammate grade with at least a 5-minute per quarter setting.
Quick play
If you happen to have friends or family come over and play NBA 2K23, you will end up with a bunch of VCs, depending on how frequently you all play together.
You don't even have to play yourself. Your friends, kids, or colleagues can all play NBA 2K23, and your account will end up with all the VCs.
Just make sure they don't 'accidentally' spend VCs themselves.
Downloading the NBA 2K23 Mobile App
If you have played NBA 2K before, this is a reminder that the NBA 2K23 mobile app still gives VC.
This is one of the easiest ways to earn VC because you don't even have to boot up the game and play. You can earn VC daily by just logging in on NBA 2K's mobile app.
You can also earn a bunch of VC with all the minigames, and the app is available on iOS and Android.
Loading screen trivia questions
As you have probably noticed already, during any loading screen in NBA 2K23, there is a chance that a question might pop up about anything related to the NBA.
It could be T-Mac's longest career in what team (Houston Rockets) or how many times did he lead the league in scoring (0).
These questions appear randomly, so it isn't a consistent way to earn VC. It is just a good added bonus if it comes up.
Make sure to wait a few seconds during any loading screen before leaving it. Sometimes, it takes a while to show up.
2KTV trivia questions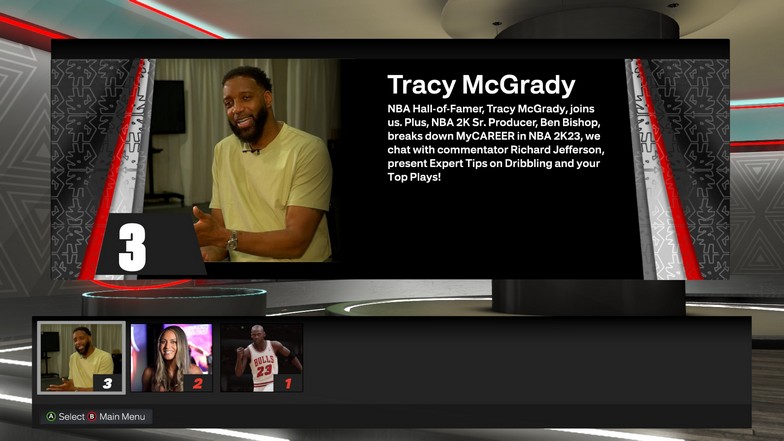 2KTV trivia is different from the one above. 2KTV is basically a show within the game that periodically has new episodes.
Each episode takes around 15-20 minutes, and they give a bunch of trivia questions that give you 200 VC for every correct answer.
They also give out surveys that reward you for answering them.
MyCareer quests
In MyCareer mode, you will see a tab where you can find all the quests you can finish. The rewards are written on each of the quests if you hover over them.
Most of these rewards give you VC in return. You can also grab more quests in the Neighborhood or in the City.
Brand City Quests
These quests work like your endorsement deals in MyCareer mode. However, it might be a bit boring because they aren't really basketball-related quests.
Most of these quests are focused on running around the City and finishing objectives to grow your brand without playing basketball.
You will gain more fans and sponsorship deals, which in return, gives you more opportunities to earn VC.
Daily Pick'em VC rewards
When the NBA season starts, you can go to the Neighborhood and go to the Promenade for the Daily Pick'em.
The Daily Pick'em lets you pick teams that are playing during that day, and if you get all the winning teams, you get a bunch of VC for each correct prediction.
Some NBA days even have up to 10 games, which can net you at least 1,000 VC by just making picks.
It is a simple 50-50 chance of getting the correct answer, but if you really want to be efficient, you can go look at betting spreads.
Since you only have to choose the winning teams without any spreads, heavily favored teams will almost always get you the correct prediction.
You can even do these picks on the NBA 2K app if you have no time to play on your console or platform.
Season Events
The best thing about NBA 2K is that they always churn content throughout the year until the next title arrives.
Participating in these seasonal events gives you a good chunk of VC. These events can be found in the City or Neighborhood tabs in MyCareer.
It isn't a consistent way to get VC, but it is a good way to mix things up when you get bored playing a certain game mode.
Daily Trivia
Daily Trivia is another event you can play on your phone (in-game phone while in the Neighborhood).
Daily Trivia has a set time every day, and the access will depend on your time zone.
The game can earn you as much as 1,000,000 VC, which sets you up for the rest of the year.
To win the game, you will be given a series of questions. You must answer the question correctly to move to the next round.
If you get all the questions right and get to the final round, you will get a piece of the prize pool.
The game works like the "Who Wants to Be a Millionaire" game show, but instead, you play on your phone in-game.
Ante Up Online Battles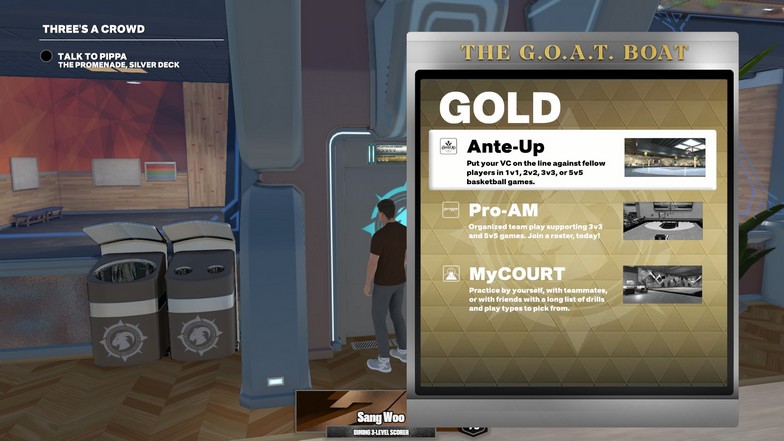 While most online features already give you some VC, the Ante Up game mode allows you to risk and stake your hard-earned VC against other players online.
If you lose the match, you will lose VC, according to the wager. However, if you win, you win more VC.
This method is only for those who are good at the game and has developed a good player build.
You can also get a few friends to help you hustle other players for some VC. However, it is best to get a 99 rating first before risking up precious VC.
MyGM, MyLeague, MyTeam, and others
All of these game modes are a staple in NBA 2K. Each game mode gives you ways to earn VC by just playing the game.
Since most of the game modes let you play a normal (non-pickup game) basketball game, you will earn the same amount of VC as when you play a regular quick-play game.
The VCs earned are purely tied to the length of the game, except for MyTeam and MyCareer.
These aren't efficient methods. You can think of earning VCs from these game modes as an added bonus because it would be a waste of time if you are playing these modes specifically to earn VC.
Fastest Way to Earn VC
Like in all previous 2K titles, MyCareer has always been the best way to earn VC. It is perfectly understandable as the game mode uses the most VC anyway.
As mentioned before, difficulty plays a big factor when it comes to VC farming in MyCareer.
Pro difficulty gives you 100% more VC earnings, and every difficulty going up gives you another 20% bonus.
By that logic, the Hall of Fame difficulty should give you 160% more VC earnings, and it should be the best way to get VC in the game.
However, it isn't that simple. The VCs that are being multiplied by the difficulty are your teammate grade and stats.
If you are performing way below the average, you will be earning less VC even on the Hall of Fame difficulty.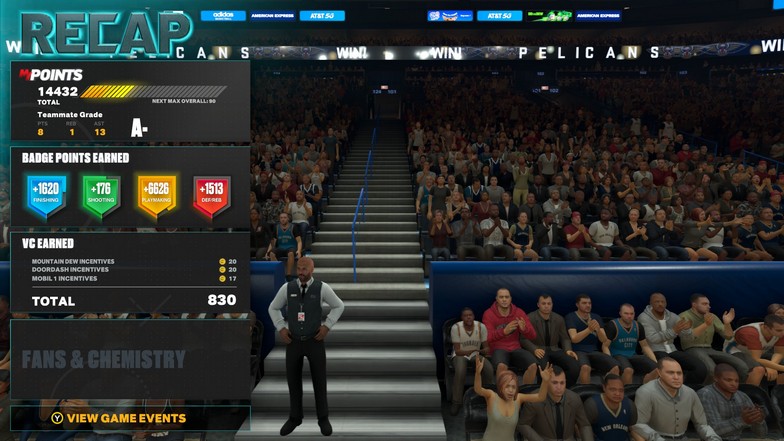 You should always aim for a teammate grade of A or A+ while getting decent stats for your player. Both of them are quite symbiotic or have a direct relationship, but there are rare occasions where you won't get both.
For example, you can get an A or A+ grade by purely contesting shots, making passes leading to a foul, good ball movement, setting up screens, boxing out successfully, or multiple defensive stops.
All of these don't give you stats, but you can increase your teammate grade through these actions. You want both stats and teammate grades for maximum VC earnings.
The best way to earn more VC is by estimating the highest difficulty you can play while attaining good stats and an A or A+ teammate grade.
This can be incredibly difficult if you are only starting with a 60 overall rating. Even with the bonus VC from the Michael Jordan edition, you can only get around a 74-77 overall rating.
Once your player gets better, you can finish higher difficulties while maintaining your above-average game.
Always make sure you are only playing 5-7 minutes per quarter. Increasing it might help you get better stats or grades, but we are maximizing VC efficiency.
Getting an A+ teammate grade and good stats is achievable in a low-minute setting. The more games you play per hour, the better your earnings.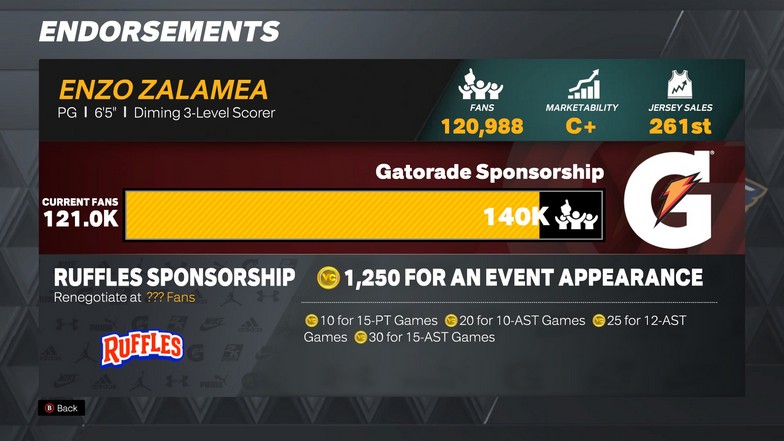 The next step is maximizing your endorsement deals.
You can have more than five endorsement deals active, and the biggest VC earnings boost will be coming from the incentives.
Each endorsement deal allows you to choose between VC earnings from events or incentives.
Always maximize the incentives earned. These incentives give you additional VCs for each action or task during the game.
These incentives are discussed as you make a deal with your sponsors.
For example, you can get bonus VCs for each pick-and-roll score, 3-point basket, euro step layup, or driving dunk in the game.
There are a ton of incentives like these, and you need to choose the ones that fit your player's strengths.
If you choose the right ones, you can boost your earnings for as much as 200-600 VCs per game.
Since there are so many incentives and endorsement deals to get, you need to rush toward getting these endorsement deals to maximize earnings.
My Experience
With around six endorsement deals unlocked and a fully-maximized incentive deal with each brand, I am able to earn 800-1,300 VC per game on Pro difficulty and a 5-minute per quarter setting.
My player only has a 76 overall rating, and I plan on increasing the difficulty as my player gets better. For each game, I always get a teammate grade of A or A+ and at least a double-double (points and assists).
All of the incentives combined give a bonus of 150 to 200 VC per game. Most of the VCs are from pick and roll scores, winning the game, and an A teammate grade bonus incentive.
If you can use this method and play around 2 to 3 games per hour, you will be earning around 3,000 VCs per hour.
Now, you can also add the VCs you earn from answering questions during the loading screens, finishing the Daily Pick 'em, and the NBA 2K23 mobile login bonus.
You should be swimming in VC with a bit of grind as long as you follow the method. Once you get better, your earnings will get higher as you should play at a higher difficulty level.
Obviously, with more VC, you can also upgrade your MyPlayer in MyCareer mode quicker, and this is crucial for progress. We've got a guide on how to become a starter in MyCareer mode, so check that out before you decide how to put your VC to good use.