Are you looking for a new power forward to take your MyTeam roster to the next level?
After all, you'll struggle to get past more difficult opponents without an excellent power forward on your roster.
In this article, we'll look at the best power forwards in NBA 2K23 MyTEAM so you can find a great option regardless of your bank balance.
Andrei Kirilenko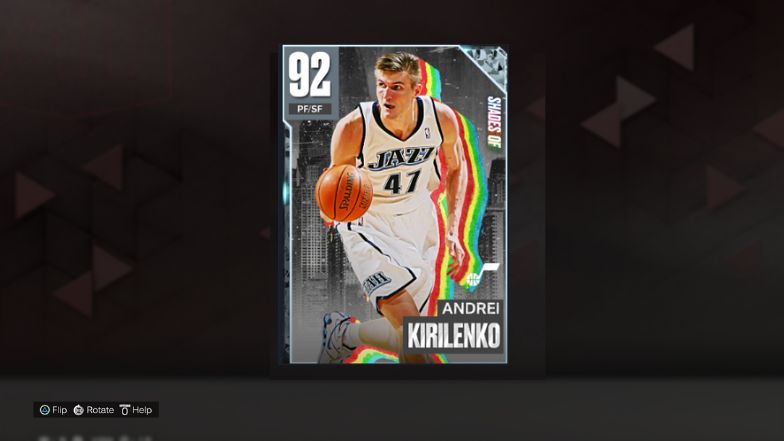 The first card on this list is Andrei Kirilenko, an excellent card for any MyTEAM roster. One of the best aspects about the Kirilenko card is his incredible defensive statistics if you need a power forward that provides you with a solid defensive option to help you shut out your opposition.
Kirilenko isn't only effective on defense, though. His defensive stats are certainly more impressive, but he can also easily get into the paint. He also offers plenty of firepower going forwards.
However, if you are looking for a power-forward card in NBA 2K23 MyTEAM that will add firepower to your offense, you might want to consider other cards on this list.
Andrei Kirilenko's key stats:
Help Defense IQ – 90
Pass Perception – 90
Block – 90
Steal – 90
Lateral Quickness – 90
Giannis Antetokounmpo
The next card on this list is a quick and easy win for your offensive and defensive plays. Giannis Antetokounmpo is among the most popular players in the NBA, so this card may be slightly overpriced if you attempt to buy it from the Auction House.
However, if you decide to purchase the Greek Freak or pull him from a pack, you will be blown away by his effectiveness on the court.
Firstly, Antetokounmpo is one of the fastest power forwards on this list, which is excellent if you enjoy executing fast breaks or playing on the counter. In NBA 2K23 MyTEAM, pace is important and will help you gain space on the court and get into the paint more consistently.
And no power forwards are better at getting to the basket than Giannis. However, he is not only good at getting to the paint. If you run a play and leave him open in the corner, he is also a highly competent three-point shooter.
Antetokounmpo is also very good on defense, offering you a well-balanced player that provides plenty of support on offense and defense.
Giannis Antetokounmpo's key statistics:
Driving Layup – 89
Draw Foul – 89
Help Defense IQ – 88
Lateral Quickness – 87
Perimeter Defense – 87
Scottie Barnes
If you've checked out multiple DiamondLobby NBA 2K23 guides, you probably recognize the next name on this list from our article on the best small forwards in NBA 2K23 MyTEAM.
However, Barnes is also an excellent option to deploy at power forward; therefore, he makes it onto this list.
If you are looking for the most balanced player on this list, you could do much worse than adding Scottie Barnes to your roster.
As well as solid statistics across the board, Barnes provides plenty of useful badges. If you take him to the basket, you can access the gold Slithery badge to ensure you get past your defender.
He also has the Middy Magician badge to help him score more freely from mid-range. These badges give you plenty of options going forward with Scottie Barnes as part of your offense.
However, his best badge is a defensive one, as he has a Hall of Fame Off The Ball Pest badge.
This combination of badges perfectly highlights how Barnes is effective offensively and defensively. He would be a great pick-up for any team, as he fits well into almost any playbook.
Scottie Barnes' key stats:
Shot IQ – 95
Vertical – 92
Draw Foul – 85
Hands – 85
Stamina – 92
Paolo Banchero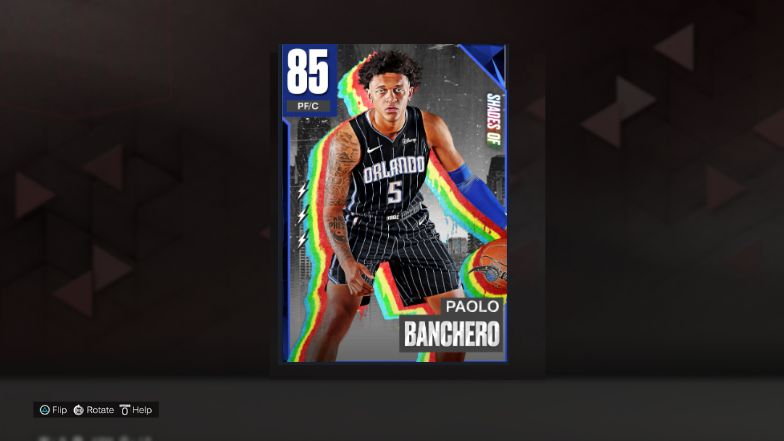 The following card on this list might surprise a few people, but the Paolo Banchero card is an excellent pick-up to improve your roster. Like Barnes, Banchero is a well-rounded power forward that offers plenty of benefits going forwards or in defense.
While his in-game statistics are probably not as high as you would like to see, he plays much better than those statistics in-game. He is also likely to be a little cheaper than some of the other names on this list due to those stats, and he is not quite as popular as Scottie, Giannis, and other players on this list.
Therefore, if you want to improve your team on a budget, Paolo Banchero might be an excellent option.
One of the best aspects of the Banchero card is its easy-to-use shooting mechanism in-game. Therefore, you will find him incredibly easy to use from mid to long range. This opens up plenty of options on offense, and using Banchero will allow you to try a range of different plays.
He is also extremely fast, a key attribute in NBA 2K23, and will help your team quickly get up and down the court.
Paolo Banchero's key statistics:
Shot IQ – 99
Stamina – 90
Hands – 99
Potential – 95
Stamina – 90
Pink Diamond Blake Griffin
When it comes to the top power forwards in NBA 2K23 MyTEAM, you cannot make a list without including Pink Diamond Blake Griffin.
This card contains unbelievable statistics and is almost impossible to guard on the court. He might be the best power forward in the entire game, especially on offense.
He is a strong shooter from mid, can shoot from the outside, and is a demon inside the paint. When he starts to make his way to the basket, your opposition might as well roll out the red carpet because nothing will stop him from getting to the paint.
Griffin also offers plenty of support in defense with a host of hall-of-fame defense badges at his disposal.
Don't expect to see this card in the Auction House any time soon; if you do, expect it to be one of the most expensive cards on offer.
You may find it hard to get your hands on this Griffin card, but when you do, your team's skill ceiling will increase tenfold.
Pink Diamond Blake Griffin's Key Statistics:
Driving Dunk – 98
Standing Dunk – 98
Shot Close – 94
Vertical – 97
Strength – 94
Pink Diamond Kevin McHale
The highest-rated card in this list of the best power forwards in NBA 2K23 MyTeam is the Pink Diamond Kevin McHale, an absolute beast on defense.
McHale will be a great addition to your roster if you need a top-level card to shore up your defense as you work your way up to the harder levels in Domination mode.
The Pink Diamond McHale card comes with six different Hall of Fame defense cards, including Anchor, Challenger, and Interceptor, which should indicate how great he is defensively.
He also has an unbelievable wingspan of 7'11", so it is easy to find him with a pass in crowded situations. This wingspan is ideal when you find yourself in a scrappy game, and you need a reliable shooter you can pass to on the inside and someone to win plenty of rebounds at the other end of the court.
However, McHale also offers plenty of benefits going forward and has a surprisingly strong three-point shot. This card is extremely dynamic and will make your opponent sweat when they line up on the court.
Pink Diamond Kevin McHale's key statistics:
Shot Close – 95
Post Moves – 92
Post Hook – 92
Help Defense IQ – 95
Pass Perception – 90
Final Thoughts
Finding an effective Power Forward for your MyTEAM roster can be the difference between winning and losing matches, both online and offline. Having a power forward that offers you plenty of options going forward, and can shut out the opposition on defense, will make your life so much easier and allow other players on your team to thrive.
If you are trying to work your way through the season rewards, it is important to have a great power forward in your team, or you will struggle to progress past the latter stages of the game.
Be sure to check out our list of the best point guards in NBA 2K23 MyTEAM to keep adding excellent players to your roster!