In NBA 2K23 MyTEAM, your team's skill ceiling is defined by your weakest player. Even if you have evolved your starter card pick, you still require plenty of reliable players around them to ensure victory in each match you play.
That is why MT coins are so essential to your progression in NBA 2K23 MyTEAM. MT coins can unlock players that will help improve your team and offer you a competitive advantage against other players online.
This article will teach you ways to gather MyTEAM points fast in NBA 2K23 and build a highly-competitive roster.
Auction House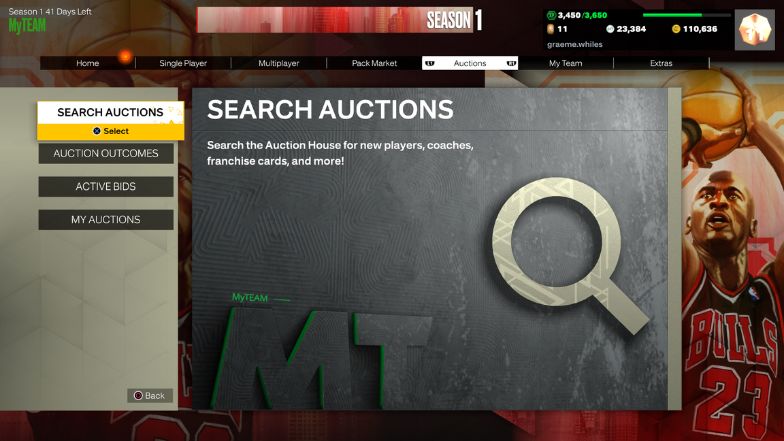 Firstly, the best place to gather MT coins quickly is from the Auction House. Once unlocked, the Auction House allows you to quickly sell unwanted players or duplicate cards for MT coins. You also have the power to purchase excellent player cards at a budget price that you can sell for a profit in the future.
Learning how to trade in the Auction House will help you quickly rack up MT coins. Identify items or players you possess that seem to be in high demand, establish the going rate for those cards, and then place any unwanted cards that meet those criteria on the auction.
Challenges
Another great way to gain more MT Coins and VC is to tackle the challenges in MyTEAM. Challengers are split into different groups, including daily, weekly, monthly, and lifetime challenges. These options offer you the chance to gain extra MT Coins while working your way through the other game modes.
Challenges will impact how you play specific matches, but as a result, it often means you can double your post-match rewards, which is very valuable in the long run.
Each time you jump into MyTEAM, check out the daily challenges to see if you can achieve what is required and gain that extra reward.
Domination Mode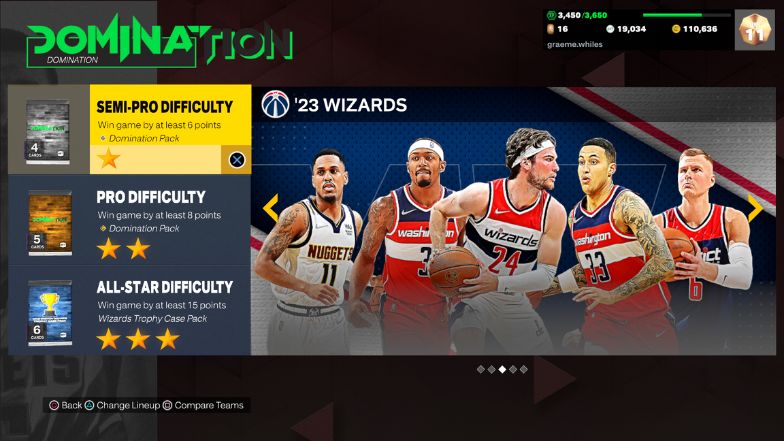 Another fruitful option to gather more MT Coins and garner plenty of game experience is in Domination Mode. Within Domination, you can select your difficulty for each game, with more MT Coins up for grabs if you choose a higher skill level.
You have the option of Semi-Pro, Pro, or All-Star difficulty. Domination Mode aims to gather stars that will accumulate to offer additional rewards.
For example, completing your first game on Semi-Pro difficulty will give you three team cards, a logo, 375 MT, and one star for your overall score.
If you complete the same level, but at All-Star difficulty, you will gain three team cards, an Evolution player, and 625 MT. As you can see, playing at the higher difficulties is highly rewarding regarding MT Coins.
You also gain better cards, which you either use to improve your team or sell in the Auction for even more MT.
Triple Threat (Online or Offline)
Triple Threat is another great option as it provides players with faster games that offer instant rewards. You can either play Triple Threat Online or Offline, and the games consist of 3v3 basketball, aiming to reach 21 points first.
Rewards differ from game to game, and you can gain additional rewards for milestone wins, such as a Darius Miles card (88 OVR) for 50 wins.
Triple Threat does not offer as much MT per game as Domination Mode does, but the games are much quicker, which is ideal if you are short on time. They also offer a range of player and item rewards, which you can sell in the auction house.
Locker Code for Free
Nothing is better than free stuff, and NBA 2K23 offers you a couple of ways to gain MT Coins for free. One option is to redeem a Locker Code pack, player, or MT within NBA 2K23. These codes tend to expire after a week, so make sure you keep an eye out on the official 2K twitter feed. Give them a follow to have more chances of seeing free codes for MyTeam points, or download the 2K app from the App Store or Google Play.
Set Up A MyCAREER Game
Setting up a MyCAREER game is also a handy tip for gaining MT. You don't have to play MyCAREER, but setting up an account allows you to use the daily wheel spins, where you can gain prizes such as MT, or other cards you can sell at auction.
Final Thoughts
If you are desperate to farm MT as fast as possible, we recommend you choose one particular game mode to grind. The further you get through the game mode, the more significant the rewards become, so focusing your time on one game mode makes a lot of sense.
Domination offers the most obvious route to gaining MT fast, but if you tend to be short on time when you play, you might opt for Triple Threat matches instead.