HUT Rivels is one of NHL's latest online modes that allows you to compete against players at your level and get rewarded for it under the form of tradable and untradable packs, coins, and HUT Champions points.
HUT Rivals is a weekly tournament that allows players from all ten divisions to go head to head and fight for the top ranks in their division. The higher you go in the divisions and the leaderboards, the sweeter your rewards you're going to be.
But, what are the best HUT Rivals rewards in NHL 22? Should you go for the tradable packs and hope to pack someone that you can sell or double your chances of greatness by opting in for the untradable packs? Perhaps you'd rather leave your luck aside and go for the bag of coins, which can buy you whoever you need?
In this article, I will give you my honest opinion and reasoning behind the best NHL 22 Rivals rewards to go for in this year's edition of the game.
How Does HUT Rivals Work?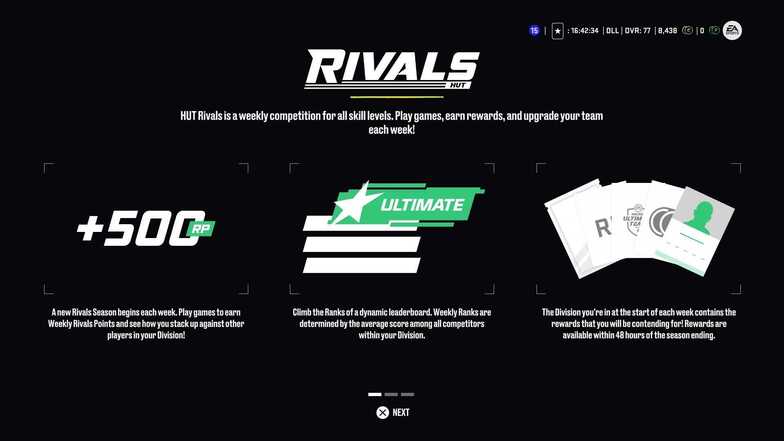 When starting out your HUT Rivals career, you'll have to play 5 placement games. Based on the results that you've generated throughout the 5 games, you'll be placed in a division with players that are on a similar level to you.
For example, if you win 3 games and lose 2, you might end up in division 6. If you win 5 and lose zero, you might go in divisions 3, 2, or 1 depending on how well the competition has done.
From then on, you'll have a whole week to play Rival games and earn rank points. The total amount of Rival Points you earn at the end of the week will determine your weekly rank.
Here's a breakdown of the potential rank points you can earn per game:
A Win: 500 RP
OT Win: 400 RP
OT Loss: 200 RP
Loss: 150 RP
Goals Scored: 90 RP for every goal up to 5 goals per game
Besides that, you'll also get 400 RP for every HUT Champions game that you play (win or lose) as this will help you not miss out on Rival rewards by choosing to participate in the HUT Championship.
Note: As you win or lose games, you're likely to move divisions. Moving up or down a division during the week doesn't change the division that you're competing in for the week. The division that you'll compete in for the week is determined by the division that you're in when the weekly competition starts.
Based on your weekly performance, you'll finish in one of the following seven ranks;
Ultimate – Top 5% of Competition
Diamond – Top 15% of Competition
Platinum – Top 30% of Competition
Gold – Top 50% of Competition
Silver – Top 75% of Competition
Bronze – Top 90% of Competition
Iron – Top 100% of Competition
The higher up you finish, the bigger and better rewards you're going to get. Some weeks you may need 10,000 points to be in the top 5%, other weeks you may need 15,000. Where you rank is determined based on your performance as well as that of your competition.
Note: Once the weekly competition comes to an end, you'll have to wait approximately 48 hours before you can pick your NHL 22 HUT Rivals rewards. The weekly HUT Rivals competition starts and finishes on Tuesday at 2 PM PT, which means that you should be able to pick your weekly rewards by Thursday 2 PM PT.
Best HUT Rivals Rewards to Pick
Once the weekly competition has ended and 48 hours have passed, you'll be able to pick your rewards for the past week's performance. If you've ranked within the top 5 ranks, you'll have multiple reward options to pick from. If you've ranked either in the Bronze or the Iron ranks, you don't get to choose.
Before I tell you the best HUT Rivals rewards to pick on NHL 22, let's first take a look at what rewards you can expect.
Note: Before we get into the table, I just wanted to point out that the rewards from the table below are based on my current division. Your rewards are likely to be slightly different.
Option 1 (Tradable)
Option 2 (Untradable)
Option 3
Ultimate
1x Jumbo Elite Pack
1x NHL Players Pack
+50 HUT Champions Points
2x Jumbo Elite Pack
2x NHL Players Pack
+50 HUT Champions Points
+40,000 Coins
+50 HUT Champions Points
Diamond
1x Mega Packs
1x Premium Players Packs
+25 HUT Champions
Points
2x Mega Packs
2x Premium Players Packs
+25 HUT Champions
Points
+30,000 Coins
+25 HUT Champions Points
Platinum
1x NHL Players Pack
2x Prime Packs
2x NHL Players Pack
4x Prime Packs
+40,000 Coins
Gold
1x Elite Packs
1x Players Packs
2x Elite Packs
2x Players Packs
+20,000 Coins
Silver
1x NHL Players Pack
1x Base Pack
2x NHL Players Pack
2x Base Pack
+17,500 Coins
Bronze
1x Prime Pack
1x Premium Pack
Iron
1x Premium Pack
Regardless of what division you're competing in, my advice to you doesn't change.
I would always go for the untradable cards as you pretty much double your chances of packing some very big names that you can make part of your team. Yes, you won't be able to sell whoever you pack, but if you're early on in your HUT career, your entire focus should be put around improving your team where possible.
With a higher overall team, you'll likely perform a lot better, and guess what, next week's rewards are going to be even better as you'll be competing in higher divisions. That's easily one of the best HUT strategies for non-paying players that are looking to improve their team.
Now, if you already have a decent team or are planning on spending a bunch of money on the game, then you could go for the tradable packs or even the coins since you can sell whatever you pack, which is simply another way to get more coins in NHL 22.
Final Thoughts
Remember that the above-said is my personal opinion. As a player that doesn't pay to play, I much rather double up my chances of packing some great players with untradable packs, create a beast of a team, and climb through the leaderboards over time and get those tradable packs and coins anyway.